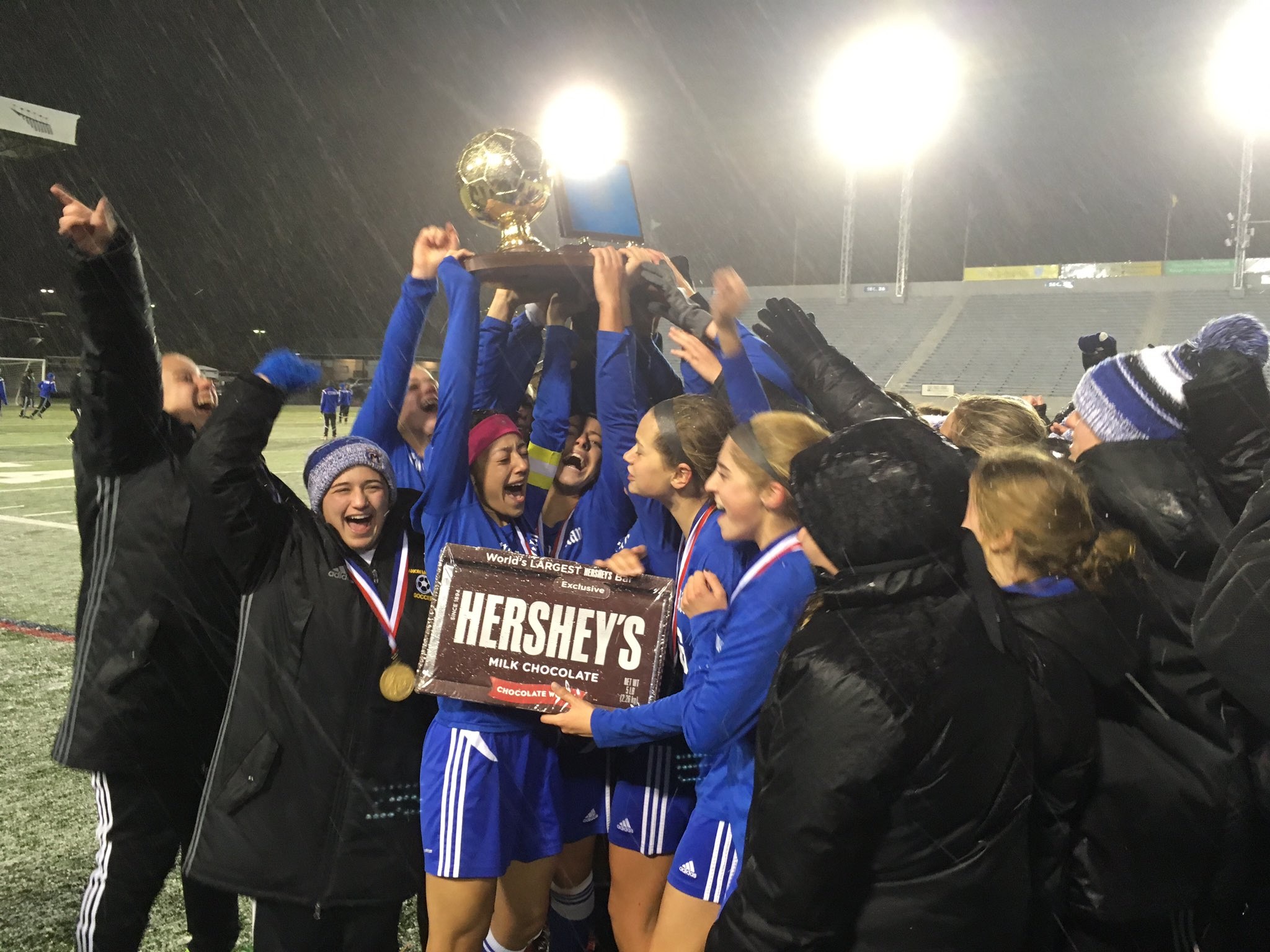 After flawless weather that reached the low 70s on Friday, things took a harsh turn back to reality of November for Saturday's remaining Boys and Girls soccer finals in Hershey.
The two WPIAL teams in action on Saturday split their results, as Canon-McMillan girls (Girls 4A) finished off an impressive season with a Addie Roman goal in the 96th minute of the match beat Central Bucks South, 1-0, while Quaker Valley boys fell, 1-0, to Lewisburg in a tightly contested match earlier in the day.

GIRLS 4A

– Canon-McMillan 1 Central Bucks South

0

– OT

After losing in the PIAA finals two years ago to Central Bucks West, giving up a 1-0 lead late in regulation and then in overtime, Canon-McMillan girls turned the tables on Saturday to capture its first-ever state title.
The weather produce gale-like winds, rain and sleet in Hershey.   As both teams persevered in the conditions, it was Addie Roman's strike from a Jaiden Williams cross that won the game.

For full game recap, here's Pittsburgh Tribune-Review's Doug Gulasy's report from Hershey. 
BOYS 2A

– Lewisburg 1  Quaker Valley

o 

In what was a tightly contested battle for the PIAA Boys 2A title, Quaker Valley, one of the highest scoring teams in PA High School soccer — couldn't get a goal past Lewisburg as both teams exchanged a number of quality chances.


Finally, after 76 plus minutes of play, Lewisburg's Joseph Bhangdia's shot found the back of the net,  lifting the Green Dragons to a 1-0 victory in the PIAA Class AA boys final Saturday at Hersheypark Stadium.

Dom Lagnese made eight saves for WPIAL champion and six-time PIAA champs Quaker Valley (20-5-1), which was seeking its first state title since 2000.

With the win, the Green Dragons have now won back-to-back 2A boys soccer titles.





Riverhounds MF Danny Griffin
Subscribe to PGH Soccer Now