History
A NEW HOME FOR PITTSBURGH'S SOCCER HISTORY
Believe it or not, Pittsburgh has rich, storied soccer history.
Below we provided a very brief overview of the world's most popular sport in our region. In addition, thanks to contributions from Patrick McCarthy and others in the coming months and hopefully in the years to come, we will be using this space on Pittsburgh Soccer Now to build extensive archives of Pittsburgh's rich soccer history.
In addition, you can find Patrick's full library on his YouTube page.
As you scroll though this page below, you'll also find some archives of stories originally posted previously on Pittsburgh Soccer Report that now live here that document some historical stories and moments.
Patrick has collaborated with soccer coaching icon John Kowalski to convert many old soccer videos to digital format.
We are excited to create page on this site that will host many wonderful stories, links to videos, and archives that capture and preserve our region's history of the world's most popular sport.
Soccer in Pittsburgh: From the Early Years to the Riverhounds
The Early Years
Immigrants flocked to the local mines and industrial jobs in the late 19th century, and by 1894, soccer made its first appearance.
Unlike many other early hotbeds of American soccer, the soccer teams around Pittsburgh were primarily sponsored by commercial businesses rather than ethnic cultural clubs.
One of the more prominent teams, Beadling, formed in 1898, would go on to enjoy great success over the decades and remain one of the prominent soccer organizations in Western PA that's still going strong.
RELATED: Pittsburgher Donelli was first hero in US-Mexico soccer rivalry
Participation in the game in the Pittsburgh region flourished in the first half of the 20th century, and on the national stage.  Between 1933 and 1955, Pittsburgh teams were second to none at the national Amateur Cup, winning 4 cup titles in 16 appearances at the finals. In addition, they made eight appearances in the U. S. Open Cup final between 1942 and 1955, winning four titles.
Although Beadling would go on to play in the 1958 National Amateur cup final (losing to St. Louis Kutis), no team from the region has made the finals of any national competition since then.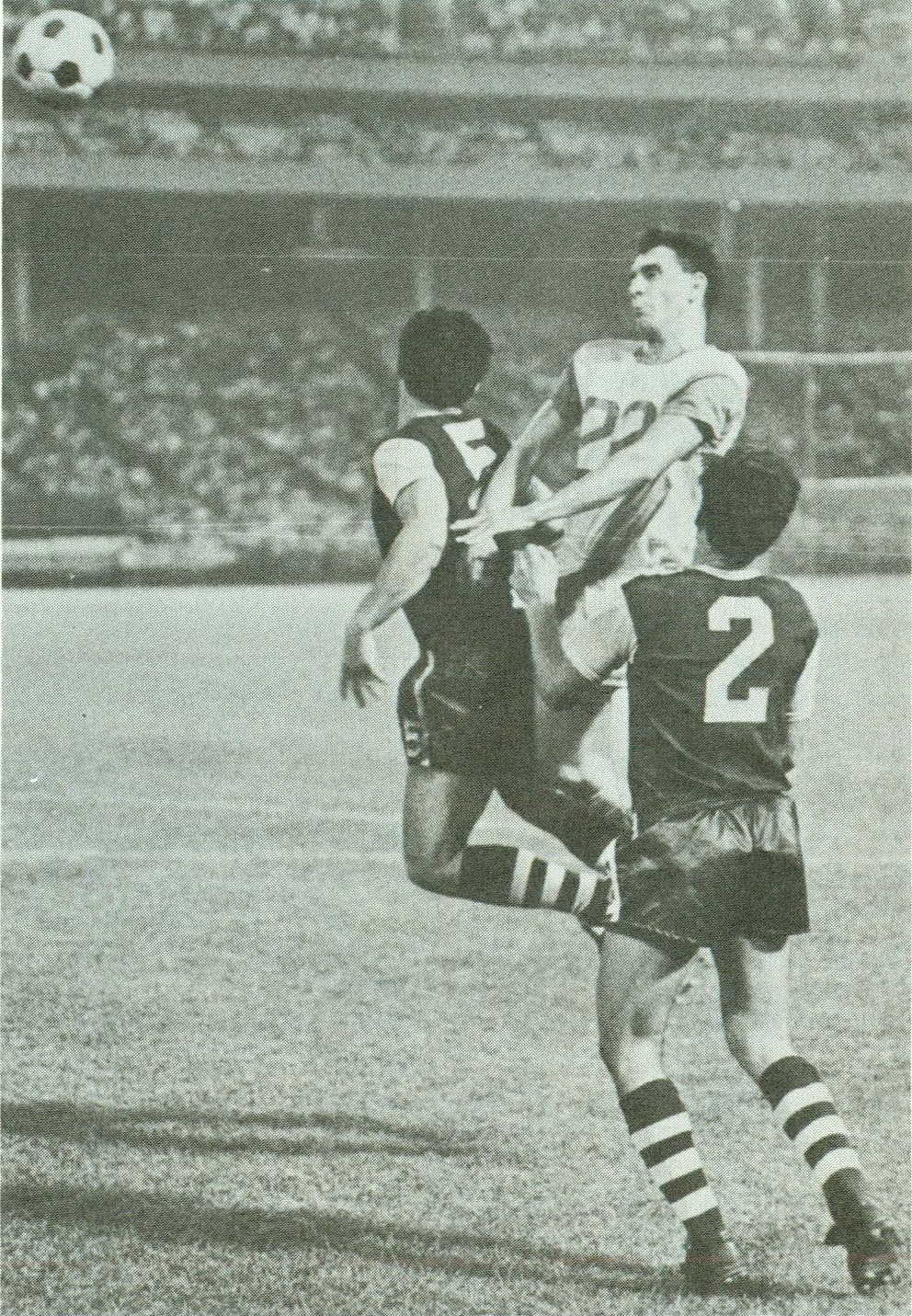 Dawn of Pro Soccer in the 'Burgh
The Pittsburgh Phantoms were a founding member of the National Professional Soccer League, but their season was a bust, with 10 wins, 14 losses and 7 ties to finish last in the eastern Division, averaging a league worst 3,122 fans per game. At least they could boast Manfred Rummell, as the league's 5th best scorer (14 goals and 32 points in 19 games), and the inclusion of Co Prins as a forward on the All-Star team.
The NPSL merged with their rival, the United Soccer Association in 1968 to form the North American Soccer League, but Pittsburgh was not one of the teams making the transition.
The area was without pro soccer until 1972 when the Pittsburgh Canons joined the second division American Soccer League in 1972. The Canons struggled to a 4th place 2-1-5 record and folded at seasons end. They were followed in 1975 by the Pittsburgh Miners, who fared even worse, with a 1-3-16 record, dead last in its only season.
The 'Burgh Gets into soccer 'Spirit'
Pittsburgh had its first real success with pro soccer with the indoor Pittsburgh Spirit, a founding member of the Major Indoor Soccer League (MISL) in 1978.
Although the Spirit struggled in their first season, they finished 2nd in the East in 1979-80, making it to the semifinals.
After a year off, they returned in 1981-82, again finishing second but losing in the first round of the playoffs, repeating this performance in 1983-84.
The high scoring Spirit, led by world class players including Paul Child and Stan Terlecki, were outdrawing its fellow Civic Arena tenants, NHL's Pittsburgh Penguins for a time.
Unfortunately, this was their high point; after two more dismal seasons, the Spirit folded in 1986.
RELATED: Pittsburgh reacts to the death of Stan Terlecki (Jan 2018)
Indoor soccer returned to the area in 1994 with the Pittsburgh Stingers of the Continental Indoor Soccer League. The team finished a mediocre 13-15 in its first year, then folded after a terrible second season.
College and High Schools
Both at the high school and the college level, soccer may play a back seat to other more popular sports, especially American football in our region because both sports' scholastic seasons often intertwine in the Fall months.
However, there's some storied history — and undeniable growth in the past forty years in scholastic and collegiate soccer in the region.
At the dawn of the 21st Century, three schools field NCAA Division I soccer programs for both men and women, University of Pittsburgh, Duquense University and Robert Morris, plus most every University and college in the area fields teams in the Division II, III and NAIA levels.
Pitt's men's program is the longest tenured of the current half dozen Division I programs.
Pitt's program's origins actually came in 1951 when Leo Bemis, who was then serving as Pitt's director of men's intramural sports, created a pick-up team at the university, with its first match resulting in a 1-1 draw vs Slippery Rock University. Through 1953, Bemis continued coaching the team which competed as a non-varsity club sport.
Eventually, Bemis was able to convince then Pitt athletic director Tom Hamilton to elevate the club team to varsity status in 1954.
Despite starting with no scholarships and no feeder system in place to recruit players, Pitt's first team went 8-1 in 1954, and by 1955, the program had its first All-American selection, Jerome Bressanelli. For the first 20 years of the program,
Pitt played their games at various facilities including Trees Field, Forbes Field, Kennard Field in the lower Hill District neighborhood of Pittsburgh, and even various high schools, with occasional games played at Pitt Stadium, which at the time was primarily reserved for Pitt's football team. In 1961, the soccer program received funding to provide its first scholarships, and in 1962, Pitt earned its first bid to the NCAA soccer championship tournament, where it lost to Maryland in a seven-goal affair, 4-3.
Remarkably, Pitt's men's program has the unique distinction of having only three men lead the program in more than sixty years of its history.  When Jay Vidovich came to Pitt in 2016, he replaced Joe Luxbacher who held the position from 1984 to 2015. Luxbacher replaced Bemis who started the program in 1952, and lasted until 1983.
Robert Morris and Duquesne also began fielding men's Division I programs in 1984 and 1995 respectively, while each started women's programs too (Duquesne in 1994 and Robert Morris with the first Division I women's program in the Pittsburgh area in 1992).
Duquesne's first men's head coach was Dave Kasper, who would go on to become the first vice president and general manager of the Pittsburgh Riverhounds in 1999.
Kasper moved into executive roles with New England Revolution (in 2000), then DC United of Major League Soccer. He's been DCU's general manager since 2007.
RELATED: Kasper elected into the Western PA Sports Hall of Fame
On the scholastic side, a few schools such as Shady Side Academy in the Pittsburgh region have fielded soccer teams for more than 100 years, but the majority of high schools began to start developing varsity programs competing in the WPIAL (Western Pennsylvania Interscholastic Athletic League) and PIAA (Pennsylvania Interscholastic Athletic Association) in the mid-1970s.
Western PA's first boys team to win a PIAA (State) championship was Mount Lebanon, who defeated Elco in November 1981 at Shippensburg University.
Finally, a pro team that stands the test of time
The only other professional team to call Pittsburgh home has also been the current and longest lasting team: the Pittsburgh Riverhounds SC which have played in the second and third divisions in the United States soccer pyramid.
The Riverhounds started in the A-League, then United Soccer Leagues' top division (USSF Division 2) in 1999, playing before large crowds at Bethel Park Stadium, under the direction of Head Coach John Kowalski.
The Hounds debut season in 1999 provided a 4th place finish. They made the quarterfinals in 2001 and had their bellwether season in 2003 when they went 15-9-4 to finish in 3rd in the Northeast Division, while their forward Thiago Martins won the scoring title and Most Valuable Player Award.
Despite some financial struggles, and taking a year sabbatical in 2007, the Riverhounds franchise has managed to continued on.
The Hounds created its youth programs and Developmental Academy in 2007, then by 2013, the club embarked into a new era with the opening of Highmark Stadium on Pittsburgh's South Side, at Station Square.
The Hounds enjoyed a successful inaugural season at Highmark Stadium, with bump in attendance numbers as the team featured the USL's leading scoring tandem of Jose Angulo (Golden Boot winner with 15 goals) and Matt Dallman (league's top assist man with 12).
Following a Chapter 11 bankruptcy filing in the wake of cost overruns at Highmark Stadium in 2014, the Hounds ownership changed hands to Tuffy Shallenberger who became the pro club and developmental academy majority stakeholder.
PITTSBURGH RIVERHOUNDS LOGOS OVER THE YEARS
1999-2006
2007-2017
In 2015, the Riverhounds had its second successful campaign in first three years of Highmark Stadium under the direction of a new manager, Mark Steffens, a USL Hall of Fame coach. The season was highlighted by Pittsburgh winning the inaugural Keystone Derby Cup series against in-state rival Harrisburg City Islanders in a memorable four-game series that included monumental comeback victories and a total of 27 goals scored.

The Hounds would clinch a playoff spot on the final night of the 2015 season when they captured the Keystone Derby Cup at Harrisburg
Despite holding a 2-1 lead in overtime of its ensuring first round playoff match a week later, they would lose to NY Red Bulls II at Red Bull Arena, 4-2 in extra time.
RELATED: Hounds falter to Red Bulls II in extra time
The next two seasons would be marred by losing records and some embarrassing moments.
Steffens was replaced after a poor start in 2016 by Dave Brandt, a successful college coach who had won multiple national championships at Messiah College (Division III school from Harrisburg).
The most notorious moment in this time may have come with the infamous 'kick heard round the world' when Hounds forward Romeo Parkes kicked NY Red Bulls II defender Karl Ouimette in the back after both were sent off in a May 2016 match at Highmark Stadium.
Parkes immediately had his contract terminated by the Hounds, and was also banned from FIFA for a six month period. The enigmatic Jamaican forward would return to Pittsburgh in 2017 and 2018.
In 2018, the Hounds ushered in yet another new chapter, as they re-branded to become Pittsburgh Riverhounds SC and developed a new crest.
After the 2017 season, the Hounds also announced the hiring of a new coach, Bob Lilley, a proven winner who had previously won USL titles with Rochester Rhinos and Vancouver Whitecaps. In two seasons, in 2018 and 2019, Lilley built winning squads that finished third and then first overall in the USL Championship's Eastern Conference regular season table, then would lose home matches played before record crowds in the USL Cup Playoffs in the Conference Quarterfinal in 2018, and the Conference Semifinal in 2019.
RELATED: Lilley sets the course to do it his way
Hall of Famers of the Pittsburgh Region:
Dr. Raymond Bernabel. Played for Harmarville Hurricanes from 1949 to 1963 as a defender. Captained the team to U.S. Open Cup titles in 1952 and 1956, and second place in 1953. Took team to National Amateur Cup finals in 1950 and 1951. Played for ten West Penn Cup finalists between 1949 and 1960. Served as a referee for more than 40 years.
Robert Craddock, Jr. Many seasons with Castle Shannon and Harmarville, with whom he won the National Amateur Cup in 1951 and the U. S. Open Cup in 1952. Was on the U. S. 1950 World Cup team, but did not play. Played for the US Team against Haiti in 1954 and the league of Ireland in 1952.
Robert Craddock Sr. Played through the 1920s in the Pittsburgh Central League with the Rovers, Thistles and Arsenal. Later was a long time area referee and president of the Allegheny Valley League.
Paul "Duts" Danilo. Played with Heidelberg in 1937-38. Later with Morgan, scored the winning goal to win the National Amateur Cup in 1940, and played in the West Penn Cup finals in 1941 and 1945. Joined the Pittsburgh Indians of the North American Soccer Football League in 1946 and 1947, winning the championship in 1947. Managed Morgan Strasser and served as West Penn Soccer Association secretary and president between 1953-57.
Nicholas Diorio. Played in the NASFL for the Pittsburgh Indians and Chicago Vikings in 1946-47, won the U. S. open Cup with Morgan S. C. (1949), and Harmarville (1952-53), won the national Amateur Cup with Morgan Strasser in 1943, and was a finalist four times. Was a member of the 1950 U. S. World cup team in 1950, and won Keystone League championships in 1941, 1951, 1952, 1953 and 1954.
John Dresmich. Played for Morgan and Cuddy in the Pittsburgh Miners League. As an administrator reorganized the West Penn Referees Association, helped organize the Washington County League and served with the West Penn Commission from 1940-1966, the last 11 years as chairman.
Aldo Two "Buff" Donelli. Joined Morgan Strasser in 1922 at age 15 and led the Pittsburgh Pres League in scoring from 1922-1928. Won the National Amateur Cup title with Heidelberg in 1928-29, and played for Duquesne University from 1926-1929. Later played at Curry from which he was chosen for the 1934 U. S. World Cup team, for whom he scored 4 goals against Mexico in the qualifying round and the Americans lone goal against Italy in their first round loss. Played with the ASL's New York Americans in 1935, then left for a NFL career, and returned to play with Morgan Strasser in the 1944 U. S. Open Cup final.
Harry Fairfield. Long time referee and administrator, serving as president and secretary of the West Penn Association for decades through 1950. President of the USSF from 1945-1948, and was a co-founder of the North American Confederation in 1947.
Jon Jaap. Played for Castle Shannon, Arden, Vestaburg and Jennette from 1912-1920 before joining Bethlehem Steel in the American Soccer League, winning the 1921 league title, the 1926 U. S. open Cup and the 1928 Lewis Cup.
Peter Merovich. Played in the Keystone League from 1937 to 1956, winning the National Amateur Cup with Castle Shannon in 1946, and seven Keystone League titles. A frequent West Penn and Keystone League all-star. Played for the Pittsburgh All-Stars against Norrkopping in 1950, and in Olympic qualifying in 1948. Served as secretary-treasurer and president of the West Penn Association and Keystone League and was commissioner for the U. S. Open Cup, National Amateur Cup and Junior Cup.
Daniel Zampini. Played for the Morgan Juniors at age 16 in 1917, played on several championship teams, reaching the semifinals of the U. S. Open and National Amateur Cups. Began a long term as president of the Keystone League in 1930, and was President of the West Penn Association from 1942-1952, and served as both president and vice president of the National Amateur Cup Committee.
Riverhounds Postgame: Russell Cicerone after brace vs Indy
Subscribe to PGH Soccer Now