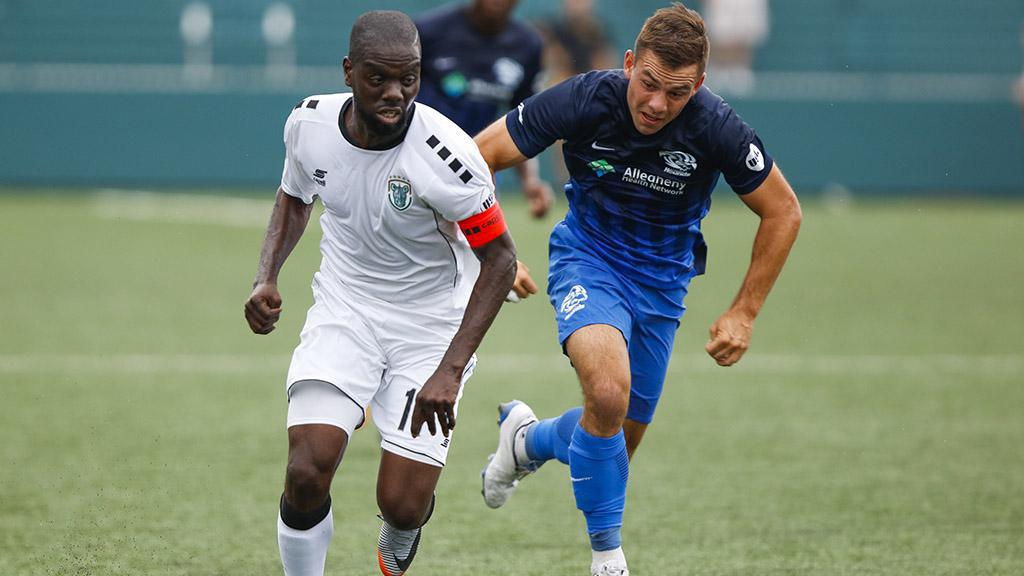 Riverhounds 0 vs. Rhinos 0 

Boxscore: USL Match Center
GAME SUMMARY 
The Riverhounds continue to find ways to pick up results on the road, moving to 2-2-6 away from home this year after a hard-fought scoreless draw at Rochester on Saturday.
The Hounds had their chances to take a much needed three points back to Pittsburgh, but couldn't capitalize on a few quality chances late in the contest when things opened up for both teams. For the third consecutive Saturday road match, Pittsburgh picked up a draw and one point. The Hounds continue to struggle scoring goals, now having netted only six tallies in the last 10 matches.
While much of the match both teams were locked into a hard-fought defensive battle, things opened up in the final five minutes.
In the 87th minute, after a terrific build-up of play, Corey Hertzog laid a ball off to Romeo Parkes on the left side of the box, but the Jamaican couldn't pull the trigger to take a shot, and Rochester's defenders caught up with him to deny any shot attempt.
Rochester's Kenardo Forbes proved to be dangerous in the final third on a few occasions, and in one wild sequence after Parkes' missed opportunity, the Hounds' Jamal Jack fell to the ground on the ball as Forbes tried to win a ball in the box. Remaining on the ground, Jack appeared to keep his head on the ball to keep Forbes from getting a shot away. The Rhinos pleaded with the official after the Hounds cleared the ball away for a header.
Moments later as the match entered the 90th minute, the Hounds again created a golden opportunity with the ball at Parkes' feet, he turned to take a shot from the top of the box toward the right side of goal, but Rochester's Tomas Gomez robbed the forward of a goal scoring chance.
The Hounds outshot the Rhinos (11-7), while the home side held the advantage in possession (57/43), and earned more corner kicks (5-1).
Hounds goalkeeper Trey Mitchell returned to action for the first time in nearly a month after sustaining a shoulder injury to earn his fifth clean sheet of the season, and the team's seventh shutout overall.
The Hounds, now 5-7-7, 22 points, return to action on Wednesday at Highmark Stadium to take on league-leading Charleston at 7 p.m.

Riverhounds Starting XI:
Trey Mitchell (G), Jamal Jack, Tobe Adewole, Taylor Washington (Marshall Hollingsworth, 62′), Shannon Gomez, Victor Souto, Stephen Okai (Danny Earls, 85′), Kevin Kerr, Romeo Parkes, Kay Banjo (Corey Hertzog, 62′), Chevy Walsh
Keasel Broome (G), Gale Agbossoumonde, Mike Green, Jack Thompson
Riverhounds MF Danny Griffin
Subscribe to PGH Soccer Now