FINAL: Pittsburgh Riverhounds SC 1, Birmingham Legion FC 0
The Riverhounds got a late goal, in the 90th minute from substitute Mark Forrest to beat the Birmingham Legion on Sunday night to pull ahead of Nashville SC, and into first place in the USL Championship in the season finale.
The Hounds will now be the top seed in USL Cup Playoffs — getting home field advantage through the Eastern Conference playoffs.
"I'm proud of the season the guys had," head coach Bob Lilley said. "I think we're worthy being Eastern Conference champs for the regular season. Now we have to turn our attention to the playoffs. It was a good close to the season, but the point is to have the best chance at playoff time. The work starts now as we get ready for these individual games heading into the playoffs."
Pittsburgh will host the lowest remaining seed this Saturday, October 26 at Highmark Stadium. That could be either the winner of Wednesday's 8/9 play-in match between Ottawa/Charleston or Birmingham, the 10 seed who must play at North Carolina FC on Wednesday.
The Hounds dominated the first half of play, although they could not break onto the scoresheet.
The club had numerous opportunities, recording six shots on goal over the 45 minutes, but Legion FC goalkeeper Trevor Spangenberg made six saves.
Neco Brett posted a couple takes on target in the first stanza, one from the center of the penalty box in the 17th minute and another on the left side in the 40th minute.
Kevin Kerr, Jordan Dover, Steevan Dos Santos and Kenardo Forbes also recorded a shot on goal in the first half.
Pittsburgh outshot Birmingham 14-to-2 at the halftime whistle.
The Hounds outshot Birmingham 24-to-3 throughout the entire match, but it took until the 90th minute for the Black and Gold to find its game-winning goal.
Rising up for a ball that center back Joe Greenspan sent into the penalty box in the game's waning minutes, Forrest used his 6-foot-4-inch frame to his advantage and soared over the Legion FC backline to head the ball past Spangenberg.
It was a perfect time for Forrest to score his first professional goal.
After three minutes of stoppage time, the Hounds held on to the victory.
During the course of the match, Pittsburgh logged 12 shots on goal – 11 of which were saved by Spangenberg.
Highlights of tonight's match. #BHMvPIT pic.twitter.com/Vi6914FdMn

— x-Pittsburgh Riverhounds SC (@RiverhoundsSC) October 21, 2019
The final USL Championship standings and playoff match-ups:
Pittsburgh vs lowest remaining seed in Play-In matches
Nashville vs highest remaining seed in Play-In matches
Indy Eleven hosts No. 6. NY Red Bulls II
Louisville City FC hosts No. 5 Tampa Bay Rowdies
MATCHDAY UPDATES 
7:30 – FINAL | PITTSBURGH 1, BIRMINGHAM 0 
7:27 – GOAL | 90′ – Mark Forrest
After much persistence — the Hounds finally capitalize in the nick of time!  
Long ball in and Forrest heads it over Spangberg who comes off his line.
https://twitter.com/RiverhoundsSC/status/1186059534076403713
7:00 – We'll add score updates, but since Open Cup match has kicked off — we'll have intermittent updates now.
Still scoreless in Birmingham…
6:48 – 53′ | Early second half sub for Hounds — it's Robbie Mertz in for Kevin Kerr.
6:28 – HALF | 0-0
Pittsburgh racked up 14 first-half shots – the second-highest total they've recorded in the opening 45 minutes of a game this season – but its still scoreless going to the second half.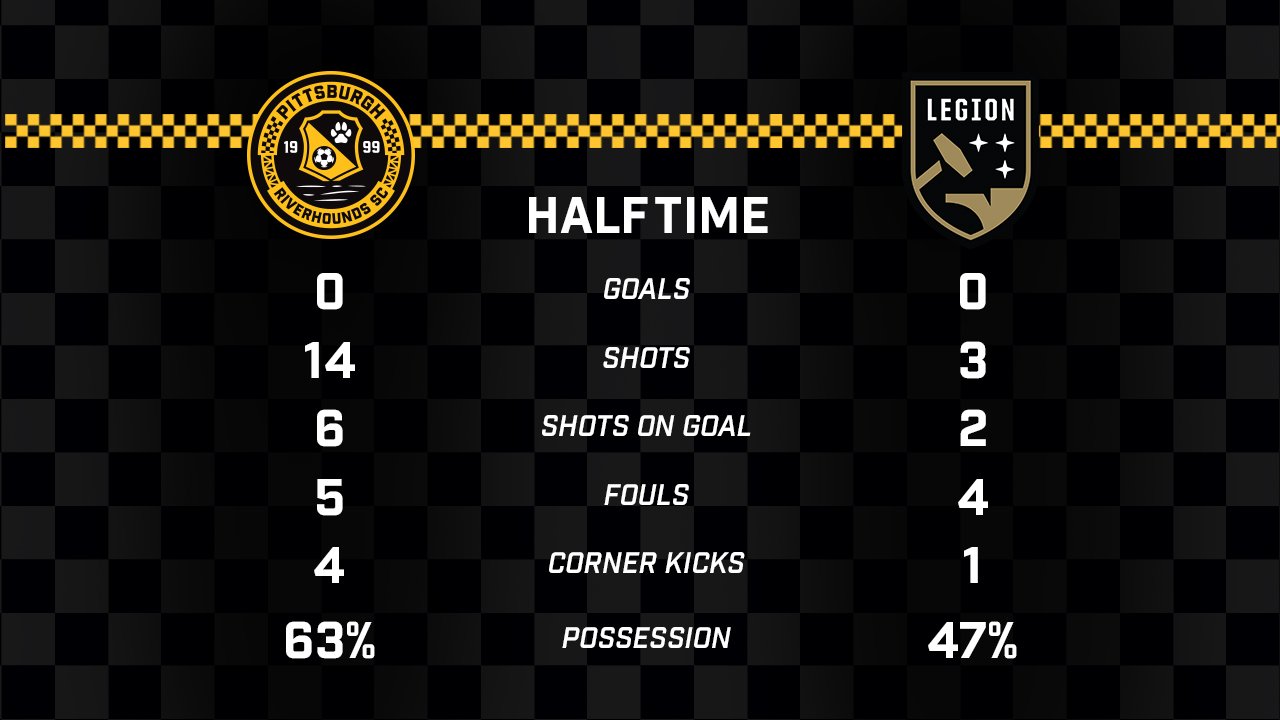 6:11 – Kasim sends in a cross from the left and it finds Mabiala as he streaks across the box, his shot goes wide at the near post.6:06 – 30′ | 0-0 – Hounds generating most chances from the right side. The latest — a service in from Kerr to Dos Santos but header goes wide left.
5:57 – another quality chance after Forbes service into box. Dos Santos pushes away defender, gets shot, but saved by Birmingham's keeper Spangberg.
5:53 – Best chance for Hounds — Jordan Dover cross in connects with Ryan James, who heads it off bar. Somehow Neco Brett couldn't pull trigger quick enough after ball deflected to him. 18′
5:49 – Legion trying to stretch the Hounds on a counter, but Tobi Adewole is there to make a nice play to deny thru ball.
5:37 – match has kicked off
Riverhounds starting IX:

very few surprises …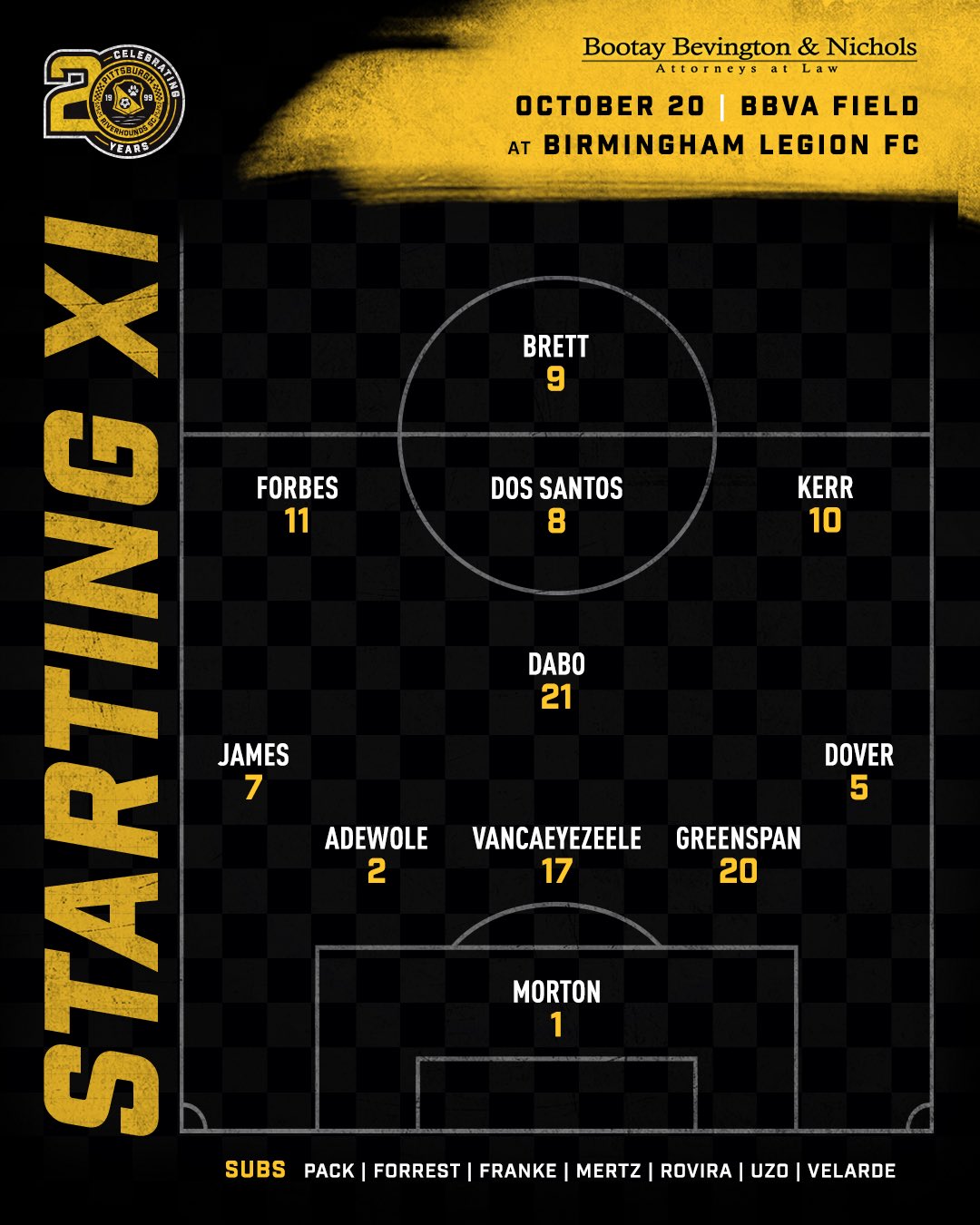 We'll post starting line-ups here at approximately 5 p.m. plus game updates, commentary and may even share some post-match reaction from Highmark Stadium, where the Steel Army will be congregating for a Watch Party in the Pub.
PREVIEW 
Saturday, Oct. 20 | 5:30 p.m. | BBVA Field, Birmingham, AL
Streaming: ESPN+ | Watch Party @ Highmark Stadium (5 p.m.)
Live Statistics: USL Championship Match Center
Live Updates: Twitter #BHMvPIT
It's this simple, with a win against Birmingham the Hounds can clinch the No. 1 seed in the Eastern Conference.
Last night, the Legion clinched a playoff spot, and with a win on Sunday could move up from 10th to 9th place. Either way, the Legion FC are locked into playing a play-in game on the road on Wednesday. A loss actually has them remaining in the South, traveling to North Carolina, while a win would have them travel to Ottawa.  See below for the latest on the USL Eastern Conference playoff picture.
This is Pittsburgh's second time battling Birmingham this season. The Hounds won the first meeting, 4-1. Steeven Dos Santos, Christian Volesky and Robbie Mertz (two goals) scored for Pittsburgh whereas Chandler Hoffman scored Birmingham's lone tally.
Pittsburgh is coming off a 1-0 win against Saint Louis FC this last weekend. The Hounds have an away record of 8-4-4 and have won four of their last five games.
On the other hand, Birmingham, who cl has a home record of 7-6-3. The team has a 2-2-1 record in its last five games.
PSN COVERAGE THIS WEEK
Race to First: Nashville victory means Hounds must win Sunday to claim Eastern Conference's top spot
Riverhounds SC Notebook: Last regular-season game might be critical … or irrelevant
UP NEXT 
Regardless of what happens on Sunday, the Riverhounds will be hosting an Eastern Conference Quarterfinals match at 7 p.m. on Saturday, Oct. 26 at Highmark Stadium. The opponent is to be determined by the results of the Wednesday play-in match.
Riverhounds MF Danny Griffin
Subscribe to PGH Soccer Now