FINAL: Pittsburgh Riverhounds SC 6, Philadelphia Union II, 0
Post-Game: John Krysinsky & Matt Gajtka on Pittsburgh Sports Live
PHOTO GALLERY (photos courtesy Matt Ralph, Brotherly Game) 
This slideshow requires JavaScript.
MATCH SUMMARY
The Pittsburgh Riverhounds SC completely outclassed Philadelphia Union II with a dominant performance, rolling to 6-0 victory at Subaru Park on Saturday.
The Hounds improved its record to 2-0-0 as they patiently picked apart a young Union II squad with an average player age of 18 1/2 years. Ropapa Mensah, Danny Griffin, Anthony Velarde, Lukas Fernandes and Steevan Dos Santos with a pair. Griffin, in his first ever pro start, added two assists while Hounds captain Kenardo Forbes contributed three assists.
After a bit of a slow start, the Hounds started to attack using the width and space against Union II's 4-2-2-2 formation, ultimately using its possession advantage to stretch the Union's shape and make the hosts chase the game.
The win gives the Hounds a leg up in its group table, as they now sit at the top with six points after two games.  Remarkably, after 20 seasons, this is the first time Pittsburgh has started a season with two wins.
Forbes became the 18th player to record three assists in one game in the Championship's history, recording six key passes overall and completing 66 of 79 passes.  It appears that he's the first Riverhound to complete this feat since Lebo Moloto did it in the 'Miracle on the Mon' comeback win in 2015 against another in-state foe, Harrisburg City Islanders.
The win extends Pittsburgh's regular season point streak, as they have earned a point in each of their last 13 regular season matches, and in 19 of their last 21. Their last regular season loss was at the hands of North Carolina FC on Aug. 17, 2019.
Riverhounds SC will have a quick turnaround, hosting Indy Eleven, who are now 3-0 after beating Sporting KC II and leading Group E with nine points, on Wednesday night at Highmark Stadium (7 p.m. kickoff on ESPN 2).  There will not be any fans in attendance.
COACH LILLEY'S POST-GAME COMMENTS 
"We had to battle early on," head coach Bob Lilley said. "They're an athletic team that has pace. The first half was pretty even. We were able to settle down as the half wore on and rotate the ball while finding space in the wide areas. The two goals before half were very important. I thought we played a pretty good second half.
"We were fortunate we didn't concede a goal – the first few good chances fell to Philadelphia. I think once we got on track the guys were intelligent in their play. It's good to see the movement up front. Overall, it was a pretty good performance. It's important that we got our three points and now we can turn our attention to the Indy Eleven game on Wednesday."
Look for John Krysinsky's takeaways/player grades on Sunday or Monday. 
GAMEDAY UPDATES 
Next up for the Hounds…
A very tough Indy Eleven team that is on top of its group with nine points (3-0-0). It will be a battle of unbeaten clubs on Wednesday night, 7 p.m. @highmarkstadium (on ESPN 2) #PHIvPIT #PITvIND https://t.co/Ii010VVChm

— John Krysinsky (@JohnKrysinsky) July 19, 2020
Time for promotion relegation in America?!? 🧐🧐👁🤔

— Tony Walls II (@TWalls20) July 19, 2020
BOOM!!!👊

— Tuffy Shallenberger (@Tuffy_Shall) July 19, 2020
.@RiverhoundsSC putting on an absolute SHOW tonight 👏.#PHIvPIT pic.twitter.com/War0As9uV6

— USL Championship (@USLChampionship) July 19, 2020
87′ – GOAL! HOUNDS – DOS SANTOS – 6-0
Another goal for the veteran from Cape Verde.  Two goals in just five minutes.  Assist came from who else — Kenardo Forbes.
82′ – GOAL!  HOUNDS – STEEVAN DOS SANTOS
As he just comes into the match!!
First touch of the season.
First goal of the season.
The assist comes from Kenardo Forbes his second of the night.
81′  HOUNDS SUB – Steevan Dos Santos IN, Robbie Mertz OUT
73′  HOUNDS SUB – Dani Rovira IN and Danny Griffin OUT
67′  GOAL RIVERHOUNDS SC – Lukas Fernandes! 4-0
Fernandes with his first pro goal — assist coming from Danny Griffin (his second of the night) as Hounds with patient passing around the box.
Former Temple Owl scores his first ever pro goal not to far from his collegiate home.
https://twitter.com/USLChampionship/status/1284654998828138496
59′  GOAL RIVERHOUNDS SC – Anthony Velarde! 3-0
Brilliant set-up by Kenardo Forbes, who found the opening.
Second goal of season for Anthony Velarde and second assist for Forbes.
46′ Union II going with a boatload of halftime subs…
First half done. 2-0 Hounds.

My goodness Philly II look outmatched. Tired, sloppy, unable to sustain an attack, too passive in defense.

Maybe they can turn things around, but probably not.

The Hounds certainly will not be taking their foot off the gas.#PHIvPIT #RiverhoundsSC

— Mark Asher Goodman (@soccer_rabbi) July 19, 2020
They started a tad slow, but dominant 1st half from the Hounds against a Philly Union II side that has an average player age of 18 1/2
37′ GOAL – RIVERHOUNDS – 2-0 – DANNY GRIFFIN
Danny Griffin scores his first pro goal.
A nice, low shot through some traffic.
Assist from Mertz after Hounds move ball around the box.
https://twitter.com/soccer_rabbi/status/1284643804943966208?s=20
29′ GOAL – RIVERHOUNDS – 1-0 – ROPAPA MENSAH
It's Mensah's first as a Hound. Danny Griffin slides a nice through ball that finds Mensah in stride between open space between Union II CBs. Mensah goes around keeper Martino and passes it into the net.
First career assist for Griffin, who played collegiately at Providence College.
26′  Pittsburgh completely in control of possession — in the ballpark of 65% in the first 25 minutes, but pretty sloppy in the final third.
22′ The Hounds continue to be clever at playing it behind a high defensive line.
Again Forbes recognizes this, and Velarde makes a well time run on a ball over the top and in box. Can't bring it down cleanly though, and Martino there to make save.
12′  Ben Martino makes his first save as a pro — on a Kenardo Forbes free kick. Welcome to the big leagues kid. 
8′   Forbes nearly connects again with Jordan Dover like they did last week — sending a diagonal ball to the far side of the box after a cut back and turn as Dover made a run behind the back line.
The Riverhounds SC starters — Danny Griffin makes his first-ever pro start as an attacking midfielder.  Few other surprises.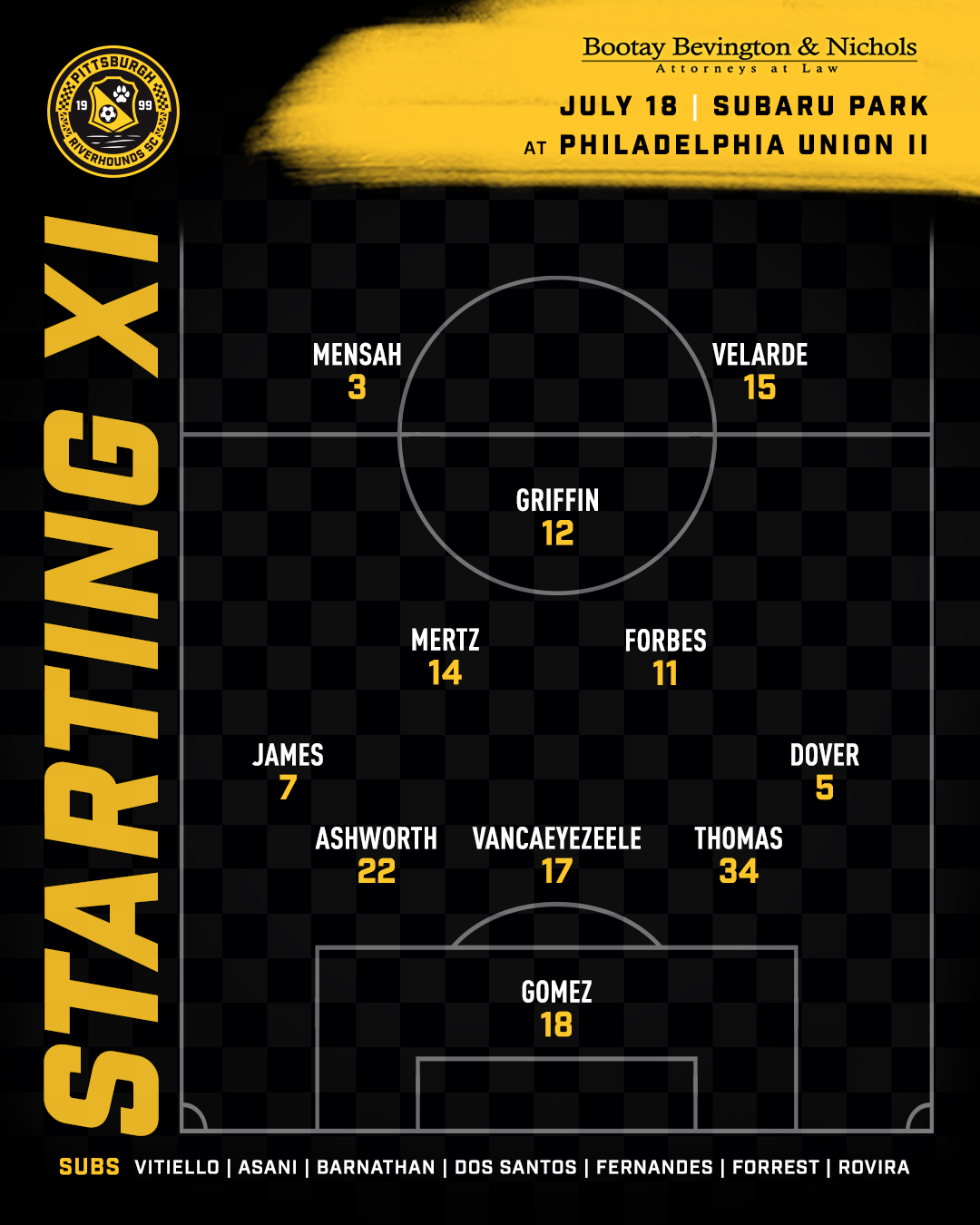 Here's the Steel, um, I mean Philly Union 11 lineup…
Former Riverhounds Academy keeper Ben Martino gets his first pro start against his hometown club tonight!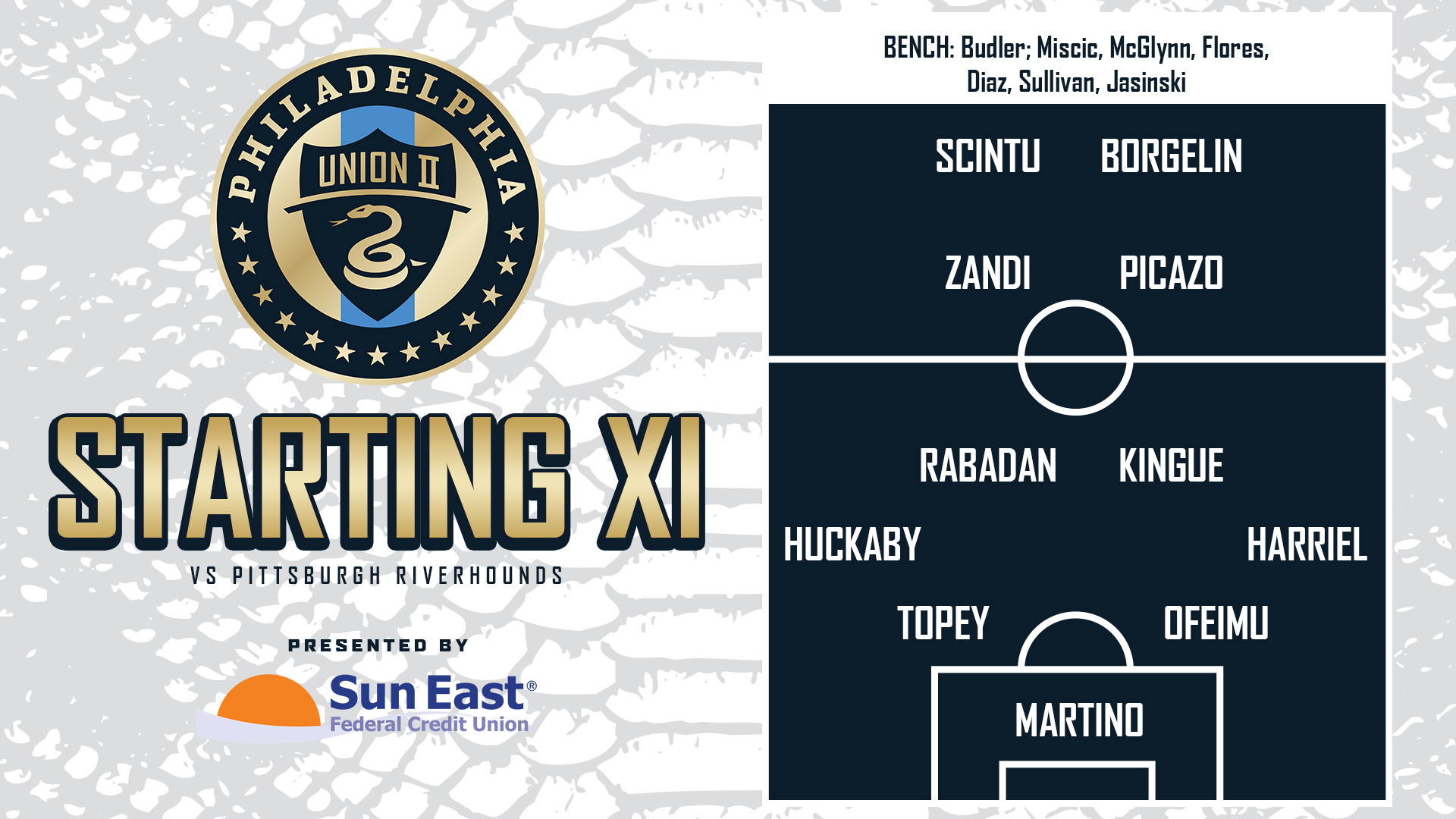 IT'S GAMEDAY!

Like Augustus Gloop in a river of chocolate, you should try to drink it all in.

— Steel Army (@SteelArmy) July 18, 2020
The @RiverhoundsSC play on 22 The Point…

Watch the Hounds face Philly tomorrow at 7:30! ⚽#UNLEASH #PHIvPIT pic.twitter.com/Vi8rqhSxRT

— 22 The Point (@22ThePoint) July 17, 2020
This is, we believe, the up-to-date channel listing for all the area cable/satellite providers.

P.S. We think this is what you were asking. If not, please clarify. pic.twitter.com/b7MaNCvxwq

— Steel Army (@SteelArmy) July 17, 2020
This also means there's a chance Pittsburgh native Ben Martino (2002) will get to play against his hometown team. Martino joined the Union Academy from the Riverhounds Academy last summer.

— Brotherly Game (@BrotherlyGame) July 18, 2020
Just in case you needed some background on Ben Martino, we shared this last year on five Riverhounds Developmental Academy players joining MLS academies, including Martino, who attended Taylor Allderdice High School.
Five Western PA-based players to join MLS Developmental Academies
GAME NOTES & DETAIL 
Saturday, July 18 | 7:30 p.m. | Subaru Park in Chester, Pennsylvania
Television (Pittsburgh): 22 The Point
Streaming: ESPN+
This will mark Riverhounds SC's first match against a group opponent. Pittsburgh comes into this match with a five-game winning streak in road matches.
In their last game out, the Hounds defeated the 2019 USL Championship runner-up Louisville City FC, 3-1. Going down 1-0, the Hounds were able to respond with three unanswered goals of their own. The first goal was scored by defender Jordan Dover, followed by Pittsburgh native Robbie Mertz. Midfielder Anthony Velarde scored the team's final goal.
With two impressive efforts in the season opener, Mertz and Dover were awarded a spot on the USL Championship Team of the Week. In addition, Ropapa Mensah was named to the Team of the Week bench for assisting on two of the three goals scored on Sunday.
This will be Union II's second game of the season, but their first since the season restart. Back on March 7, Philadelphia recorded a 0-0 draw against Loudoun United FC. Very little offense occurred for both sides, as each team was only able to muster three shots on goal apiece.
PSN's COVERAGE THIS WEEK 
Mark Goodman's match preview / U2 Scouting Report
Takeaways/Player Grades: High-pressing Hounds crash Louisville's new stadium party
Riverhounds MF Danny Griffin
Subscribe to PGH Soccer Now