We knew an announcement would be forthcoming from PA Governor Tom Wolf by week's end regarding his office and PA Department of Health's guidance for scholastic sports in the commonwealth.
On Thursday, Wolf shared in his morning press conference that he believes there should be no sports in Pennsylvania for the remainder of the year when asked about the PIAA giving sports the green light to resume athletics.
Wolf responded: "the recommendation is that we don't do any sports until January 1st."
The Governor further added: "The guidance is that we ought to avoid any congregate settings. And that means anything that brings people together is going to help that virus get us and we ought to do everything we can to defeat that virus. So any time we get together for any reason, that's a problem because it makes it easier for that virus to spread."
Later in the afternoon, the Governor and the Department of Health and Education released a more formal, joint statement.
Today DOH + @PADeptofEd jointly recommended that Pre-K–12 school + recreational youth sports be postponed until at least Jan 1, 2021, to protect children + teens from #COVID19. This is a strong recommendation + not an order or mandate.

More information: https://t.co/KjCNduoE0I pic.twitter.com/l0xWtBBTy4

— PA Department of Health (@PAHealthDept) August 6, 2020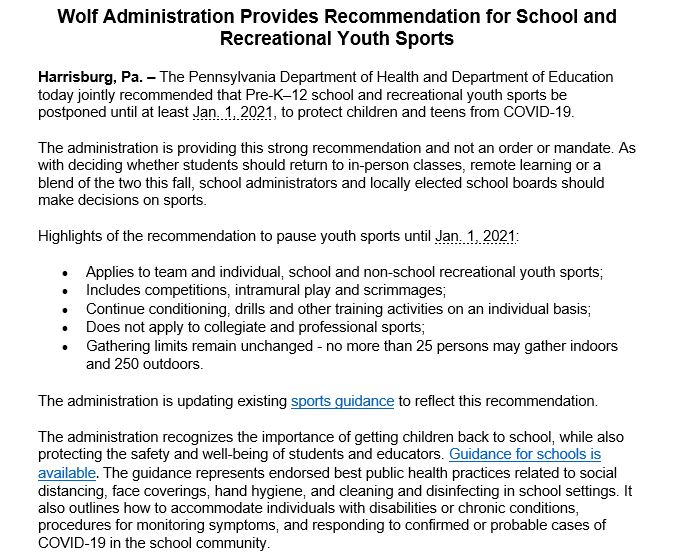 With this being a 'recommendation' and not a direct order, this firmly puts the ball in the court of the PIAA (Pennsylvania Interscholastic Athletic Association), to proceed forward.
To this point, the PIAA has moved forward, with caution, in preparing for the 2020 Fall Sports season.
High school soccer programs return to optional workouts; PIAA remains committed to Fall sports
Following the Governor's statement on Thursday morning, the PIAA's Board of Directors quickly convened in the afternoon.  The PIAA has responded, expressing its 'disappointment'. It's our understanding, per Pittsburgh Tribune-Review, that the PIAA held a phone call with Wolf to try and change his mind
The Commonwealth's scholastic sports governing body needs some time to figure out how to proceed.  They'll be meeting again tomorrow, and will release an official statement at that time.
PIAA Update: pic.twitter.com/ue7q7xQy9U

— PIAA (@PIAASports) August 6, 2020
The statements made by the Governor and the ensuing joint recommendations set off various reactions on various social media platforms.
Only a recommendation. Some schools will be prepared to handle Some will be more cautious than others but it is the decision of the PIAA & WPIAL along w/ the schools. I feel it should be the schools decision to allow patrons into open air sporting events w/ social distancing also https://t.co/T3PxirkSpP

— Ed Rosensteel (@edrosensteel) August 6, 2020
I can't imagine how upset I'd be if I lost my senior year of sports, but I was an 18 year old not somebody on Twitter who is supposed to be an adult mad online about it. Grow up. It's not worth your Grandpa or Mom dying over it.

— PittCabe (@PittCabe) August 6, 2020
My read: This forces PIAA to make the tough decision it has avoided for months, one it foisted on individual schools because it didn't wanna take the heat. Look to neighboring states — those gov. bodies made calls they had to, tough as they may be. https://t.co/Yq4cVOguvz

— Jake Adams (@jakeadams520) August 6, 2020
People gotta stop blaming Governor Wolf. It was a recommendation. The PIAA is ultimately making the decision for what will happen this fall for high school sports. PIAA is probably happy with this statement because it takes the pressure off of them to make a decision.

— Ray Eldridge (@Ray_Eldridge33) August 6, 2020
Recommendation being the main word. It is not an order or a mandate. Up until this "recommendation" was made today the PIAA was fine with sports starting on time. Why would this change that?

— KGecik (@kimberly_gecik) August 6, 2020
Exclusive footage of Governor Wolf heading to today's press conference pic.twitter.com/l3d9OjAGFd

— WPIAL Insider (@WPIAL_Insider) August 6, 2020
What are we doing? It is IMPERATIVE for youth's mental, emotional and physical well being to get back to sports and activity! It can be done with an abundance of caution. The effects of these illnesses 👆are real! #realtalk #letthekidsplay https://t.co/2XNY8dtsj0

— Chris Hoke (@hokiebro76) August 6, 2020
For Governor Wolf to act as he did today was just classless and gutless. He doesn't say anything for months and then just casually drops his "recommendation" out of the blue in a casual way at end of press conference and walks away. just wrong #piaa

— chris masse (@docmasse) August 6, 2020
Regardless of what comes out of this afternoon's PIAA meeting, give a HS senior a call or text and let them know you're there for them. Football, soccer, volleyball, cross country, golf – doesn't matter. I can't imagine how stressful this all must be for them.

— PA Football History (@pa_fb_history) August 6, 2020
Riverhounds MF Danny Griffin
Subscribe to PGH Soccer Now