FINAL – PITT 2, THE CITADEL 1 (OT)
Gameday Updates
94′ |  GOAL – PITT 2, THE CITADEL 1 – FINAL SCORE
Automatic @amanda_westt does it again‼️

Pitt 2, The Citadel 1

💻: https://t.co/dqDFFt614M#H2P pic.twitter.com/HNqAbFHnKN

— Pitt Women's Soccer (@Pitt_WSOC) September 24, 2020
Who else but Amanda West wins the game on a penalty kick for the second-straight game!
Panthers officially off to the best start to a season (5-0) in program history!
93′ | PENALTY! Foul in the box will result in Panthers PK.
They're going to OT!
Team captain @ktkmck leading the late rally!

Pitt 1, The Citadel 1

💻: https://t.co/dqDFFt614M#H2P pic.twitter.com/lbL0JZrZOc

— Pitt Women's Soccer (@Pitt_WSOC) September 24, 2020
83′ | GOAL – PITT 1, THE CITADEL 1
Kate McKay heads the ball in from a few yards out after receiving a header pass from Anna Rico.  
Cross came in from Hannah Knych.  
71′ | GOAL – The Citadel 1, Pitt 0 – Bulldogs score the game's first goal on a shot outside the right side of the box that just went under the crossbar.
At the half, Pitt and The Citadel are scoreless. Pitt's had four shot attempts but nothing yet to show for it.
Here's Pitt's lineup…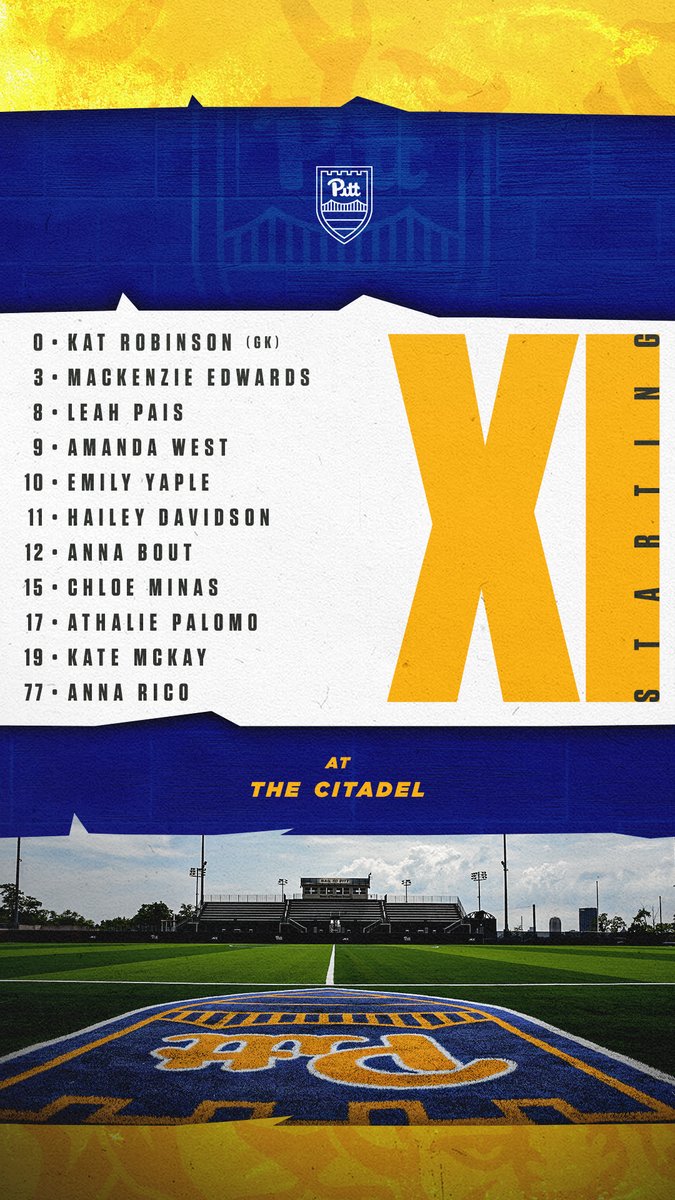 Teaching the young team how to be road warriors! 7 of our first 8 games on the road this year. https://t.co/dWAq5TDJ5T

— Dustin Stein (@steind13) September 23, 2020
The first set of @UnitedCoaches rankings are here!

Today's women's poll consists of the Top 15 national rankings, with the ACC holding 6️⃣ spots! pic.twitter.com/digeLxt7jB

— ACC Women's Soccer (@ACCWSoccer) September 22, 2020
Game Notes from Pitt Athletics… 
NATIONALLY RANKED
Pitt is slotted at No. 12 in the first United Soccer Coaches' Poll, announced Tuesday.
This is the first-ever ranking in the United Soccer Coaches' Poll in program history.
The Panthers are one of six ACC teams ranked.
The poll has condensed rankings at this time, with only 15 teams ranked that have played a game this season.
Head coach Randy Waldrum has now led five schools to be nationally ranked: Tulsa men's and women's soccer, Baylor and Notre Dame in addition to Pitt.
TIED FOR THE BEST START IN PROGRAM HISTORY
Pitt is off to a 4-0 start for the first time in program history since winning its four games in the 2006 and 2009 season.
Last week the Panthers defeated Syracuse 2-0 in their home and ACC opener Thursday and won 1-0 in overtime at Navy. The previous week, the team beat Appalachian State twice last weekend on the road with a 4-0 and 7-1 victories for a 14-1 goal aggregate for the season.
Amanda West scored a golden goal in the 96th minute on a penalty kick to get the win against the Midshipmen.
Against the Orange, the Panthers had a dominate advantage in shots (27-4) and shots on goals (12-1).
Emily Yaple scored the game-winning and first collegiate goal in the 58th minute, and West added another goal from a penalty kick in the 76th minute.
The season-opening shutout was the biggest-ever margin of victory in a season-opener.
The Panthers had not defeated an opponent by 4+ goals since a 6-1 victory over St. John's on Oct. 9, 2011.
Eight Panthers have scored the 14 combined goals.
The Panthers picked up a third road win of the season, the first since winning three times away from home in 2015.
LEADING SCORER IN THE NATION, AMANDA WEST
Amanda West leads the nation in all three scoring categories: goals (four), assists (three) and points (11).
West has hit the ground running this season, just like she did last year, with a goal in each game and an assist in the first three.
With only 21 career games played, she already ranks among the top all-time scorers in program history.

Tied for fifth in points (40) with Netta Agredano (2000-03).
Sixth in goals (14).
Tied for fourth in assists (12) with Kristina Francois (2003-06) and Cande Ruiz (1998-01)

She has recorded seven 3+ point games, tied with Ruiz) the most in program history.
She accomplished things in 2019 that no other Panther has done in program history.
She was named to the United Soccer Coaches' All-Atlantic Region Third-Team, becoming the second-ever Panther to receive all-region honors.
She became the first Pitt women's soccer player to receive All-ACC honors when she was named to the third and all-freshmen teams.
She broke the school's all-time single-season points record last year with 29.
Also, she passed Ruiz (1998) at 26 for the most and also tied Ruiz for the most goals in one year with 10.
In assists, she tied with Charity McClure (1998) and Katelyn Ruhe (2010) for the single-season record and already ranks tied for eighth in career assists.
SCOUTING THE CITADEL
The Citadel is 1-0-1 with a 2-1 win at Georgia Southern (Sept. 14) in its season-opener and 1-1 tie at Mercer last Thursday.
A member of the Southern Conference, the league postponed its season due to COVID. The Bulldogs elected to play an eight-game nonconference slate this fall, including two against fellow SoCon member Mercer.
Going 6-11-2, 1-8-0 last year, The Citadel returns 21 letterwinners from last year's squad, including 11 players who saw significant time in the starting lineup.
THE SERIES
This is the first-ever meeting between the two programs.
RETURNING FOR PITT IN 2020
The Panthers return seven starters and eight other letterwinners from last year's team that went 5-10-3 overall and 2-6-2 in ACC play.
Amanda West and Mackenzie Edwards started every game last season as freshmen, and Athalie Palomo started in every game played with one game missed due to an injury.
McKay, a transfer from Elon, started in all but one game.
Sophomores Krystyna Rytel and Anna Bout combined for 26 starts in the midfield and will look to fill the void of last year's team captain Juliana Vazquez, who graduated.
This year's team still ranks as one of the youngest in the ACC with only six upperclassmen. Dixon Veltri is the team's lone senior.
THIS YEAR'S NEWCOMERS
Pitt welcomes 10 new players to this year's rosters with two transfers and eight freshmen.
The Panthers are already counting on their newcomers to make instant impacts, as four have started in all four games: Chloe Minas, Hailey Davidson, Leah Pais and Emily Yaple.
Davidson came from Oklahoma, where she started two years as a defender and had four goals and an assist as a freshman in 2018.
Pais won the 2019 America East Rookie of the Year while at Albany, where she tied for the team-lead in goals (five) and tallied 12 points.
Coach Waldrum brought in one of the most talented recruiting classes in program history, an eight-member class: Nyla Allen, Ione Fetsko, Eva Frankovic, Hannah Knych, Minas, Chantelle Parker, Yaple and Zaria Stevenson.
Davidson, Frankovic, Minas and Yaple all joined the team for last year's spring semester.
NEW STARTING GOALKEEPER
The Panthers must replace two-year starting goalkeeper Amaia Pena, who signed a professional contract with Athletic Club Femenino (Spain).
Pitt has three goalkeepers on the roster: Katherine Robinson, Caitlynn Lazzarini and Gabriella Neibart.
Robinson, the most experienced of the trio, has started all four games and allowed no goals with six saves in 307 minutes played. She recorded back-to-back shutouts against Syracuse and Navy.
Lazzarini relieved Robinson in both App State games in the second half and made two saves in 58 minutes.
Prior to this season, Robinson made eight starts in 12 games played over two seasons. Last year she registered a 0-1-1 record with a 2.20 goals against average and eight saves.
Lazzarini played in three games last year as a freshman and recorded a 1-2-0 record, 0.95 goals against average and eight saves.
O CANADA
Waldrum and his staff have gone north of the border the last two years to find top talent to fill out the roster.
Six players grew up playing in the Canadian youth soccer system: Parker (Milton, Ontario), Pais (Mississagua, Ontario), West (Burlington, Ontario), Anna Bout (Cambridge, Ontario), Minas (Montreal, Quebec) and Bex Bartosh (Hiawatha First Nation, Ontario).
Pais ranks second on the team in scoring with three goals and seven points.
Bout and Minas have started in the midfield in each game, and Bout scored her first collegiate goal at Appalachian State.
Parker made her collegiate debut in that same game, and Bartosh came off the bench in both App State games.
Riverhounds MF Danny Griffin
Subscribe to PGH Soccer Now