USL Championship Eastern Conference Quarterfinal
FINAL: Louisville City FC 2, Pittsburgh Riverhounds SC 0
Stats: USL Championship Match Center
Match Summary
Louisville City FC continued its mastery in the USL Championship's Eastern Conference playoffs, beating the Riverhounds SC 2-0 at Family Lynn Stadium on Saturday night.
Cameron Lancaster started the scoring in the 17th minute for Louisville, and Corben Bone added another goal in the 86th minute. With the loss, Riverhounds SC has been eliminated from playoff contention. This is the second straight season the Hounds have been eliminated by Louisville (lost to the foe 2-1 in extra time during the 2019 conference semifinals).
"We asked the guys to play on their front-foot, and we did," head coach Bob Lilley said. "I'm proud of how they approached the game. I think we created a number of good moments where we had them compromised defensively. We couldn't quite find the last ball or free ourselves at the right moments. There were two very good teams both having a go."
"We've grown a lot in a short period of time – it's a short season. I look at how we handled the game, and in the second half to push them back and play on our terms, I don't think I could've asked more from the guys. I think if we get the goal to tie it, we definitely had the game in our favor. Short term, it's brutal to lose the game. But when I look at the big picture, we've grown a lot as a group."
First Half
The Hounds registered the first shot of the match in the 13th minute, when Robbie Mertz sent a pass to Albert Dikwa in the center of the penalty area. Dikwa sent the ensuing shot toward the bottom-right corner, but it was saved by Louisville goalkeeper Ben Lundt. Steevan Dos Santos sent the rebound toward the bottom-right corner, but missed wide.
Louisville would get on the board in the 17th minute, when Oscar Jimenez sent a cross into the center of the penalty area. Lancaster redirected the ball into the bottom-right corner, giving the opposition a one-goal lead.
Goalkeeper Danny Vitiello made three great saves to keep it a one-goal game. In the 15th minute, Brian Ownby sent a shot toward the bottom-right corner, only to be denied by the Golden Glove award winner. Then in the 25th minute, Lancaster launched a shot from the center of the penalty area toward the bottom-left corner, which Vitiello deflected away.
Louisville had one last chance in the 45'+1, when Bone sent a shot from the center of the penalty area toward the bottom-right corner. Vitiello dove to his left to reject Louisville once again.
Second Half
Neither club recorded a shot on target for the first 30 minutes of the second half. Although, Louisville had an opportunity in the 72nd minute. Ownby launched a long-range shot from the right wing after Vitiello came off his line, but missed high.
Pittsburgh's best chance came in the 82nd minute, after a Louisville hand ball resulted in a free kick for the Hounds. Kenardo Forbes sent the resulting free kick just high of the crossbar.
Louisville extended its lead in the 86th minute, when Bone sent a shot from outside the penalty box into the center of the goal.
Gameday Updates
The off-season has begun.

— Steel Army (@SteelArmy) October 11, 2020
GOAL – LOUISVILLE 2, PITTSBURGH 0
Corben Bone with the shot from top of box – -Vitiello can't handle it and it spins into goal.
75′ – Two more subs for Pittsburgh. Anthony Velarde & Ropapa Mensah come on for Steevan Dos Santos & Ray Lee.
73′ – A volley opportunity for Ryan James on end of Forbes' free kick — but that one was a bit too tough to get a solid foot on. Scored a few times this year on those volleys.
66′ – Substitutions, Louisville City. Luke Spencer replaces Cameron Lancaster. Napo Matsoso replaces Antoine Hoppenot.
64′ – Lilley goes to Patrick Bunk-Andersen as his first sub for Skylar Thomas. Probably wasn't one he wanted to use going into this one, but Thomas is carrying yellow.
62′ – Mertz shaken up after a terrific tackle at midfield. Both he and Griffin have been putting in a lot of work — maybe too much. They need more of the ball.
53′ – Nice hustle play by Griffin there to put some pressure on Jimenez to draw the yellow card.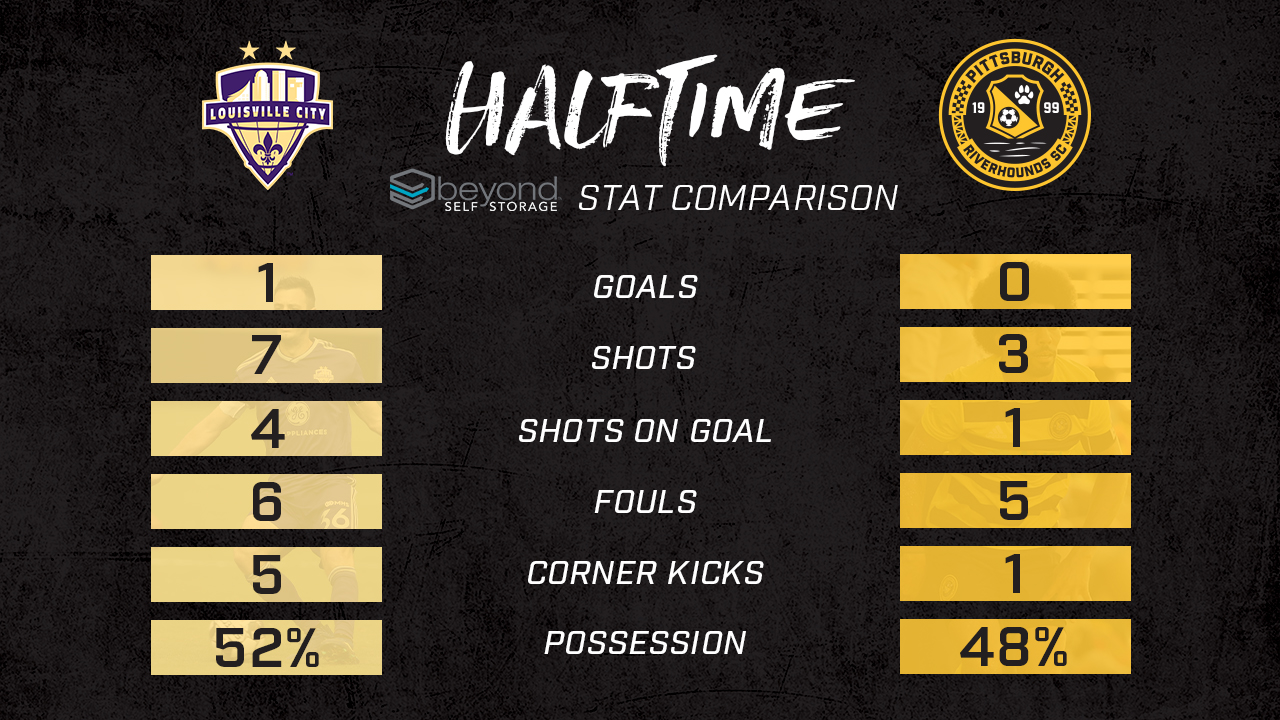 Vitiello is certainly the MVP for the Hounds in that 1st half. Could easily be 3-0. @JohnKrysinsky #PITvLOU

— Jordan Smith (@JSmith_1187) October 11, 2020
HALF – LOU CITY FC 1, PITTSBURGH 0
45′ – Skylar Thomas (Pittsburgh Riverhounds SC) is shown the yellow card for a bad foul.
40′ – Louisville should have scored again. Completely undress the Hounds high press — and have a break opportunity but Skylar Thomas with a nice lunging clearance to turn away eventual shot opportunity.
32′ – Antoine Hoppenot (Louisville City) is shown the yellow card.
29′ – Danny Griffin with a professional foul there… Louisville so irritated by it that it looks like Hoppenot (a former Harrisburg City Islander) picks up a yellow card.
26′ – Alexis Souahy (Louisville City) is shown the yellow card for a bad foul.
25′ – Another nice save by Vitiello bails out Hounds again. Lancaster easily wins 50/50 ball in open space vs Ray Lee (mismatch!). Hounds pushed lot of numbers forward — and were hoping for call in box as Mertz went down.
17′ – GOAL – LOUISVILLE CITY 1, PITTSBURGH 0
Louisville scores first! Redirect from Lancaster in the box — and Hounds caught watching the paint dry!
15′ – SAVE! Vitiello gets down — kick save and beauty! Louisville with lots of room to operate on the back post. Hounds need to tighten that up.
15′ – Hounds with game's first chance — Dos Santos wins ball, gets behind back line and feeds Dikwa who shot is saved. Dos Santos follow-up is also denied.
10′ – Frantic early start. Both teams giving balls away around midfield.
Here's the Hounds' starting XI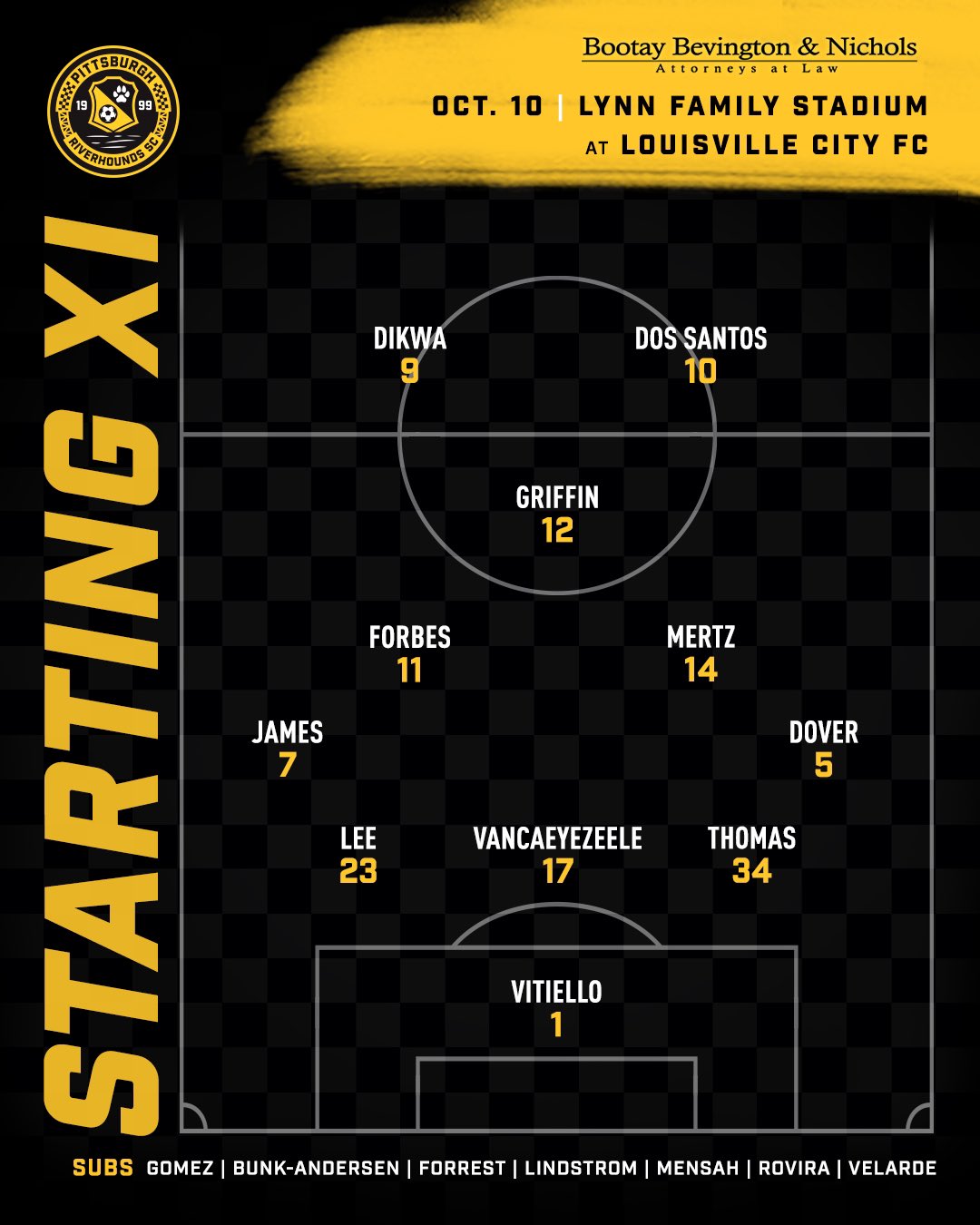 Awwwwww, SNAP!

It's a playoff GAMEDAY.

The beloved kick off in Louisville at 7:30.

You can watch along on @22ThePoint (locally) or ESPN➕ (nationally).

Take a deep breath and try to keep it in check until this evening.#UNLEASH

— Steel Army (@SteelArmy) October 10, 2020
Bring the fam, dress to impress, be loud, and stay lit on that liquid.

Let's have some fun…

😈 IT'S FÚTBOL TIME! 😈

#LOUvPIT #USLplayoffs #VamosMorados pic.twitter.com/2xXz2FLh4k

— ★ᴛʜᴇ ᴄᴏᴏᴘᴇʀꜱ★ (@LouCoopers) October 10, 2020
PSN's Hounds Coverage this week
Mark Goodman's Preview / Scouting Report on Louisville City FC will be posted here.
Preview: Louisville-Pittsburgh will be the best game of the playoffs
'Better Equipped' Hounds prepared to use more options vs Louisville this time around
What They're Saying #LOUvPIT
Hounds Head Coach Bob Lilley:
"We've grown a lot during the year. We're a different team now than when we played Louisville in our first game, and they are as well. It's just us getting the tactics right and executing. It'll be a good game. I think we'll have two heavyweights slugging it out."
"We have the first-round game between potentially the two best teams here." – @hackworthsoccer @loucityfc and @RiverhoundsSC's recent history has set high expectations for their Eastern Conference Quarterfinal in the @USLChampionship Playoffs. #LOUvPIT https://t.co/n6Y60Ka6Eo

— Nicholas Murray (@NJEMurray) October 7, 2020
Match Notes
At the completion of the regular season, the Hounds finished second in Group F whereas Louisville finished atop of Group E.
Last year, these two teams met in the Eastern Conference Semifinals at Highmark Stadium. The game ended for the Hounds in extra time, after a tie-breaking goal in the 118th minute from Louisville's Paolo DelPiccolo gave the opposition a 2-1 victory.
This will be the second time these clubs clash in 2020, as the Hounds opened their season against Louisville back on July 12. The Hounds fell behind early in the first half, but three unanswered goals powered the them to a 3-1 victory in the inaugural match at Lynn Family Stadium.
The Hounds head into the playoffs after putting together an impressive regular season campaign. Not only did they finish at the top of the USL Championship in many categories, they also broke club records. As a team, the Hounds scored 2.44 goals per game and allowed only 0.63 goals per game – both being club records.
For league-wide accomplishments, Pittsburgh led the USL Championship with a 28 percent conversion rate on offense. Defending was also a key going into this season, and the Hounds' backline did not disappoint. They tied for the top spot in the USL Championship with eight clean sheets. Five of those shutouts came from goalkeeper Danny Vitiello, who was awarded the Golden Glove for the best goals-against average (0.50) in the league.
In club history, Pittsburgh is 8-12 in postseason action. Under head coach Bob Lilley, the club is 1-2. Both of these losses occurred in either extra time or penalties.
Riverhounds MF Danny Griffin
Subscribe to PGH Soccer Now