ACC Women's Soccer
FINAL: Wake Forest 1, Pitt 0 
Pitt had hopes to clinch a spot in the ACC Tournament for the first-time in program history but came up short after a 1-0 loss at Wake Forest on Sunday afternoon.
After a hard-fought, scoreless first half, the match turned quickly in the 65th minute.  Pitt's scoring whiz Amanda West nearly gave the Panthers the go-ahead goal when she placed a shot off the right post.
Wake Forest quickly countered, then Sofia Rossi took matters into her own, slicing and dicing through the Panthers and into the right side of the box.
What. A. Goal.

Sofia Rossi, take a bow.

📺 (ACCNX): https://t.co/Lfcppj74qo pic.twitter.com/UTwU68d7jg

— Wake Women's Soccer (@WakeWSoccer) November 1, 2020
NEWS AND NOTES
Caitlyn Lazzarini made seven saves.
Wake Forest had the slight edge in shots (15-14) and corner kicks (4-2).
Emily Yaple placed two of a game-high five shots on goal.
Pitt finished 10th in the ACC standings.
Gameday Updates 
FINAL – WAKE FOREST 1, PITT 0
Pitt will not qualify for the ACC tournament, as they needed a win, regardless of what happens now in the Virginia Tech-Boston College match.
80′ | Wake def brought more pressure in second half. Now outshooting Pitt, 15-11.
What. A. Goal.

Sofia Rossi, take a bow.

📺 (ACCNX): https://t.co/Lfcppj74qo pic.twitter.com/UTwU68d7jg

— Wake Women's Soccer (@WakeWSoccer) November 1, 2020
65′ | GOAL WAKE FOREST 1, PITT 0
After Amanda West's
shot bounces off the right post, the Demon Deacons race down the field & score the game's first goal on a terrific individual effort by Sofia Rossi.
60 | The match getting really stretched — Wake Forest getting more shots during the back-and-forth play.
48′ | Chantelle Parker has the first shot of the second half, which is stopped by the Demon Deacons' GK.
Here are some halftime stats:
Shots: WF 7, Pitt 5 (on Target — Pitt 4, WF 3)
Corners: Pitt 1-0
Fouls: WF 7, Pitt 4
Also at he half…  Virginia Tech 0, Boston College 0
HALF | Remain scoreless!  Pitt pushed a few times for the equalizer but didn't get anything.  
In dying second of first half, nice cross from end line from Amanda West, but Wake Forest physical challenge in the box denies the redirect.
28′ | Off a cross from Chantelle Parker, Emily Yaple  shot is saved by the Demon Deacons' GK next to the right post.
We're monitoring BC-VT match too, as it holds @ACCWSoccer tournament implications for Pitt women's soccer today… thus far, both Pitt vs Wake Forest and BC-VT are scoreless. https://t.co/LRqQ4FKCH0

— Pittsburgh Soccer Now (@pghsoccernow) November 1, 2020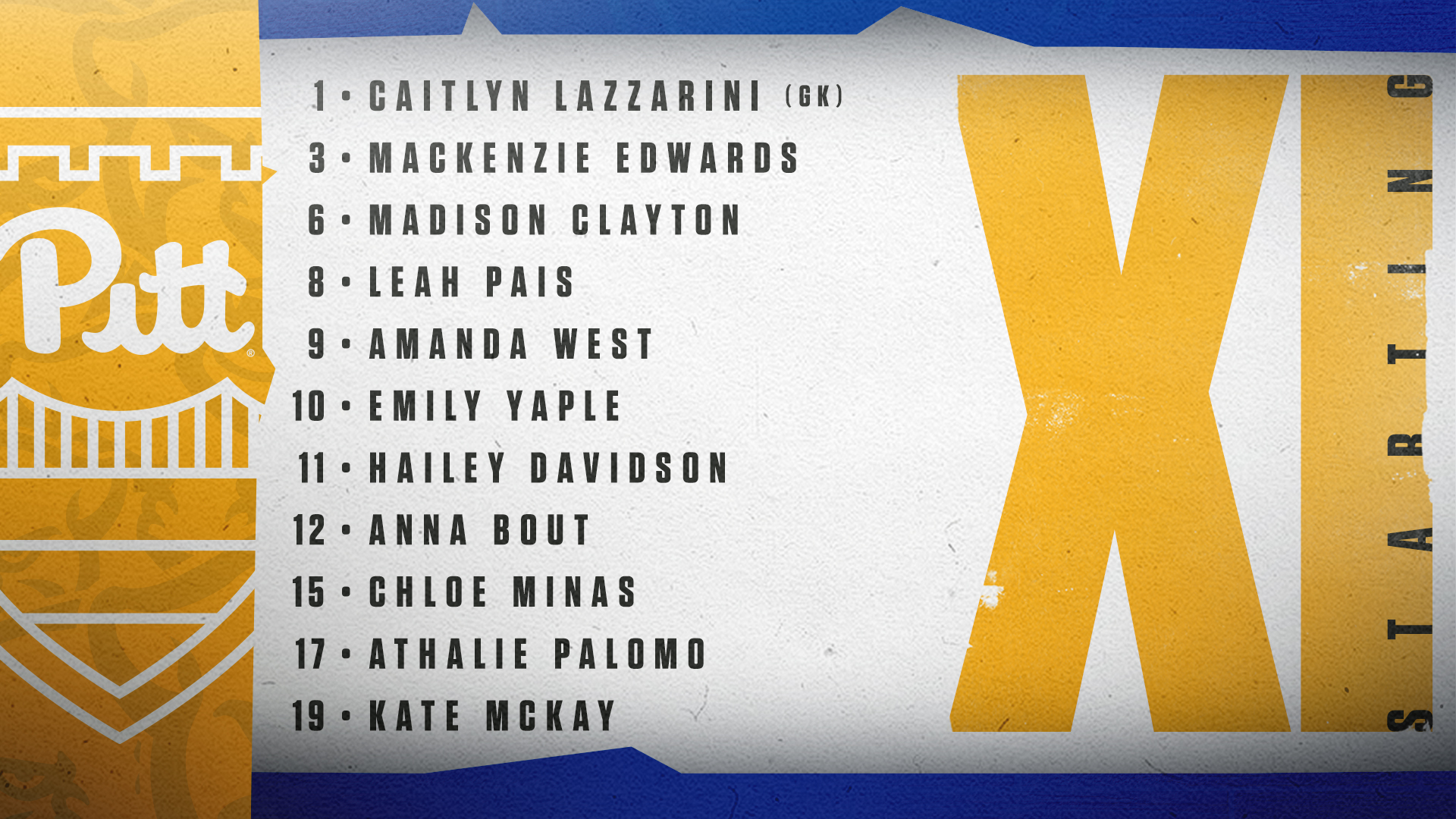 Look for the line-ups and game updates to be posted here.
Pitt Women's Soccer Game Notes 
ACC TOURNAMENT SPOT ON THE LINE
Here's a look at the current ACC Women's Soccer Standings:
Pitt is currently tied for eighth place in the ACC standings with Virginia Tech at nine points, Pitt is in position to make the ACC Tournament for the first time in program history.
As the top-eight teams make the tournament as in years' past, the Panthers will need to get at least a tie and some help on the last day of ACC play to make their first postseason appearance since making the BIG EAST Tournament in 2010.
Pitt would clinch a bid if:
o   A Pitt tie and a Virginia Tech loss at Boston College.
o   A Pitt win and:
Virginia Tech loses at Boston College.
Duke loses at Miami.
Virginia Tech wins at Boston College, Duke ties at Miami and Pitt beats Wake Forest by at least five goals.
We're wishing the best of luck to the Eagles. Get out there and get the W today!#H2P https://t.co/Mv69G7gDil

— Pitt Women's Soccer (@Pitt_WSOC) November 1, 2020
LAST TIME OUT: NO. 3 CLEMSON
The Panthers fell 2-1 in overtime Thursday night at the third-ranked Tigers.
Tied at halftime, Amanda West scored the game's first goal in the 49th minute.
Clemson scored two goals on headers off corner kicks, including the golden goal in the 92nd minute.
Caitlyn Lazzarini made a career-high nine saves, including six in the second half.
TOP MARKS IN THE COUNTRY
With the strong start to the season, the team ranks among the best in Division I in several categories.
The Panthers lead the nation in total points (83) and goals (30).
They rank in the top-20 in other team statistics: second in assists (23), third in scoring offense (2.31 goals per game), 11th in shots per game (14.62), 13th in shots on goal per game (7.00) and 20th in corner kicks per game (5.54).
LEADING SCORER IN THE NATION, AMANDA WEST
West leads the nation in goals (13), game-winning goals (four), points (30), goals per game (1.0), points per game (2.31) and shots on goal per game (2.46) while ranking fourth in shots per game (4.38) and tied for fourth in assists (four) with teammate Kate McKay.
With 30 points on the season, she broke the program record for points, which she set last year with 29.
She hit the ground running this season, just like she did last year, with a goal in the first seven games for the longest goal-scoring streak in program history.
With only 30 career games played, she already ranks among the top all-time scorers in program history.
o   First in points (59), eight ahead of Ashley Cuba (2009-12).
o   Tied in career goals (23) with Cuba.
o   Tied for third in assists (13) with Liz Carroll (2007-10).
She has recorded nine 3+ point games, the most in school history.
Her 13 goals this fall are most in a single-season, three ahead of her total last year and Cande Ruiz (1998).
She accomplished things in 2019 that no other Panther has done.
She was named to the United Soccer Coaches' All-Atlantic Region Third-Team, becoming the second-ever Panther to receive all-region honors.
She became the first Pitt women's soccer player to receive All-ACC honors when she was named to the third and all-freshmen teams.
In assists, she tied with Charity McClure (1998) and Katelyn Ruhe (2010) for the single-season record.
ROAD WARRIORS
Five of the nine wins this season have come on the road, the most in a single-season in program history.
Last year on the road, Pitt was 1-7-1 and a combined 2-28-4 in the last four seasons.
With the difficulties of scheduling due to COVID and the desire to play nonconference games, Pitt has nine of its 14 games away from home this fall.
All but one of the seven nonconference games are on the road.
SCOUTING WAKE FOREST
The Demon Deacons enter the game with a 2-5-1, 2-4-1 record with seven points for 10th place in the ACC standings.
To make the conference tournament, Wake Forest needs to beat Pitt and have Virginia Tech lose at Boston College. The Hokies topped the Demon Deacons 4-3 Thursday in Winston-Salem, N.C. in a back-and-forth game.
Freshman midfielder Sophie Faircloth (six points) and senior forward Ryanne Brown (four) are the leading scorers on the team as they combined for five goals.
Three goalkeepers have played at least 213 minutes of action: Redshirt-freshman Kaitlyn Parks (1-2-0 record, .739 save percentage and 2.50 goals-against average), freshman Madison Howard (0-2-0, .533 SV% and 2.00 GAA) and redshirt-sophomore Mia Raben (1-1-1, .722 SV% and 2.11 GAA). Parks played all 90 minutes in each of the last two games.
THE SERIES
Wake Forest has won three of the four meetings against Pitt, including a 3-2 double overtime victory at home last year on Oct. 24.
Three of the games have been decided by one goal, including two that went into overtime.
NEW STARTING GOALKEEPER
The Panthers replace two-year starting goalkeeper Amaia Pena, who signed a professional contract with Athletic Club Femenino (Spain).
Pitt has three goalkeepers on the roster: Robinson, Caitlyn Lazzarini and Gabriella Neibart.
Robinson, the most experienced of the trio, seized the job at the beginning of the season and started the first eight games with only eight goals allowed and 21 saves in 754 minutes played.
She has recorded three shutouts, including back-to-back against Syracuse and Navy.
Lazzarini has started the last four games and previously relieved Robinson in both App State games and also against Boston College in the second half.
She has made 17 saves in 422 minutes.
Prior to this season, Robinson made eight starts in 12 games played over two seasons. Last year she registered a 0-1-1 record with a 2.20 goals against average and eight saves.
Lazzarini played in four games with three starts last year as a freshman and recorded a 1-2-0 record, 0.95 goals against average and eight saves.
O CANADA
Waldrum and his staff have gone north of the border the last two years to find top talent to fill out the roster.
Six players grew up playing in the Canadian youth soccer system: Chantelle Parker (Milton, Ontario), Leah Pais (Mississagua, Ontario), West (Burlington, Ontario), Anna Bout (Cambridge, Ontario), Chloe Minas (Montreal, Quebec) and Bex Bartosh (Hiawatha First Nation, Ontario).
Pais ranks tied for second with Anna Rico and McKay on the team in scoring with four goals and 10 points.
Bout and Minas have started in the midfield in each game, and Bout scored her first collegiate goal at Appalachian State.
Parker started four games at forward before Pitt's previous against Miami.
Riverhounds MF Danny Griffin
Subscribe to PGH Soccer Now