Horizon League Men's Soccer
FINAL: Robert Morris 0, Green Bay 0
In a match which had with various momentum swings, Robert Morris men's soccer picked up its first-ever result in Horizon League action by playing Green Bay to a 0-0 draw in Love's Park, IL on Monday afternoon.
The Colonials were outplayed in the first half, surrendering six shots while only putting one shot on target in the first 45 minutes.
After withstanding the early first half pressure, they played Green Bay evenly through the second half and into both overtime periods, creating three shots on frame in the process.
Robert Morris' best chance of the match may have come early in the first overtime period when Gustaf Moberg dangerous shot was saved by WGB's Jamison Yoder.  Moberg followed up with another shot that missed over the bar.
The Colonials will be back in league action again when they return home to host Purdue Fort Wayne on March 6th at SouthPointe Fieldhouse.
UPDATES
END OF 2OT — GAME ENDS in 0-0 draw.
108′ | Yellow card to #16 Ruben Linden. RMU was on a break and Ruben made a sliding challenge.
102′ | WGB's Kevin Cela gets an opening through the midfield and takes a shot at the top of the box and puts it over the bar.
END OF 1st OT | 0-0
91′ |  Jamison makes a huge save off RMU's Moberg at the start of the extra time period and there is a free kick at the top of the box for RMU now
They're going to OT!  Still scoreless!
RMU came back with a stronger 2nd half — including five shots (GB with lead in shots 13-6).
73′ |  RMU's Lorenzo Guagneli lashes one but it sails high of the net!
48′ | Fredi crosses into the box and RMU's defender gets a slight touch and sends it out for a corner! No result from the corner!
HALF:   It's still 0-0.  WGB with the considerable edge in shots (6-1).
39′ | WGB's Dylan Campbell swings in a cross and Ethan Hoard is back post and gets a shot off that is cleared off the line and put back for a corner. No chance on goal from corner. 0-0
32′ | A yellow card has been handed out to #12 Michael McDougall
23′ | RMU earns a good look with a cross into the box but it's grabbed by the keeper! 23′ |
14′ | WGB chance…  Tim Stiller is played down the wing and swings in a beautiful cross that connects with Villi in the box! Villi scores but the offical flag was up for offsides. 0-0
Here's RMU's Starting lineup…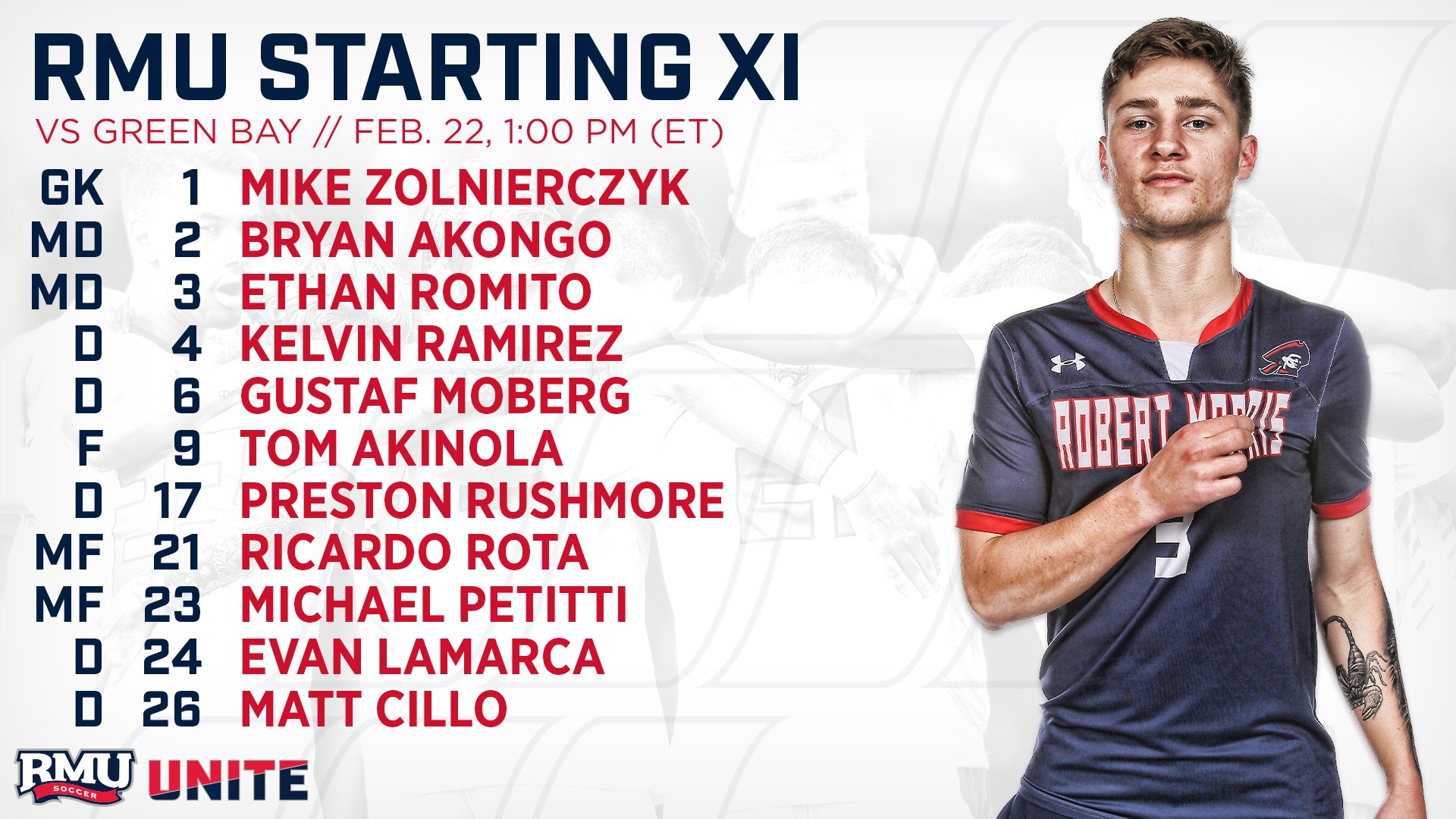 PREVIEW
RMU was idle last week after the cancellation of their previously scheduled series with IUPUI.
When they last took the field, RMU dropped its home opener against Cleveland State 2-0 at SouthPointe Fieldhouse on February 10.
Despite a second straight loss, the Colonials showed signs of improvement against CSU, registering three shots on target while consuming six after conceding ten in their opening game against Oakland.
Bryan Akongo, Gustaf Moberg, and Preston Rushmore each finished with a shot on target.
KNOW BOBBY MO 
The Colonials are coming off of a 2-0 home loss to Cleveland State on February 10 at SouthPointe Fieldhouse.
Seventeen Colonials saw game action against CSU. Junior goalkeeper Grant Glorioso made his second consecutive and sixth career start in goal for the Colonials, making four saves.
Sophomore forward Jon Faynik led RMU in shots with two, while Bryan Akongo, Gustaf Moberg, and Preston Rushmore each finished with one shot on goal apiece.
RMU has taken six corners through their opening two games in 2021, conceding eleven.
Midfielder Lorenzo Guagneli is the lone senior on a roster that features nine freshmen, seven sophomores, and ten juniors.
Head Coach Jason O'Keefe takes over in his first year at the helm of Robert Morris in 2021.O'Keefe spent the last four years as head coach at Appalachian State, the last two of which he led the Mountaineers to back-to-back winning seasons, including a mark of 11-7-1 (.605) in 2019.
The Colonials will play their 2021 home schedule away from campus in 2021, hosting games at the indoor facilities of the SouthPointe Fieldhouse.
Amongst their new Horizon League foes, the Colonials have never faced Milwaukee, Fort Wayne or IUPUI.  RMU is 6-12 all-time against Cleveland State, 0-2 against Oakland, 0-0-1 against UIC, 0-1-1 against Detroit Mercy, 3-3 against Wright State, 0-1 against Northern Kentucky, and 0-1 against Green Bay.  Robert Morris squared off against both Oakland and CSU last season, however they have not faced UIC in over 20 years, last meeting the Flames during the 1996 campaign.
SCOUTING GREEN BAY
Green Bay is 1-0 this year and has been idle since February 4th after their scheduled matchup with IUPUI on February 10 was also cancelled.
The Phoenix earned a win over Cleveland State in their only game in 2021, scoring with just under a minute left in the second overtime period against the Vikings to earn a 2-1 victory back on February 4th.
Green Bay was picked to finish seventh overall in the 2021 Horizon League Pre-Season Coaches Poll.  The Phoenix and the Colonials have only met once before in their history, a 2-0 Green Bay victory at the North Athletic Complex on September 13, 2009.
NEXT UP
The Colonials have a scheduled off weekend following the trip to Green Bay before they return home to host Purdue Fort Wayne on March 6th at SouthPointe Fieldhouse.
Subscribe to PGH Soccer Now