ACC NCAA Automatic Qualifying Match 
FINAL: Clemson 2, Pitt 0 
Summary
In its rematch with Clemson to decide the ACC's NCAA tournament automatic qualifier, the Pitt Panthers came up empty, losing 2-0 at Historic Riggs Stadium on Saturday.
Clemson secured the automatic bid by finding opportunistic goals from Quinn McNeill early in the first half, and Isaiah Reid late in the second half.
"It was two good performances, the guys played exceptionally well against a great Pitt team," Clemson's Head Coach Mike Noonan said in the post match interview on ACC Network.  "It's moments. We took our moments. Pitt didn't."
When asked what was most important thing about this win for Clemson, its second against Pitt, when the Panther were top-ranked.
"It's confidence and belief.  That's most important. This win gives our team that," the veteran coach said.
Clemson scored its first goal in the 17th minute, as Quinn McNeill put the Tigers up 1-0. The Panthers totaled four shots in the final eight minutes of the first half, but couldn't connect and trailed 1-0 at the break.
17' || CLEMSON STRIKES FIRST

Quinn McNeill scores off the volley to give #ClemsonUnited an early 1-0 lead! Pipe provided the great ball into the box!

📊 – https://t.co/N7b2KzS0pW
📺 – https://t.co/QdeH80pEYi#ClemsonUnited 🧡💜 pic.twitter.com/IRnHBVrzOe

— Clemson Men's Soccer (@ClemsonMSoccer) April 17, 2021
Both teams registered six shots, while Clemson led in corner kicks 6-3 at the half.
The match stayed, 1-0, until the 83rd minute when Clemson scored its second goal of the contest (Isaiah Reid). Pitt forced two corners in the remaining seven minutes, but couldn't convert as it fell 2-0.
The teams ended the match even in shot attempts (11-11, with Clemson having the edge, 6-3, with shots on target).  Pitt held a slight edge on corners (8-7), but with every advance into the final third, they couldn't create too many clear-cut opportunities.
Graduate student goalkeeper Nico Campuzano had three saves on the evening. Sophomores Veljko Petkovic and Raphaël Crivello along with freshman Bertin Jacquesson each tallied two shots for the night.
39' || GEORGE MARKS!!!

WHAT A SAVE 👏

📊 – https://t.co/N7b2KzS0pW
📺 – https://t.co/QdeH80pEYi#ClemsonUnited 🧡💜 pic.twitter.com/qSzTgFHu1g

— Clemson Men's Soccer (@ClemsonMSoccer) April 17, 2021
Pitt will now await its fate as they appear to be a lock to secure an at-large bid to the NCAA tournament, as the pairings and brackets will be released on Monday.
Gameday Updates
FINAL – CLEMSON 2, PITT 0
88′ – YELLOW CARD Isaiah Reid
Here's a look at Clemson's second goal.
83' || CLEMSON DOUBLES ITS LEAD!!

A great piece of transition play sees Isaiah Reid score the second goal of the match after a great piece of play from Moha Seye!

📊 – https://t.co/N7b2KzS0pW
📺 – https://t.co/QdeH80pEYi#ClemsonUnited 🧡💜 pic.twitter.com/yz6HUgvVXS

— Clemson Men's Soccer (@ClemsonMSoccer) April 18, 2021
84′ – GOAL – CLEMSON 2, PITT 0
Isaiah Reid with the goal. 
Seye with a nice layoff to the left and Reid beats Nico Campuzano inside the left post.
81′ – YELLOW CARD – Luke Mort (late challenge)
80′ – Petkovic back in for Peperak.
80′ – Raphael Crivello with yellow card for hard collision with Mohamed Seye.
74′ – Petkovic hard lining cross results in another Pitt corner.
Both Luke Peperak and Luke Mort into the match again for Pitt as corner attempt to near post is cleared.
72′ – Pitt completely dominating possession, but they're stumbling every time they get to the edge of the box. They have 18 minutes to find the equalizer.
62′ – Jacquesson has been the best player on the field tonight.
Again, sets up a corner with dangerous run.
Played to far post but Crivello header misses.
56′ – Pitt showing more composure on the ball, owning possession for much of 2nd half but most efforts in attacking third are coming up short. Latest Petkovic shot from outside box not even close.
50′ – On long corner played way to far side, it's Jacquesson again who gets to it, then makes a great run up the end line, sends dangerous low cross into box for Ordonez on far side but can't convert as he falls.
48′ – Jacquesson showing some individual brilliance in getting it forward, but then takes a shot he'd like to have back, sending way over the bar
HALFTIME – CLEMSON 1, PITT 0
As half ends Veljko Petkovic showing frustration — has to be restrained by teammates. Looks like he wasn't happy with non-foul call.
(G: Clemson: McNeill 18′)
Shots (6-6, on target 3-2 CL)
https://twitter.com/jmpopovich72/status/1383578103172136962?s=20
44′ – Pitt gets in transition — they switch it over to the right for Loeffelsend who breaks to edge of box but he hits it too high. Maybe a hard low cross there would have been better?
40′ – Pitt finally showing some patience in the attacking third. Mirkovic with room to shoot and forces Marks into diving save!
38′ – Shaky clearance by Campuzano — leads to corner for Clemson. Then on ball in to near post it bounces off crossbar. Pitt clears it though.
Few observations:
In addition, Clemson forward Mohamed Seye is a tough, physical presence, giving Pitt's center backs all kinds of fits.
A lot of the things that plagued Pitt in the first match vs Clemson in November are happening again. Not comfortable playing it out of the back and through midfield. Credit to Clemson forwards and attacking MF's.
18′ – GOAL – CLEMSON
Pitt's Bryce Washington attempts to head free kick attempt, but Tigers' Quinn McNeill is there to drill it into the net.
16′ – Nice countering run by Pitt's Bertin Jacquesson to get into box, but shot deflected and then saved by Clemson's George Marks.
14′ – Pitt bringing pressure, setting up multiple corners, but can't convert.
5′ – Both sides with early corners. Jasper Loeffelsend with a foul that sets up free kick for Clemson too.
The ACC Network is airing Pitt-UNC women's softball at the moment as that game has run over.
Clemson starters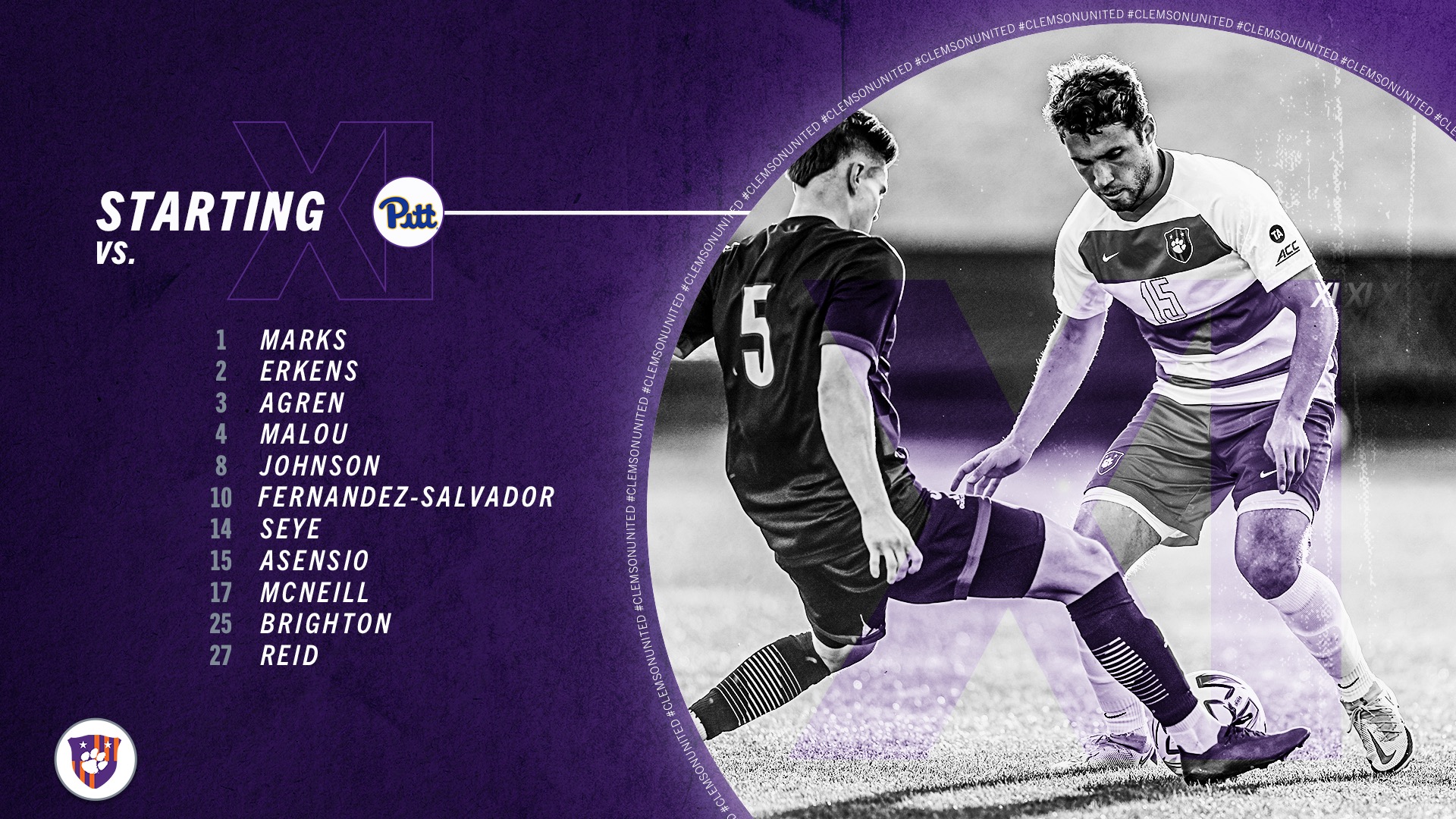 Pitt's Starting XI (confirming what we already knew!)
Tonight's Starting XI

Kickoff coming soon.

📊 https://t.co/rIXYzhZc8v
📺 https://t.co/ZGLZNUlrQ2 (ACCN)#H2P pic.twitter.com/RAir1CkCYc

— Pitt Men's Soccer (@Pitt_MSOC) April 17, 2021
We're ready

And it's almost go time 😤#H2P pic.twitter.com/A4mn3H1qIk

— Pitt Men's Soccer (@Pitt_MSOC) April 17, 2021
We will post lineup and key game day updates here.  Look for lineups to be posted at approximately 6:45 p.m.
Historic Riggs Field is certainly ready for tonight's match 😍😍😍#ClemsonUnited 🧡💜 pic.twitter.com/GMUzgao3rk

— Clemson Men's Soccer (@ClemsonMSoccer) April 17, 2021
PSN's projected Pitt Starting XI:
Keeping an eye on other teams in Top 5 (with relevance to top NCAA tournament seeds), No. 2 Georgetown loses at home in Big East Championship game to Seton Hall, 2-1.  Could this knock Georgetown off the top seed line?
Another automatic bid goes to Seton Hall, who knock off No. 2 Georgetown.
The Hoyas are all but likely to earn one of the 14 at-large bids in NCAA tournament. https://t.co/Gg8RPkyYPy

— John Krysinsky (@JohnKrysinsky) April 17, 2021
Meanwhile, Penn State equalizes vs No. 3 Indiana, who are now playing with 10 men.
82' | GOOOOOALLLL!!!! THE EQUALIZER!!!!!

Liam Butts ties this game at 1-1 with just over eight minutes to play!! Seth Kuhn and Andrew Privett with the assists. pic.twitter.com/Kw6GO0kw2H

— Penn State Men's Soccer (@PennStateMSOC) April 17, 2021
HOOSIERS WIN. ⚪️🔴 pic.twitter.com/1gN61EJ37r

— Indiana Men's Soccer (@IndianaMSOC) April 17, 2021
Preview & Match Breakdown
No. 1 ranked Pitt men's soccer team travels to Clemson, S.C., for a pivotal matchup with No. 4 Clemson Saturday evening at 7 p.m. for a chance to claim the Atlantic Coast Conference's NCAA automatic qualifying berth.
The winner of the match automatically qualifies for the NCAA Tournament.
The NCAA Selection Show is Monday, April 19 at 12 p.m. and first round action of the NCAA Tournament begins April 29. All NCAA Tournament games will be held in Cary, N.C., or the surrounding Cary area.
Stakes raised in conference championships with limited NCAA tournament field
On Friday, we published a more in-depth breakdown of the match-up.
After 'feeling the pain' of previous loss to Clemson, Pitt's now ready for rematch
And, if you still wanted a top-notch scouting report of Clemson, you can always still refer to Mark Goodman's piece prior to the match in November as a reference point.
Part 2️⃣ of #PackerAndDurham + @alexjdexter#H2P pic.twitter.com/PBF9uRpkeC

— Pitt Men's Soccer (@Pitt_MSOC) April 16, 2021
Senior Alexander Dexter (@alexjdexter) was on #PackerAndDurham this morning.

Watch part one now!#H2P pic.twitter.com/MUTJeoqVL8

— Pitt Men's Soccer (@Pitt_MSOC) April 16, 2021
Pitt Game Notes 
THE SERIES – CLEMSON
–        Clemson leads the all-time series 5-1-0.
–        Pitt's lone win came in 2018, when the Panthers won 2-1 in double overtime.
–        Most recently, Pitt fell to Clemson, 2-1, in the ACC Championship Final Nov. 22 in Cary, N.C.
–        Head Coach Jay Vidovich is 14-10-6 all-time against Clemson.
SCOUTING THE TIGERS
–        Clemson enters the contest as the Atlantic Division Champions out of the ACC, finishing with a 12-3-2 overall record and 7-3-2 conference mark.
–        The fourth-ranked Tigers are second behind the Panthers for total goals in the ACC this year, totaling 30 for fifth in the country.
–        Nine Tigers were named to the All-ACC Conference Teams this past week, with three first team, one second team, three third team and two freshman team awardees.
–        The three first team recipients – Grayson Barber, Philip Mayaka and Kimarni Smith – all moved on from the program following the conclusion of the fall season. Smith was taken No. 3 overall in the 2021 MLS Superdraft, while Mayaka was chosen immediately after him at No. 4. Barber signed a Homegrown Player contract with Sporting KC.
–        Leading the way on Clemson's defense is Oskar Agren, who was named to the All-ACC second team. Agren has helped the Tigers register six shutouts this season.
–        Leading the Tiger attack is Callum Johnson, who has four goals, four assists and a .448 shot on goal percentage this year.
–        James Brighton is second on the team in total goals with five and leads the team with 36 shots and has tallied 17 shots on goal.
–        Clemson goalkeeper George Marks sits second behind Pitt goalie Nico Campuzano in total saves with 39. Marks received All-ACC third team recognition.
–        The Tigers are known for shooting the ball on net, totaling 14.88 shots per game and 6.35 shots on goal per game, both of which lead the conference.
THE REMATCH
–        Saturday night's contest is a rematch of the ACC Championship Final Nov. 22, 2020, a game in which the Tigers won 2-1 in Cary, N.C.
–        The two teams have squared off three times since 2018, with each game being decided by one goal. Pitt defeated Clemson at home 2-1 in double overtime in 2018, while the Tigers have won the last two meetings (1-0 in 2019 / 2-1 in 2020).
–        Head Coaches Jay Vidovich and Mike Noonan have a combined 659 wins. Noonan ranks 11th among active coaches in the NCAA with 346 victories, while Vidovich ranks 19th with 313.
TOP RANKED PANTHERS EARN MULTIPLE ALL-ACC AWARDS
–        The Atlantic Coast Conference released its annual All-Conference Teams Wednesday, April 14, and Pitt earned a school record 10 All-ACC honorees, three Player of the Year awardees and Coach of the Year.
–        Sophomore Valentin Noel was named ACC Offensive Player of the Year. The Niort, France, native ranks among the best in the nation in major offensive categories, including total goals (3rd – 11), points per game (24th – 1.71), goals per game (10th – .79), total points (3rd – 24) and shot accuracy (49th – .549).
–        Graduate student Jasper Löeffelsend was named ACC Defensive Player of the Year. Löeffelsend has cemented himself as one of the best passers in the country, totaling seven assists (1st in ACC/5th in country). His .50 assists per game ratio ranks second in the league. Löeffelsend, along with teammate Bertin Jacquesson, each tallied three assists at home against Virginia Tech, both of which tied for second in program history for a single game.
–        Freshman Bertin Jacquesson made an immediate impact when he arrived at Pitt in the fall, totaling nine points in his first three games. Jacquesson was honored by the ACC with Freshman of the Year. He has three goals, six assists, 27 shots and 13 shots on goal for the season.
VIDOVICH NAMED ACC COACH OF THE YEAR
–        For the sixth time in his illustrious career, Pitt head coach Jay Vidovich was named ACC Coach of the Year.
–        Vidovich has led the Panthers to a 13-2 overall record and 9-1 ledger in conference play. Pitt's 13 wins is tied for second most all-time in school history and its nine conference victories surpassed the 1995 team that won eight Big East games for most league wins in a single year.
–        Vidovich, who won the award in 2002, 2004, 2006, 2008 and 2009 as Wake Forest's head coach, has led the Panthers to its first number one ranking in program history. The team has been ranked number one for seven weeks this season.
TEN NAMED TO ALL-CONFERENCE TEAMS
–        A record ten Panthers were named to the All-ACC Teams, with three earning first team, three second team, two third team and two freshman team.
–        Graduate student goalkeeper Nico Campuzano, graduate student Jasper Löeffelsend and sophomore Valentin Noel were tabbed first team.
–        Freshman Bertin Jacquesson, sophomore Veljko Petkovic and junior Jackson Walti received second team.
–        Senior Alexander Dexter and sophomore Arturo Ordoñez earned third team.
–        Jacquesson and freshman Filip Mirkovic rounded out the group with All-Freshman team honors.
DEXTER NAMED NATIONAL PLAYER OF THE WEEK
–        Senior Alexander Dexter had a career performance at home against Virginia April 8, scoring a goal and tallying two assists in Pitt's 5-0 shutout of the Cavaliers.
–        Dexter was named College Soccer News Player of the Week for his performance against Virginia, and became the second Panther this season to be named National Player of the Week by College Soccer News, joining sophomore Veljko Petkovic (Oct. 11).
ACC'S NO. 1 SCORING OFFENSE
–        Pitt enters the Clemson match with the number one scoring offense in the conference with a 2.53 goals per game mark, a number also good for eighth in the nation.
–        The Panthers have totaled 38 goals this season, which leads the nation. Pitt also leads the country in total points (111) and is second in total assists (37).
–        Pitt's 7.53 points per game mark and .552 shot accuracy rank first in the conference and ninth and third in the nation, respectively.
–        The Panthers have had 10 different goal scorers this season and have had 12 different players assist a goal this year.
Sounding Off on Soccer: Riverhounds Road Woes
Subscribe to PGH Soccer Now