USL Championship Atlantic Division
FINAL: Riverhounds SC  3, Loudoun United FC 2
Match Summary
The Pittsburgh Riverhounds SC have found their groove on the road, winning for the second time in five days by holding off a persistent challenge from Loudoun United FC, 3-2, in an entertaining match at Segra Field in Leesburg, Virginia on Wednesday evening.
Anthony Velarde and Russell Cicerone bookended the Hounds scoring, while veteran forward Alex Dixon had another terrific game with an assist on Velarde's tally, then drew a foul to set-up Cicerone's penalty kick goal and also sent a ball into the box late in the first half that resulted in an own goal.
It was a choppy performance from the Hounds, who looked very sharp in the early portions of the match, but were victimized when sitting back after grabbing the 2-0 lead, allowing the United to build up possession into the box for a pair of goals in the second half.
HOW IT HAPPENED
From USL.com report 
Looking to build on its first win of the season last time out, Pittsburgh came out the more assertive side early and it paid off in the 18th minute as the visitors took the lead. Alex Dixon received the ball back from Danny Griffin after a throw-in from the left and then beat his defender to the byline before cutting a cross back toward the penalty spot that Cicerone left allowing Velarde to arrive and finish sharply into the right corner of the net.
The Hounds threatened again five minutes later as they kept a corner kick alive in the penalty area, and at the second attempt Preston Kilwien fired a shot from the left side of the box that was headed away by Loudoun defender Wahab Ackwei. The first serious chance for Loudoun arrived in the 34th minute as Robbie Dambrot squeezed off a low shot to the left corner that was saved by Hounds goalkeeper Jake Leeker, but four minutes before the break Pittsburgh struck again as Dixon delivered a cross from the right intended for Kenardo Forbes clipped the Jamaican and was redirected into the net by Ackwei for an own goal.
Loudoun opened the second half brightly as it looked to get back into the game and were rewarded in the 50th minute as Jovanny Bolivar tried to feed a pass into Samson Sergi in the penalty area. Sergi's shot was blocked as he tried to turn his defender, but the ball caromed kindly for Bolivar to finish at the second attempt for his second goal in as many games.
Bolivar almost added a second six minutes later as United sprang out on a counterattack from a Hounds corner kick through Logan Panchot, who carried possession 40 yards into the Pittsburgh half before threading a pass to a breaking Bolivar in the right channel only for the finish to be too close to Leeker in the Hounds net. The visitors quickly restored their two-goal advantage, however, as Dixon was brought down by Michael DeShields after getting in behind Loudoun's back line allowing Cicerone to finish into the right corner from the penalty spot.
Pittsburgh almost added a fourth in the 62nd minute as Forbes powered a low shot from the edge of the penalty area toward the bottom-right corner of the net that Loudoun goalkeeper Jermaine Fordah got down well to save. The hosts continued to fight back, though, and made it a one-goal game again with eight minutes to go as Bolivar played provider, teeing up Panchot for a low drive to the bottom-left corner of the net from 20 yards out.
The hosts went close to an equalizer with 17 minutes to go as a low cross from the left into the penalty area was controlled by Panchot into the path of Sergi, but the forward's turning snap-shot went high of the crossbar. Gaoussou Samake also had an opportunity but saw his shot from the left side of the penalty area deflected wide of the right post, but the drama ramped up further in stoppage time as Pittsburgh first saw Griffin hit the left post in second-half stoppage time with a chance to ice the game before a chance for Samake was cleared off the line by Kilwien. Pittsburgh was able to hold on for the remaining minutes, however, to keep its perfect record against Loudoun alive.
The United also pushed hard for the equalizer in the late moments, but the Hounds survived the home side's challenge.  The Hounds were outpossessed by 60/40 margin and outshot 14-12 (4-4 on target).
With the win, the Hounds improve to an overall record of 2-2-1 (7 points), and land above the playoff line in the Atlantic Division for the first time this season.
Look for a more complete recap and postgame reaction here later in the evening.  
Gameday Updates 
FINAL:  RIVERHOUNDS 3, LOUDOUN UNITED 0
Hounds escape Northern Virginia with three points.
90++++ — What a sequence!
First Griffin bangs one off the post — then Hounds defending some dangerous moments as Kilwein has to clear one off the line as Loudoun almost equalizes!
90++ — Louis Perez with a professional foul on Dambrot.
82′ — HOUNDS FINAL SUBS:
IN: Louis Perez and Jelani Peters
OUT: Todd Wharton and Alex Dixon.
71′ — HOUNDS SUB:
IN : Josh Gatt
OUT: Russell Cicerone
.@LoudounUnitedFC making moves ♟️#LDNvPIT pic.twitter.com/TvVa298fGI

— USL Championship (@USLChampionship) June 3, 2021
70′ — GOAL: LOUDOUN — Logan Panchot
Hounds lulled asleep — again giving too much room for Loudoun to build things up. Shot from top of box finds it way into right side. Bolívar assist! Loundoun Back within one!
Here's Cicerone's PK …
anotha [Cicer]one#LDNvPIT | @R_Cicerone7 pic.twitter.com/suhU3CPsSP

— USL Championship (@USLChampionship) June 3, 2021
What a roll Alex Dixon's on…
Had imprint on each of the last six goals scored by the
@RiverhoundsSC
.
Gets credit for a goal and two assists, but also was fouled in box to set up PK, sent ball in box on own goal. Add'l goal vs NYRBII had pass that led to assist.
62′ — Forbes with a chance but nice save!
IN: Danny Rovira and Jordan Dover
OUT: Anthony Velarde and Jalen Robinson
58′ — GOAL — RIVERHOUNDS 3, Loudoun 1
Penalty kick effort a simple low placement on right side.
Hounds regain 2-goal lead.
57′ — PENALTY — Dixon taken down in box by DeShields.  Penalty kick coming for Hounds.
56′ — after Hounds corner — Loudoun gets forward quickly. It's Bolivar in space again who gets ball played to him. Shot to near post area saved by Leeker.
54′ — Hounds earn first corner — Cicerone with nice work to get to end line — deflected cross attempt.
51′ —  Yellow Card for Dixon 
50′ — GOAL — LOUDOUN  cuts Hounds lead to 2-1 
Hounds giving away too much space to allow Loudoun build-up. Initial shot was blocked but Bolivar gets it past Hounds keeper Jake Leeker from very close range.
46′ — Danny Griffin on the bad end of a rough challenge — as he was stepped on and stepped over.  Yellow Card issued to Gaoussou Samake for that late challenge.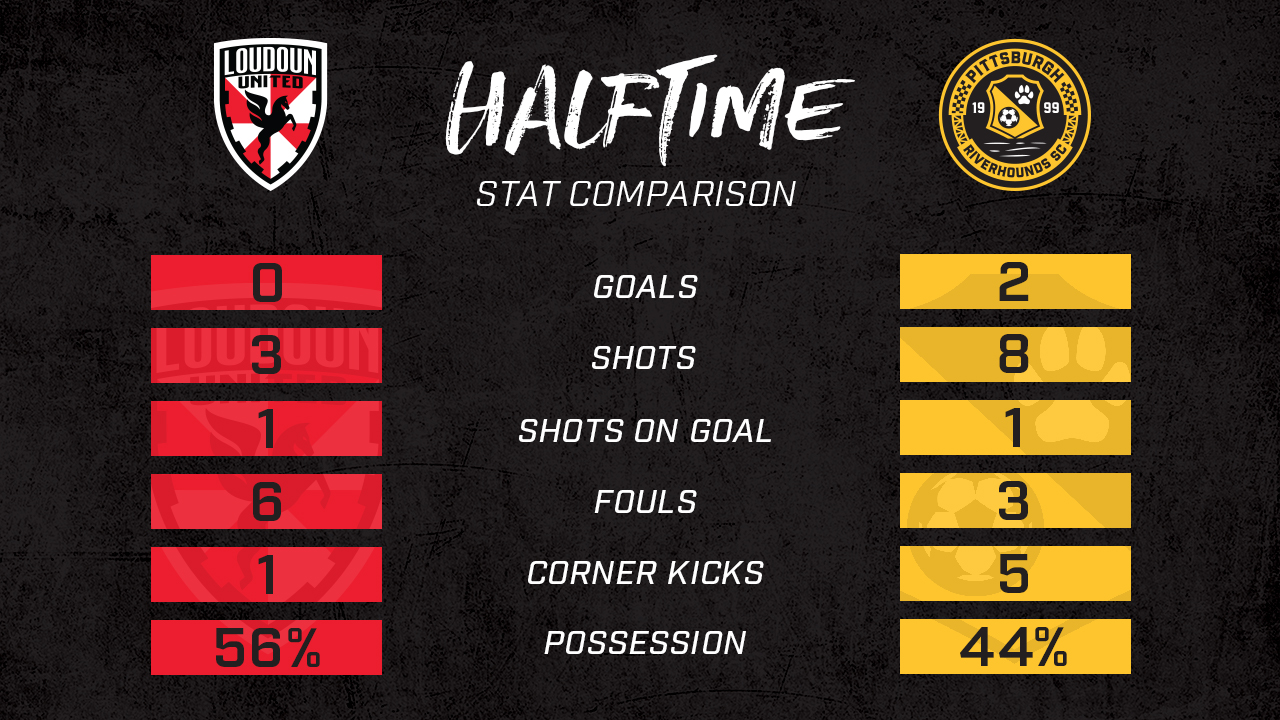 45+ — hard collision on 50/50 ball in box — Leeker comes out to grab it. Then some pushing and shoving.  Cooler heads prevailed.
Here's the first goal.
Velarde pounces on this one to give @RiverhoundsSC the lead!#LDNvPIT pic.twitter.com/IN3Bd3dRpx

— USL Championship (@USLChampionship) June 2, 2021
Good to see a little black and gold in the crowd tonight!

Teams taking the field right now.#UNLEASH #LDNvPIT pic.twitter.com/1gNycTP39z

— Pittsburgh Riverhounds SC (@RiverhoundsSC) June 2, 2021
41′ — GOAL – RIVERHOUNDS 2, Loudoun 0
It's Dixon again with a ball into box for Forbes who slips but it bangs off Ackwei and into back of the net.
38′ — Again it's Dambrot on endline sets up corner for Loudoun.  Leeker grabs ensuing corner out of the sky.
34′ — decent build up for Loudoun. Hounds sitting back a bit more — ball gets into box but shot is stopped by Jake Leeker. Former Pitt Panthers Robby Dambrot with shot from left side.  Leeker's first save of the night.
27′ — Hounds high press disrupting Loudoun multiple times now.
23′ — Hound corner results in Kilwien ripping a shot from deflection. Sets up another corner which comes out, then offside on attempt going forward.
18′ — GOAL — RIVERHOUNDS SC 1, Loudoun 0
Anthony Velarde
Nice build up after quick restart. Alex Dixon to endline — sends a clever short chipped cross to Velarde who puts it in the back of the net.
14′ | Yellow card issued to Houssou.
6′ — Hounds earn first corner. Cicerone with nice short pass that was deflected.
7:05 — match has kicked off
This Hounds lineup built to possess with Griffin, Forbes and Wharton in central MF plus Velarde as the connector with the forwards, Cicerone and Dixon. We'll see if that comes to fruition.
Here are the lineups for both teams:
First starts for first-year Hounds Jake Leeker and Jalen Robinson.
Panther vs. Panther tonight in the @RiverhoundsSC – @LoudounUnitedFC match!

Good luck to Shane (@wiedt_bread23) and Robby!#H2P | #ProPanthers pic.twitter.com/PaxtYMshpX

— Pitt Men's Soccer (@Pitt_MSOC) June 2, 2021
RIVERHOUNDS SC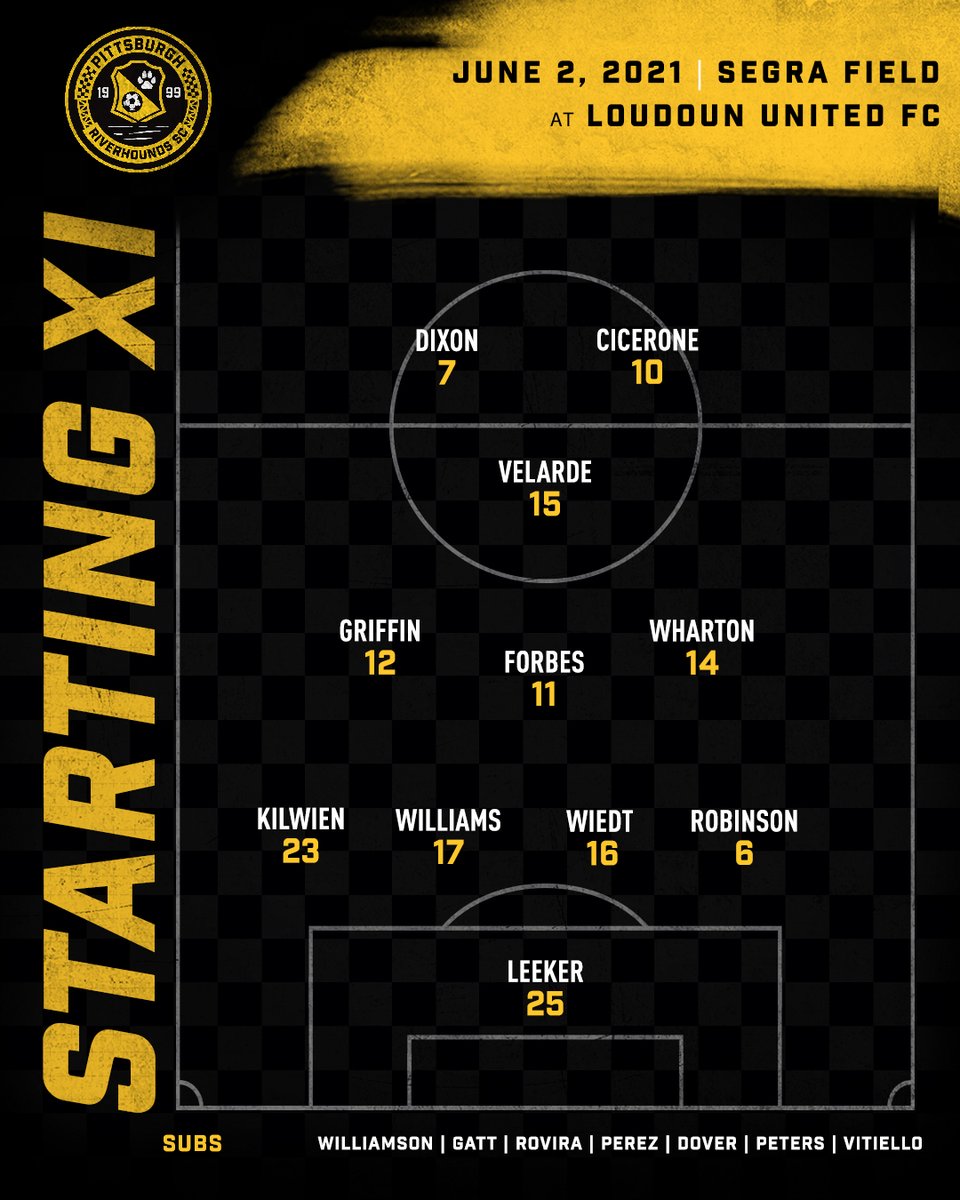 LOUDOUN UNITED FC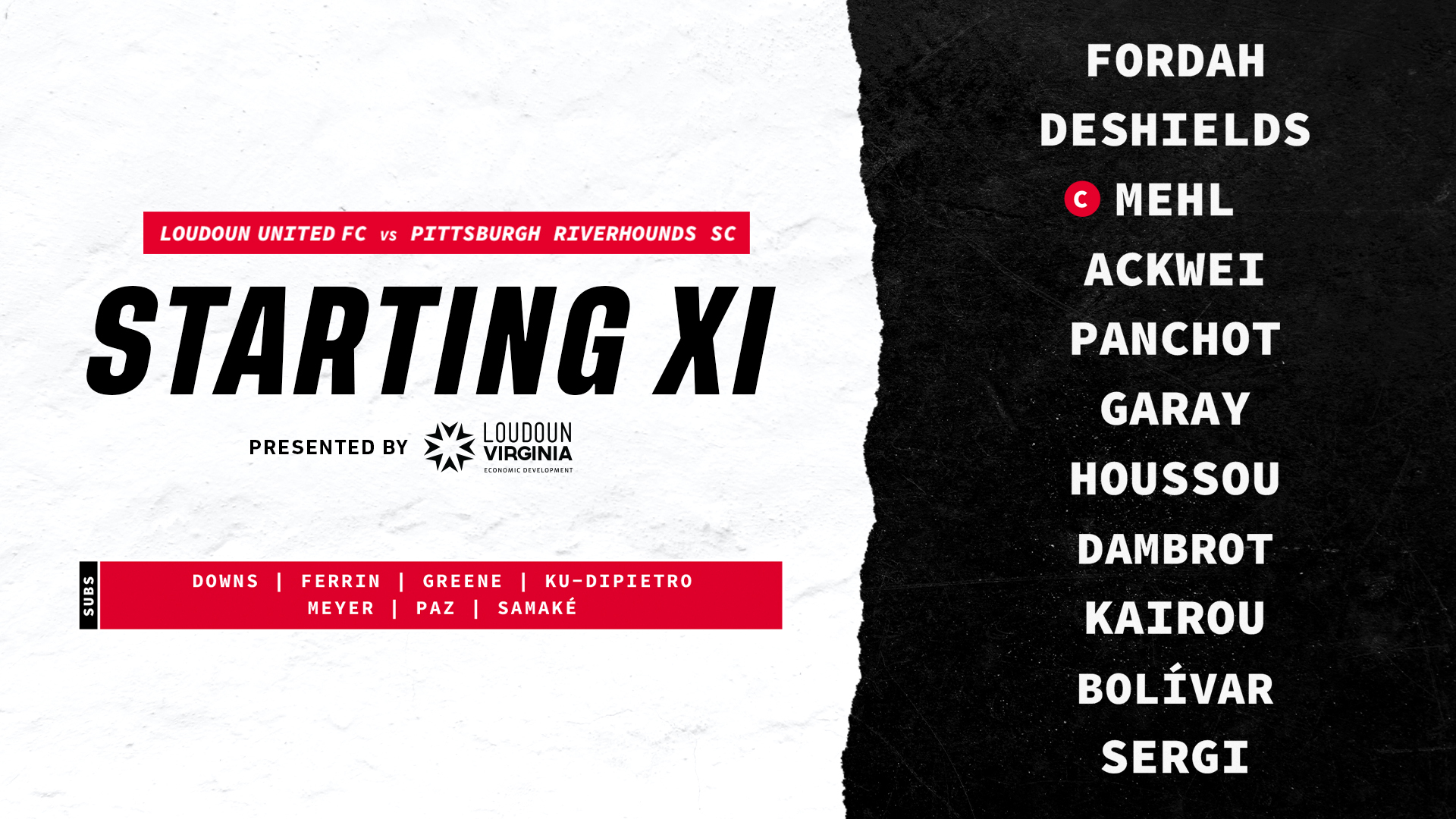 Starters out on the field getting warmed up. 30 minutes left until go time!#UNLEASH #LDNvPIT pic.twitter.com/UrBAbCl3mp

— Pittsburgh Riverhounds SC (@RiverhoundsSC) June 2, 2021
We have arrived!

Less than 2 hours until we get down to business with @LoudounUnitedFC.#UNLEASH #LDNvPIT pic.twitter.com/Or2t28W2WZ

— Pittsburgh Riverhounds SC (@RiverhoundsSC) June 2, 2021
Preview
In their last match, the Hounds (1-2-1) scored three goals on eight shots against New York Red Bulls II to earn their first win of the season last Friday. Loudoun (1-2-0) also earned its first win of the season the next night, defeating 10-man New Mexico United, 1-0.
Here's PSN's Mark Goodman's Preview and Scouting Report of Loudoun United FC.
The Hounds have never dropped a point to Loudoun, winning against the D.C. United affiliate five times since they entered the USL Championship in 2019. The five-game win streak is the Hounds' longest-active win streak against any Eastern Conference opponent.
The Hounds shut out Loudoun in each of their three matchups last season. In the first match, the Hounds scored two goals in the first 11 minutes to defeat Loudoun, 2-0, at Segra Field. Then, at Highmark Stadium, the Hounds cruised to a 3-0 victory behind two penalty kicks in the first eight minutes. Their third matchup was the most competitive, as an Albert Dikwa goal in the 81st minute was needed to secure a 1-0 victory.
A win on Wednesday could move the Hounds as high as third place in the Atlantic Division, as they play their first midweek game of the season.
FiveThirtyEight.com Match Predictor: Loudoun United FC 22%, Pittsburgh Riverhounds SC 52%, Draw 26%
Most Recent Lineups
Loudoun United FC (3-4-3): Jermaine Fordah; Michael DeShields, Timmy Mehl, Wahab Ackwei; Jacob Greene, Jeremy Garay, Ted Ku-DiPietro, Gaoussou Samake; Kairou Amoustapha, Samson Sergi, Jovanny Bolivar
Pittsburgh Riverhounds SC (5-4-1): Danny Vitiello; Jordan Dover, Mekeil Williams, Shane Wiedt, Jelani Peters, Dani Rovira; Russell Cicerone, Kenardo Forbes, Danny Griffin, Alex Dixon; Albert Dikwa
PSN Coverage 
It's a @RiverhoundsSC game night!

"They have good young players. It's going to be a difficult match-up." Head Coach Bob Lilley.

Hear more from our interview with the Hounds coach about @LoudounUnitedFC on @PGHSportsLive #LDNvPIT https://t.co/CSh7zRg4mB

— Pittsburgh Soccer Now (@pghsoccernow) June 2, 2021
Hounds Notebook: Quick turnaround brings improved and dangerous Loudoun United
Hounds make a big splash in USL Championship's 'Team of the Week' honors
Analysis & Player Grades: Hounds capitalize on chances in final third to earn first win
Subscribe to PGH Soccer Now