USL Championship Eastern Conference Interdivisional Match
FINAL: Riverhounds SC 1, Indy Eleven 0
Brief Match Recap
The Pittsburgh Riverhounds SC earned its third-straight road victory, defeating Indy Eleven, 1-0, at Michael Carroll Stadium in Indianapolis on Tuesday evening. Tommy Williamson was credited with the game's lone goal, while Pittsburgh held on in the second half after defender Jelani Peters was sent off in the 62nd minute.
With the win,  it's first-ever in the Circle City, the Hounds improve its overall record to 3-3-2 (11 points) as they currently sit just inside the playoff line in the USL Championship's Atlantic Division standings.
The Hounds held the edge through most of the first half and capitalized in the 36th minute on a free kick opportunity from the very top edge of the box.
After a step-over from Anthony Velarde, it was Tommy Williamson who delivered a right-footed blast into the Indy Eleven wall which opened up as Velarde charged forward. The shot deflected off an Indy Eleven defender, finding its way into the back of the net to give Pittsburgh the 1-0 edge.
In the first half, the Hounds held a slight possession edge (51%-49%) and a bit more decisive in shots (5-1, 2-0 on target).
The Hounds defended well, limiting Indy Eleven's chances for much of the match, even after physical play led to Peters picking up a pair of yellow cards within a three-minute span.
This forced the Hounds to play the remainder of the match with 10-men, as they remained well-organized and brought on five subs to keep legs fresh.   They limited the Eleven to seven total shots, with only one on frame, as Hounds keeper Jake Leeker picked up the clean sheet with one save.  Leeker was also active in coming off his line to deny any chances into the box.
We will have more coverage, including a complete post-game recap and reaction from Indianapolis from Dan Angell. 
Gameday Updates
90+3′ – Dikwa into the book, but a foul 85 yards from our goal is fine by us at this point.
90′ — Hugh Dixon is shown a yellow. Hounds have to be careful
89′ — Indy sub Patrick Segrist is shown a yellow for a hard tackle. Hounds need to waste some time.
88′ — Wow. Terrible mistake by Jordan Farr gives Albert Dikwa an empty net to shoot at, but he can only drive it into a defender. Missed chance to seal it for the Hounds.
85′ — Indy finally comes at Pittsburgh with a credible threat and puts one in the back of the net, but Arteaga is ruled just offside and the Hounds breathe again.
77′ — Pittsburgh free kick nearly ends with a Mekeil Williams goal, but his header has just a bit too much air under it and Jordan Farr is able to snag it.
72′ – More Hounds subs:
IN: Mekiel Williams and Todd Wharton
OUT: Jalen Robinson and Russell Cicerone
63′ — Hounds subs:
IN: Kenardo Forbes, Albert Dikwa, Alex Dixon
OUT: Anthony Velarde, Tommy Williamson, Josh Gatt
"To earn one yellow card may be regarded as a misfortune, to earn two in three minutes looks like carelessness."

Apologies to Oscar Wilde.#USLonESPN #INDvPIT https://t.co/epHRR3KtzP

— Nicholas Murray (@NJEMurray) June 16, 2021
62′ — RED CARD – Jelani Peters!  Hounds will now be playing down a man.
59′ — YELLOW CARD – Riverhounds' Tommy Williamson battling for ball along sideline called for sticking leg out a bit late in challenge.
58′ – YELLOW CARD — Riverhounds' Jelani Peters — elbow when going up for ball around midfield
52′ — Indy free kick on the outside of the box finds nobody. Hounds need to weather this storm
47′ — Corner from Indy Eleven gets put into the side netting. Whatever Martin Rennie said at halftime seems to have his side fired up.
46′ — No changes on the field, and Indy will kick off to start the second half.
HALF
Halftime stats: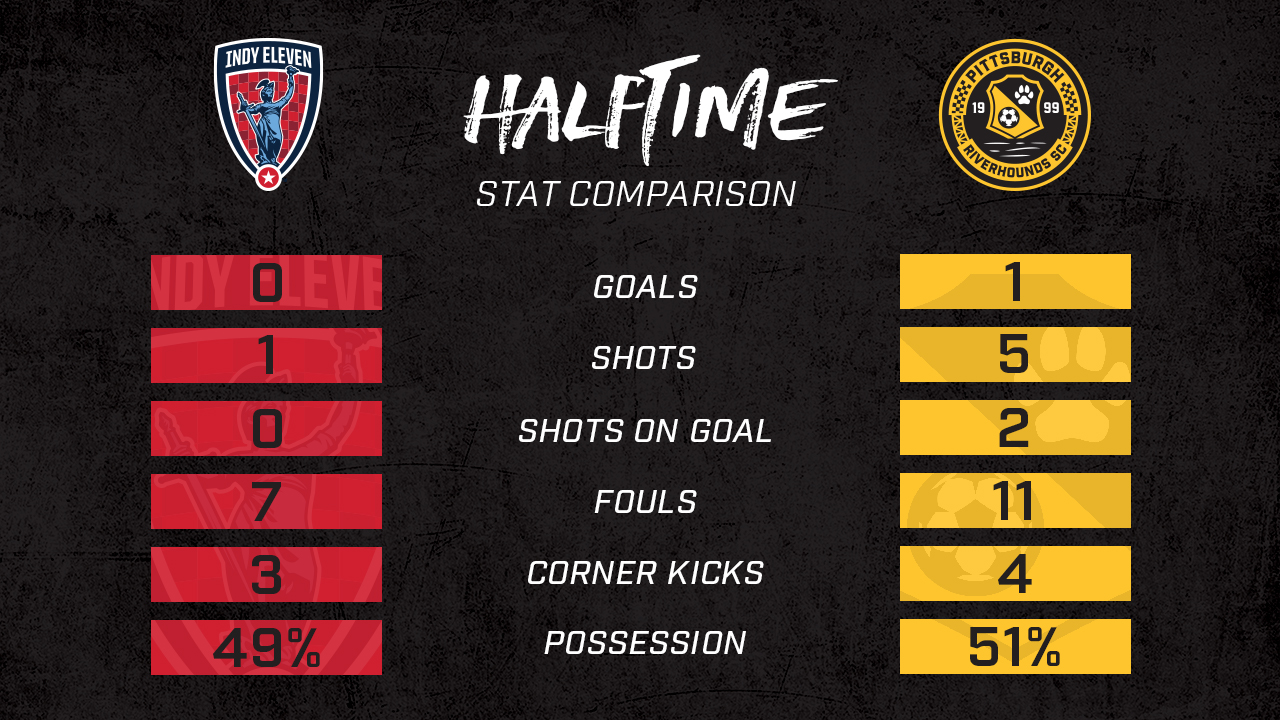 36′ — GOAL: RIVERHOUNDS 1, INDY ELEVEN 0
Tommy Williamson with the goal on close range free kick from the top edge of box. Shot gets bounced through the wall — and finds its way into goal.
Hounds goal credited in the 36th minute, and it's no less than they deserved after how they started the match. Excellent vision from Williamson to find that tiny bit of space and ping-pong it in. #USL@pghsoccernow

— Dan Angell (@danangell11) June 16, 2021
Here's a look at Tommy WIlliamson's goal as the Riverhounds go up 1-0 in the 36th minute:
Dan Angell is at Michael Carroll Stadium — and will be providing updates from Indianapolis throughout the evening.  You can also follow his updates on Twitter ( @danangell11 ).
Riverhounds SC starting XI: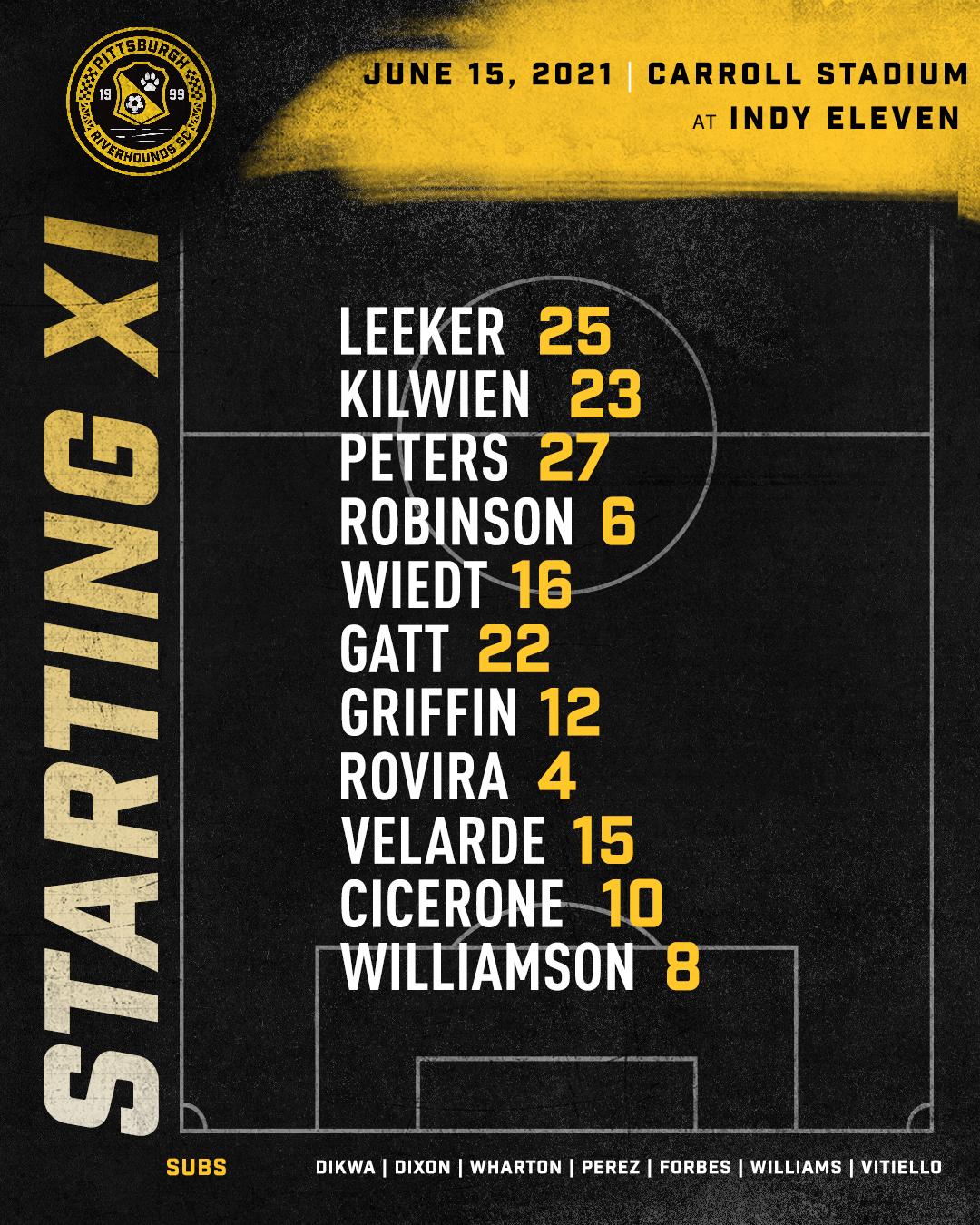 Here's Indy Eleven's starting XI: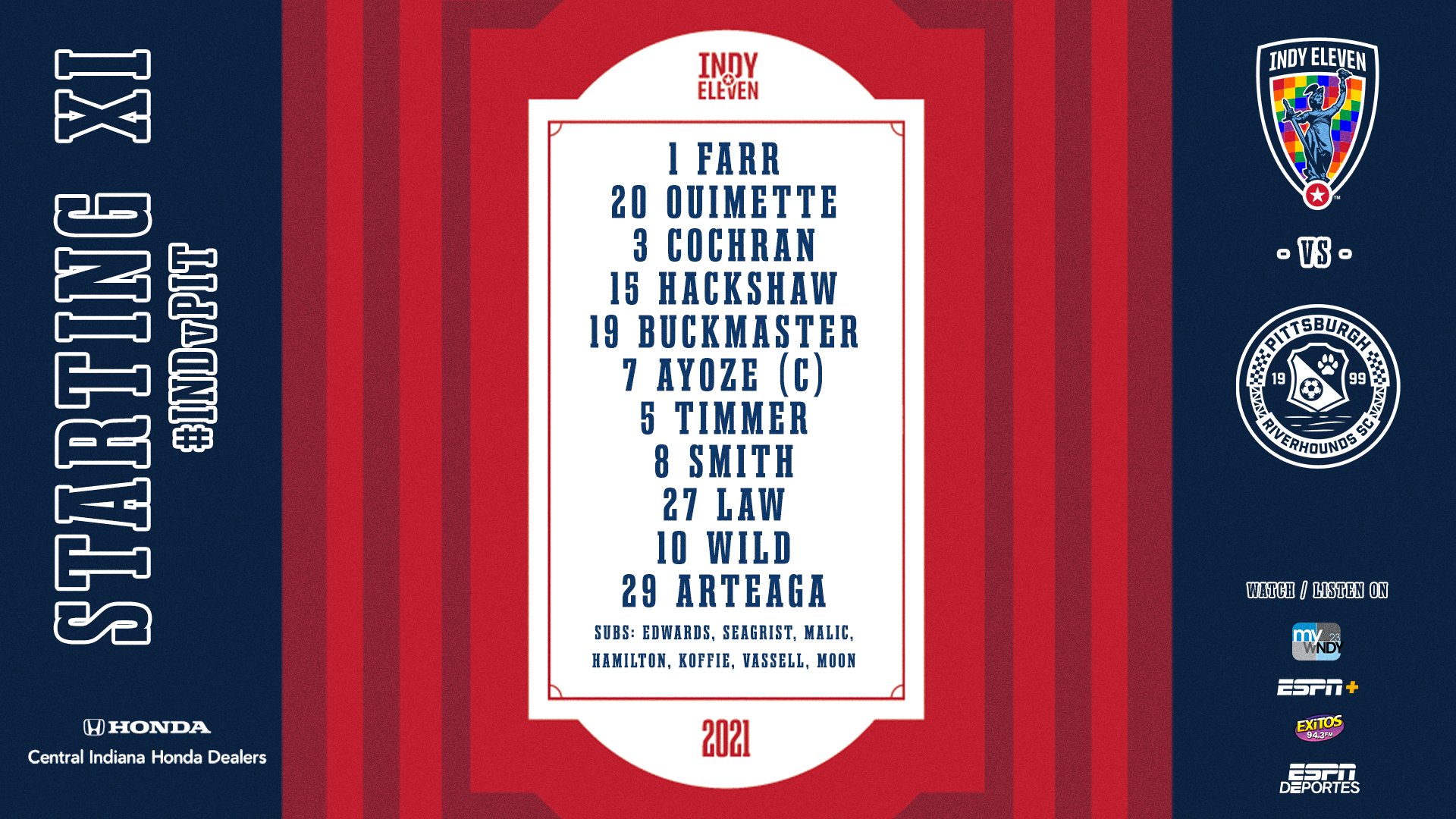 Match Details
Tuesday, June 15, 2021  |  Michael Carroll Stadium, Indianapolis, IN  |  8 p.m.
TV:  ESPN Deportes   Stream:  ESPN+ |  USL Match Center
FiveThirtyEight.com Match Predictor: Indy Eleven 41%, Pittsburgh Riverhounds SC 29%, Draw 30%
Key Storylines
The Riverhounds SC square off with Indy Eleven on national television for a second consecutive season on Tuesday night.
@IndyEleven (3-3-1, 10pts) returns home after suffering defeats in its last two outings, most recently falling 2-0 on the road against El Paso Locomotive FC last Wednesday night.
Here's an even closer look at Indy from PSN's Mark Goodman:
Head Coach Martin Rennie's side is looking for its first win in June after scoring two goals in the past three games. The side currently sits with an 11.1 shot conversion rate this season despite sitting tied for 11th in the league with 83 total shots this season. Indy claimed a pair of victories when it faced Pittsburgh last season, including a 1-0 win at Lucas Oil Stadium that saw the side hold firm despite playing down a player for the final 40 minutes that moved the Boys in Blue's home record to 2-0-1 against the Hounds in the series between the club. Another win on Tuesday would see Indy move into second place in the Central Division standings.
@RiverhoundsSC (2-3-2, 8pts) is also looking to get back on track after going without a win in its last two outings. The Hounds scored their first goal at home on Saturday night this season as Russell Cicerone scored his fourth goal of the campaign, but the side was held to a 1-1 draw by Miami FC to keep Pittsburgh without a win at Highmark Stadium in three games. Alex Dixon provided the assist on Cicerone's goal and has three for the season – tied for second in the league – while sitting tied for the team lead with Kenardo Forbes with 10 key passes this season. Pittsburgh has put up positive road results since the start of the 2019 season under Head Coach Bob Lilley, going 17-8-5 in that span, and will be hoping to unlock the Indy defense after held scoreless in the two meetings between the sides last year.
Most Recent Lineups
Indy Eleven (4-2-3-1): Jordan Farr; Karl Ouimette, Jared Timmer, AJ Cochran, Patrick Seagrist; Nicky Law, Gershon Koffie; Nick Moon, Cameron Smith, Gordon Wild; Jordan Hamilton
Pittsburgh Riverhounds SC (4-2-3-1): Danny Vitiello; Jordan Dover, Mekeil Williams, Jelani Peters, Preston Kilwien; Danny Griffin, Todd Wharton; Russell Cicerone, Kenardo Forbes, Alex Dixon; Albert Dikwa
Recent PSN Riverhounds Coverage 
Assertive Hounds strike early, but can't hold lead against Miami FC
Riverhounds MF Danny Griffin
Subscribe to PGH Soccer Now