The wait will be over for the Pittsburgh Riverhounds SC and its fans as the USL Championship 2022 season kicks off Saturday, when they visit Memphis FC 901.  They'll open up the season at home the following week, on Saturday, March 19, when they face Hartford Athletic in the 10th home opener to be played at Highmark Stadium.
As the club heads into the 2022 season with plenty of optimism and high expectations, we plan to provide our season preview content over the next few days, leading up to the game in Memphis.
In addition, Mark Goodman, Jordan Smith and Matt Popchock will join me for our Annual USL Championship/Riverhounds SC Media Predictions on Pittsburgh Sports Live.  We will also be taking a closer, position-by-position look at the roster and depth chart ahead of the opener.
Also, I jumped on the 412 All Pittsburgh Podcast on Tuesday night to join author David Finoli to discuss the Riverhounds SC 2022.
PSN's @JohnKrysinsky joined the 412 All Pittsburgh Podcast to preview the @RiverhoundsSC as they begin a new season on Saturday.https://t.co/KgheVrpMhc

— Pittsburgh Soccer Now (@pghsoccernow) March 9, 2022
The team's training schedule is Monday, Tuesday, Thursday and Friday before traveling west to Tennessee.
We will have more from coach Lilley and players ahead of their match on Saturday too.
Riverhounds 2022: Snapshot of Biggest Storylines and Things to Know
This will be the 10th season the Hounds play at Highmark Stadium.
Following disappointing end to 2021 season, with cancellation of playoff game at Birmingham Legion FC, this group of players and coaches head into 2022 determined to put that bitter finish behind them.
The question we asked earlier in the preseason:  Is this a Top of the Table or Bust year for the Hounds?  The Hounds have never lifted a Cup or trophy in its 22 year existance.  They're assembling a team that is hoping to change this.
The Hounds are one of just three teams (Louisville, Phoenix) who have qualified for the USL Championship Playoffs in each of the past four seasons.
They are bringing back a large portion of the core group players from one of the highest scoring and dynamic attacking sides in the league in 2021. The Hounds return seven starters and six players who recorded more than 2,000 minutes a season ago, including captain and all-time assists leader Kenardo Forbes and 2021 leading scorer Russell Cicerone (16 goals, 8 assists).
Bob Lilley is entering his fifth season leading the Hounds. In four seasons, he has a record of 66-26-33 in all competitions. (Regular season, postseason & cup)
New acquisition Dane Kelly, who signed as a free agent during the offseason, is the USL Championship's all-time leading goal scorer with 99 since he first arrived in the league in 2011.
Thirty of the Hounds 34 matches will be televised locally on 22 The Point (WPNT). That total makes it the largest local TV deal the team has had since its inception in 1999. All Hounds games will also be streamed via ESPN+.
According to BetRivers.com (Rivers Casino in Pittsburgh), the Riverhounds are listed with +1200 odds to win the USL Championship. That makes them the seventh choice out of 27 teams. The Tampa Bay Rowdies, last year's Eastern Conference Champion, are the preseason favorite at +500.
And yet, maybe it's just me, and maybe it's still early, but there isn't much buzz about club as they head into the new season.
Which makes me ponder, can Pittsburgh ever grow a bigger appetite for pro soccer?  I'll address that question a little further down in this edition of the Notebook.
Lilley has his team
Bob Lilley can be very methodical and strategic in buidling a roster each year.  This offseason was no exception.  With nine players from last year's roster returning, he set out to complement and enhance the group he already had in place.
After taking some time to sort some things out through training camp and preseason, Bob has his guys and feels comfortable with the current group.
There could still be an addition (or two), but the roster is currently set at 22 players.
While the ball hasn't even been kicked to start the season, by all indications, this group looks deep, talented and should be well-positioned for an outstanding season.
At first glance (see below), having 10 defenders seems like a lot. However, if you break it down, the depth chart will see six center backs and four outside backs who can also be flex players depending on the Hounds' tactical approach.
This is also one of the reasons why Lilley is comfortable carrying four midfielders on this roster, as he also knows that players like Dani Rovira, Alex Dixon and some of his wingers/outside backs can move around, provide versatility.
This group has plenty of interchangable parts at the top of the formation too.  Dixon could be a high line attacker, but can also drop out wide and deeper if needed.  Albert Dikwa, William Eyang and Dane Kelly will likely be target forwards, but Russell Cicerone could find himself as the highest attacker at times.
As usual, watching Lilley come up with his starting eleven and see how they line-up from game-to-game is something that remains intruiging and keeps media, fans and opponents on their toes before and during every match.
Riverhounds SC 2022 Roster
Goalkeepers (2) — Kevin Silva, Chase Vosvick
Defenders (10) — Luke Biasi, Robby Dambrot, Jelani Peters, Dani Rovira, Shane Wiedt, Jesse Williams, Mekeil Williams, Arturo Ordonez, Toby Sims
Midfielders (4) — Kenardo Forbes, Danny Griffin, Angelo Kelly-Rosales, Marc Ybarra
Forwards/Wingers (6) — Wyatt Borso *, Russell Cicerone, Albert Dikwa, Alex Dixon, William Eyang, Dane Kelly
* Academy contract

Can the Hounds to grow its audience in 2022?  
On Saturday night, Charlotte FC's inaugural home match not only set an MLS standalone attendance record, but also became the second-highest attended match worldwide so far in 2022. The Queen City side welcomed 74,479 fans to Bank of America Stadium on Saturday evening, a 1-0 loss to the LA Galaxy.
75,000 fans in Charlotte, North Carolina for the 1st home match in @CharlotteFC history.

What an incredible moment for @MLS and for American Soccer! The 2nd largest crowd on the planet this year.

Soccer won't make it in America 🇺🇸 pic.twitter.com/toxV0QoP0s

— Stu Holden (@stuholden) March 6, 2022
For those of us who've covered second and third division soccer in the past couple decades, it was a bit startling to see this impressive crowd, especially in a market where its lower level soccer teams didn't exactly have much success at the gate.
The Charlotte Eagles previously, and more recently, the Charlotte Independence, struggled to average just below 2,000 fans per game in the past decade.
But now, when taking a step up to the top league, with the financial resources (having an ownership group worth Billions helps, a lot) that helped fuel a strong media and grassroots marketing blitz, the new MLS franchise is off to a promising start, drawing from around the Carolinas region (and beyond) where soccer has some history and relevance.
Whenever these kind of stories come up, I'm often asked a familiar question. "Hey John, can Pittsburgh support an MLS team?"  
In 2016, I tried to tackle that question by addressing it in detail, coming to the conclusion in a column at that time, titled 'Get Real Folks, MLS is Not Coming to Pittsburgh', that Pittsburgh was not ready and should focus on getting its ducks in a row as far as its existing professional franchise.  Of course, at that time, the Riverhounds SC were coming off an exciting 2015 season, but were still operating on the heels of a recent declaration of bankruptcy and Tuffy Shallenberger was still a relatively new owner.
Now, in 2022, it is a fair question to ask again, but the times have also changed.  Since that time, MLS has further expanded, including markets like Cincinnati, Nashville and Saint Louis, who started with USL Championship level teams.
It's early March, college basketball has has already become an afterthought in the region with all of the local teams finishing with 20 or more losses, the Pirates and Major League Baseball can't get started as the players and owners still seem like they're miles apart, the Steelers are deep in their offseason and the Penguins are still over a month away from beginning another quest to lift the Stanley Cup.
COVID should — knock wood — be less of a factor, though it still is lurking and continues to impact how many of us go about our business. I
n 2020, the Hounds played without fans in attendance at all home matches, and began the 2021 campaign with attendance restrictions. By the end of the season, positive cases of the virus infested the club at the worst possible time, forcing the cancellation of their Eastern Conference Quarterfinal Round playoff match at Birmingham.
In 2022, there will be no seating or attendence restrictions on the fans.
If there was ever a time where the Riverhounds have an opportunity to seize some attention from the casual sports fan and mainstream Pittsburgh audiences, it would be now.
There's no doubt that the team will be a contender this season.
Not only that, but they'll once again showcase one of the more exciting attacking units in the league, which should provide for a more entertaining product on the field.
Still, they'll be facing an uphill battle to pack Highmark Stadium.
During the 2019 season, when they finished at the top-of-the-table in the USL Championship's Eastern Conference, the Hounds turned the corner with its best fan turnout in years. With two playoff home matches that saw standing room crowds of more than 5,000 at Highmark Stadium, the club hit its second highest attendance mark (average 3,729 per game/16 games) in club history. (They averaged 4,178 fans during its inaugural season in 1999 at Bethel Park High School).  The only other season during the Highmark Stadium era that the club averaged more than 3,000 fans was in 2013, its first season in the scenic facility along the Monongahela River.
Riverhounds SC Attendance Figures (2013 – 2021,  courtesy Soccer Stadium Digest)
| | |
| --- | --- |
| 2013 | 3,273 |
| 2014 | 2,686 |
| 2015 | 2,630 |
| 2016 | 2,494 |
| 2017 | 2,639 |
| 2018 | 2,401 |
| 2019 | 3,729 |
| 2020 | N/A |
| 2021 | 3,133 |
The club were dealt a cruel blow at the outset of 2020 when COVID-19 shut everything down.
After coming back to have fans, the Hounds landed 18th (of 30 clubs) in the USL Championship in overall attendance in 2021 (3,133 fans per game/15 games).
Team President Vic Gregovits is optimistic that continued incremental growth, stronger grassroots marketing efforts and the team's success on the field will help bring more fans to Highmark Stadium in 2022.
"Look at the many opportunities that are in front of us," Gregovits told Pittsburgh Soccer Now in February.
"We have an outstanding soccer team.  There's great entertainment value there. We have a wonderful venue. Bob (Lilley) is a great coach who has the team positioned to be a playoff team and contending for a championship every year."
At the same time, Gregovits, who has worked in leadership and front office roles with Pittsburgh Pirates, Cleveland Indians, Louisville Bats and Cleveland Cavaliers among others, recognizes the club's challenges.
"We're still looking to bounce back strong from COVID-19. A big part of what we are going to want to do is make more of a grassroots effort to go into the community. There are still a lot of people who still don't know about the Riverhounds.  It's important to get more people to experience a game at Highmark Stadium for the first time," Gregovits explained.
"Once they come, they'll want to come back."
That is a solid point. A fun atmosphere helped by a spectacular view of Downtown Pittsburgh's skyline, certainly helps.  However, it will be tough to get fans to come back week-after-week, without a winning team on the field.
Gregovits said in February that he's working on enhancing the Gameday Experience, saying that the club will bring back the Tailgate Zone in the Highmark Stadium parking lot before games and will be creating a new app for fans.
Earlier this week, the club announced the app will be available on Thursday.
Gregovits also said that having every regular season USL Championship home game played on Saturday night (7 p.m. kickoff) will be to the team's advantage.  Last season, once fans started coming back and capacity opened up fully without restrictions, the Hounds had some of their better crowds.
The question is, can the Hounds get to the next level?
From my perspective, if they can they average more than 4,000 fans for the first time since their inaugural season at Bethel Park High School in 1999, that would be a very positive start.
As for the MLS question, I'll stick to my original response, as the focus should remain getting their house in order as a second division club (which they've done now).
If they ever get to the point where Highmark Stadium is overflowing every night, they continue to grow in value as a franchise and the appetite for professional soccer in Pittsburgh becomes bigger, then we can have the MLS conversation.
The two primary reasons the club has persevered through the years has been stability in ownership, thanks to Tuffy Shallenberger along with its core fan base, led by the supporters group, the Steel Army.
The Army has grown in membership substaintially since its first year in 2008, when they put the group together one night at Piper's Pub, then started to support the team in its home games at Chartiers Valley High School.
2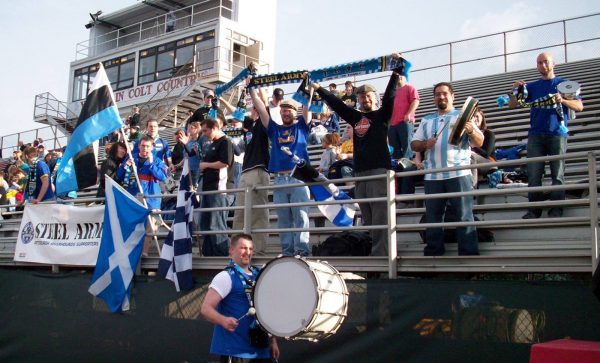 Steel Army began with a small group of loyal supporters at Chartiers Valley High School in 2008. (Photo courtesy SteelArmy.com)
During the last 10 years, as the Hounds have made Highmark Stadium its home, the Steel Army has also made its presence felt — loudly and clearly.  They reside in the Paul Child Stand, on the East End of the facility.
One of the newest Hounds, Dane Kelly, spent years coming to Highmark Stadium dreading the constant chants and (fun-hearted) harrassment from Pittsburgh soccer's ultimate supporter group.
"Finally the fans are going to be cheering for me. Whenever I go there, the place, it's hell, because they keep shouting and enjoy it. Finally they get to cheer for me this time and not against me," Kelly said.   
Look for more on the Steel Army as the season progresses right here on Pittsburgh Soccer Now.
This slideshow requires JavaScript.
Riverhounds MF Danny Griffin
Subscribe to PGH Soccer Now