USL Championship Eastern Conference
Riverhounds 2, Miami FC 2
Match Stats: USL Championship Match Center
Match Summary
In a match held up by a near three-hour weather delay, the Pittsburgh Riverhounds SC battled back from two separate deficits to draw The Miami FC, 2-2, at Ricardo Silva Stadium with the final whistle blowing past the midnight hour.
Alex Dixon and Russell Cicerone connected twice, with each picking up a goal and an assist to lead the Hounds in erasing two Miami leads. Junior Palacios and Adonijah Reid scored for Miami (5-4-4), which took a 2-1 lead to halftime.
The start of the match was delayed by 2 hours, 51 minutes as a result of lightning and severe storms passing through the Miami-Dade County area, but the match was finally able to begin just before 10 p.m.
---
First half
The Hounds should have had the game's opening goal after Cicerone made a diagonal run into the box and was taken down by former Robert Morris University standout and Jamaican international Speedy Williams to win a penalty kick. Dixon stepped up to take the 17th-minute shot, but his attempt down the middle was stopped by Connor Sparrow, who held his ground rather than diving to a side.
Miami then got on the board in the 24th minute from their second corner kick of the game, as Palacios barreled into the box to meet Aedan Stanley's delivery for his first professional goal.
The Hounds then got level in the 38th minute after Dane Kelly elevated to beat Sparrow to a high cross. Kelly's header fell to Dixon, who ripped a shot that struck the body of Cicerone and deflected into the net.
Miami retook the lead in first-half stoppage time, however, as Joshua Pérez got behind the left side of the defense. Kevin Silva made the initial save, but Reid tapped the ball into the open net on the rebound.
Second half
The start of the second half also had a short delay of 15 minutes as the lights at Riccardo Silva Stadium switched off at 11 p.m., just as the players were retaking the field to resume play.
Once play resumed, it didn't take long for the Hounds to pull level, as Dixon received a long, diagonal pass from Cicerone and went to work one-on-one on the left side. Dixon created space to shoot on his right foot and buried his third goal of the season in the 54th minute.
Dixon and the Hounds remained the more dangerous side after the goal, outshooting Miami by a 6-1 margin in the second half (14-10 for the match).
Kelly had two chances in stoppage time for a winner, the first on a header that went just over the bar, and the second after tracking down a long ball and exhaustedly releasing a shot that was deflected out for a corner.
The Hound return to Highmark Stadium on Saturday for a home match vs Detroit City FC.
Look for a more detailed recap to follow. 
---
LIve Match Updates:
FINAL:  PITTSBURGH 2, MIAMI 2
Despite having more chances in the late going, the Hounds can't get the game-winner, and have to settle for a 2-2 draw on the road on a very long night.
Past the midnight hour, and the Hounds have five minutes of stoppage time to get the go-ahead goal. They've been on the front foot for much of the latter stages of the 2nd half.
90 — FIVE MINS of stoppage time added
79′ — HOUNDS SUBS –
IN: Albert Dikwa, Toby Sims '
OUT: Russell Cicerone, Nate Dossantos
70′ – Forbes with a great pass toward Kelly, but Palacios makes an excellent tackle to prevent Dane from getting through on goal.
68′ – Miami makes its third change with a striker switch; Kyle Murphy on for Romeo Parkes.
67′ – Luis Argudo goes into the book for a tactical foul to break up a Miami counter at midfield. Two cards to each side thus far.
64' – Two Miami changes. Akinyode and Sorto in for the hosts, Bah and Reid are the players coming off in the 2-2 game.
No words 😶@alexdixon19 did THAT.#MIAvPIT | @RiverhoundsSC pic.twitter.com/cDGJhs0vUr

— USL Championship (@USLChampionship) May 29, 2022
55′ — HOUNDS SUB: Luis Argudo enters the match, replacing Dani Rovira.
54′ — PITTSBURGH 2, MIAMI 2
Dixon scores.
Terrific diagnonal ball from Russ Cicerone finding Dixon on left side.
11:20 — (46′) — the second half has kicked off…
11:10 pm — A slight delay again — as the lights went out at Ricardo Silva Stadium.
UPDATE: So what had happened was… pic.twitter.com/eIg13jtfyS

— Miami FC (@TheMiamiFC) May 29, 2022
HALF – MIAMI 2, PITTSBURGH 1
Hounds with eight shots, just one on frame.  Miami with 9/3.
Hounds hold possession edge (56/44).
.@King_Nijah gives @TheMiamiFC the lead before the end of the first half 👑#MIAvPIT pic.twitter.com/7ratfO9pi1

— USL Championship (@USLChampionship) May 29, 2022
45+2′ — GOAL — MIAMI 2, PITTSBURGH 1
Hounds exposed to a speedy counter attack — giving up way too much space which leads to Adonijah Reid having a clinical finish from rebound. Miami back up 2-1 late in 1st half.
Perez gets in behind the Hounds defense. Silva makes the save on his initial shot, but Adonijah Reid taps the rebound home.
37′ — GOAL – PITTSBURGH 1, MIAMI 1
They're crediting it to Russell Cicerone, thought DIxon's the one that fired the shot back into the goal box.
The comeback from @RiverhoundsSC 🥊#MIAvPIT pic.twitter.com/15QIWSaNV5

— USL Championship (@USLChampionship) May 29, 2022
That's two matches in a row that Alex Dixon puts one toward goal — and he gets a benefit of a deflection.

Hounds really needed that one to level match late in 1st half.

Good things happening when #7 puts something in dangerous areas. #MIAvPIT

— John Krysinsky (@JohnKrysinsky) May 29, 2022
24′ — GOAL – MIAMI 1, PITTSBURGH 0
Junior Palacios header from very close range to the top right corner. Assisted by Aedan Stanley with a cross following a corner.
22′ – Free kick to Miami just on the edge of the box, about 2 yards in from the left corner.
22' | Com'mon….. pic.twitter.com/s2MLlZERlL

— Miami FC (@TheMiamiFC) May 29, 2022
17′ — PK attempt SAVED by Miami's GK Connor Sparrow!
17′ — PENALTY!! Cicerone tripped up in box!  Dixon pass from left side to Cicerone, but he's tripped by Devon 'Speedy' Williams who also picks up a yellow card.
11′ – Perez (MIA) gets forward with shot that forces Silva to make save to his right.
8′ – Free kick for Miami from the left side, and Parkes heads it firmly but over the bar.
9:57 p.m. — KICKOFF AFTER THREE HOUR DELAY
Our starting XI 🆚 @RiverhoundsSC. 📸 pic.twitter.com/MSTy1EcTn5

— Miami FC (@TheMiamiFC) May 29, 2022
9:40 p.m.
NEW KICKOFF TIME: Our match against @RiverhoundsSC will kick off at approximately 9:57 P.M. ET.

— Miami FC (@TheMiamiFC) May 29, 2022
8:30 p.m.
Miami weather over next few hours….

not promising. #MIAvPIT pic.twitter.com/dpKdomKA4J

— John Krysinsky (@JohnKrysinsky) May 29, 2022
7:15 p.m. –
Just had another strike several minutes ago. We'll provide an estimated kickoff time vs @RiverhoundsSC when it becomes available.

— Miami FC (@TheMiamiFC) May 28, 2022
7:09 p.m. — The start of the match has been delayed due to severe weather in South Florida.
7 pm — Starting Lineups
Lineup Notes:
After Jahmali Waite got the start for Hounds last week, they're back to having Kevin Silva in goal.
One former Hound, Romeo Parkes in the lineup for The Miami FC, along with former Robert Morris University and Jamaican international Devon 'Speedy' Williams.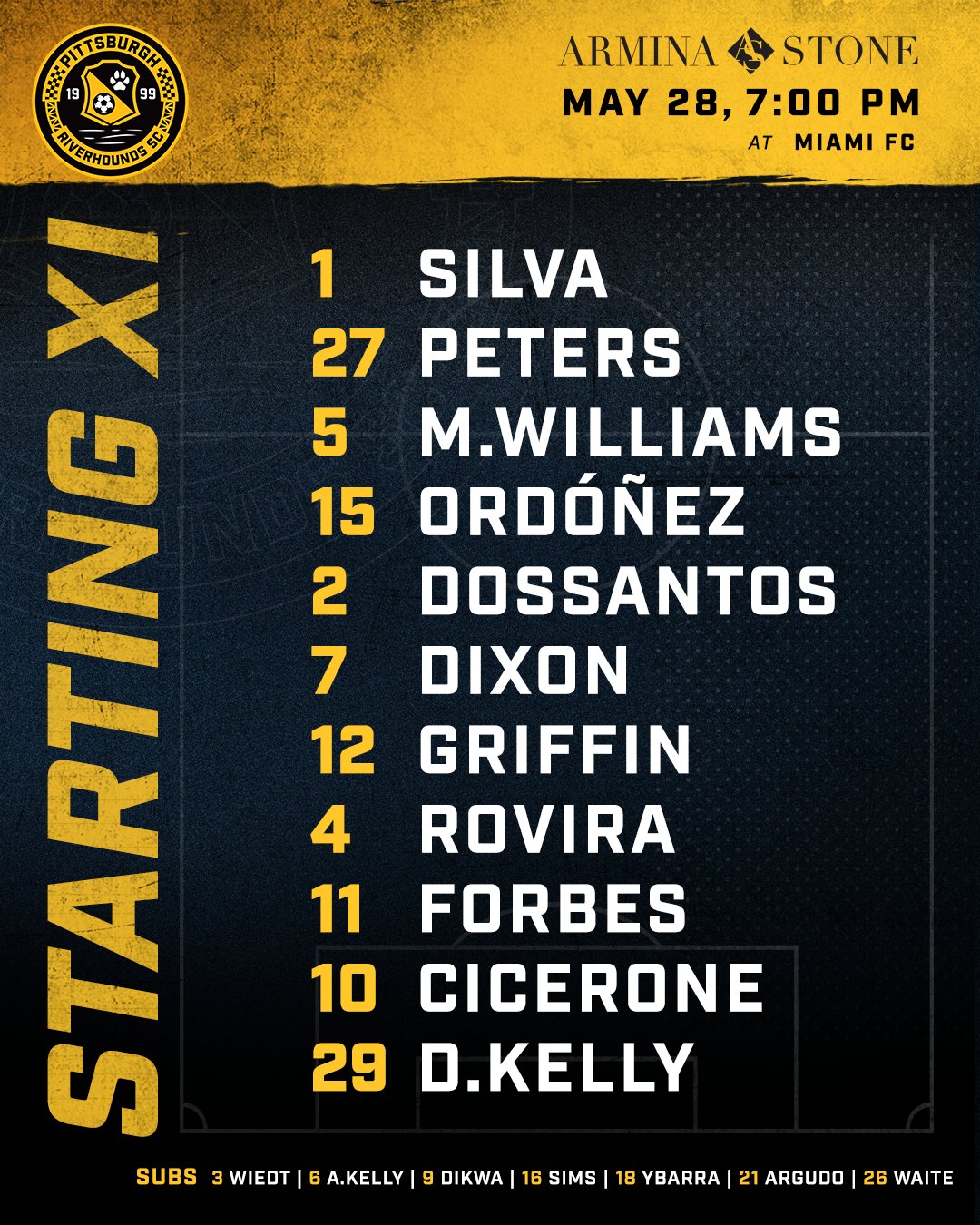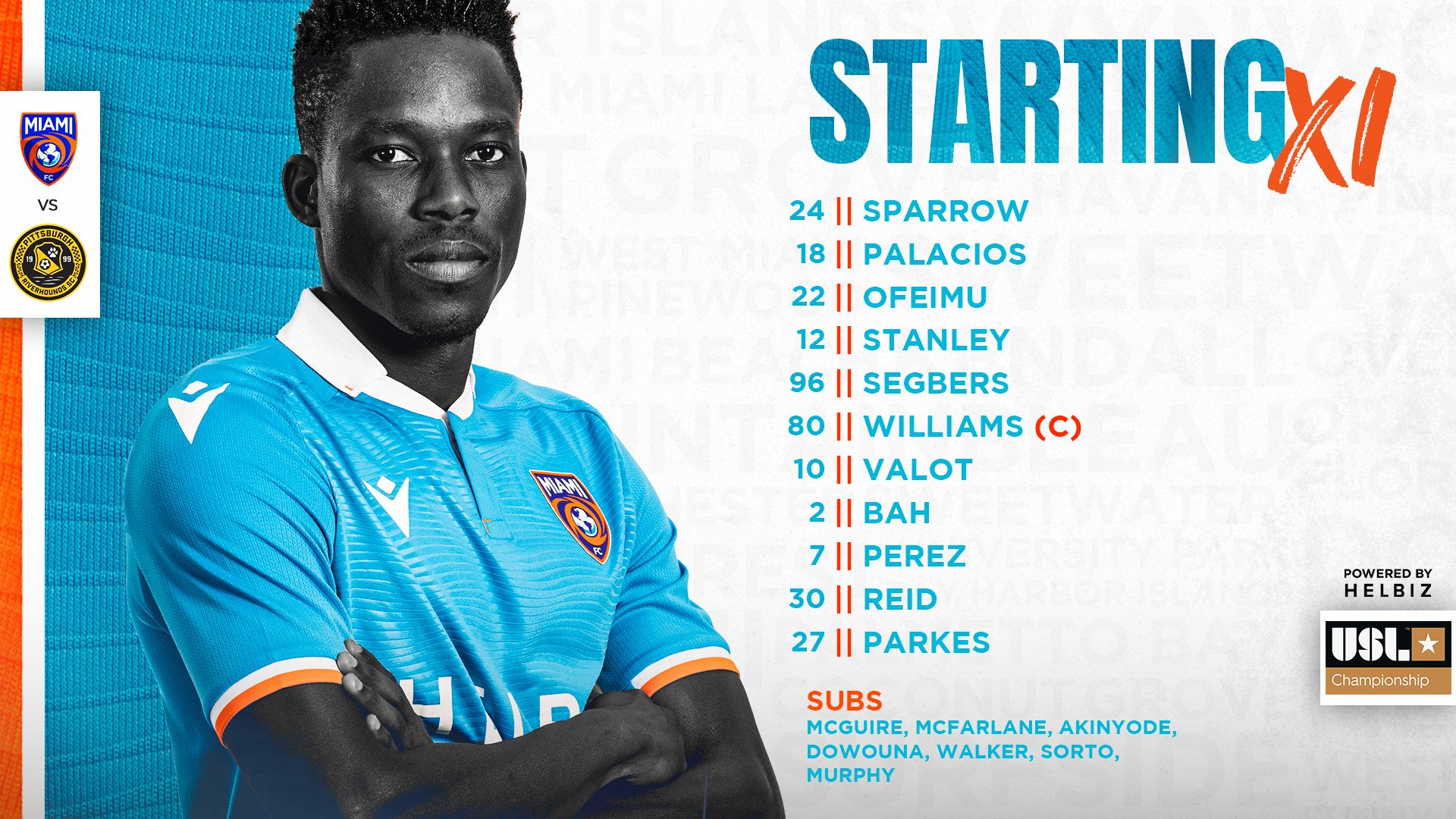 Riverhounds MF Danny Griffin
Subscribe to PGH Soccer Now