NCAA Division I Men's Soccer
FINAL: No. 7 Pitt 2, No. 2 Georgetown 1
Match Summary
In a tense battle that often took some twists and turns between two highly ranked sides, No. 7 Pitt responded swiftly after surrendering an early goal to defeat No. 2 Georgetown, 2-1, before a program record 2,000 fans at Ambrose Urbanic Field before a packed crowd at Ambrose Urbanic Field on Thursday evening.
Leading the attack for the Panthers, Bertin Jacquesson delivered a goal and an assist, and was a constant nuisance for the Hoyas throughout the match, while goalkeeper Joe van der Sar made four saves as the Panthers withstood some dangerous moments while holding the lead, especially in the second half.
The win was Pitt's first against Georgetown since 2006, when the two schools were Big East rivals.
The match started with a flurry, as Georgetown got the scoring started in the 5th minute when they took advantage of their first corner kick opportunity.
Georgetown stuck first scoring as Kenny Nielsen converted off a skipping cross through the box near the top of the six 4:29 into the contest.
Pitt countered in impressive fashion as Jacquesson carried down the right wing on the ensuing kickoff. His right foot strike from just outside the 18 deflected off a Georgetown defender at the point of contact, spinning the ball into the far corner of the net for the equalizer just 19 seconds after the opening goal.
4' | WHAT A RESPONSE!@BertinJacquess4 opens the scoring account for the Panthers 19 seconds after the Georgetown goal.#H2P pic.twitter.com/NS1Pkf7tex

— Pitt Men's Soccer (@Pitt_MSOC) August 26, 2022
Jacquesson continued to pressure the Georgetown defense with threatening runs from the wing. With 10:50 gone by the junior forward charged down the right side, stopped on a dime to free himself from a defender and send a crossing ball to a slashing Valentin Noel just inside the 18. Noel fired a one touch rocket over the Georgetown goalie into the upper part of the goal for a 2-1 Panthers lead.
The run of play fluctuated throughout the final 45 minutes of action with van der Sar coming up with a pair of big saves to secure the lead. In the 59th minutes the senior keeper made a diving save off a deflected shot from just outside the six. He delivered again in the 73rdminute with stabbing right hand deflection off a Georgetown flick off a bounding ball near the penalty hash.
Georgetown appeared to receive a golden opportunity in the 83rd minute with a penalty kick call.
Upon referee review it was determined the foul initiated outside the box and the Hoyas received a free kick from just outside the 18. The Pitt defensive wall proved to be stout with a block of an initial attempt and a clear of an ensuing corner.
Georgetown continued to push forward while Pitt defense remained disciplined and solid in its tackling at the point of attack over the final seven minutes of action. The Panthers smothered a pair of corners in the final two minutes of action and put the game to bed when van der Sar shadowed a soft header off a long cross over the crossbar and into a free kick in the closing seconds.
Post Match Interviews (Jay VIdovich & Bertin Jacquesson)
Thank YOU, Panthers for being a part of a program-record, capacity crowd of 2,000❕

See you Monday for the Brawl 📆#H2P pic.twitter.com/c1zinVBjRI

— Pitt Men's Soccer (@Pitt_MSOC) August 26, 2022
Match Day Updates 
Look for starting lineups, commentary and key match highlights to be posted here
---
FINAL:  PITT 2, GEORGETOWN 1
89′ – Pitt conceding another corner to Georgetown, who now hold a 9-2 edge on those set pieces.
Match held up now due to injury, as Jackson Gilman is shaken up.
Ensuing corner, van dar Sar comes to near post to punch it away.
84′ – VAR replay needed but Leerman foul was on edge.
G-town's free kick from Aidan Rocha is deflected off Pitt wall, and ensuing corner is cleared.
Panthers continue to hang on to 2-1 lead.
83′ – Pitt Subs:
Ideal Shefqeti, for Sahmkow and Noah Hall for Noel
82′ – Panthers knocking on the door — with another counter chance but Filip Mirkovic can't beat G-town keeper Koehler to ball after shot initial shot gets away from him.
78′ – SUB for Pitt
Abualnadi,Mohammad for Maillefaud,Mateo
74′ – Van dar Sar with an amazing, quick reaction save to deny another deflected shot!
Five saves now for the Pitt Senior keeper.
70′ – Pitt forward Luis Sahmkow somehow gets a shot off with a defender all over his back, but it's turned away by Georgetown's Ethan Koehler.
62′ – Pitt on counter, and Noel has the keeper Ethan Keohler to beat on the left side, but shot attempt is denied after he loses balance trying to make a move in goal box.
60 – van der Sar with another nice quick reaction save to deny Georgetown's Kieran Nielson's attempt with was also deflected off a Pitt defender.
No surprise that this place is packed and very lively tonight…@Pitt_MSOC pic.twitter.com/4DB7iHsH57

— John Krysinsky (@JohnKrysinsky) August 26, 2022
47′ – Georgetown gets the first real good chance of second half as Jack Panayoutou's free kick is saved by Pitt's Joe van der Sar, who alertly stayed home guarding the back post.
Here's how the Panthers have lined up tonight. Same formation, with some new faces (mostly grad student transfers and one true freshman – Jackson Gilman – in the XI)#H2P pic.twitter.com/Au3sv8pk1x

— John Krysinsky (@JohnKrysinsky) August 26, 2022
HALF – PITT 2, Georgetown 1
Pretty good match w/ both sides creating chances. Pitt responded w/ a pair of goals (Jacquesson 5′, Noel 11′) after surrending a corner kick goal Panthers have shots edge (8-5, 3-2 on frame); G-town with 5-2 adv on corners
37′ — SUB for Pitt
IN: Mateo Maillefaud
OUT: Rodrigo Almeida
11′ – GOAL – PITT 2-1
Val Noel with his first of the year — on the end of terrific build-up on left side and ball in from Bertin Jacquesson. Panthers now lead Hoyas 2-1
5′ – GOAL – PITT 1-1
Panthers respond 30 seconds after giving up goal.
Bertin Jacquesson's cross from right side is deflected and it goes in! What a blazing start here at Ambrose!
5′ – GOAL – Georgetown 1-0
Corner kick one-time redirect goes in!
Pitt's starting XI:
Not too many surprises.  As expected, most of the returning guys are in the starting XI.
One true freshman in there, Jackson Gilman, out of Philadelphia Union Academy, gets the nod at Left Back.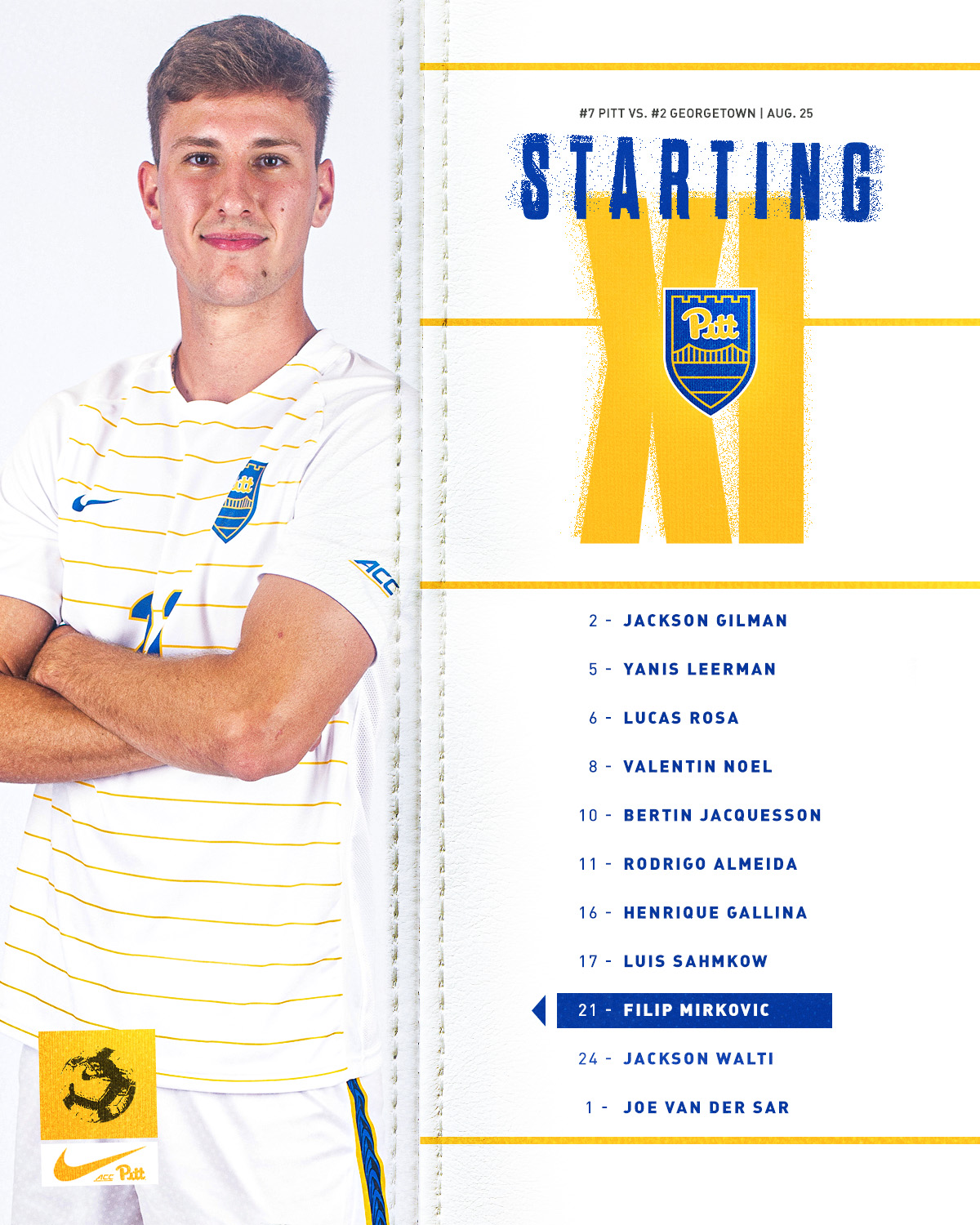 Our guy, Jasper Löffelsend, with some words for the boys tonight 💪@Pitt_MSOC 🤝 @realsaltlake #H2P pic.twitter.com/wlc9tKCa6A

— Pitt Men's Soccer (@Pitt_MSOC) August 25, 2022
Valentin Noel ➡️ @HermannTrophy Watch List 👀

🔗 https://t.co/BdaWE4VIcu#H2P pic.twitter.com/10Zj2YVPOd

— Pitt Men's Soccer (@Pitt_MSOC) August 25, 2022
PSN's Pitt Men's Soccer Coverage
Pitt's Jackson Walti, Bertin Jacquesson, Filip Mirkovic and Valentin Noel earn preseason honors
Sounding Off on Soccer: Talking 21st Century college soccer model proposal with Pitt's Jay Vidovich
Match Notes 
Coming off of their second straight Elite Eight appearance, the No. 7 Pitt men's soccer team opens up their 2022 campaign Thursday night against No. 2 Georgetown at Ambrose Urbanic Field. First kick is set for 8:00 pm and the game will air live on ACC Network Extra with Kevin Wheeler and David Day on the call.
Thursday's top-10 matchup will be the second game of a doubleheader on the Panthers' home turf as the Pitt women play host to UMass at 5:00 pm in their home opening match.
August 25 marks the first official day of the NCAA men's college soccer season.
The matchup between No. 7 Pitt and No. 2 Georgetown will be the lone top-10 matchup of the opening week for college men's soccer.
Pitt returns 12 players, including seven starters, from last season's Elite Eight team that posted a 13-5-2 overall record. The Panthers also return their top four scorers from a team that posted program records in points (167) and assists (63).
THE SERIES – GEORGETOWN
This marks the 29th meeting of all-time between the two teams, first since 2019, with Georgetown owning the 22-6-0 advantage over the Panthers.
The Hoyas have won seven straight games in the series with Pitt's last victory coming in 2006 at home.
Vidovich is 0-1-0 against Georgetown in his coaching career., falling to the Hoyas in the NCAA Tournament Second Round in 2019.
SCOUTING THE HOYAS
Georgetown enters their season opening match ranked No. 2 in the United Soccer Coaches Preseason poll.
The Hoyas are coming off of a successful 2021 campaign that saw them post a 18-3-1 record as they advanced to the College Cup. They fell 2-1 to Washington in the national semifinal match in Cary, NC.
The 2022 version of the Hoyas will look a lot different as they return just four starters from last seasons squad. Georgetown will be looking to replace Dante Polvara who won the 2021 MAC Hermann Trophy for the Hoyas after scoring seven goals, six assists and 20 points in 22 matches.
Georgetown returns two All-Big East performers from a season ago, defender Daniel Wu and defender Kenny Nielsen. Wu was recently named Big East Preseason Defensive Player of the Year and TopDrawerSoccer Preseason Best XI Third Team.
RECAPPING THE 2021 CAMPAIGN
The Panthers made history once again in 2021 as they advanced to their second straight Elite Eight for the first time in program history.
Pitt finished the season with a 13-5-2 overall record and a 5-2-1 ACC mark. The Panthers fell to Notre Dame in the ACC Semifinals, 2-0, but still earned a No. 5 seed in the NCAA Tournament.
The Panthers had nine players earn All-ACC honors following the 2021 season. Graduate student Jasper Löeffelsend was named Defensive Player of the Year for the second straight season while Jay Vidovich was named Coach of the Year for the second straight season and seventh time in his coaching career.
Jasper Löeffelsend became the first player in program history to earn All-America honors twice in a career as he earned United Soccer Coaches Second Team honors after a strong campaign. Löeffelsend and Valentin Noel also earned First Team All-South Region honors, the first time Pitt had multiple first team recipients.
Pitt was ranked each week during the 2021 campaign as they have earned a national ranking in 32 consecutive weeks dating back to 2020.
PITT PICKED AS COASTAL FAVORITES
The Panthers were tabbed by ACC coaches to finish first in the Coastal Division in the ACC Coaches' Preseason Poll for the second straight season.
Pitt garnered six first-place votes in the Coastal Division, a division they have won in back-to-back seasons.
Panthers also earned two votes to claim the overall ACC title.
PRESEASON ACCOLADES
The tandem of Jackson Walti and Valentin Noel were named to the United Soccer Coaches Midfielder Watch List at the beginning of August. The list consisted of 26 players with Pitt and Campbell being the only two schools to have multiple honorees.
Walti also earned preseason praise by the ACC coaches as he was named to the 2022 ACC Preseason Watch List. He was one of 12 members of the list.
Noel also was named to the College Soccer News Preseason Third Team All-America list, marking his second straight season earning a spot on the preseason list.
The Panthers had three players earn TopDrawerSoccer Preseason Best XI Team recognition. Bertin Jacquesson  (forward) and Filip Mirkovic (midfield) earned First Team honors while Valentin Noel (Forward) earned Second Team recognition.
DYNAMIC DUO
The combination of midfielder Valentin Noel and forward Bertin Jacquesson has been deadly for the Panthers over the past two seasons.
The two Frenchmen have combined to score 32 goals for Pitt over the last two seasons. The 32 goals are the most by any returning duo in the ACC over the last two seasons.
Jacquesson led the Panthers in scoring last season as he netted seven goals, 11 assists and 25 points on 43 shots. His 11 assists are tied for the most in a season in program history.
Noel capped his third season as a Panther with seven goals, five assists and 19 points on a team-high 44 shots.
Noel is currently tied for fifth in goals (24) and tied for eighth in points (58) in program history.
Jacquesson is currently tied for third in program history with 18 career assists entering his junior campaign.
HOME TURF ADVANTAGE
The Panthers have been one of the best teams in the country on their home turf over the last three seasons as they own a 22-3-1 record at Ambrose Urbanic Field.
Pitt held a 19-match home winning streak from Oct. 7, 2019 to Nov. 10, 2021, which at the time was the longest streak in the ACC and second longest unbeaten streak in the nation.
Head coach Jay Vidovich is 30-16-3 at home in his six seasons at Pitt.
Since the start of the 2019 season, Pitt has outscored its opponents 84-28 at home including a 43-12 advantage last season.
ACC Home Win % Last 3 Seasons
1. Pitt                            24-3-1                   .875
Clemson                  30-3-4                   .865
Wake Forest          30-5-3                   .829
BC                             14-2-5                   .786
Virginia                    26-7-3                   .764
FRESH FACES
The Panthers will welcome 15 newcomers to the squad for the 2022 campaign, including nine freshmen, two sophomores and four graduate transfers.
The four graduate transfers for the upcoming season all had standout careers at their previous schools.
Defender Yanis Leerman (UCF) was taken in the 4th round of the MLS SuperDraft but decided to transfer to Pitt after starting 17 games and earning Second Team All-AAC honors last season.
Defender Henrique Gallina (USF) appeared in 12 matches and led the Bulls with five goals, three assists and 13 points to go along with 39 shots. An AAC All-Rookie team selection, Gallina appeared in 50 matches at South Florida before transferring.
Midfielder Ideal Shefqeti (FDU) started in 17 matches for the Knights last season and netted two goals, three assists and seven points on 21 shots. A NEC All-Rookie Team selection in 2018, Shefqeti recorded 61 starts and racked up 24 points at Fairleigh Dickinson.
Forward Josh Luchini (Lehigh) comes to Pitt after posting five goals, five assists and 15 points on 40 shots last season while earning Second Team All-Patriot League honors. Luchini is a two-time Patriot League Offensive Player of the Year and earned Third Team All-America honors in 2019 after posting a league-high 11 goals, two assists and 24 points. He has started 57 games across his collegiate career.
Rounding out the newcomers are a pair of sophomores, Mateo Maillefaud (France) and Mathys Lefebvre (France), and nine freshmen, Cabral Carter (Los Angeles, CA), Jackson Gilman (Schwwenksville, PA), Leonardo Andrade (Brazil), Noah Hall (Cincinnati, OH), Abraham Brown (Los Angeles, CA), Mateo Stoka (Weston, FL), Djavid Abdullatif (Germany), Eben McIntyre (Charleroi, PA) and Killian Vallant (Austria).
UP NEXT
The Panthers return to action Monday night at home as they welcome No. 6 West Virginia for the 51st edition of the men's soccer Backyard Brawl. First kick is set for 7:00 pm and the game will air live on the ACC Network.
Monday's match will be the second straight top-10 opponent the Panthers will face to open their 2022 season.
Subscribe to PGH Soccer Now