USL Championship Eastern Conference Quarterfinal
Pittsburgh Riverhounds SC 2,
Birmingham Legion FC 2 (AET: Riverhounds advance on PK's – 8-7)
Live statistics: Match Center
Match Summary
A resilient performance from the Pittsburgh Riverhounds SC sent them through to the USL Championship's Eastern Conference Semifinal round, as they defeated the Birmingham Legion SC in a match that played to extra time score of 2-2, and decided by a dramatic, extended penalty kick shootout (8-7).
The heroes for the Hounds were Edward Kizza, who came on as a sub in the 89th minute, then scored the equalizer in the 90th minute, then provided the equalizer in extra time too, in the 114th minute, and goalkeeper Jahmail Waite, who made seven saves in the run of play, plus three more in the penalty kick shootout.
"We didn't have our best, but there's belief in our group. To come back twice tonight showed resilience," Bob Lilley, Riverhounds Head Coach said.
"Even in penalties, our guys had to match them after the first five, and they showed fortitude — I think it was Marc, Angelo, Arturo and Jelani — all of them had to make theirs. It was a great team win, because everyone played their part. Now, we just have to do what we can to get rested and go out to Louisville on Saturday, and hopefully play a better game."
It was only the second time the Hounds have advanced from a shootout in club history, the first coming in the 2013 U.S. Open Cup. The team is 2-3 in kicks from the penalty mark all-time.
With the win, the Hounds will now face Louisville City FC, on Saturday, at 7:30 p.m.
First Half
Robbie Mertz nearly had the Hounds ahead early in the game. The Pittsburgh native beat defender Phanuel Kavita off the dribble, but Kavita got just enough of Mertz's jersey to keep him from getting enough power on the shot to beat goalkeeper Matt Van Oekel.
Waite made two outstanding saves the first half, the first to deny Legion leading scorer Enzo Martínez when he got behind the defense for an angled shot, and the second to stop Jonathan Dean, whose low shot got around the Hounds wall on a free kick.
Second half
The Legion made the breakthrough in the 72nd minute on a set piece, as Juan Agudelo fed Prosper Kasim in the box, and Kasim lifted a header over Waite and into the far side of the net. That led the Hounds to turn to their attacking options on the bench, and Kizza answered the bell.
Last sub now for Hounds, who need something…

Edward Kizza in for Kenardo Forbes.

89'

1-0 Birmingham#BHMvPIT

— John Krysinsky (@JohnKrysinsky) October 23, 2022
The former Pitt striker, on loan from the New England Revolution, entered the game in the 89th minute as the Hounds' final substitute.
A minute later, he was celebrating his second goal since joining the Hounds, and he headed in the tying goal on a cross from Mertz with just seconds remaining before stoppage time.
EDWARD KIZZA. THE SUPER SUB.@RiverhoundsSC find the equalizer ‼️‼️‼️‼️#BHMvPIT | #USLPlayoffs pic.twitter.com/IytGo4Yhp8

— USL Championship (@USLChampionship) October 23, 2022
Extra time
The Legion pulled back ahead nine minutes into the extra time period, as they forced a turnover from a Hounds throw-in, allowing Mikey Lopez to feed Bruno Lapa for an open shot 16 yards from goal.
Needing to tie the match once again, it was the substitutes who made it happen after Danny Griffin won the ball in midfield.
Griffin fed Marc Ybarra, who led William Eyang down the left flank with a well-weighted pass. Eyang hit a low, smartly placed cross through the top of the goal box, and Kizza was there to tap the ball into the open net.
HE DOES IT AGAIN. OMG 🤯🤯🤯#BHMvPIT | #USLPlayoffs pic.twitter.com/ribY3eNALS

— USL Championship (@USLChampionship) October 24, 2022
Penalty kicks
Birmingham opted to substitute goalkeeper Trevor Spangenberg into the match to replace Van Oekel, but at first it seemed like the move wouldn't matter after Waite saved the Legion's first two penalties. Spangenberg replied with critical stops on the fourth and fifth kicks to keep Birmingham in it, and the teams traded conversions on kicks six through nine.
Finally, on the 10th kick, Waite made his third stop on Grayson Dupont, and Kizza, the only field player yet to take a kick, stepped up to put home the winner. (Full shootout summary below.)
g+ GameFlow: USL Championship Playoffs @bhmlegion v @RiverhoundsSC on October 23, 2022. #HammerDown #UNLEASH #BHMvPIT pic.twitter.com/eaL4HiD6rH

— GameFlow (@GameFlowxPG) October 24, 2022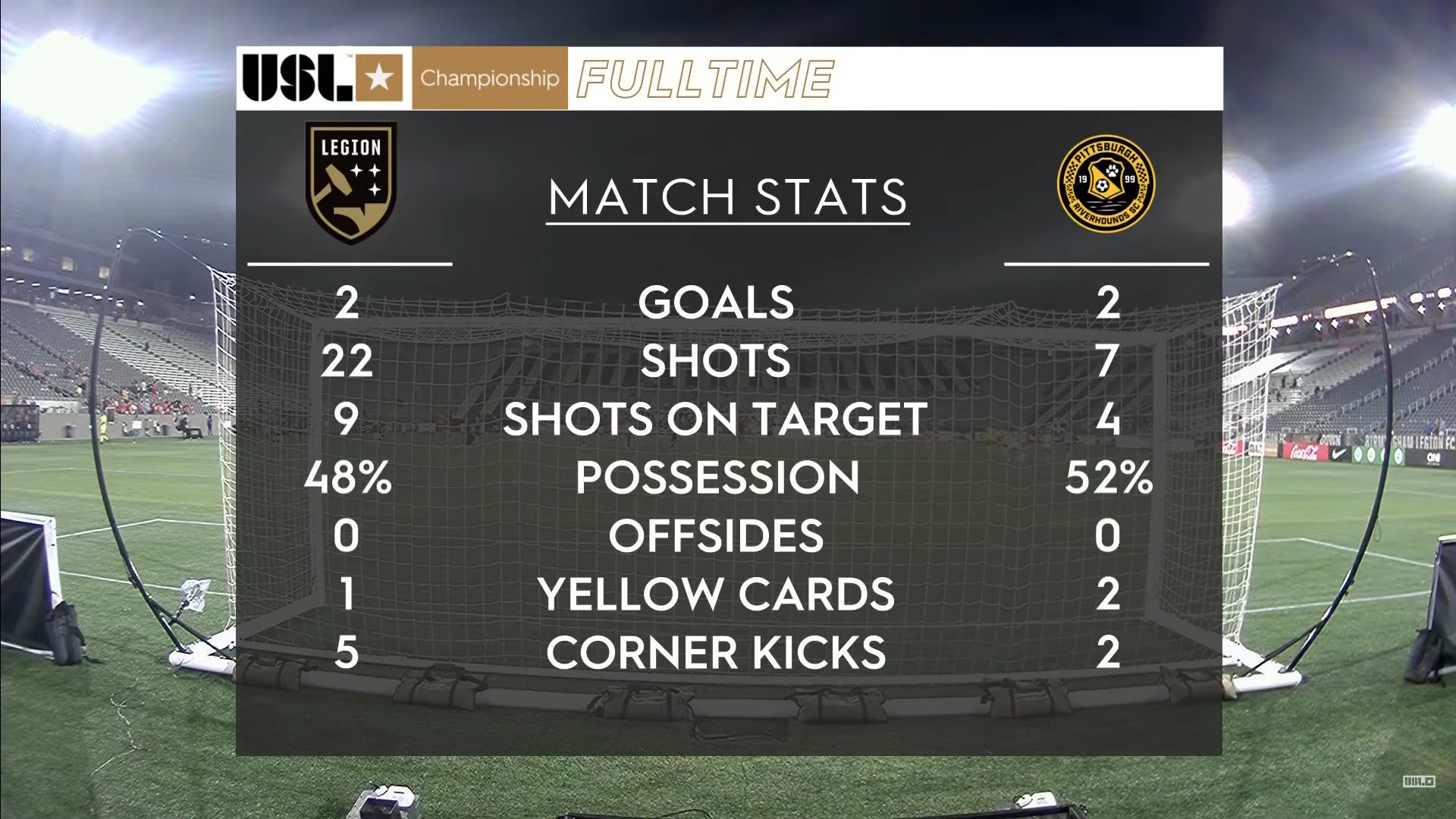 Look for a more detailed recap to follow here on this blog and more post match coverage to come on Monday and into the week on PSN.
Match Updates
Look for pre-match hype, starting lineups, game highlights and commentary to be posted right below the line…
---
FINAL– PITTSBURGH 2, BIRMINGHAM 2 (HOUNDS WIN PK SHOOTOUT 8-7)
PK SHOOTOUT
10th Rd (20th) – PIT – Kizza – SCORES!!!!!! @RiverhoundsSC ADVANCE TO THE @USLChampionship Eastern Conference Semifinal Round

Kizza scores two goals in play — then seals the victory for the Hounds.

There's a playoff win to remember for Pittsburgh!#BHMvPIT

— John Krysinsky (@JohnKrysinsky) October 24, 2022
END OF 2ND PERIOD OF EXTRA TIME
130 plus minutes, and now they're going to PKs!!
129′ — Edward Kizza YELLOW CARD for raised foot in collision with Enzo Martinez
127′ — Free kick for Hounds but it's deflected.
125′ — Long stoppage leads to the 4th official being used due to injury.
Man this match has had a little bit of everything.
They're adding four more minutes (from this point??)
HE DOES IT AGAIN. OMG 🤯🤯🤯#BHMvPIT | #USLPlayoffs pic.twitter.com/ribY3eNALS

— USL Championship (@USLChampionship) October 24, 2022
114′ — GOAL – HOUNDS 2, BIRMINGHAM 2
Edward Kizza does it again!!
Herivaux did collide with official and went down, but play went on leading to Hounds goal. Birmingham not happy about it. But it was incidental.
GOOOOAAAALLLLLLL @RiverhoundsSC
EDWARD KIZZA DOES IT AGAIN!

Hounds get forward in transition, had numbers and William Eyang ball into the box from left side finds Kizza

2-2

114' #BHMvPIT

— John Krysinsky (@JohnKrysinsky) October 24, 2022
107′ — HOUNDS SUB Hounds making one more change (they're allowed an extra sub) shortly after 2nd period of extra time begins.
END OF 1ST PERIOD OF EXTRA TIME – BIRMINGHAM 2, PITTSBURGH 1
BRUNO LAPA! A great first-time finish gives @bhmlegion the lead!#BHMvPIT | #USLPlayoffs pic.twitter.com/gbEKWkdz0B

— USL Championship (@USLChampionship) October 24, 2022
102′ — Waite off his line to deny Balarabe. Big save to keep it a one-goal game, as the Hounds continue to press forward.
100′ — GOAL — BIRMINGHAM 2, PITTBURGH 1
Bruno Lapa sends it through from 16 yards
Hounds got caught watching the paint dry and no one marking Lapa who had too much time and space.
Bob Lilley has thought ahead, and I'm sure feels good about his team's formation and personnel for this Extra Time. The 5-man back line with Griffin was used in last week's big win. Kizza's an added factor in attack. Eyang's going to work his tail off w/fresh legs. #BHMvPIT

— John Krysinsky (@JohnKrysinsky) October 24, 2022
END OF REGULATION — PITTBURGH 1, BIRM 1
90′ — GOAL — PITTSBURGH 1, BIRMINGHAM 1
It's Edward Kizza just 38 seconds into coming into the match. Wow!
EDWARD KIZZA. THE SUPER SUB.@RiverhoundsSC find the equalizer ‼️‼️‼️‼️#BHMvPIT | #USLPlayoffs pic.twitter.com/IytGo4Yhp8

— USL Championship (@USLChampionship) October 23, 2022
77′ — More subs for Hounds again, who need to send more numbers forward now that they're down 1-0. IN: Jelani Peters, William Eyang OUT: Mekeil Williams, Dani Rovira
https://twitter.com/USLChampionship/status/1584330368148475904
73" — GOAL — BIRMINGHAM – Prosper Kasim
Well-drawn up play on the set piece.
Bang, bang, bang.
Martinez low ball to Argudelo, then chips for Kasim making run in box — and heads it over Waite.
TACTICAL NOTE — What the Hounds are going to do now, appears to go 5 in back. Danny Griffin to drop into center of back line with Ordonez to right and Williams on left. Sims right back while Rovira stays left.
70′ –SUBS Hounds bringing on some fresh legs:
Toby Sims and Angelo Kelly-Rosales, who had solid games last week in startes, are in for Shane Wiedt and Alex Dixon.
63′ – Cicerone heads back to Dikwa in the center, but the striker can't get a clean hit on it! Still has to be scrambled out for a corner.
58′ – Martínez tries to go low and near post, but it misses wide with Waite covering it well.
57′ – YELLOW CARD – Shane Wiedt takes down attacker on left side
55′ – Dangerous moment for Birmingham, as Herivaux's cross was just too far for Kasim to turn it on goal at the back post.
46′ — Secpnd half starts with Hounds on attack. Mertz has the second shot on frame also, with a clean look from 20 yards, but saved by Van Oekel.
Going to take more than a little free kick trickery to beat our man @jahmali_waite!

Scoreless at the break, Jahmali with four saves in the first half.#BHMvPIT #HOUNDTAHN #HuntAsOne pic.twitter.com/MEtEw37XYC

— Pittsburgh Riverhounds SC (@RiverhoundsSC) October 23, 2022
HALF — RIVERHOUNDS 0, LEGION FC 0
Birmingham with the edge in shots (8-1, 1-1 on frame). Possession pretty close (53/47 BHM)
Hounds need to be more dynamic and create more chances in final third, or the season will be done.
30′ –Martinez draws a foul — as it's Kenardo Forbes who bulldozes him in a veteran-on-veteran collision.
Free kick is a low liner that Dean pushes well struck ball to inside left post, but Waite is there to deny it and prevent Martinez chance to hit rebound.
28′ — Great save by Jahmali Waite! Argudelo's little pass thru gets to the extremely dangerous Enzo Martinez who is behind Mekeil Williams. Shot was to Waite's right, but the Jamaican keeper was about to react quick enough.
COMMENTARY: In the middle third the Hounds have been razor sharp in possession. No surprise with Forbes and Griffin doing most of the table and pace setting. The final third though, outside of Mertz chance, not connecting much.
18′ – Best build-up of match so far for Hounds. Loved the cut-back from Dixon to Mertz. Then the Upper St. Clair native with some fancy footwork to dribble around BHM defender and get a poke from close range that is saved.
Replay shows it was Kavita who got a pull on Mertz's jersey. So close to being the opening goal in one of two ways!
17′ – First shot on frame for either side, as Herivaux with a clean, hard strike from 24 yards that forces Jahmali Waite save.
9′ – Birmingham holding a little bit of possession in their own half now. Dikwa applies pressure on Van Oekel, and that wins possession on the miskick into touch.
2′ – Hounds withstand an early corner kick and manage to work clear with Dikwa winning a foul to keep possession.
6:07 ET — 0′ — They've kicked off
6 p.m. ET — Bob Lilley said on Wednesday… "Aren't going to be many tweaks or secrets for either team. It's going to come down to execution. We've got to go at them. We can't sit back."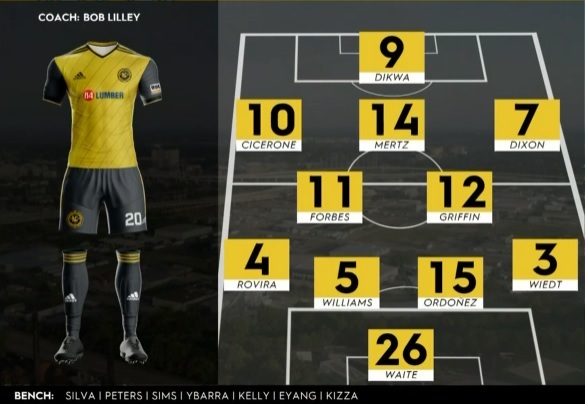 STARTING LINEUPS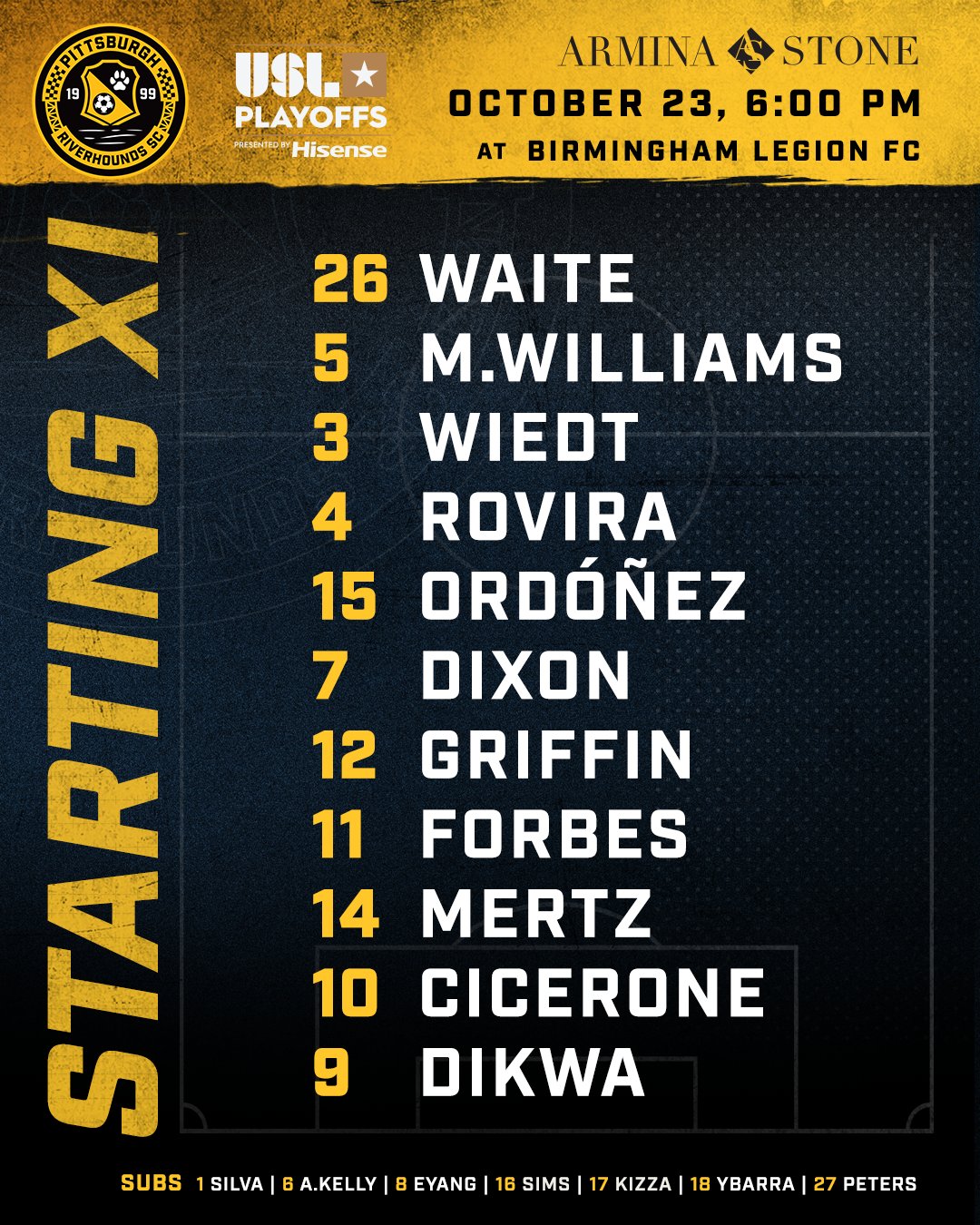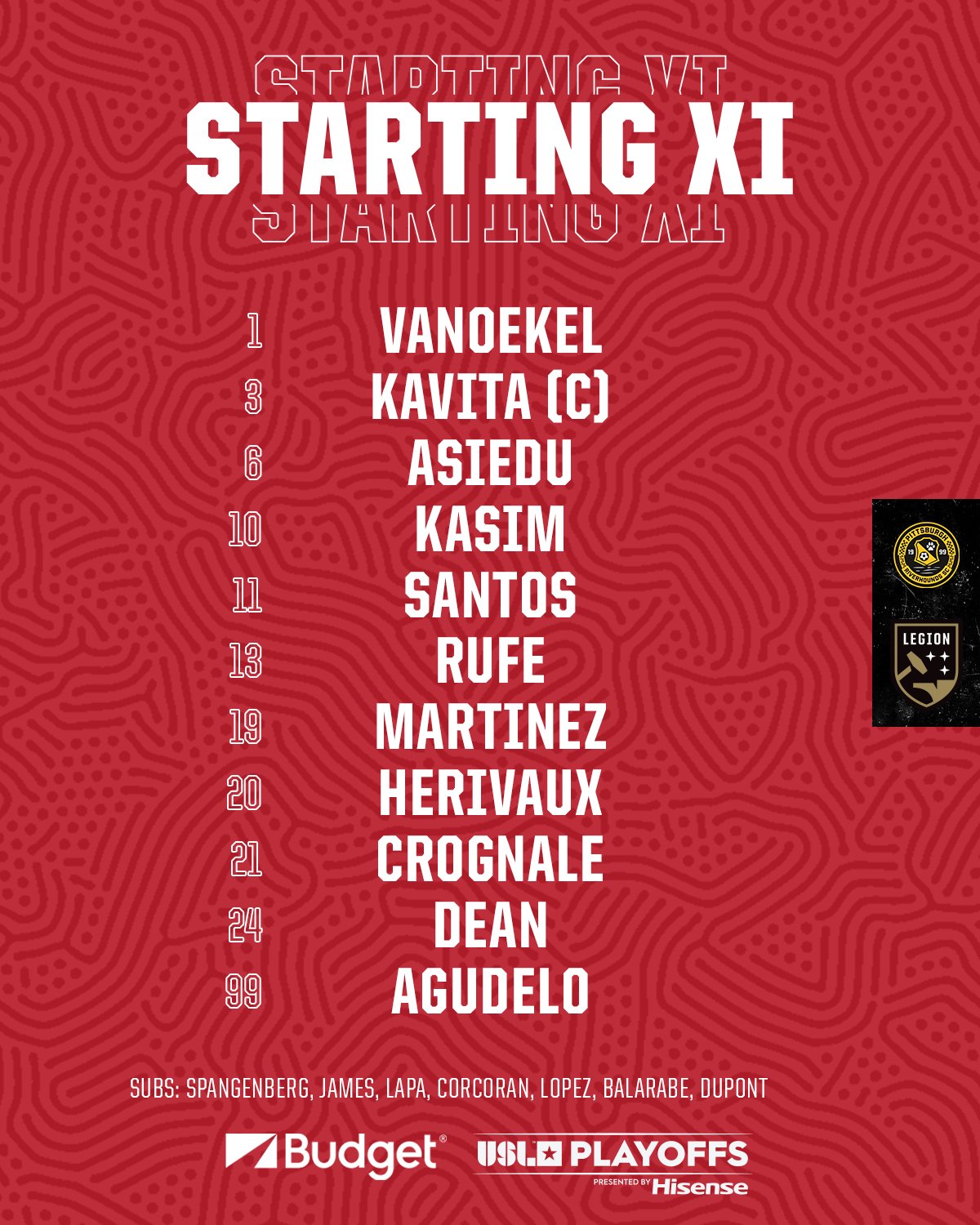 With the results from other @USLChampionship playoff games tonight, we now know the winner of our quarterfinal tomorrow at @bhmlegion will advance to face top-seeded @loucityfc in Louisville on Oct. 29.#HOUNDTAHN

— Pittsburgh Riverhounds SC (@RiverhoundsSC) October 23, 2022
All For You, Birmingham ❤️🔥 pic.twitter.com/1rR35QTozj

— x – Birmingham Legion FC (@bhmlegion) October 22, 2022
This will be Tattersall's 5th Hounds' match of the season (3 USL, 1 Cup). The Hounds went 1W-2L-1D in those matches, with the most recent being the 0:0 draw with Louisville.

He has not worked a Birmingham game since the 2020 playoffs. (Tampa Bay 4:2 Birmingham)#UNLEASH pic.twitter.com/DcULythXPR

— Steel Army (@SteelArmy) October 20, 2022
Preview / Recent PSN Riverhounds' Coverage
This is a match one year in the making, as the Riverhounds have a chance to finally play Birmingham in a playoff match again, on Sunday at Protective Stadium.
If you recall, one year ago, the Hounds had to forfeit their first round playoff match at Birmingham due to having too many COVID-19 cases within the team.
A year later, the Hounds finished the season unable to secure a home playoff match in the first round. They're in this predicament primarily because they didn't bag enough positive results against the better teams in the league.
Despite lofty expectations heading into the season, the Hounds could never pick up a signature win against any of the playoff teams ahead of them in the table, with one exception, a week one win at Memphis. Pittsburgh's 38 goals conceded in the regular season are the most by the Hounds during Head Coach Bob Lilley's tenure, while the club's +12-goal differential was the lowest over that same five-season span.
Now, if they want to make a run to the USL Cup Final and finally put all the pieces together, they'll have to do it on the road, as the two lower seeds in the Eastern Conference (Miami & Detroit) both lost on Saturday night.
During the season, the Hounds and Birmingham split the season series, with each side taking home victories. We have a full preview and look at the veteran-laden Legion FC, plus more from Head Coach Bob Lilley, first-year defender Arturo Ordonez and defender Shane Wiedt on the match-up in this week's edition of Hounds Notebook and in the interviews below on Pittsburgh Sports Live.
Hounds Notebook: A playoff fight awaits in rubber match vs veteran-laden Birmingham
Riverhounds SC Team Match Preview
Hounds are back in the postseason for a fifth straight year, and Birmingham Legion FC will once again be the team's first opponent to kick off the USL Championship Playoffs presented by Hisense.
It is the third time in the past four seasons the bracket has paired the Hounds and Legion in the Eastern Conference Quarterfinals. In 2019, the top-seeded Hounds routed the Legion in a league playoff record 7-0 win behind four Neco Brett strikes at Highmark Stadium. Another meeting was on tap for last season at the Legion's old BBVA Field home, but the Hounds were unable to travel for the game as a result of the league's Covid-19 protocol, and Birmingham was advanced in a no-contest.
A tight match is anticipated for this year's playoff outing after the teams split a pair of one-goal games in the regular season — the Hounds won 1-0 on May 7 in Pittsburgh, and the Legion won 2-1 on Sept. 14 in Birmingham. A spot in the conference semifinals awaits the winner, and the location and opponent for that game will be known after the completion of the two Saturday quarterfinals: Miami at Tampa Bay and Detroit at Memphis.
For the Hounds, Russell Cicerone is the team's leading scorer for the second straight season. He ended a brief personal scoring drought in the team's 3-1 win over Oakland to close the regular season with 13 goals, and he added his sixth assist of the year, as well. The Legion counter with a veteran presence in Enzo Martínez, who at age 32 has had a career year with 15 goals and eight assists, both tops in the Birmingham side.
The Hounds' own veteran midfielder, Kenardo Forbes, has scored in two straight games and finished with a team-leading 10 assists — a career high and one off the USL Championship lead. The team also gets a boost from the return of Arturo Ordóñez, who will return to the back line after serving a one-game red card suspension against Oakland.
For the Legion, the match has significance as the first home playoff match in club history. Birmingham's three previous postseason matches all were away from home, with their lone win being a 3-2 triumph over North Carolina FC in the 2019 Preliminary Round, which set up the quarterfinal tilt in Pittsburgh.
Game Notes
Pittsburgh is in the USL Championship Playoffs for a fifth consecutive year, a streak that is a team record. Across the league, only Louisville City FC carries a longer postseason streak into this year's playoffs.
The Hounds and Legion meet for the third time this season, after splitting two regular-season meetings. The Hounds won 1-0 in Pittsburgh on May 7, while the Legion got their first win
in the all-time series 2-1 on Sept. 14 in Birmingham.
The teams played one previous playoff matchup, meeting in the conference quarterfinals on Oct. 26, 2019. The Hounds took a 7-0 win in that match at Highmark Stadium behind a playoff-record four goals by Neco Brett. Only three Hounds players who appeared in that quarterfinal are on the current team, captain Kenardo Forbes, midfielder Robbie Mertz and defender Dani Rovira.
Forbes is up to 41 assists as a member of the Hounds, pushing his USL Championship record total to 55. This was his first career 10-assist year, and he finished one behind Detroit's Antoine Hoppenot for the assists title this season.
Danny Griffin set a new club record this season with 3,055 minutes played — five short of playing the entire regular season. The third-year pro has played all but 17 minutes since the beginning of the 2021, and today's match will be his 84th consecutive appearance in the USL Championship (regular season and postseason). He has not missed a league match
since turning pro in 2020.
For the second year in a row, Russell Cicerone led the Hounds in goals, scoring 13 this season after posting 16 in 2021. He is just the third player in team history with consecutive double digit goal seasons.
Albert Dikwa has his first double-digit goal season as a professional. The 24-year-old from Cameroon has scored four goals in the Hounds' past eight matches to give him 11 on the season.
Dikwa and Cicerone are the fifth set of Hounds teammates to have at least 10 goals in the same season, and the first since 2019 when Brett and Steevan Dos Santos accomplished the feat.
In 161 matches under Bob Lilley in all competitions, the Hounds are 83-35-43 and have allowed just 151 goals, an average of 0.94 goals per game.
Across 22 seasons as a professional head coach, Lilley has guided his team to a winning record and qualified for the playoffs every year.
https://twitter.com/loucityfc/status/1584353556114833409
Riverhounds MF Danny Griffin
Subscribe to PGH Soccer Now