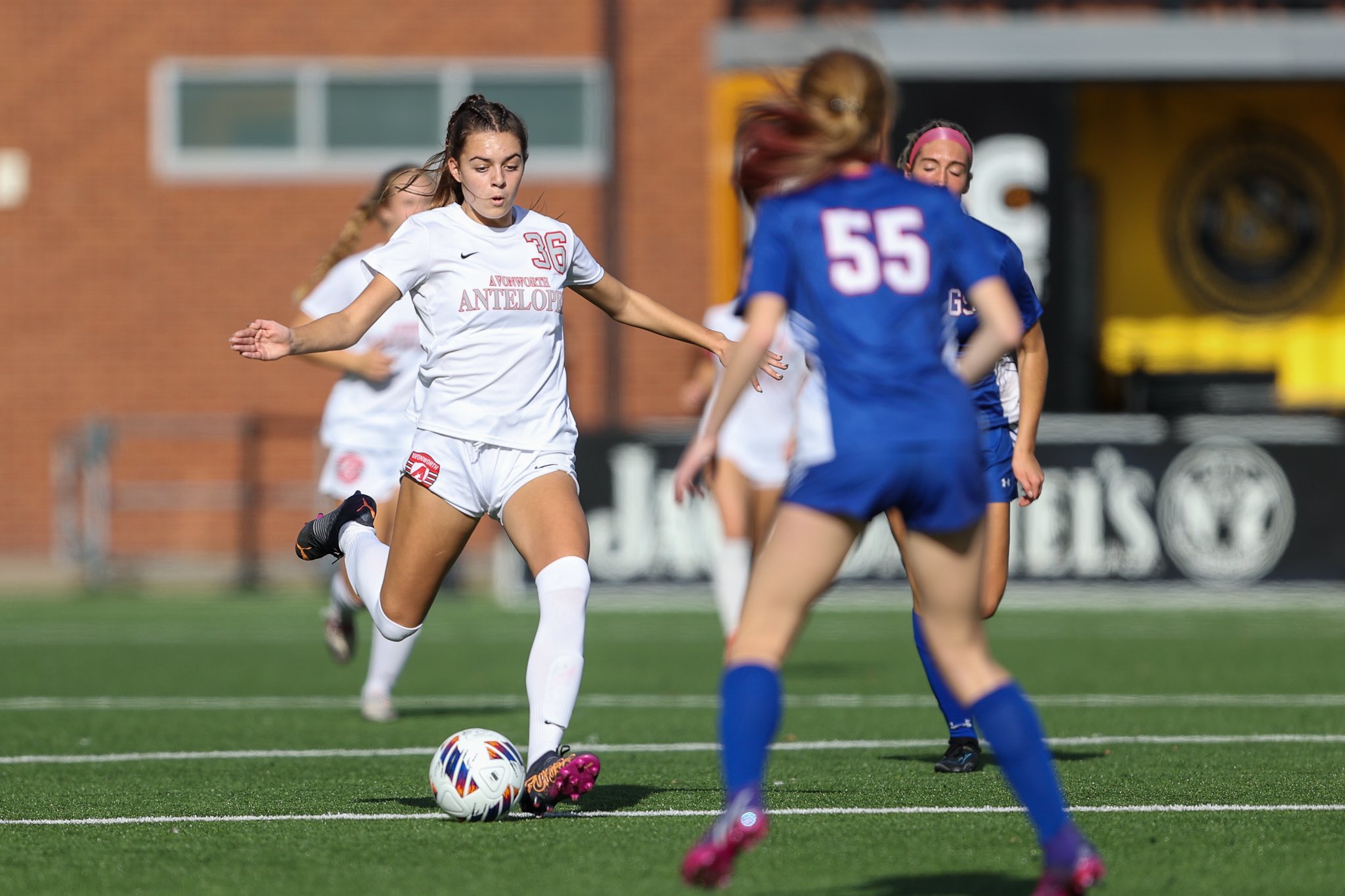 PITTSBURGH — Avonworth and Mt. Pleasant played a tough game in the WPIAL 2A Girls Soccer Championship on Saturday. Thanks to solid defense and a late goal for Avonworth, they won the title, 2-1, at Highmark Stadium.
The Antelopes (16-3) win their second straight WPIAL title with the win over the Lady Vikings (16-2). They defeated North Catholic, 2-1, in extra time to claim their first ever WPIAL title.
Antelopes head coach J.C. Mahan credited his team with their hard work in the offseason that contributed to their victory today. He knew that they faced a tough schedule returning as WPIAL champions, so he gave his team motivation to keep them focused on that goal.
"In the offseason, we put together shirts that have targets on the back because we knew everybody was going to be coming at us this year," J.C. Mahan said. "So, that was my motivation to help the girls. We had that meeting on May 15. We did this three months before the preseason just so they knew they had to put the work in in the offseason to get to this point. They did it and all the credit goes to them. They just put it in the offseason in the weight room, playing, coming to pickups, all those things. It just transpires and you see the results from it."
Mt. Pleasant started the game out with a great goal from first-year forward Morgan Gesinksi. Gesinksi moved into the box and ripped a powerful shot into the top corner to give her team an early 1-0 in the third minute.
She also had a great chance in the 12th minute with a shot that troubled sophomore goalkeeper Elena Zimmerman, but it went out for a corner.
Then, sophomore midfielder Fiona Mahan started to lead the Antelopes' attack. She put a good cross in the box in the 14th minute that threatened, but the Lady Vikings dealt with it well.
Fiona Mahan curled a shot from outside the box, which had enough power on it, that it hit the bottom of the crossbar and back in the net to tie the match at one in the 21st minute.
Both teams played a feisty match, with some tough fouls and yellow cards to match. Mt. Pleasant junior defender Maggie Piper received a yellow card in the 30th minute for a high challenge with her legs. Avonworth junior forward Gianna Babusci got entangled with a Mt. Pleasant defender on the ground and while getting up, shoved her. Mt. Pleasant fans demanded a red card, but the referee just showed a yellow to her in the 47th minute.
Avonworth continued to create the best chances in the second half. Babusci found herself free on goal in the 55th minute and fired on goal, but Mt. Pleasant first-year goal keeper Laurel Rummel stood strong and kicked it out. The collision between the two on Rummel's clearance forced Babsuci off with an injury, but she managed to play later in the game.
The Lady Vikings struggled to make any opportunities offensively in the second half. Prior to the Babusci shot, they had their best chance, as Gesinksi took a shot that ended up wide for a goal kick.
The Antelopes took the lead in the 64th minute off another goal from Fiona Mahan. She shot from 25 yards out and it looked like Rummel would get to it, but she punched it weakly back into the net, giving the Antelopes a 2-1 advantage.
Fiona Mahan also scored the winning goal last year in that matchup against North Catholic in the final. She is the daughter of head coach, J.C. Mahan, and leads the Antelopes with 23 goals and 19 assists. She also led Avonworth with 11 shots and six on goal in the win.
She said that even when they fell behind early, they made sure to work together to get back on track and win the game. She noted the game plan was similar to the last match, as they fell behind at the half to North Catholic in the semifinals, before they cameback to win 2-1.
"I feel like we all just worked together really well and we knew, like, we were down once against North Catholic," Fiona Mahan said. "We knew that if we keep working we were going to get one.
Mt. Pleasant head coach, Robert Gumbita, thought his team played a tough, physical game that they were unlucky to lose. He did give credit to Avonworth and their staunch defense, which prevented them from building a rhythm after scoring their first goal.
"Early in the second half, we still had a lot of possession down there," Gumbita said. "I thought we would be able to break them down a bit. Give them credit. They're well organized and they limited our chances."
Antelopes star junior midfielder Minah Syam did not play against the Lady Vikings due to an injury. They will want her back if they are to win a state title this season.
Avonworth, who finished as state runners-up last season, plays the District 10 in the PIAA Playoffs on Tuesday, Nov. 8. Mt. Pleasant will take on Bedford, who is the District 5/6 winner in the first round of state playoffs.
Riverhounds MF Danny Griffin
Subscribe to PGH Soccer Now