NCAA Men's Soccer Tournament Quarterfinal Round (Elite 8) 
FINAL: Pitt 1, Portland 0 
Match Summary
The Pitt men's soccer team didn't do anything the easy way this season, but they are going back to the College Cup for the second time in three seasons, as Valentin Noel's extra time goal in the 104th minute lifted the Panthers to a 1-0 victory against the pesky Portland Pilots before 2,200 fans at Ambrose Urbanic Field on Saturday afternoon.
"Can't tell you how proud I am of our guys for staying in there for all of regulation and into extra times, and we fought the whole game, they kept it clean and created a lot of opportunities," Head Coach Jay Vidovich said after the match.
"They never let up. It's difficult to play a team that didn't want to play. I told the guys at halftime, to be like waves on the beach, to keep coming and coming,"
The game-winner came on a well-executed cross from Jacquesson, who kept working in balls from his side in the late stages of the match, but each previous effort connecting with Noel and Rodrigo Almeida missed the mark each time.
"I blanked out," Noel said following the match. "It all happened so quickly. Bertin was providing great service all game, and I know that I needed to be right there."
114' | GOALLLLLLLLLLLLL!!!!!@Vlnt_Noel heads home the first goal of the match after a great cross by @BertinJacquess4

Pitt 1, Portland 0#H2P pic.twitter.com/Jqm312izNJ

— Pitt Men's Soccer (@Pitt_MSOC) December 3, 2022
The Panthers will now take on the winner of the UNC Greensboro-Indiana match on Friday, December 9 in Cary, NC.
With viscious wind conditions playing a factor, Pitt started the match on the front foot going into the gusts. The Panthers rarely let up through the first half, peltering Portland with crosses, shots and pressure up the middle of the field that kept Pilots keeper George Tasouris very busy, making six first half saves.
The Panthers finished the first half with a 15-1 (6-0 on frame) advantage in shots and held a 63 percent possession advantage.  Multiple shots came from outside the box from Lucas Rosa on the right side, while Filip Mirkovic sent a few in himself, and the Panthers attacked from the width, and also created chances through build-up in the middle of the field.
Despite Pitt's dominance, Portland hung around, and finally created a moment of its own in the 32nd minute, when Brandon Cambridge broke behind the Pitt back line, and sent a dangerous ball into the box that forced Pitt keeper Joe van der Sar into pushing away from trouble.
The second half played out differently, as the Panthers had more difficulty getting back into the same rhythm they had going in the first 45 minutes, while Portland created four shots and did everything they could to slow the match down, including taking fouls and Tasouris taking as much time as he could on goal kicks.
Things came to a point where Pitt fans began counting down the seconds every time Tasouris held on to the ball.
The Panthers finished the second half picking up the pace again, but fell shot on a couple of near misses, incluing Guillherme Feitosa's point blank chance in the 88th minute and Noel also had one chance from the middle of the box that was saved in the very last seconds of regulation.
Panthers graduate student and former North Allegheny HS standout Josh Luchini had the best chance in the first period of extra time with a low shot at the back post after receiving a ball from Almeida, but again, Tasouris was there to snuff it out.
Noel netted his 11th goal of the season. The French connection, Noel-Jacquesson tandem has combined for 19 goals and eight assists on the season.
Pitt was on attack throughout the game generating a commanding 32-8 advantage on shots, including an 11-2 in shots on goal.
Pitt goalkeeper Joe van der Sar came away with two saves, including smothering an up close attempt in the 70th minute en route to his 8th clean sheet of the season.
Post Match Press Conference
Match Updates
EXTRA TIME 2
104′ — GOAL – PITT 1, PORTLAND 0
Terrific cross in from Bertin Jacquesson. And FINALLY the Panthers take the lead! 104′
114' | GOALLLLLLLLLLLLL!!!!!@Vlnt_Noel heads home the first goal of the match after a great cross by @BertinJacquess4

Pitt 1, Portland 0#H2P pic.twitter.com/Jqm312izNJ

— Pitt Men's Soccer (@Pitt_MSOC) December 3, 2022
EXTRA TIME 1 ENDS | PITT 0, PORTLAND 0 
It's been a grueling affair. Pitt continues to create solid chances, but can't convert.
Now, they'll head back with winds to their backs for the final 10 minutes of Extra Time.
97′ | Luchini on the back post nearly beats Tasouris low, but the Portland keeper gets enough of his hand on it.
93′ | Portland with a pair of corners, but Pitt's well-organized and cleared both out
Pitt has outshot Portland 28-5 (9-1 on frame), yet they'll need extra time. They'll kickoff going into the North section of Ambrose Urbanic Field in the first period of ET.
END OF REGULATION | PITT 0, PORTLAND 0
Noel had a chance in the dying seconds, but Tasouris extends to make yet another save! Pitt will have to go to extra time (2 10 min periods) against the fiesty Pilots.
77′ | Jacquesson much more active and getting more touches. Another cross in for Noel, and another miss to the right on the header.
74′ | Jacquesson with some brilliant work to keep the ball along the right endline. Cross for Noel at back post, but header dings off lower part of post and out.
62′ | SUB for Pitt — Luis Sahmkow for Guilherme Feitosa
Pitt looks a bit more disjointed in the 2nd half as they're having a bit more trouble connecting passes. They do get it to attacking third, leaving a shot chance on left side, but he misses.
That's the seventh save of the match for Tasouris 👊 pic.twitter.com/AdJwbuhjzX

— Portland Pilots Men's Soccer (@PortlandMSOC) December 3, 2022
57′ | Portland's keeper George Tasouris is booked to the crowd's pleasure as he was trying too hard, embellishing his fall and delaying the game.
HALF | PITT 0, PORTLAND 0
Pitt has done everything but score. Controlling possession, building well out of the back, attacking from the width. Outshooting the Pilots 15-1 (6-0 on target).
42′ | Noel has a clean look from top of the arc, but it's right at Tasouris, who bobbles it, but hangs on.
BTW Only SUB so far for Pitt came in 33′ when Feitosa came on for Luchini
36′ | Pitt bringing more waves of pressure. Great ball from left endline from Almeida, but Noel just misses on connecting as he slides into the box.
Another chance for Mirkovic 30 seconds later as deflected shot from top of box is saved by Tasouris
The 🧱 wall pic.twitter.com/FitWDIm6hn

— Portland Pilots Men's Soccer (@PortlandMSOC) December 3, 2022
35′ — Pitt comes back with some pressure, but cleared away by Portland
32′ — Portland with first real good chance, as Pitt's Jackson Walti is dispossed by a great tackle at midfield. Ball gets wide to Brandon Cambridge who sends a dangerous ball from right side to Pitt GK Joe van der Sar, who gets a hand to sway it from goal.
30′ — Hydration break
21′ — Rosa, who lines up as a right back, has been very busy taking space Portland is giving him, and unleashes another shot from near top of box which is deflected out for corner. The ensuing corner misses (too high and over).
16′ — Panthers in control, but can't find the finish, yet. They've built it out of the back nice, even with wind in their faces with short passes on ground.
Couple Rosa shots and another from Mirkovic on frame have forced GK George Tasouris into saves.
14′ — Rose cross from right side lands to back post area, but Luchini can't get a good foot on it.
11′ — This time nice build up out of back leads all the way to Mirkovic low drive that's saved, bobbled and collected by Tasouris.
Tasouris staying solid 😤 pic.twitter.com/PsuTekWEC1

— Portland Pilots Men's Soccer (@PortlandMSOC) December 3, 2022
9′ — Another Rose attampt again from the edge is saved by Tasouris.  Following corner is cleared.
5′ — Almeida breaks into left side and finds room to shoot but just misses.
2′ — Pitt comes out like gangbusters.  Lucas Rosa shot saved.  Jacquesson's header on bouncing ball back — just misses.
1:05 p.m. — Pitt wearing their all-White kits in a rare 1 p.m. kick here at Ambrose.
Here's Pitt's Starting XI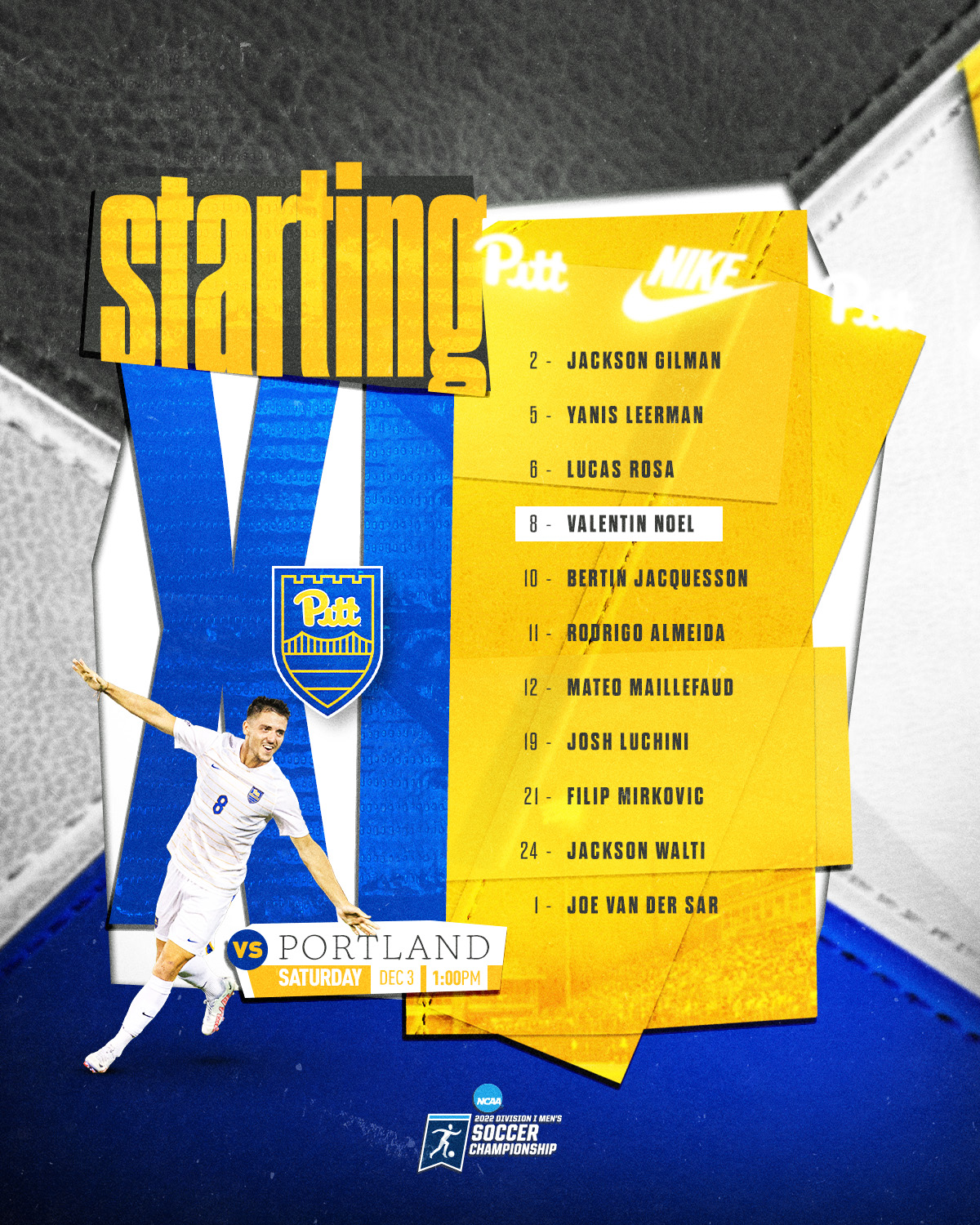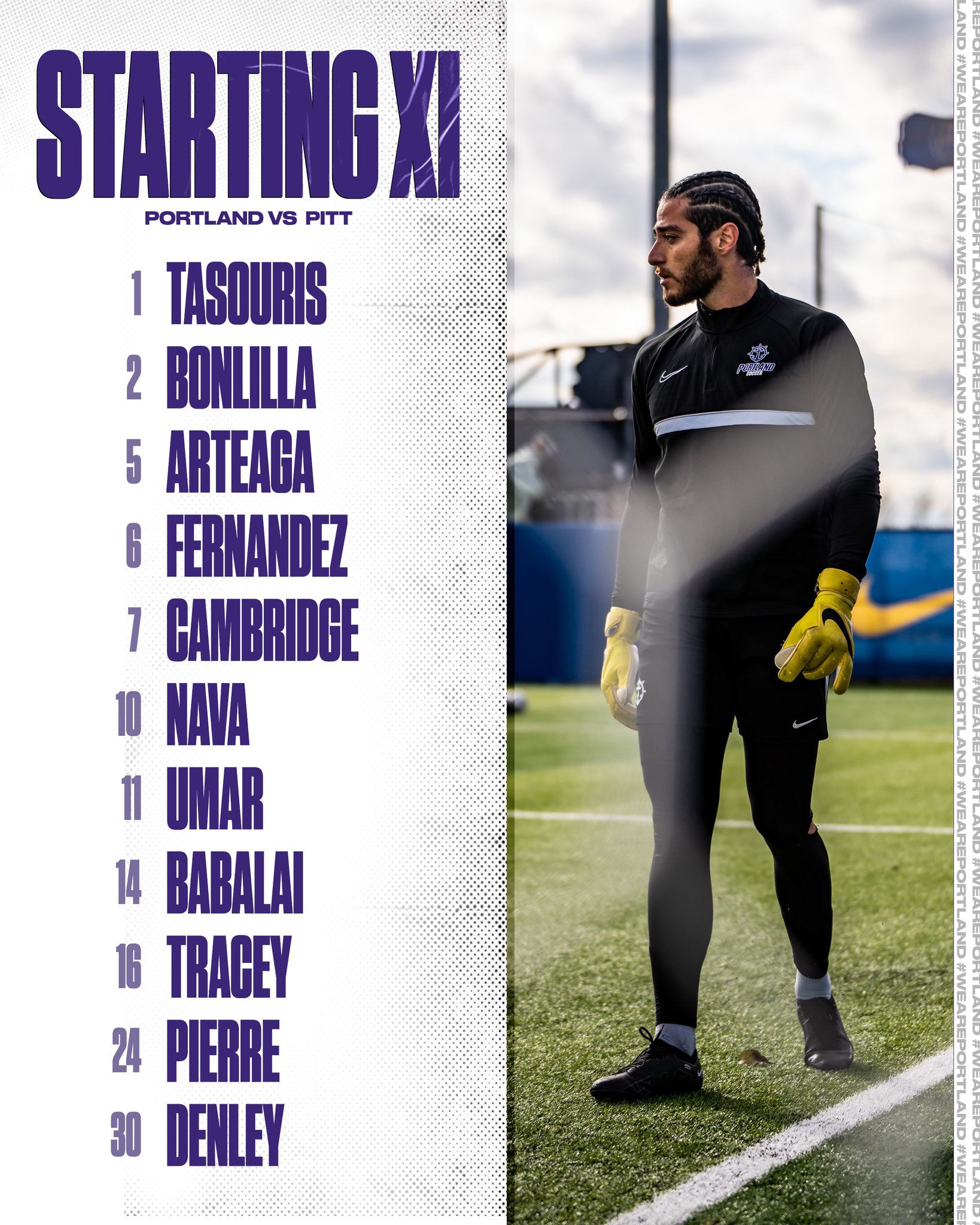 Fabulous looking day but it's very windy here at Ambrose as we are now moments away from kickoff between @Pitt_MSOC and @PortlandMSOC pic.twitter.com/4ii6ntwHYl

— John Krysinsky (@JohnKrysinsky) December 3, 2022
Preview
Once again, Pitt men's soccer are on the verge of another College Cup, as they've shown plenty of resiliency in notching a couple of road victories against seeded teams, including a 3-0 victory against regional foe Akron, then knocking off top-ranked Kentucky on Sunday in an exhilarating, 2-1 win, playing down a man in the final stages of the match, and still finding a late game winner off the foot of junior winger Bertin Jacquesson.
"We know we're a good team," Pitt's Head Coach Jay Vidovich said following the triumph in Lexington.
"We weren't seeded because a lot of things that happened during the year where we didn't capitalize. But we kept learning and kept getting better. Lessons were learned, and we've gotten this far. I hope that beating a quality team like Kentucky serves as another lesson for what we have to do against Portland."
The Panthers will have one more difficult test to pass if they want to be part of NCAA Men's College Soccer's Final Four and make the trip to Cary, NC, next weekend as they face a challenge against another high scoring outfit in Portland.
"They have some talented guys that we need to be aware of, but we have some guys who can cause trouble for them, as well," Portland's Head Coach Nick Carlin-Voigt told the Portland Tribune this week.
A very successful program for many years in NCAA Division I soccer, the Pilots are annually one of the top teams coming out of the West Coast Conference (WCC),
Considered one of the bright, young coaches on the college soccer landscape, Carlin-Voight was hired in 2016 having built a reputation as a top recruiter at UCLA and George Mason as an assistant, and has kept a program that regularly draws over 2,500 fans per match in the soccer loving Pacific Northwest to its home games going strong.
This year's group rank fifth nationally averaging 2.55 goals per match (51 goals in 20 matches).
Brandon Cambridge is Portland's top scorer with 12 goals, tied for seventh nationally. Cambridge's seven assists are second most on the team.
Thirteen Pilots have scored goals. Other scoring leaders are Jacob Babalai (eight goals, four assists), Sebastian Nava (four goals 10 assists) Gurman Sangha (six goals, six assists) and CJ Tibbling (seven goals, two assists).
In their last five matches, Portland and goalkeeper George Tasouris have only allowed one goal — by UC Riverside in the final moments of the 2-1 win in the first round of the NCAA Tournament as Babalai notched the Pilots opening goal and later earned an assist on the game-winning score.
The Pilots then cruised to a 2-0 upset victory over in-state rival No. 8 Oregon State. Babalai also scored the Pilots' opening goal in the win over the Beavers. Then the Pilots moved on to face Western Michigan in the third round. Neither team could generate much offense for much of the game. But the Pilots ultimately battled to a 1-0 victory over the Broncos.
Both programs don't shy away from playing tough non-conference competition. Despite being on opposite coasts, they have played two common opponents:
Each drew with Denver (Portland 0-0 on the road, Pitt 2-2 at home) and beat West Virginia (Portland 2-1 at home, Pitt 3-0 at home).
The Panthers faced two of the highest scoring teams in the nation in the previous two rounds, and kept them in check. On Sunday, they limited the Wildcats to one shot on goal per half and none over the match's final 38 minutes.
Even with Pitt reduced to 10 men for the match's last 12 minutes, Kentucky didn't put a shot on goal, a testament to how well the Panthers performed on defense.
The Panthers will have to go without Henrique Gallina, a graduate senior defender/midfielder, who was the player sent off in Sunday's match at Lexington.  A transfer from South Florida, Gallina has been used both along the back line and in the central midfield this year (starting 14 of 18 matches), but has not played as much during the NCAA tournament (36 total minutes and no starts).
Lucas Rosa, Jackson Gilman and Yanis Leerman have been mainstays along the back when healthy, while Matteo Maillefaud has also become a key piece of that group, having started the last nine eight matches.
With one more solid team defensive effort, the Panthers will be moving on to the College Cup once again.
"It is a tremendous feat, and once again, I think it was the whole team," Vidovich said.
"(It was) the guys that came off the bench and the guys that put pressure on their back line. We tried to make sure we were putting pressure on both sides and our guys did a great job reading it. It was just a tremendous job by everybody."
PSN's Pitt Men's Soccer Coverage
Sounding Off on Soccer: Pitt's in the Elite 8; plus Mike DeCourcy on USMNT's World Cup run
Encore Élite: Ten-Man Pitt stuns No. 1 Kentucky on late Jacquesson strike
Pitt's Bertin Jacquesson and Valentin Noel Named to Top Drawer Soccer National Team of the Week
Pitt Game Notes 
THE OPENING KICK
The Panthers continued their run in the 2022 NCAA Championships Sunday night as they knocked off the previously unbeaten and #1 overall seed Kentucky on the road, 2-1 thanks to a Bertin Jacquesson marker in the 87th minute.
Pitt is now 11-4-5 overall on the year as they host Portland Saturday afternoon at Ambrose Urbanic Field. Pitt will be looking for their second trip to the College Cup in the last three years.
Portland comes to Pittsburgh with a 15-2-3 overall record after collecting tournament wins over UC Riverside, #8 Oregon State and Western Michigan. Overall the Pilots have won five straight entering the match Saturday.
The dynamic French duo of Valentin Noel and Bertin Jacquesson netted both goals in the Panthers' upset victory over Kentucky on Sunday. The duo has now combined to score 18 goals this season and 53 across their careers. Noel now sits in second place on the all-time goals chart (34) and points chart (81) while Jacquesson is second all-time in assists (22) and seventh in points (60).
THE SERIES – PORTLAND
This meeting marks the first meeting of all-time between the two squads.
Pitt is 0-1-0 all-time against current members of the West Coast Conference (WCC) as they fell 1-0 at home against Saint Mary's (Ca.) in 2016.
SCOUTING THE PILOTS
The Pilots enter Saturday's match with a 15-2-3 overall record as they downed Western Michigan 1-0 last weekend at home to advance their first Elite Eight since 1995.
Portland opened their NCAA Tournament run with a 2-1 home victory over UC Riverside before downing Oregon State 2-0 on the road in the second round and taking out WMU in the Sweet 16.
Portland ranks 4th in the NCAA in goals (51) and points (154) while ranking ninth in assists (52). They own the 2nd best goal differential in the nation (+33).
The potent offense is led by Brandon Cambridge who has 12 goals, seven assists and 31 points on 50 shots so far this season. He has also netted a team-best five game-winning goals.
Jacob Babalai has eight goals, four assists and 20 points while Sebastian Nava leads the team with 10 assists while adding four goals on the season.
In goal, George Tasouris has started all 20 matches as he owns a 15-2-3 record to go along with a 0.92 goals against average, .753 save percentage and eight clean sheets.
FEELING ELITE
For the third straight season, the Panthers have earned a spot in the Elite Eight as they upset #1 Kentucky on the road, 2-1, last weekend.
Pitt is the only team in the country to advance to each of the last three Elite Eight's.
The Panthers are 1-0-1 all-time in Elite Eight games. They tied #4 Notre Dame last season on the road but fell 4-2 in penalty kicks. Pitt defeated #7 Washington to advance to the College Cup in 2021, downing the Huskies 3-0 in Cary, NC.
This marks the first time in program history the Panthers have hosted a NCAA Championship Quarterfinal match at Ambrose Urbanic Field.
PANTHERS IN THE NCAA TOURNAMENT
This marks the fourth straight season and fourth time overall the Panthers have earn a bid in the NCAA Tournament.
The Panthers have now won at least one tournament game in all four seasons they have earned a bid.
This marks the Panthers' third straight trip to the Elite Eight and third overall in program history.
Pitt currently owns a 9-2-1 record in NCAA Tournament games all-time.
The Panthers are in search of their second College Cup appearance in the last three seasons.
Pitt has outscored their opponents 32-12 in NCAA Tournament matches. The Panthers have also secured five clean sheets in their 12 NCAA Tournament matches all-time.
Date                 Opponent         Result
11/21/20          Lehigh              W, 2-0
11/24/20          at Georgetown  L, 5-0
5/2/21              Monmouth       W, 6-1
5/6/21              UCF                  W, 4-0
5/10/21            Washington      W, 3-0
5/14/21            Indiana             L, 1-0
11/21/21          No. Illinois        W, 5-2
11/27/21          Hofstra             W, 4-0
12/4/21            at Notre Dame  T, 1-1
11/17/22          Cleveland St.     W, 2-1
11/20/22          at Akron           W, 3-0
11/27/22          at Kentucky      W, 2-1
SCORING POINTS IN BUNCHES
The Panthers have scored 41 goals, 46 assists and 128 points so far this season.
The 46 assists are the second most in a single season in program history while the 128 points are the third most in a single season in program history. The 41 goals are ninth all-time.
Overall, the Panthers have five players who have recorded at least 10 points and two with 20+ points.
Senior Valentin Noel leads the squad with 23 points while Bertin Jacquesson ranks second with 20 points and Filip Mirkovic leads the team with 12 assists.
HOME TURF ADVANTAGE
The Panthers have been one of the best teams in the country on their home turf over the last four seasons as they own a 31-4-5 record at Ambrose Urbanic Field.
Pitt held a 19-match home winning streak from Oct. 7, 2019 to Nov. 10, 2021, which at the time was the longest streak in the ACC and second longest unbeaten streak in the nation.
Head coach Jay Vidovich is 35-17-7 at home in his seven seasons at Pitt.
Since the start of the 2019 season, Pitt has outscored its opponents 107-40 at home including a 23-12 advantage this season.
The Panthers win percentage (.838) at home since 2019 is the best in the ACC and tied for 7th best overall in the NCAA.
Home Win % Since 2019
# TEAM                  RECORD             %
1. Georgetown        37-2-5           .898
2. New Hampshire   33-2-4           .897
3. Missouri State     34-3-3           .888
4. Kentucky             38-4-5           .861
5. Campbell             31-3-6           .850
6. Cornell                18-2-3           .848
7. Pitt                     31-4-5           .838
8. Washington         33-6-2           .829
9. Clemson              37-7-4           .813
10. Yale                     13-3-3            .763
UP NEXT
With a win, Pitt would advance to their second College Cup in three years. They will play the winner of Indiana and UNC Greensboro in the NCAA Championship Semifinal at WakeMed Soccer Park in Cary, NC on Friday, Dec. 9.
Subscribe to PGH Soccer Now