USL Championship
FINAL: Riverhounds 2, Monterey Bay FC 2
Match Stats: USL Championship Match Center
Match Summary
Take away stoppage time, the Pittsburgh Riverhounds SC completely outplayed Monterey Bay FC Union for 90 minutes on the strength of a brace from Albert Dikwa, but it wasn't enough, as the opportunistic hosts battled back for goals at the end of both halves from former Hounds Alex Dixon and Christian Volesky, as the dramatic match ended in a 2-2 draw at Cardinale Stadium in Monterey, CA on Friday night.
With the draw, the Hounds record now stands at 2-2-5 in league play, good for 11 points and fifth place in the USL Championship's Eastern Conference standings.
"For us, we did good things on the ball. Got two goals. Had two leads, but it's disappointing," Riverhounds SC Head Coach Bob Lilley said.
"We have to do a better job closing games out."
The match wraps up the season's early league stretch of games for the Hounds on the road, as seven of its first nine contests have been away from home.
The Hounds jumped into the lead in the 16th minute, when Kenardo Forbes won a 50-50 ball near midfield, then the 34-year old midfielder burst forward to lead the transition effort into the edge of the box where he laid off a ball to the right for Dikwa, who put his shot through the legs of MBFC keeper Antony Siaha.
Despite holding the Union to one shot for the first 45 minutes, the hosts capitalized as first half stoppage time began, when Volesky short chipped a pass to Dixon, who delivered a one-time finish to catapult past Dikwa for the league lead in goals for the moment, with his seventh of the season.
The Hounds created another scoring chance in the 58th minute when Luke Biasi was fouled along the end line, but Dikwa's penalty kick chance was saved by Siaha to keep the match level at 1-1.
Known for his non-stop work rate, Dikwa wasn't done, and was rewarded in the 74th minute when the Hounds kept a corner kick effort alive.  Dikwa was there for his second goal on the night from a tough angle to give the Hounds the lead, after Arturo Ordonez's redirected header was deflected.
With the goal, Dikwa once again thrust himself into the league lead in goals scored with his former teammate, Dixon, as both now sit with seven.
As the Hounds brought substitutions on, and both sides used their full allotment of players for the match, Monterey Bay struck again when  Adrian Rebollar made a run up the right endline, then sent a ball the near post, where Volesky, who scored three goals and had two assists in the month of April, was there, beating the next closest Hound to give the home side the equalizing goal a few minutes into stoppage time.
Volesky's goal came on his team's fourth shot attempt in the match, as Monterey Bay continue to defy logic by remaining the top scoring team in USLC despite having taken the fewest shot attempts.
Pittsburgh had one very late chance when Luke Biasi made a run into the box after a Marc Ybarra throw in, but his shot sailed high over the bar, and the match ended in a 2-2 draw.
The Hounds outshot Monterey, 11-4 (4-2 on frame), while the hosts did own the considerable possession edge (61/39).
"Unfortunately, we're in a bit of funk with giving away points from winning positions," Lilley added.
"And that's hard to do anywhere. We've got to be able to make those points stick.  Unfortunately, we're not quite getting it over the line, though the performance overall was pretty solid tonight."
Next up, the Hounds will travel back East to prepare for its US Open Cup Fourth Round match at the New England Revolution, on Tuesday night in Foxborough, MA (7 p.m. kickoff).
Thanks to Riverhounds SC media director Matt Grubba for providing post match comments from Coach Lilley.  Look for more on this match over the weekend on Pittsburgh Soccer Now, including Takeaways and Player Grades.  
Match Updates 
All of the match updates can be found below.  
---
90′ + 4 — Biasi gets into the box, but drives his shot too high.
GAME ON! 🎮

Christian Volesky makes it 2-2!#MBvPIT | @MontereyBayFC pic.twitter.com/DBZvZe9SXS

— USL Championship (@USLChampionship) May 6, 2023
90′ — GOAL — MONTEREY BAY EQUALIZES — CHRISTIAN VOLESKY.
Christian Volesky gets to the near post first!
Again, the Hounds doing everything for 45 minutes to get the win, but a stoppage time goal.
Two guys that helped Bob Lilley win a USL Cup in Rochester score goals vs Hounds tonight.
86′ — Monterey Bay starting to really apply some serious pressure for first time the second half. Arturo Ordonez with a terrific clearance on the near post on the last sequence.
Monterey with just one shot this half.
83′ — FINAL SUB for Hounds.  Joey Farrell comes on for Zwetsloot.
78′ – Two more Hounds substitutions. Still two more available to us. IN: Mike DeShields, Edward Kizza OUT: Langston Blackstock, Robbie Mertz
76′ — What a brilliant ball in from Langston Blackstock on left side to Albert Dikwa who gets behind defender, then nearly gets the hat trick but it's thwarted.
REPLAY OF DIKWA's SECOND GOAL…
That's how you redeem yourself! 😉@DikwaAlbert's seventh tally of the season gives @RiverhoundsSC the lead yet again! 🎯#MBvPIT pic.twitter.com/1dJWzQ5I7L

— USL Championship (@USLChampionship) May 6, 2023
74′ — GOAL — RIVERHOUNDS 2, MONTEREY BAY FC 1
Albert Dikwa brings BIG ENERGY for a second effort goal after short corner — and Ordonez header that keeps it alive bounces toward the Hounds' forward who nets goal number 7 — tied for league lead!
68′ — Alex Dixon comes off, and he's replaced by Sean Okoli, the USL veteran making his debut for the Union.
61′ — The first sub for the Hounds is Marc Ybarra in for Nate Dossantos.
Pittsburgh moving to a 4-5-1 as Ybarra sitting in holding mid alongside Zwetsloot.
59′ – First Hounds substitution. Monterey Bay about to get a free kick in front of the Hounds' bench. IN: Marc Ybarra OUT: Nate Dossantos
58′ — YELLOW CARD (Hounds bench gets booked — as it looks like it was Bob Lilley)
56′ — SAVE!!  Albert Dikwa goes left and Antony Siaha guesses correctly to deny the Hounds from taking the lead and Dikwa from getting back into the USLC goal scoring lead. Alex Dixon may be giving Siaha an extra pat on the back too.
55′ — PENALTY! Hounds Luke Biasi with some great work on right side beating his defender (Glasser) who makes the contact.
51′ – Pat Hogan with the headed clearance of a Union corner, but he goes down after the ball gets back to midfield. Rubbing the back of his head, but he'll be good to continue.
46′ – Back underway in the second half, and MB has made their third substitution. Walmer Martinez in, Jason Johnson out.
HALF — RIVERHOUNDS SC 1, MONTEREY BAY FC 1
Overall the Hounds looked good for 45 minutes, but late Alex Dixon strike levels the contest.
By the way… here's how the Hounds lined up at the start of the match and for much of the first half.
45+4′ – Zwetsloot chips a ball in for Forbes, and he just can't get the shot away in time. Looked to be blocked out by the recovering defender, but goal kick given.
A goal against his former club! 😅@alexdixon19's league-leading seventh goal brings @MontereyBayFC level!#MBvPIT pic.twitter.com/hQ7Yfj6xz4

— USL Championship (@USLChampionship) May 6, 2023
45′ — GOAL — MONTEREY BAY FC 1, RIVERHOUNDS 1
Bam! Just like that former Hound ALEX DIXON is back in the league lead with goal #7 with a terrific one-time finish, after nice short chip feed from Christian Volesky after cross in box.
38′ — Zwetsloot gets the chance to take the free kick after 2-min delay — and completely misses it left.
38′ – Lara will not remain on the field, but it's because of injury. Jesus Enriquez will replace him, and MB only has one substitution window remaining.
36′ – Dikwa with the turnover and off to the races! His touch going toward the corner flag might be the only thing that saves Monterey Bay's Alex Lara, and the foul draws the near-DOGSO yellow.
28′ – Early MB substitution. Max Glasser checks in, replacing Grant Robinson after he took a knock.
20′ — SAVE!!
Wow! Antony Siaha robs a terrific strike attempt from Hounds Langston Blackstock.
HERE's A LOOK AT DIKWA's SIXTH OF THE SEASON…
King Kenny creates! 🎨

And @DikwaAlbert finishes! 🎯

Albert Dikwa's sixth league goal of the year puts @RiverhoundsSC in front!#MBvPIT pic.twitter.com/SHXSGJSgLf

— USL Championship (@USLChampionship) May 6, 2023
1. Forbes assist
2. Chico's goal
3. Chico's dance

All sexy. All appropriate for Hounds After Dark.

— Steel Army (@SteelArmy) May 6, 2023
16′ — GOAL — Albert Dikwa —
Hounds punish Monterey as Kenardo Forbes wins a 50-50 ball near midfield, then gets forward into transition, then lays it off for Dikwa who finishes!
12′ – Hounds in what looks like a 3-5-1-1 formation tonight.  Zwetsloot is the deep central midfielder, while Danny Griffin, Robbie Mertz and Kenardo Forbes
10′ –back and forth we go, but no other significant chances for either side through the first ten minutes.
1′ — Crazy early chance for the hosts, as Volesky breaks behind Arturo Ordonez, but Jahmali Waite comes off his line past the 18 to deny shot attempt with leg. Volesky may have thought that Waite got a hand on it, grabbed the ball when it came back pleading to official.
Monterey Bay line-up notes:
No Hugh Roberts in the lineup tonight for Monterey FC, but another former Hound, Jason Johnson (who had a stint in Pittsburgh on loan from Houston in 2014). Alex Dixon and Christian Volesky both in the lineup though.
9:30 p.m. ET — Here's the Riverhounds starting lineup, including Danny Griffin, who returned to the club this week.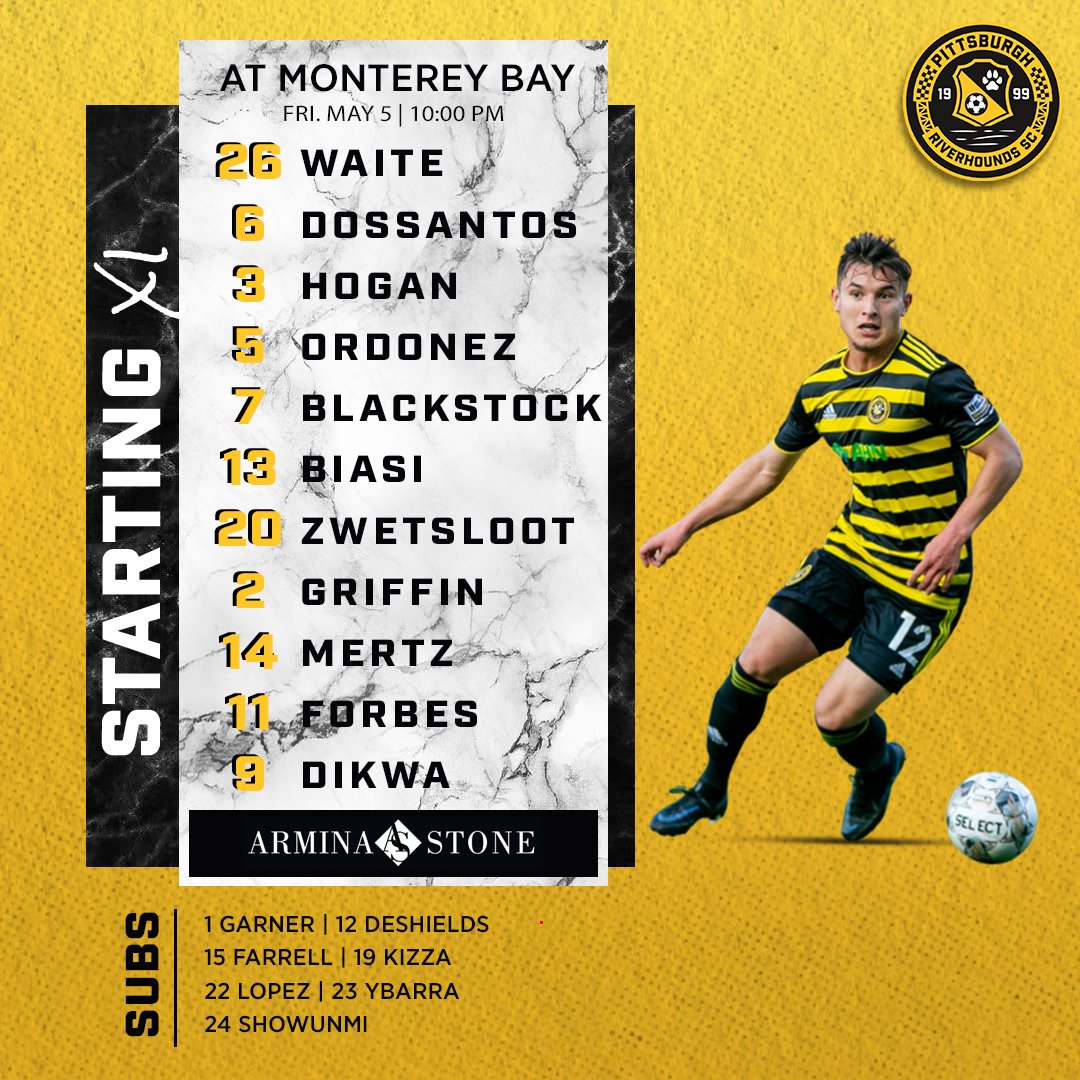 The starting 11 out on the field getting loose. Kickoff time only 40 minutes away.#MBvPIT #HOUNDTAHN pic.twitter.com/veGknZqo1m

— Pittsburgh Riverhounds SC (@RiverhoundsSC) May 6, 2023
🎙️𝗦𝗧𝗔𝗥𝗧𝗜𝗡𝗚 𝗫𝗜 presented by Taylor Farms #DefendThe831

𝐒𝐔𝐁𝐒
8 Dawkins
9 Okoli
11 Martinez
19 Enriquez
21 Herrera
22 Maldonado
24 Glasser pic.twitter.com/eIvT1y8GBs

— Monterey Bay F.C. (@MontereyBayFC) May 6, 2023
The Hounds have arrived in Seaside!

90 minutes until kickoff against @MontereyBayFC; follow all the action on @ESPNPlus.#MBvPIT #HOUNDTAHN pic.twitter.com/LN1C7cSged

— Pittsburgh Riverhounds SC (@RiverhoundsSC) May 6, 2023
🎙️𝗦𝗧𝗔𝗥𝗧𝗜𝗡𝗚 𝗫𝗜 presented by Taylor Farms #DefendThe831

𝐒𝐔𝐁𝐒
8 Dawkins
9 Okoli
11 Martinez
19 Enriquez
21 Herrera
22 Maldonado
24 Glasser pic.twitter.com/eIvT1y8GBs

— Monterey Bay F.C. (@MontereyBayFC) May 6, 2023
PSN's Match Preview and Recent Riverhounds SC Coverage 
Preview and Scouting Report: Opportunistic upstarts Monterey Bay will look to exploit Hounds
Hounds Notebook: Monterey Bay FC's Alex Dixon, Hugh Roberts weigh-in on facing former team
Danny Griffin 'absolutely buzzing' upon return to Riverhounds SC via transfer from Huntsville City FC

Riverhounds MF Kenardo Forbes
Subscribe to PGH Soccer Now