NPSL Midwest Regional Final
FINAL: Tulsa Athletic 2, Steel City FC 1 (Extra Time)
With a never-say-die effort, Steel City FC battled into extra time for the second straight day, but came up short in the National Premier Soccer League's (NPSL) Midwest Region Final, losing 2-1 to Tulsa Athletic at Indanola Stadium, in Indanola, IA on Saturday night.
On the verge of defeat, Steel City FC battled back in the second half after conceding a first half goal, when Bryan Akongo's put-back effort tied the match in the 84th minute, sending the affair into extra time.
Tulsa's Aaron Ugbah delivered the decisive blow with a game winning strike from distance in the 109th minute as the match started to really open up.
Despite numerous chances in the final 11-plus minutes of the second period of stoppage time, Steel City FC would come up short in finding a second equalizer.
It was Steel City FC's first loss of the season, as they finish an impressive season with 11-1-3 record.
"I am proud of this group and the season we had this year," Nicky Kolarac, team captain said following the match.
"We truly created a family here at Steel City this Summer.  Although tonight's game didn't go our way, we did well to fight back and get an equalizer late. The guys showed a lot of heart and proved that this club has a bright future in competing at a high level."
Tulsa got on the board first in the 27th minute, as Aboubkar Diallo got behind the Steel City last defenders to get to the end of a ball over the top from Flores.
Trailing 1-0, the Pittsburgh side pushed hard to find the equalizer as the action saw a lot of end-to-end chances for both sides.
Steel City finally found their moment in the 84th minute, when chaos ensued in the box, following a cross in from the right end line from right winger Tate Mohney.
After a few touches in the center of the goal box, the ball squirted over to the right, where Akongo was able to pick it up and with a couple touches in a congested space, powered home the finish.
Coming on in the second half for Steel City to provide much needed fresh legs on back-to-back days included Jack Emanuel on for Rodrigo Albayeros and DeVaul on for DiMatteo, while Ryan Mertz and Nathan Prex in the 57th minute came on for Norris and Kolarac.
With the win on Friday, in penalty kick shootout vs Med City FC, the club has, for all intents and purposes, likely earned a bid to the 2024 Lamar Hunt U.S. Open Cup proper tournament, which will most likely kickoff in late March or early April 2024.
Congratulations to these eight sides in the @NPSLSoccer for qualifying for the 2024 @opencup @CrossfirePrmr@elfarolito_npsl@WCUSCPredators@fc_motown@SouthernState10@ApotheosFC@SteelCityFC @TTownSoccer

Good luck to everyone.

— Daniel Feuerstein (@DFeuerstein) July 22, 2023
What a year.

We'll go again. We have no doubt. We've got so much to be thankful and proud of, and we'll indeed be back to reflect soon, but for now, safe travels to our boys, you've represented #PittsburghSoccer well. 💙💛#StrongerTogether pic.twitter.com/jocFK3NQ4W

— Steel City FC (@SteelCityFC) July 23, 2023
Steel City FC's Starting XI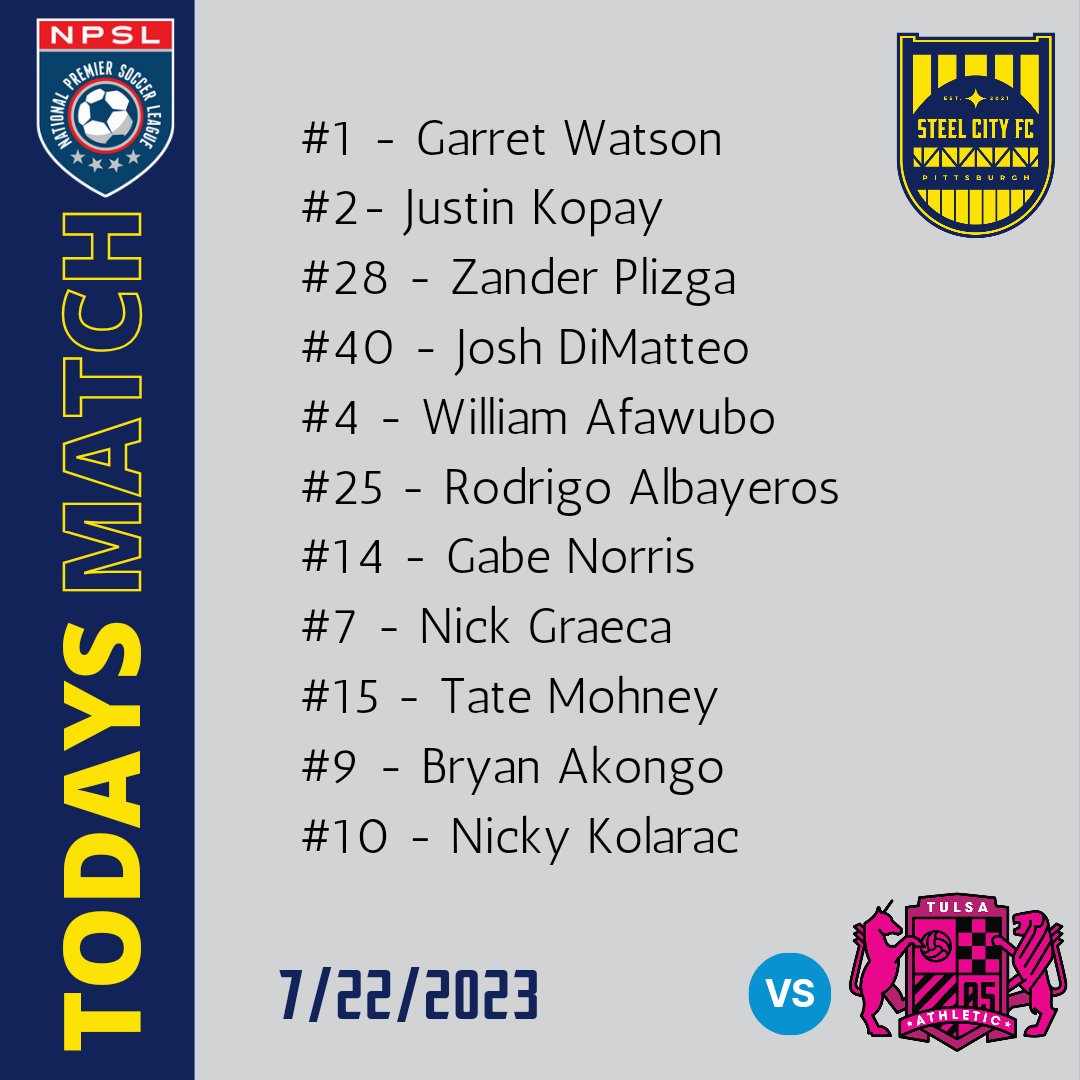 Riverhounds MF Kenardo Forbes
Subscribe to PGH Soccer Now