ACC Women's Soccer First Round Playoff
FINAL: Pitt 2, North Carolina 1
Match Summary
For the first time in program history, Pitt women's soccer won an ACC Tournament First Round match, staying on the front foot from the start of the match, and finishing strong in extra time, to hand No. 3 North Carolina its first loss of the 2023 season, at Anson Dorrance Field on Sunday night.
Ellie Coffield and Amanda West scored for Pitt, both coming from crosses into the box from winger Landy Mertz, while goalkeeper Ellie Breech made four saves — with three of those coming in the first period of extra time.
This was also Pitt's first-ever win against North Carolina.
Pitt (14-4-1) will now face No. 1 Florida State, on Thursday, in Cary, North Carolina in the ACC Semifinal Round.
Look for a detailed recap to follow.
Match Updates
Look for starting lineups, match updates and highlights to be posted here.
---
FINAL — PITT 2, UNC 1, AET
Panthers hang on for first -ever win in ACC Tournament and first-ever win vs North Carolina. Landy Mertz was a catalyst on the width, and Amanda West and Ellie Coffield had the goals.
104′ — Breech punches UNC corner upward but goes backward — but Pitt defenders on line — looked like Schupansky heads it safely away.
END OF 1st PERIOD ET – PITT 2, UNC 1
99′ — GOAL — PITT — AMANDA WEST
Amanda West Pitt's all-time leading goal scorer is there on the late run — and another great cross in from Landy Mertz! It really was all UNC in ET to that point, but Panthers show how dangerous they can be in transition.
97′ — Dellaperuta from close range again — and Breech with ANOTHER diving save!
96′ — Breech again — diving save again — on Patterson.
94′ — Ellie Breech comes off line just in time, gets a hand on it — and denies UNC's Tori Dellaperuta from close range.
FULL TIME (REGULATION — PITT 1, UNC 1
This one's going to Extra Time.
80′ — Great chance for Pitt's Amanda West — but on left side — she cuts in but just misses left of the post.
76′ — GOAL — UNC — ALLY SENTNOR
What a strike! From 21 yards out — no chance for Pitt's GK Ellie Breech.
Death, taxes, and @allysentnor from distance 😤

📺 » https://t.co/48c7rhau3x pic.twitter.com/3PAfbL275x

— UNC Women's Soccer (@uncwomenssoccer) October 30, 2023
73 — GOAL — PITT — ELLIE COFFIELD
It's the WPIAL combo — Landy Mertz with the assist — and Coffield heads it home to give the Panthers 1-0 lead.
GOOOOALLLLLLL!!!!!

Panthers are on the board first after @elliecoffield1 heads in the goal off of @landy_mertz assist ‼️

PITT – 1, UNC – 0

📺 ACC Network pic.twitter.com/aMxNn340Lu

— Pitt Women's Soccer (@Pitt_WSOC) October 30, 2023
HALF — Pretty good first half for confident Panthers who are certainly up to the task against No. 3 ranked Tar Heels. Last 10-15 minutes, UNC started to wake up a bit.
37′ — Bella Sember gets another shot for UNC — on frame from just inside edge of box — and another save for Breech.
34′ — Olivia Thomas — one of the six subs — gets to the edge around Pitt defender, and first shot on frame from wide angle is easy first save for Pitt's Ellie Breech.
30′ — Six subs for UNC — who are looking to change the flow of the match. Pitt brings on Keera Melenhorst for Chloe Minas.
26′ — Abiodun makes a run — with all kinds of space rushes a header that goes well over bar. Maybe should could've brought that down.
23′ –Best chance of match for either side.
Long Pitt free kick ends up deep in box — where Deborah Abiodun's header heads under the bar but UNC's GK Emmie Allen with a fantastic save.
22′ — Katie Zailski with a clever touch that denies a potential golden chance for UNC in the center of the box.
20′ — things have tightened up a bit — both sides are closing space pretty well.
10′ — Panthers have kicked off — at UNC. I anticipated an aggressive approach for and through first 10 minutes they've already registered a few shots and one on frame. UNC with one shot.
8 pm — Here's the starting lineups…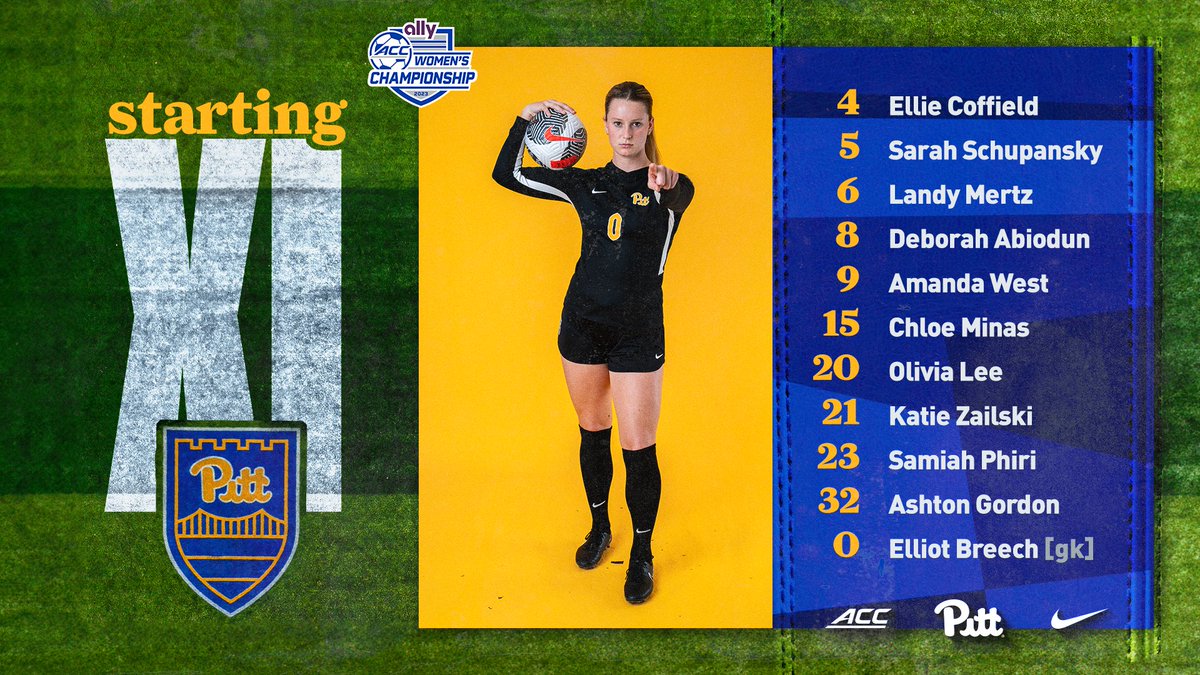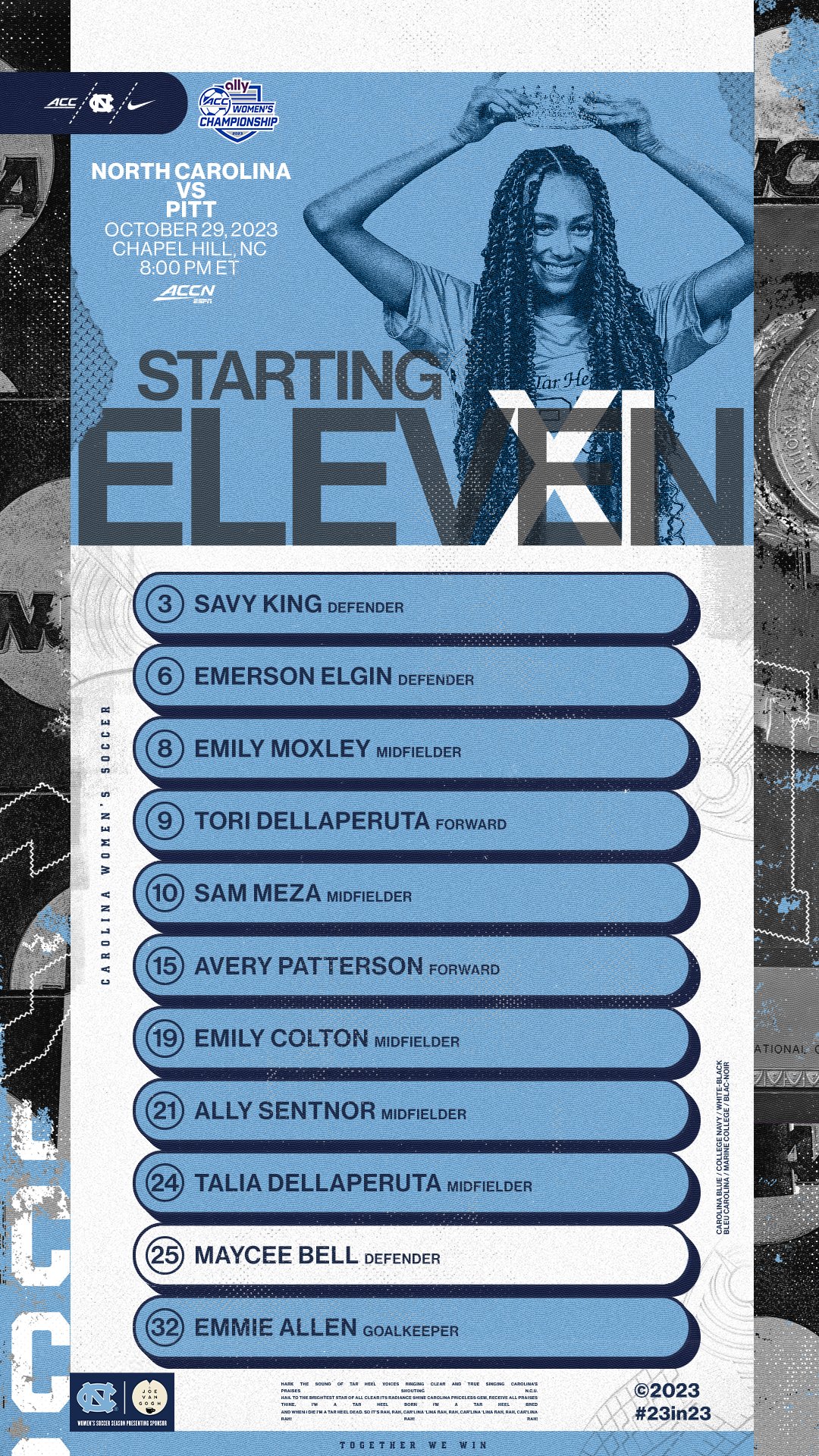 And we're off…see ya in Chapel Hill 📍#H2P pic.twitter.com/Ggyh06AY04

— Pitt Women's Soccer (@Pitt_WSOC) October 28, 2023
Preview
Pitt women's soccer team (13-4-1, 6-2-1 ACC) is set to meet host No. 3 – ranked North Carolina (10-0-8, 5-0-5 ACC) in a 2023 ACC Women's Soccer Tournament First Round matchup on Sunday, Oct. 29 at 8 p.m. at Dorrance Field in Chapel Hill, NC.
The contest will air live on ACC Network.
The winner of the matchup between fifth seed Panthers and fourth seed Tar Heels will face first seed Florida State in the tournament semifinals on Nov. 2 at WakeMed Park.
The Tar Heels are — as always — loaded with talent and they've completed an unbeaten regular season, but that record also includes eight draws. This should be a good contest between the league's top scoring team (Pitt) and one of the stingiest sides (UNC).
Earlier today, PSN's Rachael Kriger completed this feature story on Pitt goalkeeper Elle Breech.
Ellie Breech soaking up opportunity between the sticks for Pitt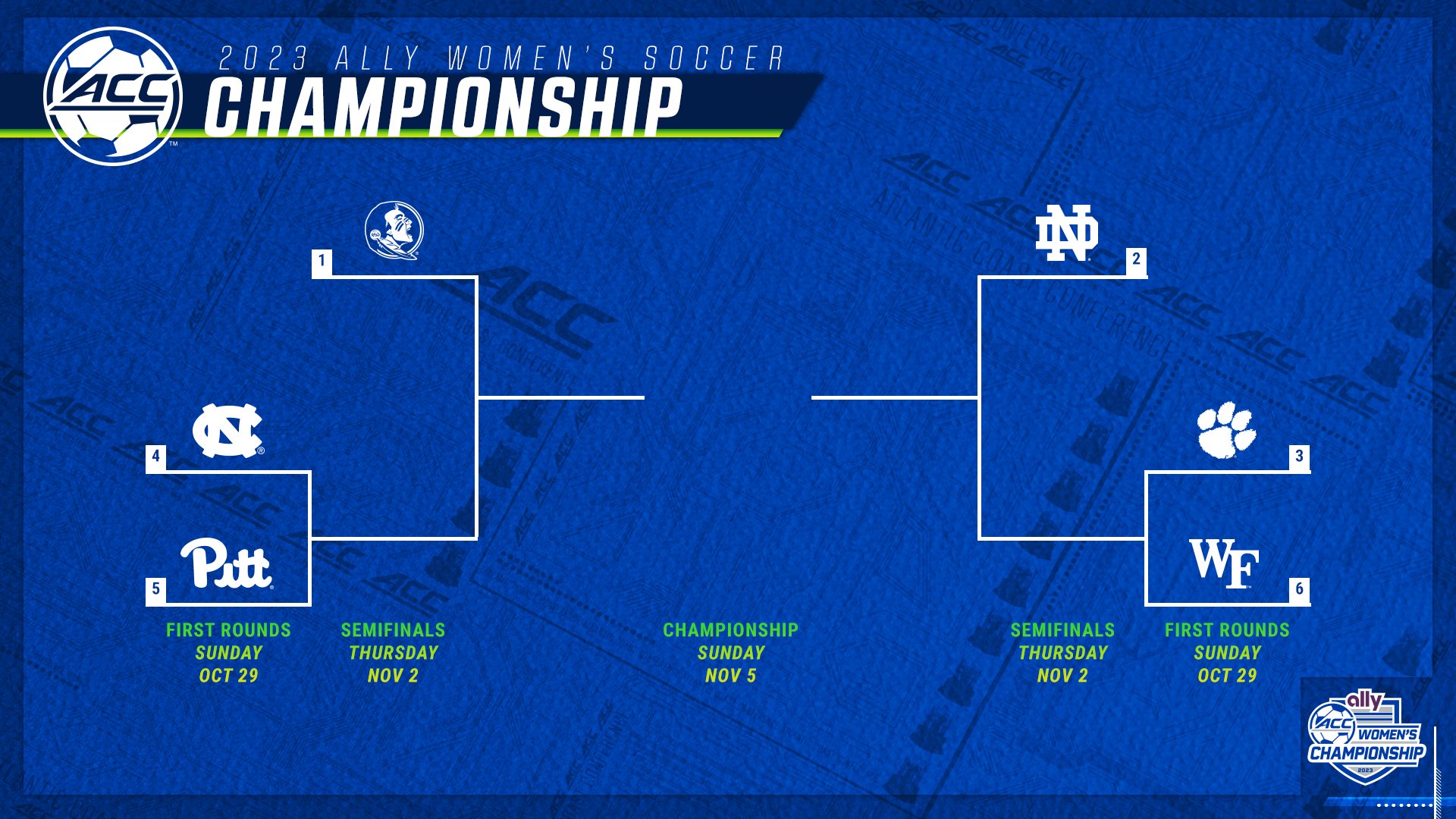 Riverhounds MF Kenardo Forbes
Subscribe to PGH Soccer Now