NCAA Women's Soccer Tournament Third Round
FINAL: Pitt 3, Memphis 0
Match Summary
Pitt Panthers women's soccer team continued its NCAA tournament run by defeating Memphis, 3-0, at Arkansas Soccer Stadium on Sunday night, to earn its first trip to the Elite Eight.
Following a tightly contested and evenly played first half, Pitt started to open things up and generate more chances in the second half, thanks in large part to a high press that started to disrupt Arkansas
"I felt like coming in we could get the result and I felt like we could score a couple of goals on them," Waldrum said post-match . "I know they've been really good defensively all year, but I just like our team and I like our team offensively and we got some goals from some players, like Keera. Everybody would look at Schupansky or [Amanda] West or somebody getting it and Keera came in with a goal and of course Aliya Gomes came off the bench and got a goal. So it's great to see and I'm so proud of this group."
In the 52nd minute, midfielder Keera Melenhorst, broke the scoreless affair with a rare back to goal half bicycle kick chance that followed a corner kick from Sarah Schupansky, which was initially headed forward by Ellie Coffield.
Having only scored once prior to Friday's night's match vs Arkansas, Melenhorst now has two goals in the past two matches.
"It means a lot," Melenhorst said on her goal-scoring form . "I've worked hard for this all season and to have it come into fruition now has been great when the team needs it most and I want to contribute and continue to contribute moving forward in this [NCAA] Tournament."
Pitt kept the pressure on — and again in the 72nd minute, forward Samiah Phiri took a ball to the end line left of goal area, then cut back her pass to the middle of the box where Deborah Abiodun redirected the ball into goal using the outside right foot.
The Panthers sealed the deal, when sub Aliya Gomes made a second effort play to get to the ball in the goal box following Coffield's hard lining free kick that hit the bar, and came downward.
"Pitt's athleticism took over at different points of the match, especially in the second half," Memphis Head Coach Brooks Monaghan said.
"They're a well coached team. They were were prepared and well-organized — and I should know because when I was much younger — Randy coached me at one time."
With the win, Pitt now advances to the Elite Eight for the first time in program history, where they'll face fellow ACC foe, No. 1 Florida State, next weekend, likely on the road in Tallahassee, FL (Date/Time TBA).
Look for a more detailed match report to follow, and more coverage to come all week as the Panthers prepare to face Florida State on Pittsburgh Soccer Now.
Match Updates
FINAL: PITT 3, MEMPHIS 0
Pitt is going to the Elite 8, where they'll face No. 1 Florida State for the third time this season.
87′ — GOAL — PITT 3, MEMPHIS 0
Aliya Gomes!
Ellie Coffield's brilliant strike on close range free kick bangs off bar and down — and Gomez — who came on shortly before as sub — is there to head it in.
82′ — Abiodun with brilliant, shifty work at midfield to get transition started — goes wide right to Mertz, who sends a terrific low lining cross that connects with Schupansky but just misses it.
76′ — GOAL — PITT 2, MEMPHIS 0
Deborah Abiodun —
Clever use of outside right foot from the Nigerian international to redirect a short, cut-back cross from Samiah Phiri from endline.
69′ — Quality build-up for Memphis — but pass to far post for Mya Jones just gets away. Pitt averts some danger there.
60′ — Great save by Ellie Breech as Anna Hauer close range chance is blocked by Pitt's keeper who's up to the task.
58′ — Pitt's Samiah Phiri with great chance — makes nice move to left on edge of box — but shot goes just wide right. Pitt really stepping up its high press.
52′ — GOAL — PITT 1, MEMPHIS 0
Keera Melenhorst — with back to goal hits it backward with body leaning back (but not a full bicycle kick) — and it goes in! Came from corner — from Sarah Schupansky — headed forward by Ellie Coffield.
Pittsburgh Half-Bicycle G⚽️AL Alert!!! https://t.co/88K5IHpNni

— Pittsburgh Soccer Now (@pghsoccernow) November 20, 2023
HALF – PITT 0, MEMPHIS 0
Pitt HC Randy Waldrum halftime interview: "Both teams start settling into game a bit more. Pitt needs to be more efficient, clinical in final third. Should be great second half."
Pitt has shots advantage (9-5, 4-2 on target)
44′ — Memphis' Maya Jones with a dynamite chance, but she pulls it too far to the right.
32′ — Pitt Subs:
IN: Anna Bout, Chloe Minas
OUT: Amanda West, Keera Melenhorst
31′ — Memphis' Haylee Spray goes into the referee's book and gives Pitt a free kick in a promising position. But it goes well over the bar.
1′ — Here's Pitt's starting XI: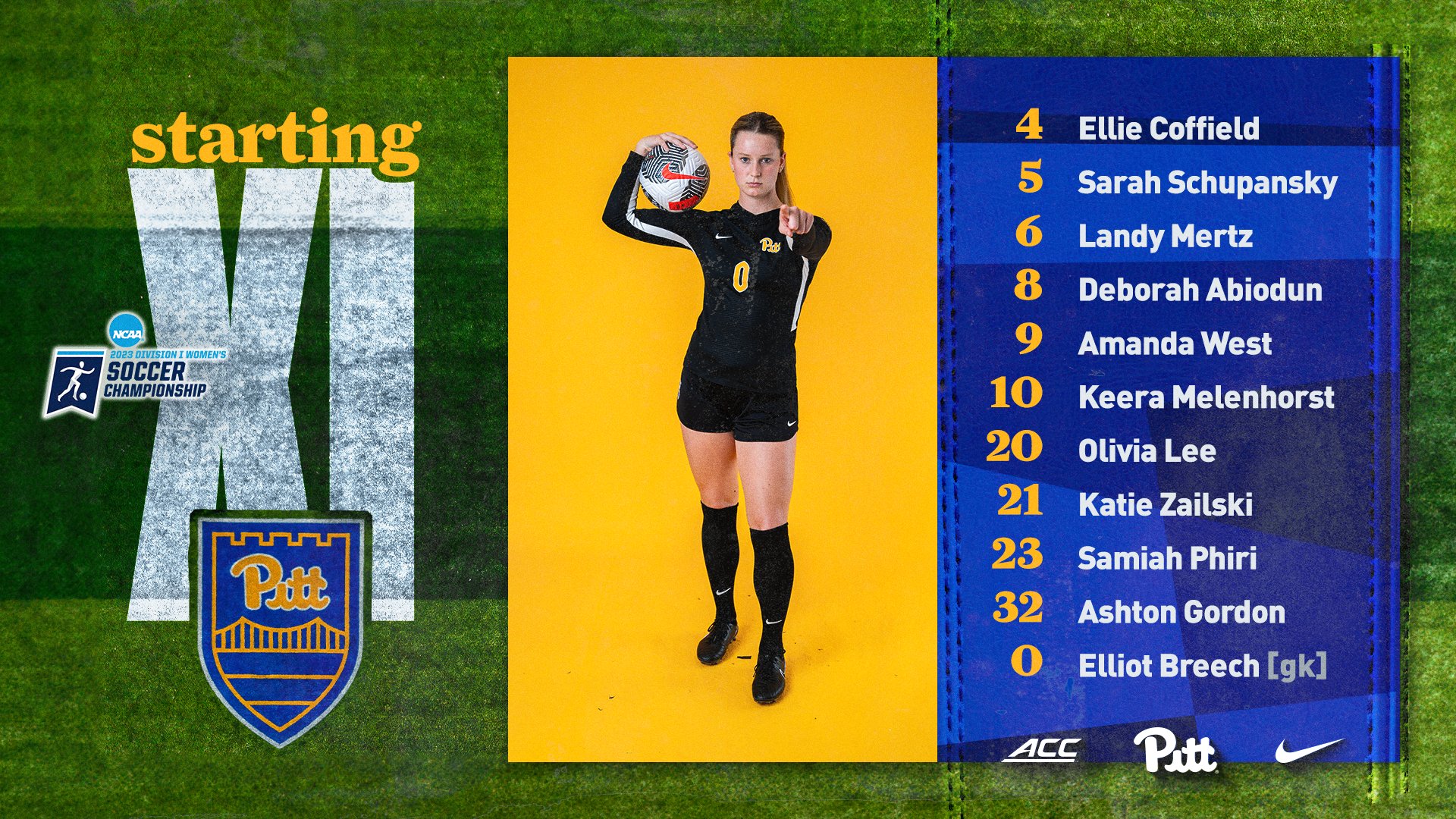 Preview
The Pittsburgh women's soccer team will be facing off with Memphis in the Sweet 16 round of the NCAA Tournament. This is the second-straight year where Pitt has earned a spot in the Sweet 16. Both teams featured in Fayetteville, Arkansas, in their Round of 32 clashes.
Pittsburgh took down second-seeded Arkansas, who hadn't lost a match at home in 32 games. According to midfielder Ellie Coffield, that was "almost Ashton Gordon time." Gordon, a transfer from Arkansas, came to Pittsburgh in 2021.
It was a back-and-forth contest between Pitt and Arkansas, with Pitt taking the lead twice in separate occasions, equalizing twice as well. Amanda West and Keera Melenhorst found the back of the net, while Coffield put in a two-goal performance. The backline recovered from allowing three goals to stand strong for the last 20 minutes, keeping Arkansas away from goalkeeper Ellie Breech.
Meanwhile, Memphis had their own big story on Friday, taking down Notre Dame, 3-2. The Fighting Irish and Panthers are both in the ACC, and met up in the Sweet 16 last year. This year, the Panthers will take on Memphis, a team that hails from the American Athletic Conference (AAC).
Scouting Memphis, the Tigers are led in scoring by Saorla Miller, who has 12 tallies on the season and three assists. Right behind her is Mya Jones, who has a staggering 11 goals and 10 assists. However, like the Panthers, they aren't the only players who can find the back of the net. Anna Hauer has eight goals, while Momo Nakao has six goals to her name.
In goal, the Tigers have relied on Kaylie Bierman, who has started 19 matches this season. She has only allowed nine goals, making 49 saves and hitting eight shut outs. Memphis has only allowed 10 goals all season against them. Memphis' lone loss this season came against the University of Alabama.
Just like the Panthers, this is Memphis' second-straight appearance in the Sweet 16. However, this is the first time in program history that the two sides will be meeting. Panthers head coach Randy Waldrum said that Memphis and Pittsburgh are similar teams. Waldrum also said he wasn't entirely surprised with Memphis' win over Notre Dame.
"Honestly, I wasn't surprised that they won," Waldrum said on Saturday. "Memphis tries to play. They will put the ball down. They're very similar to us. They like the pass and possession. Brooks Monaghan has 10 internationals or so on his team. They like to play. Just following their progress this year that, even though they don't play in a conference like ours, they're getting results. I thought, Notre Dame, to me, was a little more direct, athletic and play as much. I thought, if Memphis could get ahold of it, I wouldn't be surprised if they won. Going back and watching the game, Notre Dame had chances. If they converted on, it would a different story. Credit to Memphis for doing everything they did in the game and staying composed."
Waldrum said that Sunday's contest will be a battle of two teams who want to possess the ball.
"It's going to be a great match from the standpoint of two teams who like to play," he said. "I think, from a soccer standpoint, it will be a entertaining game to watch. They're organized. I think Brooks does a great job with his teams, and he'd one that for a number of years there. It's not going to be a an easy matchup for us. That's the message to get across for our team. You can't, from an experience standpoint, look at it and go, 'this team upset Notre Dame so it's going to be an easier game.' That's not the case; they deserved the win yesterday. They need to understand that, and they will, that it's not going to be an easy matchup."
"I'm looking forward to a great game. I think there are things we can exploit, but I think they're looking at us and thinking the same thing. It's going to be an interesting chess match tomorrow."

Riverhounds MF Kenardo Forbes
Subscribe to PGH Soccer Now