Pittsburgh Riverhounds SC 2,  FC Cincinnati 2
Game Updates
6′ – GOAL – RIVERHOUNDS – Jordan Dover
Go on, @J_dover. Put in that work‼️ #CINvPGH pic.twitter.com/7fMiKzrlY0

— Pittsburgh Riverhounds SC (@RiverhoundsSC) April 21, 2018
38′ – Dover with yellow card
60′ – GOAL – FC Cincinnati – Danni Konig 
The Hounds were on the ropes for most of the first 15 minutes of the second half — and finally after dominating possession
62′ – pair of subs for Pittsburgh include Christiano François and Hugh Roberts for Kevin Kerr and Ben Zemanski. 
69′ – Kenny Walker in for Jimmy McLaughlin for FCC.
73′ – GOAL – RIVERHOUNDS – Thomas Vancaeyezeele
V-EAZY PUTS US UP ONE❗️

Congrats on your first career professional goal, Thomas! #CINvPGH pic.twitter.com/l49UjPQSNC

— Pittsburgh Riverhounds SC (@RiverhoundsSC) April 22, 2018
Hounds keep it alive as they knock it around the box, and Vancaeyezeele was there at top of the box with all kinds of room to shoot. Nice finish from the 18.
79′ – GOAL – FC CINCINNATI – Kenny Walker
79' Minutes after stepping on the pitch, @yennek_reklaw pounces on the rebound and pulls us back even!

Ten minutes to find a winner now!#CINvPGH | 2-2 pic.twitter.com/xCDU3B4zqf

— FC Cincinnati (@fccincinnati) April 22, 2018
Cincy comes right back — scores again. 2-2.
Adewole would probably like to have that one back. Probably sitting too deep and didn't clear it well enough.
Things really opening up here. Should be a fun finish.
80′ – Hounds sub Andy Lubahn in for Kenardo Forbes 
87′ – FCC captain Dekal Keinan with yellow card — hard foul
90′ – three minutes of stoppage time added
93′ – It's over after Hounds can't convert a solid free kick chance from 21 yards out. François free kick sails over the bar by a couple feet.
First Half summary
Only five minutes into the first half — Hounds spread out FC Cincy nicely — and long ball by Thomas Vancaeyezeele's and good high pressure creates turnover in final third and Dover finishes nicely with using his outside right foot.
Hounds creating lots of possession and getting ball forward into space in another unique formation — a 3-5-1-1 that has Vancaeyezeele as center back between Tobi Adewole and Todd Pratzner. For the second time in two road games, the two outside backs, Ray Lee and Dover are pushing up further up the pitch, and have been part of a five-man midfield.
The Hounds have the edge in clearances — and they're getting the ball back up the field effectively to the feet of trio of attacking midfielders: Ben Zemanski, Kevin Kerr and Kenardo Forbes. The Hounds created five shots but only Dover's was on target.
FCC's carried plenty of possession (with 60% of ball), and they're creating a few chances. The best chances of first half came for FCC came from the right side of the attack.
Danni Konig got into the box with a lot of room in the 27th minute, but chose to play a ball to the other side of the box, and was easily picked off by the Hounds back line.
Halftime stats of note:
Possession: CIN (61%/39%)
Shots: PGH (5-2, 1-0 on target)
Corners: PGH (2-1)
Crosses CIN (8-6)
Fouls (9-9)
Riverhounds SC Starting XI
Dan Lynd (GK)
D – Jordan Dover, Ray Lee, Tobi Adewole, Todd Pratzner, Thomas Vancaeyezeele
MF – Mouhamed Dabo, Kevin Kerr, Kenardo Forbes, Ben Zemanski
F – Neco Brett 
FC Cincy's Starting IX
GK – Evan Newton
D- Dekal Keinan, Forest Lasso, Justin Hoyte
MF – Nazmi Alabadawi, Corben Bone, Lance Laing, Jimmy McLaughlin, Richie Ryan
F – Emmanuel Ledesma, Danni Konig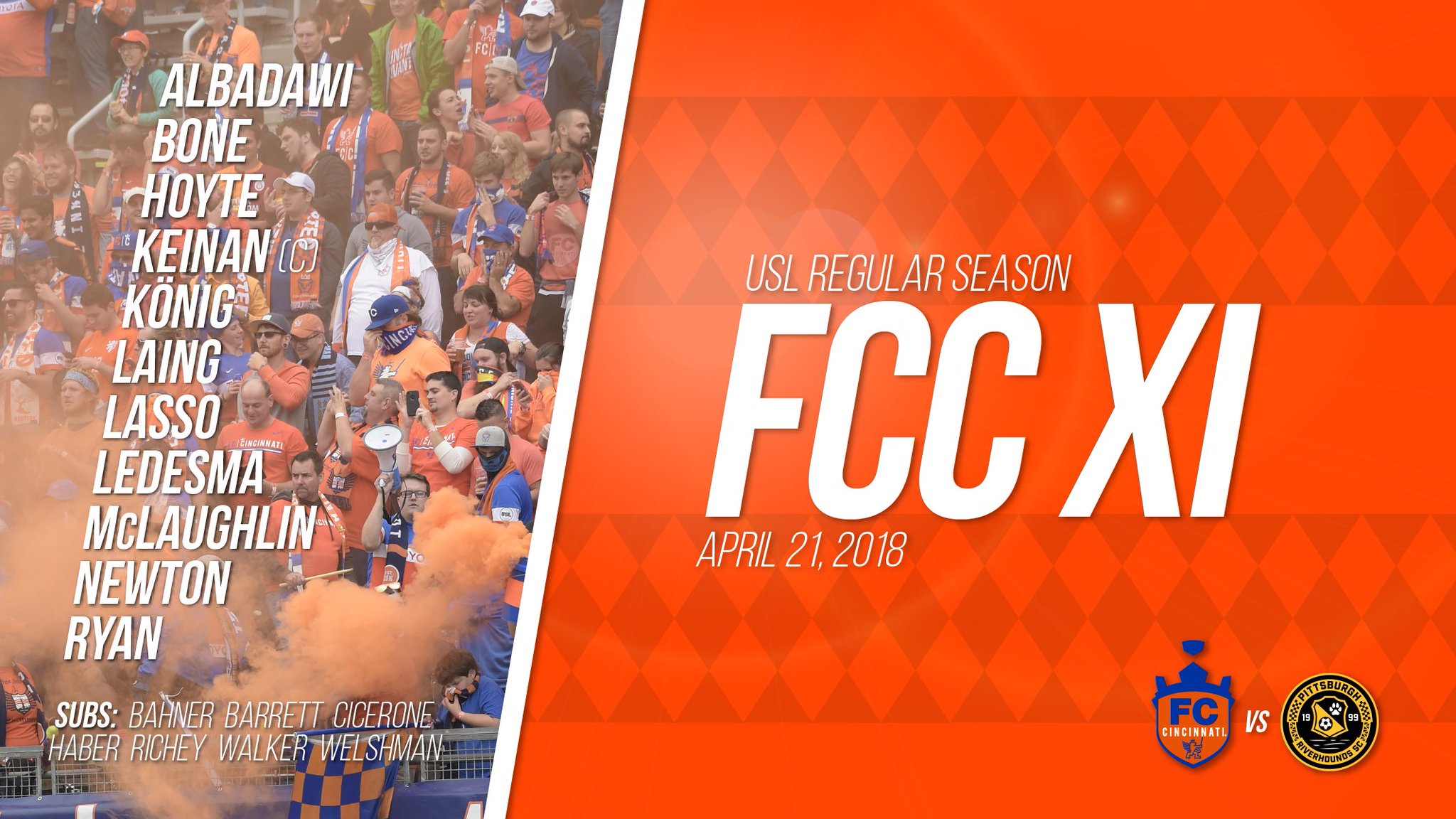 THE SETUP
Nippert Stadium, Cincinnati, OH – 7 p.m.
Watch on Pittsburgh's CW / ESPN+
Follow on Twitter:  #CINvPGH
Watch Party — Steel Army at Smokin' Joes on the South Side
KEY STORYLINES 
Although they've only played four games, thus far it's been the best start of the modern USL-era for the Riverhounds as they've yet to lose — and haven't conceded a goal.
On Saturday, the Hounds will be tested at a place they've never lost, but also never won — Cincinnati's Nippert Stadium. These two clubs played to 0-0 draw in the first-ever encounter in May 2015, then last season in early September, the Hounds scored early in the match, then held on for 1-1 draw holding off a furious onslaught of crosses and balls into the box.
A lot has changed since last September.
Now coached by Bob Lilley, the Hounds have assembled a deeper and stronger roster. They're eager to show they can be a legit USL Eastern Conference contender.
Coming away with a result at Cincinnati will be another step in that direction for Pittsburgh, who've yet to beat the upstart third-year franchise in five games (0-2-3). The only goal the Hounds have scored in the series was the previously mentioned tally in last September's match at Nippert by Corey Hertzog.
The Hounds are dealing with a few missing players and injuries (see below), but in four games they've not missed a beat bringing on the next man up.
Cincinnati, who've made the USL playoffs its each of the past two seasons, but lost in the opening round each time, has sputtered offensively thus far despite signing some solid veteran players in the off season. In its first four games, FCC has totaled only three goals – the lowest of any club in playoff standing in the East.
Speaking with Lilley on Thursday, he fully expects this to be the toughest test for the Hounds to date and doesn't want to sit back and absorb pressure in a hostile environment where there will likely be more than 20,000 fans. Nippert has been a tough place for opponents since FCC began play in 2016, with only five losses league play in that span.
More on FC Cincinnati
Riverhounds Rabbi, Mark Goodman put together this excellent piece breaking down FCC:
Mike Sparks of MonGoals podcast joins Bryan Weigel of Cincinnati Soccer Talk to preview the match too.
Injury Report
Kay Banjo – Out (Personal)
Ben Fitzpatrick – Out (Lower body)
Joe Holland – Questionable (Ankle)
Joe Greenspan – Out (Calf)
Romeo Parkes – Questionable (Knee)
What they're saying: #PGHvCIN, Riverhounds SC, FC Cincinnati
"If we have a mediocre performance this week, it won't be good enough. I don't think Cincinnati's a place we can go, sit back, defend and just try to survive. We're not going to be able to sit back for 90 minutes and absorb pressure and crosses against this team. We're going to have to come out and look to take the game to them. When you're a top team, you have to be able to win in all types of environments," Bob Lilley, Riverhounds Head Coach.
In case you missed it, here's my PSN feature on Hounds first-year midfielder, Thomas Vancaeyezeele:
Vancaeyezeele quickly ascends as mainstay in Hounds' midfield
Game day! Fly em' high @fccincinnati fans!! #FCCincy #CINvPGH #OrangeOut #JoinTheMarch pic.twitter.com/OIXyarzWSt

— Douglas Ruter (@drruter) April 21, 2018
Tomorrow is the DAY! Heading out with a couple carloads of @SteelArmy members to watch the @RiverhoundsSC take on The Fussy Boys Of Cincinnati (Formally FC Bearcats, and sometimes wrongly referred to as @fccincinnati ).#UNLEASH

— Josh Brokaw (@CharlieBlix) April 20, 2018
Riverhounds MF Danny Griffin
Subscribe to PGH Soccer Now