Riverhounds SC (12-3-9) vs Indy Eleven (11-7-7)
STARTING LINE-UPS
6:20 p.m. – Here's your Riverhounds starting XI: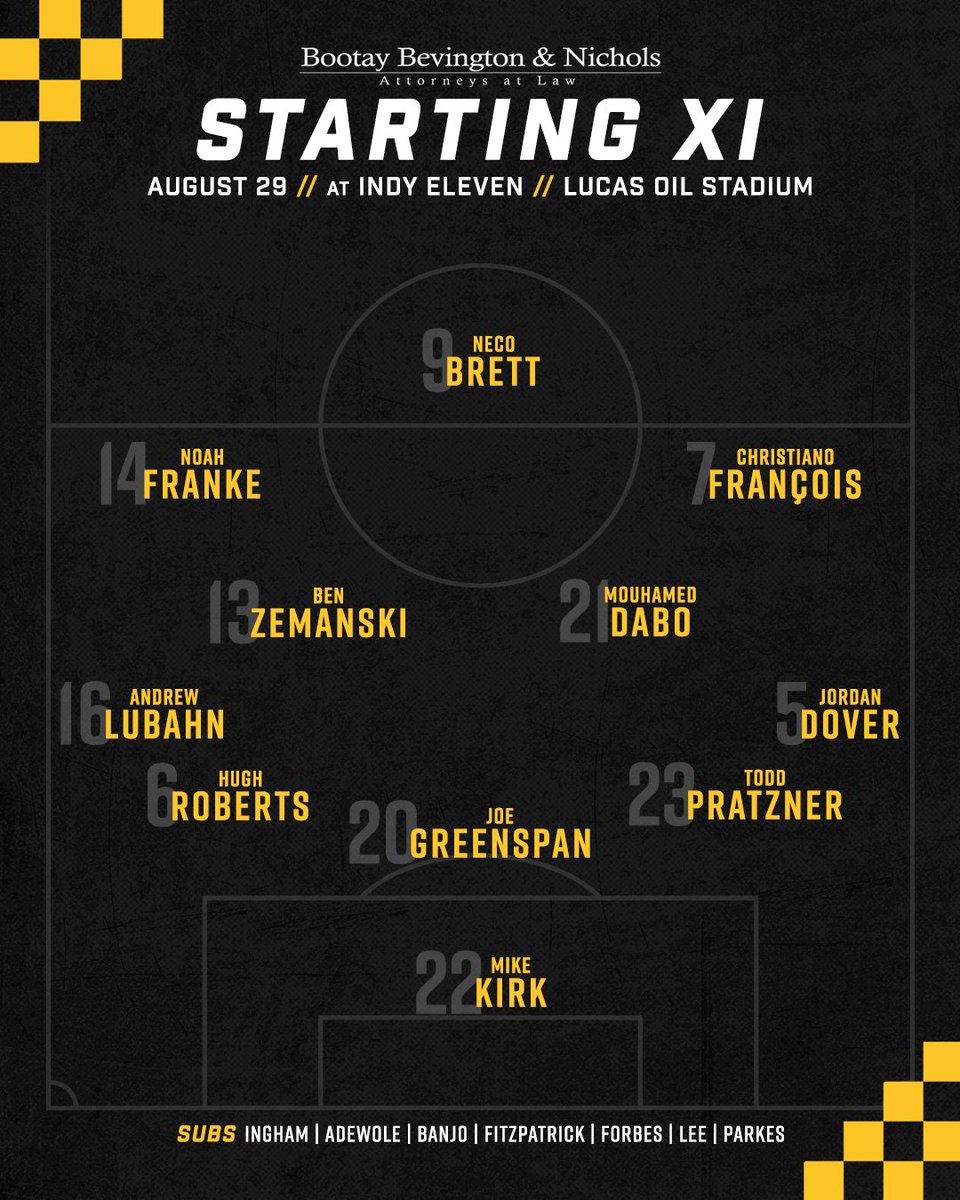 6:02 p.m. – Indy Eleven are first to put out a starting XI: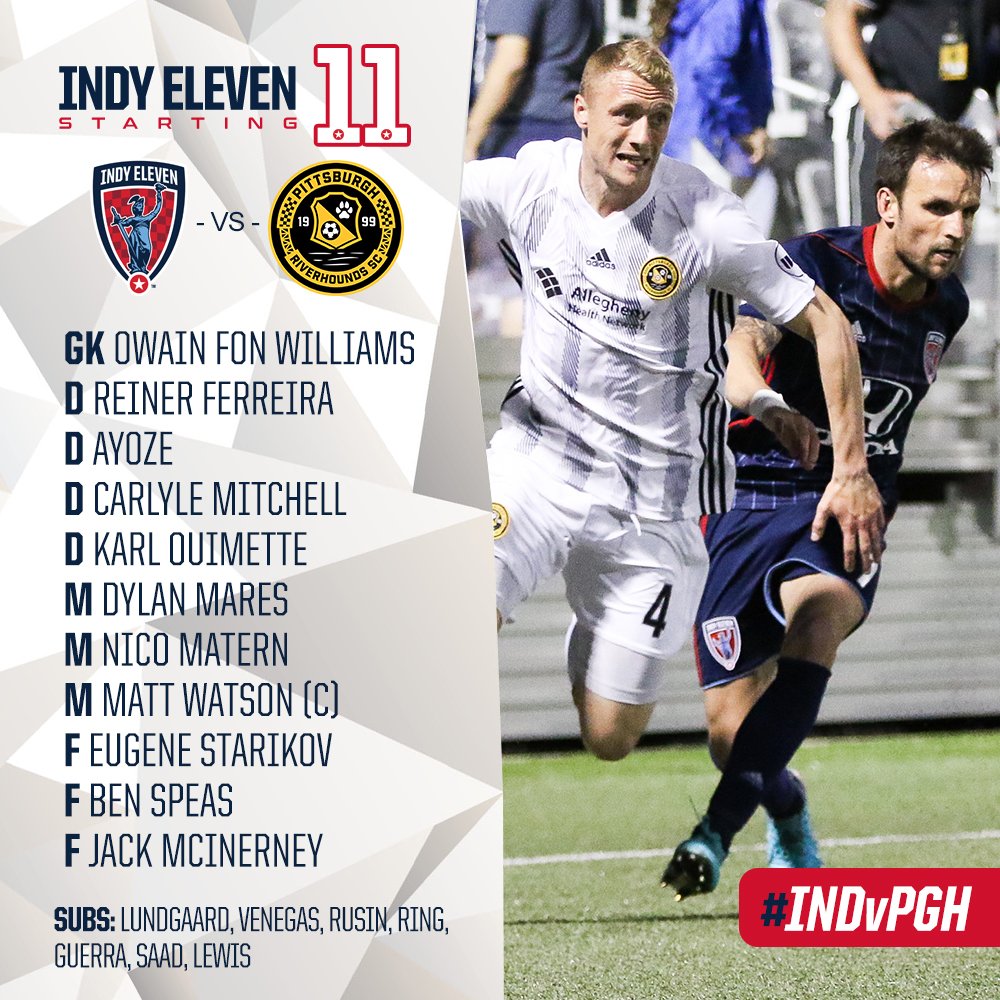 PREVIEW
7 p.m. on Wednesday, Aug. 29
Lucas Oil Stadium
WATCH
ESPN+
FOLLOW
Twitter: @RiverhoundsSC – #INDvPGH | #UNLEASH
Stats: USL Match Center
KEY STORYLINES
• Despite boasting a five-game unbeaten streak, the Hounds find themselves falling further behind in the race to finish at the top of the USL's Eastern Conference. This will be a match of two teams without a loss in a combined past 11 games. Coming off two straight draws at home, Pittsburgh (45 pts) looks to regain ground in the Eastern Conference standings after falling to third place behind Louisville City FC (46 pts). While only four points separate sixth (40 pts) from fourth place (44 pts) and a home playoff date, the Hounds still shake out in good shape overall, holding, at minimum, a game in hand over everyone in the conference top-eight except Louisville.
RELATED: Quest for 1st: Big road swing this week for Hounds, as FC Cincy, Louisville City FC surge forward
Also, for an interesting read, FiveThirtyEight.com posted its current USL playoff projections this week
• This week's tests at Indianapolis and then Cincinnati on Saturday will present perhaps the toughest road trip to date for the Hounds. The two clubs have combined to go 6-0-4 in their past 10 matches with Indy having not suffered defeat since July 21 and Cincinnati since May 26.
• Indy and the Hounds have met already once this year playing to a nil-nil draw at Highmark Stadium on May 11. It was a hard fought battle, with neither team conceding much, which was evident as there was only one shot on frame, a first half attempt from Christiano François from a difficult angle.
• A win for Indy against Pittsburgh on Wednesday could move them into the cherished top four spots in the conference. Picking up three points on Wednesday could provide the Hounds with an important boost of confidence. With Kevin Kerr sitting out due to a calf injury, without its number one goalkeeper, they're going to need to count on its depth to pull them through. There's potential for a boost from the up and mostly down Romeo Parkes, who's returned as a late game sub the past few matches after being benched earlier in August, the Hounds are still searching for some more consistent attacking options outside of its primary goal scorer (Neco Brett, 13) and play making midfielders (Kenardo Forbes, 7 assists) and Francois (3 goals, 3 assists).
RELATED: View from the Booth: Did Tampa tie show the Hounds the way
• The Hounds will be playing with an absence of versatile and durable midfielder Thomas Vancaeyezeele on Wednesday, as he will serve his one-game suspension after racking up a fifth yellow card against the Tampa Bay Rowdies last week. Vancaeyezeele leads the Hounds in minutes this season and is the only player on the club to have appeared in all 24 matches to date. While Tommy V will be sitting out on Wednesday, the Hounds don't currently have anyone else on the USL's Discipline Report.
MORE ON INDY ELEVEN
Like the Riverhounds, Indy Eleven are on an extended unbeaten streak (3-0-3 in six games).
And they'll be a motivated bunch. Indy has to feel as though Saturday's late 1-1 draw (giving up an equalizer in the 96th minute!) with one of the bottom teams in the East, ATL UTD, was a defeat. With both Ottawa and Nashville losing, Indy remains in position to close the gap on the top four and move closer to claiming a postseason berth.
The Eleven are not unbeatable at home as a 6-4-2 mark at spacious Lucas Oil Stadium would indicate, although two of those losses were to front-running FC Cincinnati who brought plenty of fans to Indy.
Here's Mark Goodman, aka Soccer Rabbi's Indy Eleven scouting report that was originally posted in May prior to the teams' first meeting.
While Indy continues to play with a high press, feature one of the league's talented rosters laden with recent MLS players including Soony Saad, Jack McInerney, Zach Steinberger, Karl Ouimette, and Kevin Venegas, it still feels like this group still hasn't really found its footing.
The Hounds did an outstanding job to smother its attack in the previous match-up in May. Having surrendered three goals in the past two games to the bottom two teams in the league (ATLUTD2 and TFCII), the Hounds will have to look to exploit openings in Indy's defense.
One recent addition to Indy's line-up to watch out for has been native son Dylan Mares, who has returned to his former team after playing two seasons with Miami FC in NASL. The attacking midfielder's had an impact, scoring the game-winner in 3-2 triumph over Toronto FC, while playing 142 minutes since his return two weeks ago. Mares scored 14 goals for Miami FC in the past two years.
Ouimette may always be remembered for getting kicked from behind by Romeo Parkes, but he's also a center back that causes many fits for opposing forward. In May when marking Neco Brett, and then later in the match against Parkes, Ouimette posted 11 clearances, four interceptions, and two tackles.
WHAT THEY'RE SAYING
#INDvPGH #RIVERHOUNDS #INDYFOREVER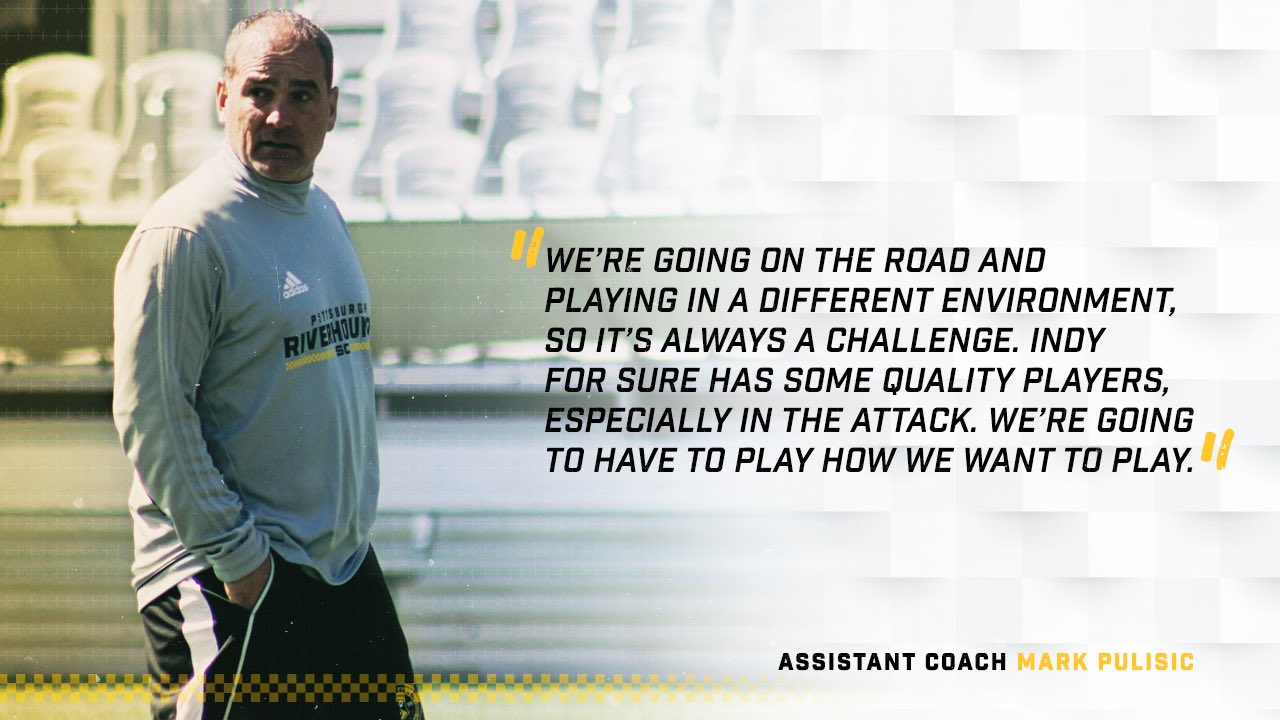 TEAM RECORDS
Indy Eleven overall record: 11-7-7
Indy Eleven home record: 6-4-2
Streak: T1
Pittsburgh overall record: 12-3-9
Pittsburgh road record: 5-1-4
Streak: T2
HOUNDS INJURY REPORT
Kevin Kerr – Out (Calf)
Dan Lynd – Out (Head)
Kyle Morton – Out (Lower-body)
RECENT HEAD-TO-HEAD
May 11, 2018, at Highmark Stadium
Pittsburgh 0, Indy Eleven 0
SEASON LEADERS
Pittsburgh
Goals: Neco Brett (13)
Assists: Kenardo Forbes (7)
Points: Neco Brett (30)
Saves: Dan Lynd (35)
Save %: Dan Lynd (.761)
GAA: Dan Lynd (0.58)
Indy Eleven
Goals: Jack McInerney (7)
Assists: Ayoze Garcia (6)
Points: Jack McInerney (16)
Saves: Owain Fon Williams (60)
Save %: Owain Fon Williams (.667)
GAA: Owain Fon Williams (1.20)
LAST TIME OUT…
Pittsburgh
Pittsburgh 1, Tampa Bay 1
SCORING SUMMARY:
PGH – Mouhamed Dabo 45'+2 (Neco Brett)
TBR – Junior Flemmings 72' (Martin Vingaard)
LINEUP:
Mike Kirk – Andrew Lubahn, Tobi Adewole, Thomas Vancaeyezeele, Joe Greenspan, Jordan Dover – Ben Zemanski (Romeo Parkes 78'), Mouhamed Dabo – Kenardo Forbes, Christiano François – Neco Brett
Indy Eleven
Indy Eleven 1, Atlanta 1
SCORING SUMMARY:
IND – Karl Ouimette 53' (Ayoze Garcia)
ATL – Dylan Gaither 90'+6
LINEUP:
Owain Fon Williams – Ayoze Garcia, Reiner Ferreira, Karl Ouimette, Kevin Venegas – Juan Guerra, Brad Ring, Dylan Mares (Eugene Starikov 69') – Soony Saad (Nathan Lewis 77'), Jack McInerney (Benjamin Speas 84'), Seth Moses
Subscribe to PGH Soccer Now