Tampa Bay Rowdies 2, Pittsburgh Riverhounds SC 0 – Final
HOW IT HAPPENED 
Following an off season filled with much optimism after a third place overall finish in USL Championship's Eastern Conference in 2018, the Pittsburgh Riverhounds SC began its 2019 by laying an egg at Tampa Bay, losing to the Rowdies 2-0 at Al Lang Stadium.
The Hounds had a chance to open the scoring from a set piece in the 19th minute, but Tobi Adewole's header from the side of the penalty area struck the top of John McCarthy's crossbar and bounced over.
Tampa Bay took the lead from a corner kick of their own seven minutes later as Hounds goalkeeper Kyle Morton failed to claim Zach Steinberger's delivery and Shawn Berry struck the loose ball into the left corner of the net.
Barry makes it look SO easy 👏👏.#TBRvPIT | #BeChampions pic.twitter.com/2v7JQEcfQ3

— USL Championship (@USLChampionship) March 17, 2019
Barry helped the Rowdies wrap up all three points four minutes from time as he dribbled past a pair of Pittsburgh defenders and squared the ball to Steinberger, who directed a one-touch finish past Morton to send the home crowd happy.
brb putting this @TampaBayRowdies sequence on 🔁 all week…#TBRvPIT | #BeChampions pic.twitter.com/S5v7Q0ZRQO

— USL Championship (@USLChampionship) March 17, 2019
With the win, the Rowdies improve to 2-0, taking a leg up in the early season standing in the USL's Eastern Conference with six points.
The Hounds, who will have to play three more games on the road before its home opener on April 13, fall to an 0-1 record. A year ago, the Hounds didn't surrender a goal until the fifth game of the season and didn't lose a regular season match until late May.
On Saturday, not only did they lose, but already gave up two goals in just 86 minutes.
It will be back to the drawing board for Bob Lilley and the Hounds, who will now focus on a road trip to the Midwest, when they take on Swope Park Rangers on Saturday, March 23.
We'll have more on this match on Sunday, with our first edition of player grades and analysis.
GAME UPDATES
2nd half notes
No line-up changes for either side.
49′ – Only a few minutes into half, Hounds make first sub, bringing in Anthony Velarde for Christian Volesky.  It appeared Volesky tried to give it a go in the 2nd half, but was still hobbled after going down late in 1st half.
57′ – Nice work by end line by Velarde, with short cross, but cleared by Tampa Bay. Hounds need to keep working it deeper into box like that.
64′ – Hounds using second substitution. Neco Brett in for Kevin Kerr.
Whoa. Only seconds into his appearance, Brett pushes Diakite, who falls into GK McCarthy who came out for ball.
Ref keeps it from escalating, but has a few words for Brett.
69′ – Velarde lays nice ball forward for Brett, but again, Hounds can't make that additional pass to generate dangerous moment.
72′ – Another Dabo foul. This time Rowdies free kick is from 28 yards. Ball in is too short, and Hounds avert any danger.
77′ – Lilley can't be happy with things right now. Greenspan plays free kick switch across field to Adewole and nearly leads to counter goal for Rowdies.
79' – Finally — a dangerous chance for Hounds in box. Dos Santos is played a nice ball from Dover. Turns, takes left footed shot to middle of box area, but Rowdies defender takes it in the bread basket and brings it down to keeper.
81′ – Noah Franke in for Kenardo Forbes. Final sub for Hounds.
84′ – Missed opportunity for Hounds. Brett does nice job to poke pass back to Velarde. But the first-year pro send shot way over bar.
86′ – GOAL – Tampa Bay  2-0. Zach Steinberger finishes it. It looked like Barry beat a few Hounds to get it deep into box, and got ball to Steinberger.
Not going to sugarcoat that one — lousy defending by Hounds.
1st Half notes
3′ – For the Hounds, Vancaeyezeele sitting deep in back line, with Greenspan and Adewole. Dover & James roaming further up and wider on flanks. Kerr & Forbes also playing up in attacking MF spots.  Volesky and Dos Santos both pretty high.  Volesky's clearly been the high target man while Dos Santos sitting between Forbes and Kerr.
15′ Hounds with a few free kicks in final third, but no shot attempts in first 15 minutes. Hounds midfield has been pretty effective defending and forcing TBR into some bad passes.
18′ – One free kick and one corner kick service to head of Greenspan, with first ball headed to far post side, but each unable to connect the second ball. The second one, second header from Adewole bangs off crossbar.
22′ – Nice sustained possession by Hounds in 22′ leads to corner. All started with Dover keeping ball alive on right side under lot of pressure. Lining corner was dangerous coming in, but again Hounds can't connect.
25′ – Dabo with a couple of hard fouls in first 25 minutes. Now gets a little talk from official. Might be on yellow card alert.
25′ – GOAL – TAMPA BAY! Shawn Barry
First corner attempt converted! Rowdies Take advantage of ball that pops out and Hounds GK Kyle Morton coming out of goal. Barry'sshot finds its way through traffic, and into net.  
Barry makes it look SO easy 👏👏.#TBRvPIT | #BeChampions pic.twitter.com/2v7JQEcfQ3

— USL Championship (@USLChampionship) March 17, 2019
36′ – More dangerous moments for Hounds defending. Ekra had room to shoot — but Greenspan sliding in deflects shot. Couple Rowdies corners follow, without a shot. Hounds unable to get much going in past few mins.
41′ – Barry blows by Ryan James, then takes on Tobi Adewole, who sweeps in for tackle. Barry now going bonkers wanting handball call on Adewole, just outside box. Hounds certainly weathering a bit of a storm right now.
45′ –  with one minute of extra time, Hounds can't really do much even after Volesky is knocked down on sideline deep in final third.
Starting Line-ups
John Krysinsky:  Not many surprises here. There was some sentiment that first-year pro Anthony Verlarde might get the nod in the attacking MF role.  The line-up card that Bob Lilley always shows, may be different from what the Hounds actually do tactically.  On the road, there's also a good chance we'll see the Hounds drop into a 5-3-2.
The Hounds leading scorer from last year, Neco Brett has been back in training this week, but did sit out the previous week, is not in the starting line-up but available as a sub. Both new forward additions to the roster, Steevan Dos Santos and Christian Volesky are starting. Thomas Vancaeyezeele, Mo Dabo and Kenny Forbes make up a central midfield trio. Look for both Tommy V and Forbes to taking turns in attacking roles.  Veteran Kevin Kerr starts on the wide left side of the attack, but if you've watched Kerr over the years, you'll know he'll have freedom to roam.
Pittsburgh Riverhounds SC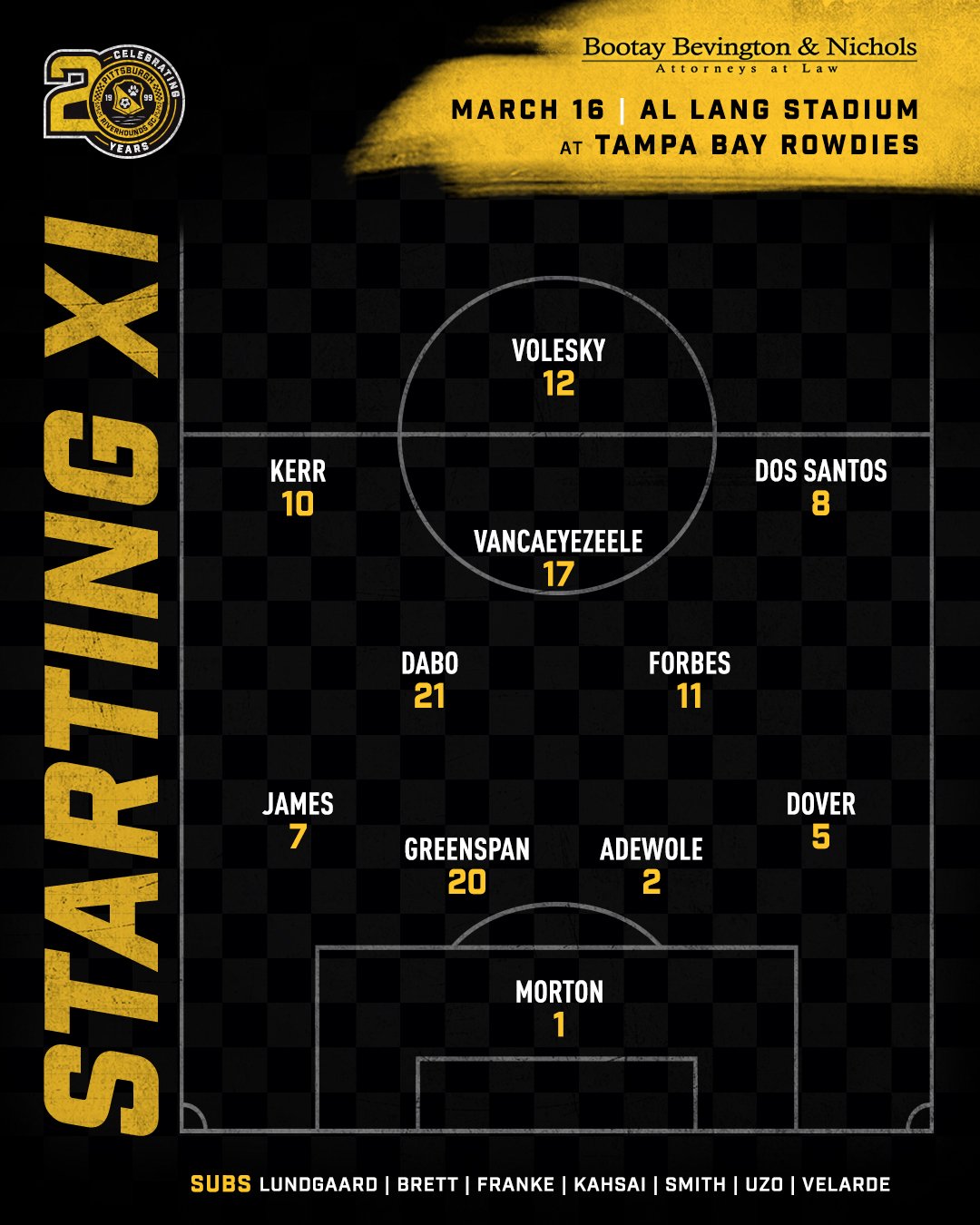 Tampa Bay Rowdies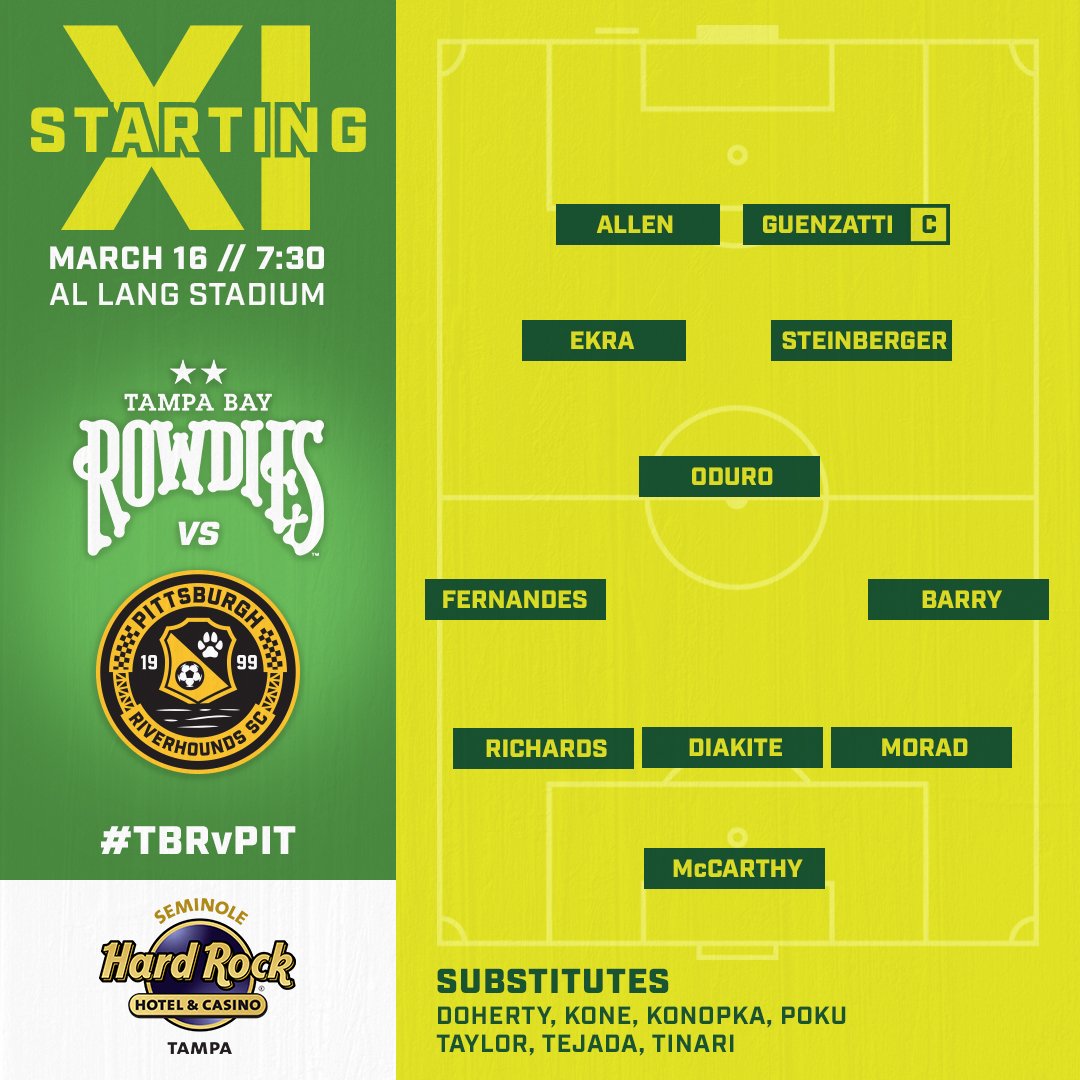 PREVIEW: Pittsburgh Riverhounds SC (0-0-0, 0 pts) vs Tampa Bay Rowdies (1-0-0, 3 pts)
Saturday, March 16, Kickoff at 7:35 p.m.
Al Lang Stadium, St. Petersburg, Florida
Television: Pittsburgh's CW
Streaming: ESPN+
Live Statistics: USL Championship Match Center
Live Updates: Twitter at @pghsoccerscribe, @RiverhoundsSC and #TBRvPIT + we'll provide commentary and updates on this page after kickoff 
Here are some items from this past week to get you ready for tonight's game
Preview and Scouting Report: Tampa Bay Rowdies vs Pittsburgh Riverhounds SC
With a match against the @TampaBayRowdies on the horizon, #HoundsTV catches up with head coach Bob Lilley ahead of the game in this week's Blueprint 2 Success.#UNLEASH | #TBRvPIT pic.twitter.com/Sd5Gs7GbVU

— Pittsburgh Riverhounds SC (@RiverhoundsSC) March 15, 2019
Subscribe to PGH Soccer Now