With high expectations heading into the season, by looking at the scoreline, you could say the Riverhounds SC laid an egg in losing to the Tampa Bay Rowdies, 2-0, on Saturday at Al Lang Stadium.
It wasn't exactly the start many were expecting from the Hounds.
A year ago, in his first season at the helm in Pittsburgh, Bob Lilley's Hounds forged an identity of being one of the toughest teams in the league to score upon. They clamped down on its opponents early last season, not allowing a goal through the first five matches, and not losing a regular season match until late May.
Forget about that happening this season.
It's already mid-March, and the Hounds have surrendered two goals, and have a loss.
For Lilley and the Riverhounds, this is still no time to panic. The veteran coach, without breaking things down too scientifically, provided some perspective shortly after the loss.
"I think it was a pretty even game between two evenly matched teams," Lilley said afterward. "I think it was tough to give up the goal in the first half when we had gotten ourselves into the game on the road. They get that corner and are able to convert."
They'll have figure things out while staying on the road — as the next three matches are away from home before the home opener on April 13. The Hounds don't want to dig themselves too big of a hole early in the season.
Below I'll try to make some sense of a performance that showed this team still needs some time to gel and come together. It's clear that they're going to be a work in progress over the course of the early season. This is the case for many teams at this juncture, however, the Hounds can't afford to keep dropping points in the process.
ATTACK COULDN'T GET GOING  
It was clear from the outset of Saturday's match that the Hounds were going for the early lead.
They came out with aggressive intentions. Putting four proven veterans, Christian Volesky, Steevan Dos Santos, Kevin Kerr and Kenardo Forbes at the top of its attacking formation.
Here, our Mark Goodman outlines the Hounds formation.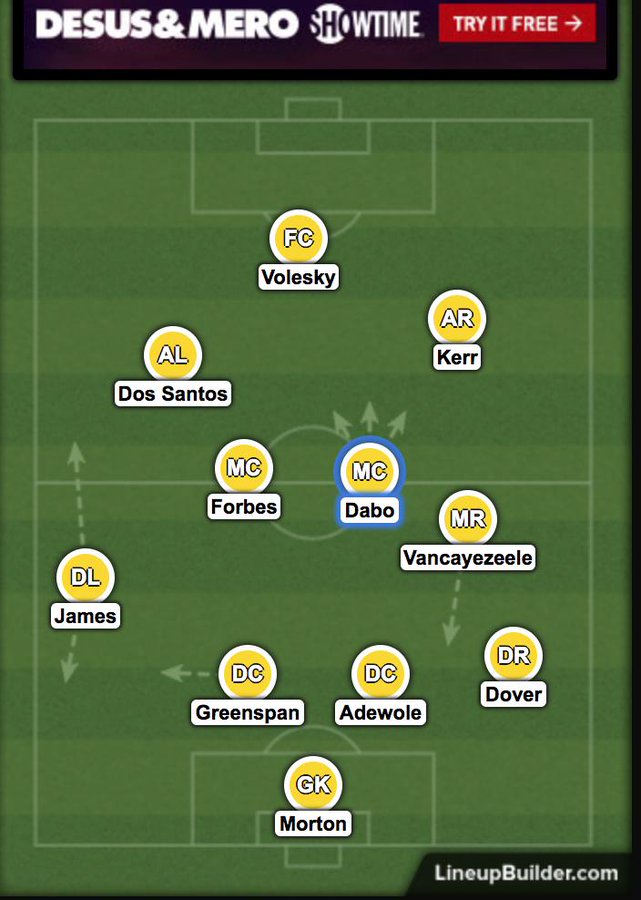 Both teams were struggling to put together any kind of solid possessions into the final third. The Hounds were more effective in the first 25 minutes, drawing a few fouls, and setting up three corner kicks.
As Goodman also pointed out, the Hounds implored a bit of a complicated approach. It was hard to tell how they were lining up tactically at times.
Lilley penciled in a line-up card that looked either like a 5-1-3-1 or 4-5-1, but also morphed into a 4-3-3 when attacking.
The Hounds midfield met a tough opponent in Tampa. The Rowdies had nearly 60 percent of possession rate for much of the game, they were doing an effective job in denying Pittsburgh's final passes into the attacking half of the field. The home team also held the advantage in duels (53/47) — and it was particularly alarming to see a holding midfielder who Lilley feels can be an anchor for the club, Mo Dabo, win only six of 22 duels.  The Rowdies possession advantage decreased to nearly 50/50 by the end of the game, as the Hounds were pressing for chances.
Volesky appeared to get knocked to the ground late in the first half. and tried to give it a go early in the second half, but was still hobbled. He was subbed out for first-year pro Anthony Velarde. This pushed Dos Santos to the top spot in the formation, as Velarde then took the central attacking role in between Forbes and Kerr.  Neco Brett came off the bench to replace Kerr to try to infuse some energy into the attack.
Then Lilley took out Forbes in the 82nd minute, trying to get Noah Franke to add to the final push too.
All those moves weren't enough on this night.
The closest the Hounds would come in the second half included a pair of chances in the 79th and 84th minutes from Velarde and Dos Santos.
Velarde had a ball poked back to him by Brett after Dos Santos headed a ball forward.
With room to put it on frame from 14 yards, the first-year pro lofted his shot well over the bar.
Moments earlier, Dos Santos made a quality diagonal run, received a nice pass from Dover, but after a nifty move to create a left-footed shot, his centering shot inside the six was blocked by Rowdies defender and gobbled up by McCarthy.
Oh so close, Dos Santos!

0-1 | #TBRvPIT pic.twitter.com/0O9LVCZJLE

— Pittsburgh Riverhounds SC (@RiverhoundsSC) March 17, 2019
At the end of the night, Pittsburgh could only muster six shots, and none on target.  That's not enough. The Hounds really lacked what they aspired to become in the off season — to be more clever and efficient in the final third. The attack stalled numerous times as they tried different things (diagonal balls, chipped balls over the top, long passes) with various combinations of different players to get behind the Rowdies fortified defensive midfield and back line.
There was also moment in the second half that might have summed up the Hounds attacking efforts in a nutshell. At one point, Tampa Bay made a poor pass backward that Dos Santos seized possession just on the edge of the attacking third. Instead of turning forward to see if someone on either width would make a run, or take a few touches forward (he had some space in front of him), Dos Santos played the ball back to Dabo, and the Hounds seemed to take forever to get it forward as the possession eventually faltered on the wing as the Rowdies had plenty of time to recover.
The Hounds are clearly not in mid-season form, and not moving together quickly and efficient enough in the attack.
It's clear that Lilley is still working on getting everyone clicking and on the same page.
Hounds fans have to believe that it will just be a matter of time.
ALARMING DEFENSIVE LAPSES
The Hounds played three center backs on Saturday, with Joe Greenspan in the middle between Tobi Adewole on his right and Thomas Vancaeyezeele on his left — with Jordan Dover and Ryan James at times were given room to stretch the field on the flanks.
Mouhamed Dabo stayed in front of the back line as holding midfielder, with Kenardo Forbes and Kevin Kerr higher up the field, and Steevan Dos Santos in the middle to form a veteran trio of attacking midfielders or one of three forwards.
In a match where passing accuracy was anything but impressive (both teams were a mediocre 68% overall passing accuracy), Hounds midfield could only string together nice build-up play a few times.
They were on the front-foot early in the match, creating a few free kicks around the final third, and a few corner kicks too. Kerr's service to Greenspan in the 19th minute resulted in a redirected header toward Adewole on the far post area. Adewole almost caught Tampa's keeper John McCarthy out of position with his second ball header that skimmed off the crossbar.
The Hounds tried, but couldn't force its will on the match early. On its first corner attempt, the Rowdies turned the match in its favor.
Keeper Kyle Morton came off his line in an attempt to steer the incoming corner kick away. Instead, Morton couldn't get command of the ball, and left the goal exposed. The worse possible scenario ensued. The ball bounced toward the 18, to unmarked Rowdies winger Shawn Barry.  Even with a crowded box, Barry found a way to navigate the ball through for the pivotal first goal of the contest.
Barry makes it look SO easy 👏👏.#TBRvPIT | #BeChampions pic.twitter.com/2v7JQEcfQ3

— USL Championship (@USLChampionship) March 17, 2019
This was clearly a defensive breakdown, as an unmarked attacker at the top of the 18 was unaccounted.
The Hounds had plenty of time to get one back. The Rowdies were afforded an opportunity after the goal to sit deeper in its formation, and find dangerous moments mostly in countering the remainder of the match.
However, late in the match, the Hounds had another uncharacteristic defensive breakdown.
Barry worked his way up the end line, and Hounds made him look like Christiano Ronaldo.  First it was James who failed to delay or slow down the Rowdies winger, then it was Dabo. Then Dover and Greenspan were caught on their heels, watching Zach Steinberger receive the ball in front of goal as he turned and redirected the game's second goal past Morton.
86' – ROWDIES GOAL pres. by @VSPC! @ZachSteinberger with the finish! pic.twitter.com/jQBQqE9w3b

— Tampa Bay Rowdies (@TampaBayRowdies) March 17, 2019
Last year, in its opening game on the road, in hostile territory in Nashville, while the Hounds were still trying to figure out its attack, at least they salvaged a scoreless draw. In an even worse performance the following week, they still salvaged another scoreless draw against Harrisburg (Penn FC).
In those moments, they didn't have defensive lapses that plagued them on Saturday.
This year, suddenly there are no guarantees. There's a work still to do for the Hounds to become an elite defensive outfit.
#TBRvPIT PLAYER GRADES
(1=low; 5=middle; 10=high)
GOALKEEPER 
Kyle Morton  4  – Came off his line, and didn't clear/win ball on first goal. Second goal, probably didn't have a chance.
DEFENDERS
Ryan James – 4 – playing in a position to create more chances from the left side, we really didn't see him have an impact deep into the final third with only one unsuccessful cross attempt.
Joe Greenspan – 5.5 – early in contest, strategically won a few headers on set pieces. Was solid in the middle with eight clearances  and won five of eight duels, but the second goal I am sure he would like to have back as he and Dover weren't quick enough to respond to ball played to Steinberger,
Thomas Vancaeyezeele – 6 – plugged in mostly on the left side of the three-man center back set-up, and was solid with five clearances and four interceptions.
Tobi Adewole – 5.5 – came close to scoring game's first goal from tough angle with redirected, second header that bounced off bar. Seems like he's more comfortable with ball at his feet than ever, and a strong presence in the air.
Jordan Dover – 5 – while it was clear that James was getting forward on the left side, Dover was alternating between the back line and getting forward. and fairly busy for a wide player getting 46 total passes — but only one unsuccessful cross. He did play a nice ball through to Dos Santos that created a decent chance.
MIDFIELD 
Mouhamed Dabo – 4 – His 83 percent passing accuracy was best on the team, but he struggled in winning battles (only 6 of 22) in the middle where he's usually effective. Came close to drawing a yellow, with four 'strategic' fouls. One of the players who failed to stop Barry's deep run into box that set up second goal. In fact, he fell backward after overrunning the ball. Tough night for a guy that has won his coach's glowing respect last year.
Kenardo Forbes – 4 – seemed missing in action throughout the night. Did it have something to do with keeping him out of the central midfield. Maybe? Only 35 passing coming from his feet. That's not enough. The Hounds need to play more through him to be successful.
Noah Franke (82') – 4 – came in late for Forbes. With Tampa sitting deep and defending well, was unable to create any quality chances in final third.
Kevin Kerr – 3.5 – quality service on corners and free kick, but like Forbes, the Hounds need Kerr to create more if he's going to be involved as part of attacking group. Subbed out in 60th minute.
Anthony Velarde (50') – 3.5 – there's definitely quality in his game, but really didn't get a chance to show it even though he had almost entire second half to make an imprint on the game. Didn't have many touche (16 total passes). Had probably one of the best chances of the night, but couldn't put shot on frame.
FORWARDS
Steevan Dos Santos – 5 – the big fella was used in the attacking midfield line early in match, then switched to the top of the formation when Volesky came out.  Won his share of aerial duels, but had a lot of passes broken up or intercepted. One decent chance into box, but left-footed shot was blocked.
Christian Volesky – 5.5 – in early part of game, Hounds opted to put Volesky at highest point of attacking formation. He provided quality passing touch (100% in attacking third), but was hobbled, and was forced to come out early in 2nd half.
Neco Brett (64') – 5 – brought positive energy into the match for the Hounds, but only shot attempt missed wide of goal.
Subs not used: Ben Lundgaard, Sammy Kahsai, Caleb Smith, Uchenna Uzo
Riverhounds MF Danny Griffin
Subscribe to PGH Soccer Now