Pittsburgh Riverhounds SC (2-1-5, 12 points) vs Memphis 901 FC (2-6-3, 7 points)
Gameday updates 
12:04 a.m. (EST) – The match has officially been postponed.
Per USL Championship Rules, it will be rescheduled for a later date and replayed in its entirety.
11:54 (EST) – in contact with Riverhounds team officials, and they're staying that as of now, the game is still in delay.
11:19 – per USL Championship rules, the game is not official unless 70 minutes are played. The delay can't last more than two hours. The game will be postponed and replayed at a later date/time. The delay started sometime around 9:30 p.m. (EST).
11:05 – This is still the image on the ESPN+ stream…
10:45 – DELAY CONTINUES – No updates, but storms remain in Downtown Memphis.
Not looking good (at 10:28 pm EST) #MEMvPIT https://t.co/mOFvSdJhnf

— John Krysinsky (@PghSoccerScribe) May 19, 2019
This was Downtown Memphis about an hour ago…#MEMvPIT https://t.co/dQzjGb8DFg

— John Krysinsky (@PghSoccerScribe) May 19, 2019
9:36 – ANOTHER DELAY!  Both teams remain in locker room at the half, and tarp is now on the (baseball infield side) of the field at Auto Zone Park.
Lightning spotted in area, the second delay has begun!!
9:27 – Stats of note after 45+ minutes:
Possession:    Mem 56% Pgh 44%
Shots:    5-5 (2-2 on target)
Corners:         Pgh 3-0
Crosses:         Mem 8-6
9:23 – HALFTIME
The Volesky goal is the difference right now.  But another concern might be the incoming radar…
747pm: #storms moving over E #ARwx, and into NW #MSwx. Watch for strong winds, ⚡️, hvy rain. Storms should approach #Memphis area by 800-815. pic.twitter.com/NNvu5iQ6ZE

— NWS Memphis (@NWSMemphis) May 19, 2019
9:10 – another nice build-up not too long after the Volesky goal.
34' | ❌✖️NOPE ❌✖️#MEMvPIT | #901FC | #DefendMemphis pic.twitter.com/kpEcyEWKF5

— Memphis 901 FC (@Memphis901FC) May 19, 2019
Here's a look at the Volesky goal.
34' | ❌✖️NOPE ❌✖️#MEMvPIT | #901FC | #DefendMemphis pic.twitter.com/kpEcyEWKF5

— Memphis 901 FC (@Memphis901FC) May 19, 2019
9:00 – GOAL – Riverhounds SC – Christian Volesky (26′)
Volesky with header finish.
What a ball in from Dover along right flank!
Hounds take 1-0 lead (on the road, again)
8:35 – the game has kicked off, almost a half hour after scheduled start time.
8:30 – Both teams are on the field — and they'll be kicking off shortly.
8:05 – The match has not started because there's a lightning delay in Memphis.
Looks like Robbie Mertz earned his first USL Championship start his career. Also, after impressive showing in Open Cup start on Tuesday, Austin Pack gets the nod in goal.
Riverhounds SC Starting XI and reserves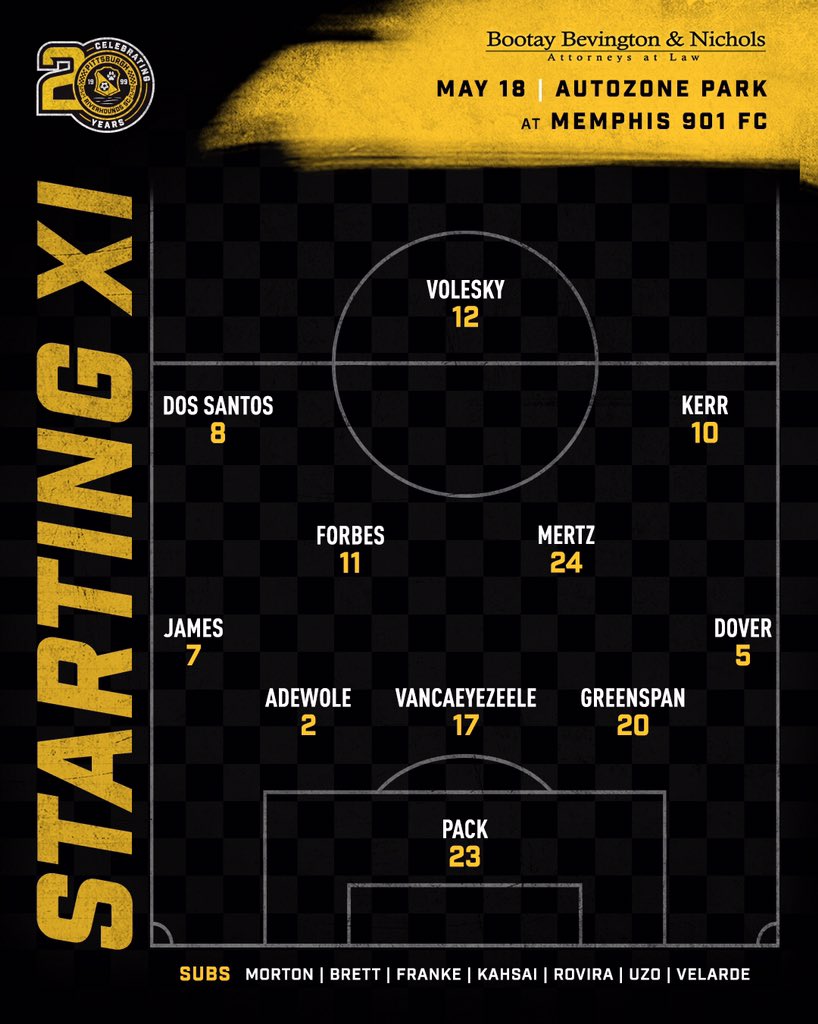 Memphis 901 Starting XI and reserves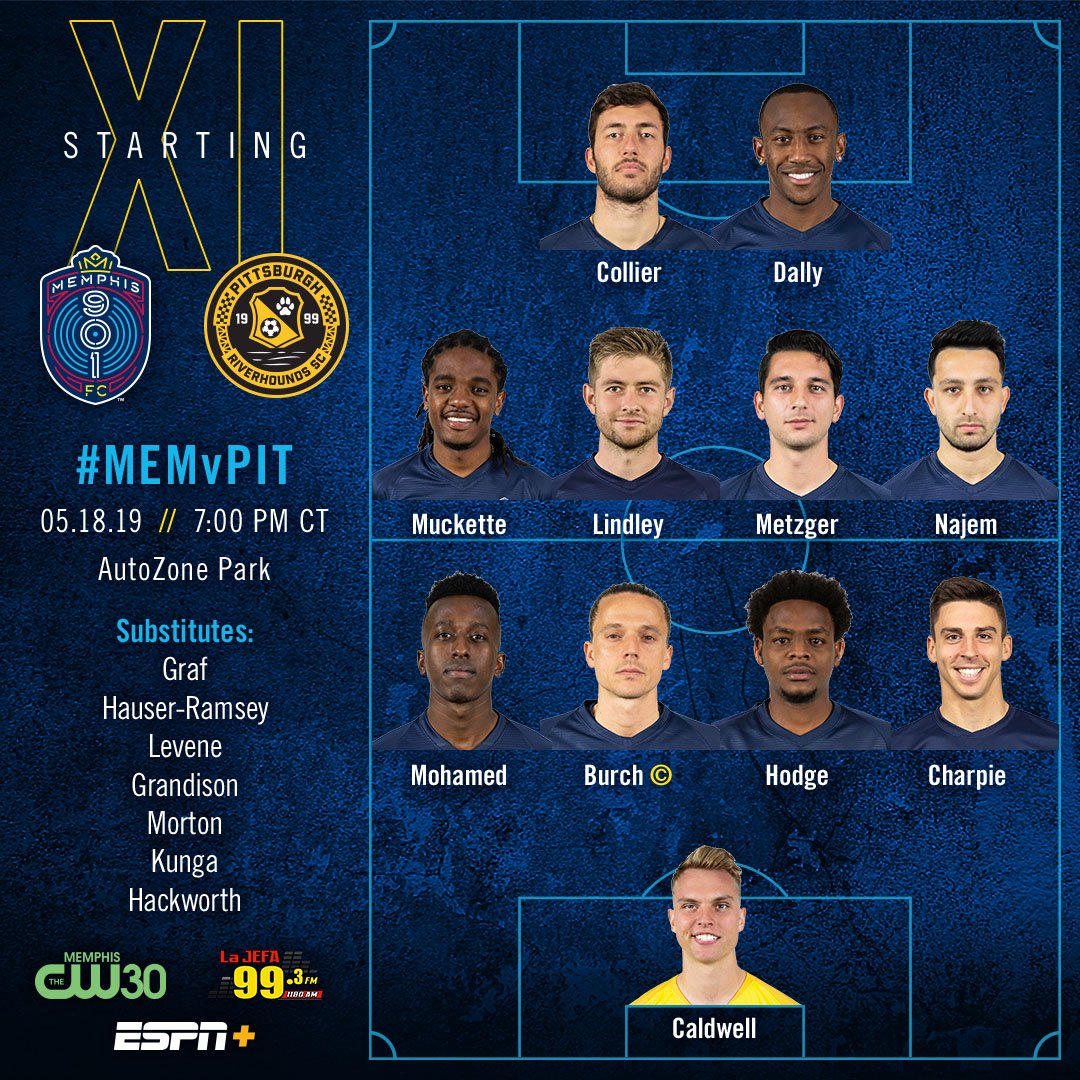 Soccer Scribe's Projected Riverhounds SC Starting XI 
GK – Austin Pack
D – Joe Greenspan, Tobi Adewole, Thomas Vancaeyezeele, Uchenna Uzo, Jordan Dover
MF – Kenardo Forbes, Kevin Kerr, Ryan James, Christian Volesky,
F – Steevan Dos Santos
Soccer Rabbi's Preview and Scouting Report: 
Want to know more about expansions Memphis 901 FC?  Look no further than our own Mark Goodman who provides a terrific, in-detail scouting report and game preview. This is the ideal primer to read prior to the match.
Saturday, May 18 |  8 p.m.
AutoZone Park, Memphis, TN
Television: Pittsburgh's CW
Streaming: ESPN+
Live Statistics: USL Championship Match Center  |  Live Updates: Twitter at @RiverhoundsSC and #MEMvPIT
Key Game Notes
This will be the first-ever meeting between the two sides.
Since the start of the 2018 campaign, Pittsburgh is unbeaten (2-0-3) in its first-ever matches against league opposition. This unbeaten mark is in addition to the team's current seven-game unbeaten streak (2-0-5) in league play.
Memphis is still searching for its first victory at home, as the club owns a 0-3-2 record in its confines. However, the squad heads into Saturday's match most recently defeating Hartford Athletic in USL Championship action and riding a three game unbeaten streak in all competitions (3-1 win in its Lamar Hunt U.S. Open Cup debut against New York Red Bulls U-23).
Riverhounds SC Injuy Report
Mouhamed Dabo – Out (hamstring)
Prosper Figbe – Out (knee)
Ben Lundgaard – Questionable (back)
Caleb Smith – Out (groin)
This week's Riverhounds coveage on Pittsburgh Soccer Now
Soccer Scribe's Riverhounds SC Notebook: Still searching for an identity
Hounds ride strong second half to 3-0 Open Cup win over Dayton
More on #MEMvPIT
This week's @K2Engineering #Blueprint2Success episode Kevin Kerr and Hunter Gilstrap talk about getting ready for their game with league newcomer Memphis 901 FC. #UNLEASH #MEMvPIT pic.twitter.com/OPgIEMmKEP

— Pittsburgh Riverhounds SC (@RiverhoundsSC) May 17, 2019
Your reaction if you missed the first @memphis901fc home win Wednesday @autozonepark vs your reaction when you realize there's another home game tomorrow night #westcoastgk @westcoastgk pic.twitter.com/jGAviAm7Ji

— Jeff Caldwell (@caldwell_gk) May 17, 2019
SMELLS LIKE GAMEDAY!

The boys are in Memphis tonight, so head on out to @fullpintbrewing to watch the match with the Army. We're taking over the brewery and cheering on the Hounds as they collect three points in Tennessee!

Kickoff is at 8pm. Be there.#UNLEASH

— Steel Army (@SteelArmy) May 18, 2019
Riverhounds MF Danny Griffin
Subscribe to PGH Soccer Now