FINAL:  RIVERHOUNDS SC 2, NY RED BULLS II 1 
Match Summary
In a battle of two teams riding hot streaks, the Pittsburgh Riverhounds SC rallied to defeat New York Red Bulls II, 2-1, at Montclair State University on Wednesday night. 
With this win, the Hounds (now 11-3-8, 41 pts) get their statement win on the road against the Eastern Conference's front-running team, and surge into top four position in the standings, coming back from an early 1-0 deficit, with a goal by Joe Greenspan in the 36th minute, then Neco Brett added his team-leading eight goal of the season for the game winner. 
"I think the goal woke us up," head coach Bob Lilley said. "The last 15 minutes of the first half we were more positive. In the second half, we got more runners in front of the ball. When we went forward, we closed the field up.
Things started out on the wrong foot for Pittsburgh when goalkeeper Kyle Morton's poor clearance was scooped up by Red Bulls II's Tom Barlow. The New York forward took advantage of the blunder and the open space provided to move into the box for a clinical finish that put the home side up 1-0.
Pittsburgh did everything it could to keep the Red Bulls from working through the middle of field, as they implored a narrow 3-4-2-1 formation, but just like the first meeting between the two teams in June (a 3-0 Pittsburgh win), they needed to get past the half hour mark before they started to apply some pressure into the attacking third,
It took until the 37th minute for Pittsburgh to finally get a shot on target — and they took advantage after setting up three corner kicks in a two minute span.
Kenardo Forbes' in-swinging delivery found an unmarked Joe Greenspan in the far post area.  It was a simple redirected header for Greenspan that leveled the contest.
Sometimes a flick is all it takes. #NYvPIT | #BeChampions pic.twitter.com/vOxsAm8jky

— USL Championship (@USLChampionship) August 14, 2019
Despite the Red Bulls owning a significant possession battle (59% of the ball) for much of the 1st half, and out shooting Pittsburgh 6-2, the Hounds came out in the second half as the more confident side.
Pittsburgh stayed on the front foot, creating more corner kick opportunities and doing a solid job defensively to limit most of the Red Bulls chances to balls played over the top, and from the width — which is not their game. 
After bringing on three substitutions (Anthony Velarde in the 68′ and Christian Volesky/Mo Dabo in 75′) — Pittsburgh finally broke the 1-1 tie as the game began to open up.
On a counter opportunity, Velarde played a forward ball to the open space on the left side, just outside the box for Neco Brett.
From there — Brett navigated his way into the box, and beat his man — and slid his shot to the left side of the goal, beating Red Bulls II goalkeeper Evan Louro to give them the winning goal.
Say it with us. NECO BRETT SCORES GOALS.#UNLEASH | #NYvPIT pic.twitter.com/d6P6XTP1fH

— Pittsburgh Riverhounds SC (@RiverhoundsSC) August 15, 2019
Aside from the mistake that led to the giveaway, Pittsburgh's team defensive performance was solid — as they blocked five shots, kept the USL's highest scoring outfit to one goal on nine total shot attempts, and only three in the second half when they really clamped down. Red Bulls II averaged 18.65 total shots per match heading into the night.
In sweeping the season series with the Red Bulls II, it's noteworthy that both matches saw the tide of each match switch after the 30th minute, and Pittsburgh dictating tempo for much of the second half.
"There were two good teams. It was a tight game. Fortunately, we got the winning goal in the second half. We did a good job closing the game once we got the lead as well."
The loss for New York was their first at home this season, while Pittsburgh extended their unbeaten run to six games, winning five in that span (5-0-1).
It was also the first-ever win for Pittsburgh on the road in NY since the teams began playing in 2015.
Up next for the Hounds, they won't get much rest, traveling to North Carolina for a Saturday match in Cary against North Carolina FC.
For the moment, it's a victory to savor.
Look for our instant — post match grades shortly here on Pgh Soccer Now. 
Game Day Updates / Commentary:
A little postgame reaction from the Hounds team owner.
@RiverhoundsSC BOOM👊!!

— Tuffy Shallenberger (@Tuffy_Shall) August 15, 2019
8:57 – It's over — Riverhounds win.
8:53 – Hounds keeping the pressure on — and doing nice job of making NY chase them in the late stages.
Here's the goal…
Say it with us. NECO BRETT SCORES GOALS.#UNLEASH | #NYvPIT pic.twitter.com/d6P6XTP1fH

— Pittsburgh Riverhounds SC (@RiverhoundsSC) August 15, 2019
8:49 – GOAL – RIVERHOUNDS – NECO BRETT
Great ball from Velarde into the open space, then let Neco do the rest.
8:40 – Volesky with a run down right side — into box and shot just misses left.
8:40 – HOUNDS SUBS: 75′
Volesky and Dabo IN
Dos Santos and Kerr OUT
8:39 – Brett gets a nice ball over top from Dos Santos — but maybe one move too many. Still gets shot deflected to set up corner.
8:38 – Kyle Morton with an awkward, but effective denial on redirected ball from RBII corner to keep match level.
8:34 – Anthony Velarde is in for Mertz (68′).
Mertz who picked up a yellow and has been asked to cover a lot of space tonight — burning off plenty of those pregame carbs.
8:32 – Nice save by Morton to deny Barlow who breaks free on left side.
8:30 – another corner for Hounds. They have 5-1 edge for night. Can't convert though.
8:28 – free kick from 45 yards out — to edge of left side of box — and comes out for Mertz, who attempts a lining shot that goes over bar.
8:22 – Mertz picks up yellow card for a hard challenge. 60′
8:20 – Hounds on front foot for good stretches of early second half, but can't convert anything. \
8:08 – second half starts
Here are some key halftime stats
Shots: 6-2 NY (2-1 on target PIT)
Possession: NY 59% PIT 41%
7:53 – HALFTIME
Here's Greenspan's goal…
Sometimes a flick is all it takes. #NYvPIT | #BeChampions pic.twitter.com/vOxsAm8jky

— USL Championship (@USLChampionship) August 14, 2019
7:43 – GOAL – RIVERHOUNDS – Joe Greenspan –
Header from Forbes corner, '
The Hounds pressure that resulted in three corner kicks in a few minute span paid off.
7:41 – Good work by Dover and Mertz to get it into box to set up corner.
7:38 – Hounds earn first corner, but Forbes delivers a ball that goes over everyone.
7:35 – 30 minutes in — and still no shots on target for Pittsburgh.
Here's the goal…
No. 𝟙𝟙 of the YEAR!

1-0 |#NYvPIT | #NYRBII pic.twitter.com/WBEbDAbuAK

— New York Red Bulls II (@NYRBII) August 14, 2019
7:27 – GOAL – NYRBII – Tom Barlow 20′
Hounds do what they can't afford against RBII — make a mistake out of the back. Poor clearance by GK Kyle Morton results in easy opportunity for Barlow to put that in back of net, and just like that, it's 1-0 NY.
7:15 – RB get into box, Hounds clearance results in corner opportunity. RB play it short and quick, but ball to far post too far.
7:10 – Barlow gets through a big seam in Hounds back line on through ball with all kinds of room — but called off side. Announcers didn't agree. (5′)
7:05 – game has kicked off
Look for starting line-ups to be posted here around 6:45 p.m. along with in-game updates/commentary.
Riverhounds starting XI and bench…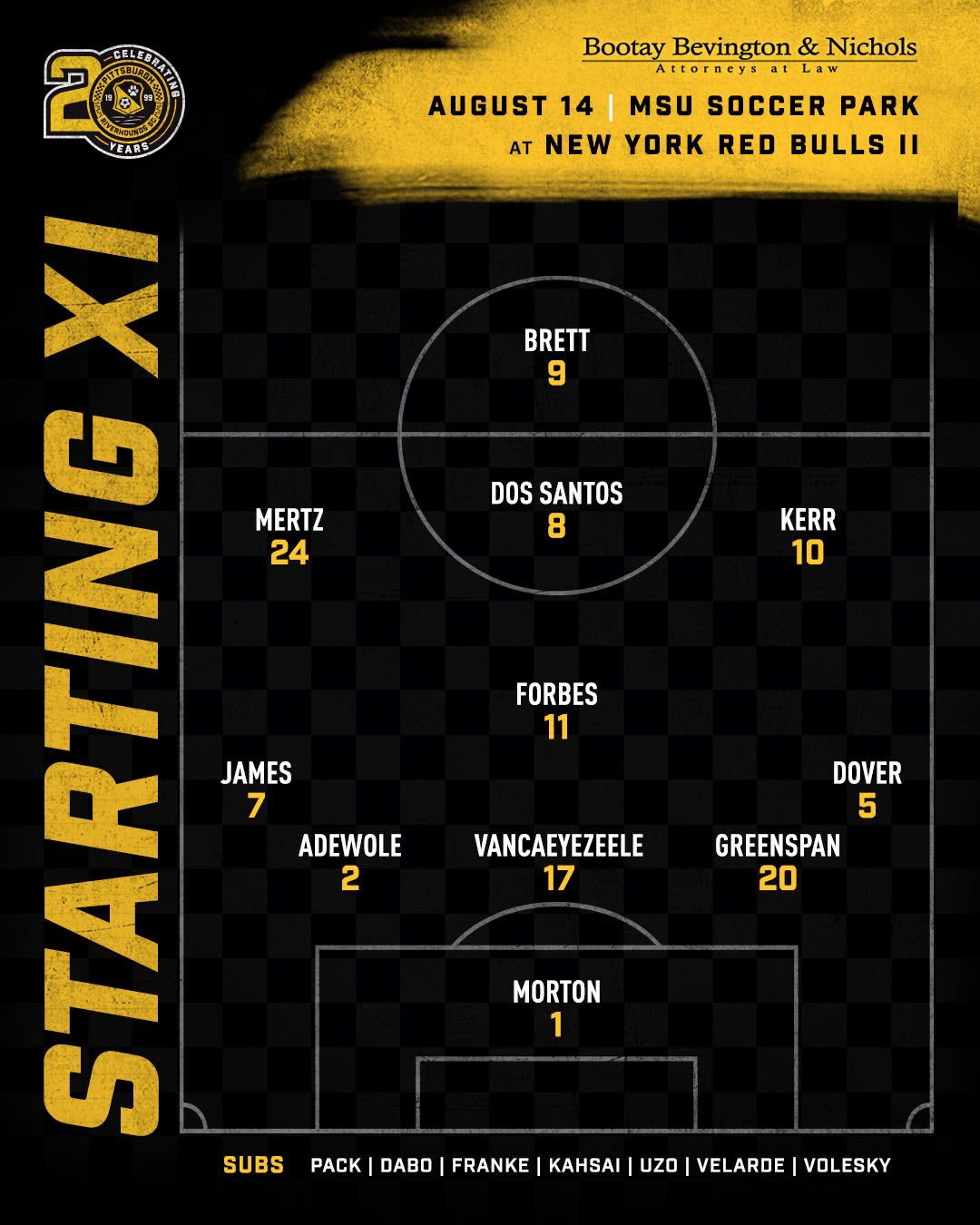 Red Bulls II starting XI: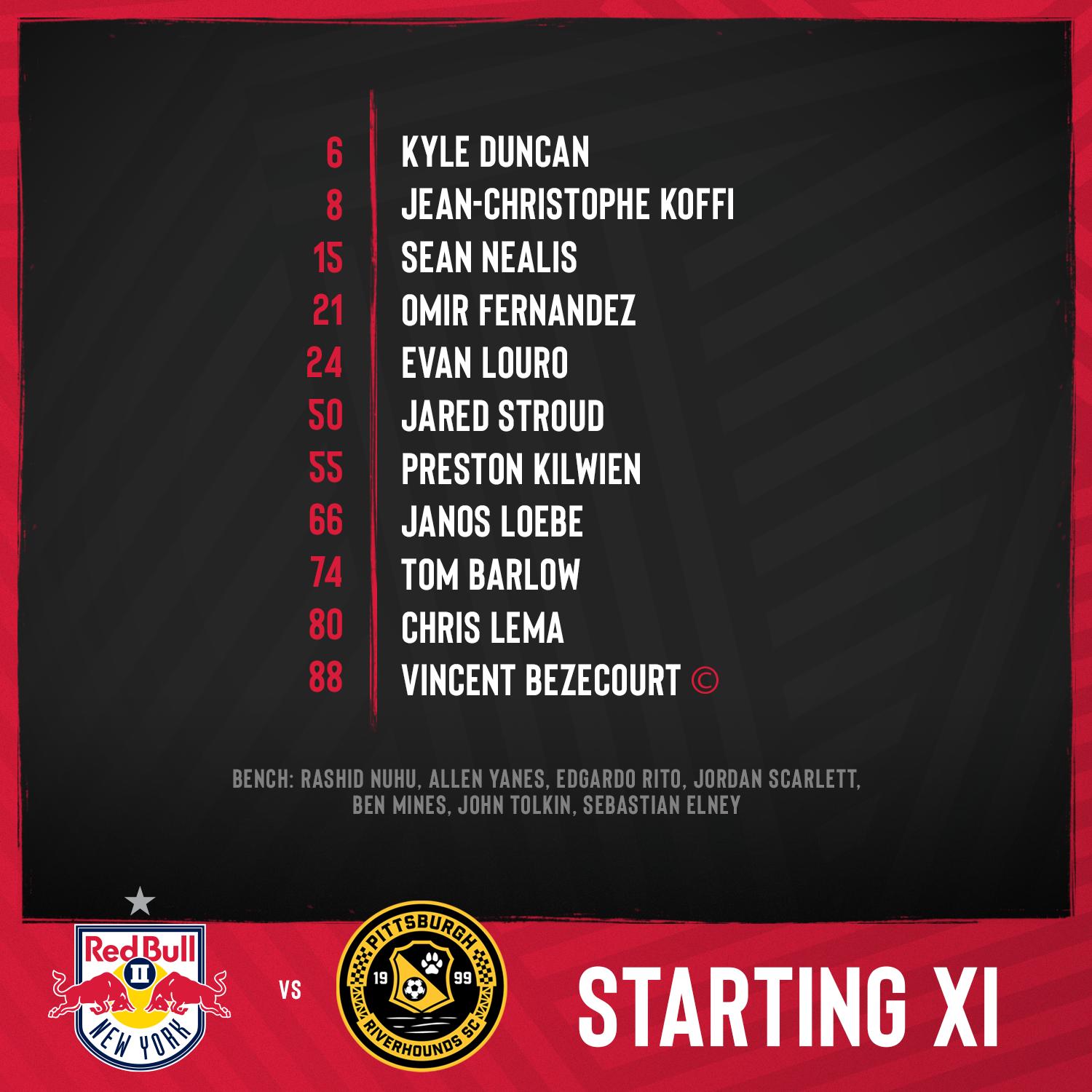 Match Information 
Wednesday, Aug. 14 | 7 p.m.
Location: MSU Soccer Park, Montclair, NJ
Streaming: ESPN+
Live Statistics: USL Championship Match Center
Live Updates: Twitter at @RiverhoundsSC and #NYvPIT
PSN's Hounds coverage this week
Preview: Hot Hounds hit road to face front-running Red Bulls II
Growth Of Soccer Series (Part I): USL, Hounds keep pro game moving forward nationally and locally
Sounding Off on Soccer: Hounds survive tussle in Tulsa plus Open Cup talk
Subscribe to PGH Soccer Now