On March 8, after playing Toronto FC II to a scoreless draw to end its preseason, the Pittsburgh Riverhounds SC hosted a little get-together for season ticket holders and Steel Army members in the packed Highmark Stadium suites.
This would be the last time Highmark Stadium had a large gathering.
The club's owner Tuffy Shallenberger began the festivities by making a few remarks, then introduced the man he's entrusted to run the team, Bob Lilley, who surprisingly still had his voice after a preseason match that went over the allotted 90 minutes.
The veteran coach introduced his players as they revealed the team's kits.
The veteran coach didn't hold back when sharing his assessment of his squad that Saturday afternoon.
"We have work to do, There's no doubt," Lilley said. "There's 23 guys on our roster. Out of those 23, there's nine guys who may or may not be able to give us 90 minutes (next week). Whether its injuries, fitness or visa issues, there's still a couple of those lingering."
Lilley was in 'we're very much a work-in-progress' mode.
"We weren't good enough today. We recovered balls. We had open space to run through. But we weren't good enough up front. There were goals to be had. That's not all on the forwards."
With momentum and optimism carrying the club through the off season, after the Hounds were coming off a 2019 when they finished at the top of the USL Championship's Eastern Conference table.
Now, they were looking forward to another long season getting started and remain as a serious league title contender.
"Right now, we have to find the finishing touches to get over the line, and learn how to win. Hopefully our play over the preseason we've done enough work. It's been better than results will indicate," Lilley explained. "Especially with some of the hardships. We won't get the points back in the regular season. We'll have to scrape and claw."
"Now, after today, we won't get any do-overs."
A few days later, everything changed.
---
An Oral History Pittsburgh Soccer 2020: Part 1
Pittsburgh teams navigate unprecedented year 
March 12, 2020 (three days prior to Hounds season opener at Charlotte) 
"This isn't about basketball, this isn't about the Mavericks. This isn't about when do we start, do we start? Or how do we start? This is a pandemic, a global pandemic," Dallas Mavericks owner and Pittsburgh native, Mark Cuban, said. 
"It was a day like we've never experienced on Wednesday, as various major sports entities in the United States took major steps and precautionary measures in response to Coronavirus," wrote Pittsburgh Soccer Now's John Krysinsky.
"In USL Championship, Tacoma Defiance's regular season contest between the Defiance and San Diego Loyal SC was played behind closed doors at Cheney Stadium, in Washington."
"As of Thursday morning, Pittsburgh Soccer Now has been in touch with Pittsburgh Riverhounds SC officials about the status of its upcoming planned season opener in Charlotte.  As of now, the team is planning to practice today at Highmark Stadium, then head to Charlotte for the match. We will continue to monitor and provide any updates as they come."
— 12:30 p.m.
"It was very clear from our owners that the health and safety of players, fans and staff was their top priority," said USL CEO Alec Papadakis. "In consultation with local, state and national health authorities, as well as the Centers for Disease Control and Prevention and the Department of Homeland Security, we have temporarily suspended match play for a minimum of 30 days."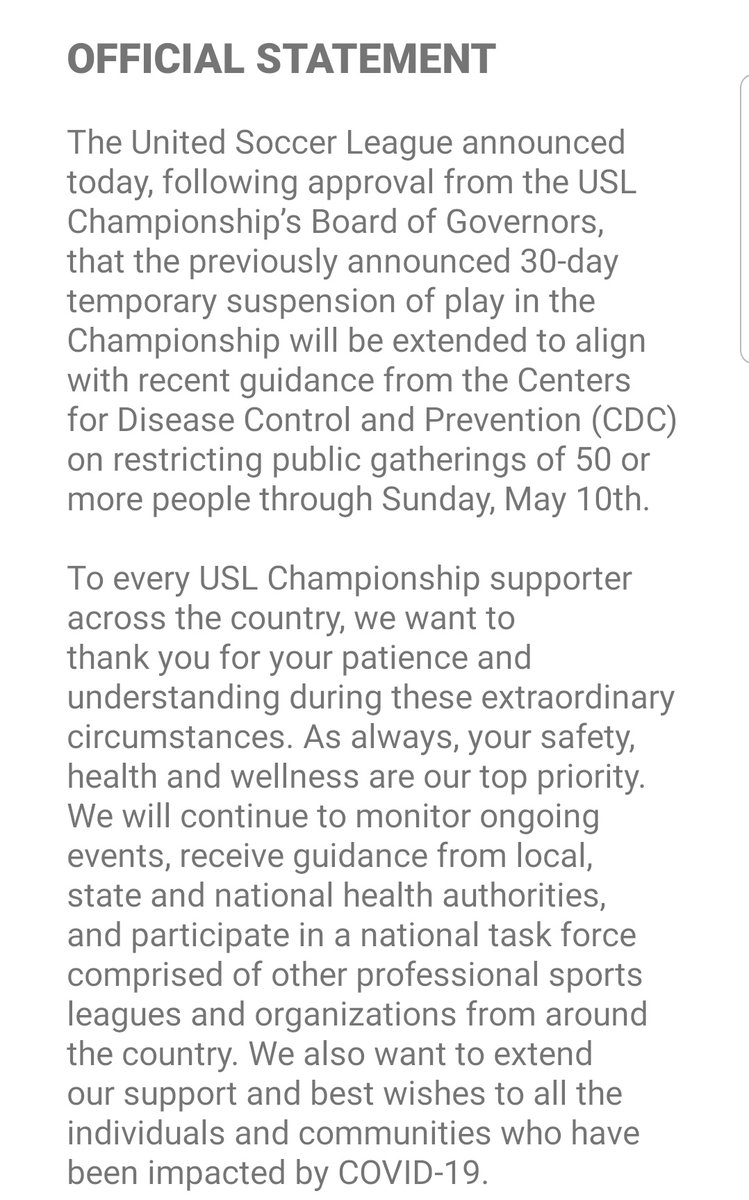 ---
May 8, 2020 (Pennsylvania's Reopening plan leads to Allegheny County going to 'Yellow' 
"The reopening plan prioritizes the health and welfare of Pennsylvanians by using a combination of factors to gauge how much movement a location can tolerate before the 2019 novel coronavirus becomes a threat," PA Gov. Tom Wolf said. "I'd like to emphasize that this plan is not a one-way route. We are closely monitoring the 24 counties in the yellow phase and will re-impose restrictions if danger arises."
"Every contact between two people is a new link in the chain of potential transmission," Wolf said. "And if the new case count begins to climb in one area, restrictions will need to be imposed to prevent local medical facilities from becoming overwhelmed. So, Pennsylvanians should continue to make good choices."
---
May 11, 2020 (nearly two months after the initial shutdown) 
"We're going ahead, that's the plan," Riverhounds Head Coach Bob Lilley told Pittsburgh Soccer Now.
"We've been on the phone with our training staff, to go over how it's going to look.  All protocols will be in effect. Allegheny Health Network has their guidelines which we'll follow. Everyone will be six feet apart. Trainers will be wearing masks. Players and trainers will have to have temperatures checked. If anyone has symptoms, they will have to be quarantined."
"As a staff, we have to get ready," Lilley explained. "It will be a lot different than training as a full team. I know as staff, we want to be prepared and make best of whatever situation put in front of us. We feel like the players have done a good job and done their best to keep training. It's not game fitness, but they're not at ground zero either."
"There are things they can work on. Get more sharpness on ball. Doing certain things technically," Lilley said. "It's not like we don't have experience working with players this way, but but it's definitely different than what we're used to."
"I am not a guy to go to the gym at lot," Hounds captain Kenardo Forbes admitted.
"It's a tough balance. I'm always playing. For me, the off season is hard. That first week (of the shut down). I got a treadmill.  I'd run for 30 minutes a day. Then, we started to get in touch more with our training staff.  After three weeks, we were on Zoom. connecting with trainers every day."
"The request to the USLPA for consideration of a compensation adjustment was not an easy one, and only taken as a last resort," USL spokesperson in a report produced in The Athletic. "COVID-19 has brought with it serious economic hardship for people and industries all over the country and our clubs have not been immune to that. We welcome further conversation with the USLPA about reasonable steps that can be taken to help ensure we're in the best position possible to bring professional soccer to our communities in 2020."
"What's going on with league and players union, I'm not privy to that information," Lilley said, as The Athletic report was news to him.
"Everything's still very much up in the air," Lilley reiterated, as he, along with many in the soccer and sports world are anxious to see how things unfold, particularly with soccer's first real test, as the re-start of Bundesliga in Germany is on schedule for this coming weekend, with games being played behind closed doors.
"With closed door games you can control the environment lot more. In our league, much of revenue is generated from ticket sales. Cost for closed door games would be significantly higher," Lilley said. "A lot of people are going to watch and see what happens in Germany. What if, in the next three days, something happens, or players are test positive? Or if they start playing, how will the other leagues react? You're guess is as good as mine."
"The league (USL Championship) has many scenarios — from starting in June or as late as August. There's still a lot of concern what will happen in September and October."
"We're very limited" Lilley added. "As staff we're doing what we can do. What we need to do and doing the best job we can."
"I became a teacher overnight! Since my girlfriend still had to go to work every day, I was homeschooling my daughter. Every day. I learned a lot," Forbes, one of six Riverhounds SC players who remained in Pittsburgh during the shut-down, explained how he kept busy during the shutdown.
"I give teachers a lot of credit. It takes a lot patience. Here's I have just one. I can't imagine what teachers go through with 15-16 kids."
"For the most part, we were connecting from afar.  We set up a WhatApp group.  We'd chit chat for a little.  But we were all from a distance, for the most part."
"Absolutely not! I didn't leave house once," Forbes said in sharing his concerns about the pandemic.
"I was scared. I am still."
---
June 4, 2020 (USL Championship sets provisional restart date of July 11) 
We're BACK!@uslchampionship announced provisional start date of July 11.#USL | https://t.co/iFGsO3t9s1 pic.twitter.com/awkuKSRZhN

— United Soccer League (@USL_HQ) June 4, 2020
"While additional information on competition format, scheduling, broadcast and other important details will be made available in the coming weeks, it is important to note that the league's return to play will be conducted in strict alignment with all local and state public health guidelines. USL HQ also remains in regular dialogue with the USL Players Association on all matters concerning player health and wellness protocols and looks forward to continuing those discussions. Moving forward, Pittsburgh Riverhounds SC will work with local and state government officials to determine what requirements it needs to meet to play home games in 2020. Once the club receives full understanding of these parameters, it will issue ticket updates and policy." Riverhounds SC team statement
---
June 10, 2020 – PA Governor Tom Wolf announces amateur sports, including college, high school and youth soccer, can resume play with modifications
"All collegiate sports sanctioned by the National Collegiate Athletic Association (NCAA), as well as intramural and club sports, may resume in-person activities in counties designated in the Yellow and Green phases, in alignment with the PA Department of Education (PDE) Preliminary Guidance for Resuming In-Person Instruction at Post Secondary Higher Education Institutions and Adult Basic Education Providers, guidance issued by DOH, the CDC, NCAA, and the team's relevant collegiate athletic conference," Wolf said in a statement.
Morning, Noon, or Night, we are safely back into RDA training! With daily sessions scheduled all day and night at @highmarkstadium our players are getting touches and getting fit again, in a proper work environment! pic.twitter.com/i1UGSessag

— The Riverhounds Academy (@HoundsAcademy) June 8, 2020
I know everyone wants to know what the fall will look like and we've made some progress and decisions, which you can read about here: https://t.co/ltnlYhSlGe

Thank you for your patience, enthusiasm and ideas as we continue advancing Pitt's mission during these unordinary times.

— Patrick Gallagher (@PittChancellor) June 9, 2020
PIAA Press Release – Preliminary School Sports Guidancehttps://t.co/vTJFMb3r6l pic.twitter.com/bqpNRKVaC3

— PIAA (@PIAASports) June 10, 2020
---
June 23, 2020 – Uncertainty remains as USL Championship promises to push forward with abbreviated season 
Soccer is returning. Still with lots of unanswered questions.
"Answers to questions are coming soon. Let's hope the answers they come up with are the right ones – both for the game of soccer and the health and wellbeing of every affected community, too," Mark Goodman 
---
June 24, 2020 – USL Championship/Riverhounds SC schedule details released 
Hounds vs a bunch of 2-teams.

Can't wait. https://t.co/V9knbpSiYH

— Steel Army (@SteelArmy) June 24, 2020
USL reveals group-play, 16-game schedule when 2020 season resumes
---
July 4, 2020 – "Stir Crazy" Hounds cram to get ready for shortened season 
"It was nice to have guys back. We were all going stir crazy," Bob Lilley said.
"Everyone got tested on Tuesday (June 23). By Thursday night we got all of our tests back. And that when we found out we can go — and start to compete again."
"It's been a lot," Lilley said. "Everyone's trying to keep up with all of the different protocols.  I've been fortunate to have staff and ownership here who've been a big help, and I've still been able to focus on team, on the players for the most part."
"I feel for (Riverhounds Director of Operations) John Rotz, (Owner) Tuffy (Shallenberger), Kim Robson (General Manager, Highmark Stadium). The amount of meetings, checklists they've been going through. There's a lot critical information coming from the league, and obviously from the Governor and state officials. We've had to be prepared every step of the way. Had to do a lot of things. First, it was in small groups, and now we're finally allowed to work with the larger group."
"We're on testing cycle now. So far, all (COVID-19) tests have been negative. We will get tested every week through the season. That's something important. AHN (Allegheny Health Network) and our team doctors are very much involved.  We have good medical team," Lilley added.
"It's been tough. We've all been off for so long. But in the first sessions, guys have responded well.  For what Bob wants as a team. Even he said it. He's always tough on us. Even during the lock down," explained Kenardo Forbes, who was teaching and giving assignments to his daughter, had a few assignments of his own from his coach.
"Yes — he sent us tapes to watch. He wanted to prepare us for what to expect when get back to training."
"We're trying to get everyone back to game speed. But we don't have games. Most teams before the shut down had games. We didn't. We're still looking to play to see where we stand. What we need to work on. I felt pretty good. Guys did stuff at home before, then they did small group training. They did a pretty good job," Lilley added "Now, we got back to live action. Had some guys nicked up.  Don't want to push too fast, too soon. That's one of the challenges."
"We had good team. To turn out like that — it was so disappointing. We had a team that could get a championship for Pittsburgh. What happened in the regular season was unbelievable," Forbes added about the disappointing end to the 2019 season.
"But, we didn't get it done. Even though it's going to be a shorter season and format, we want to win it all.  That's why I am here. That's what we're aiming for."
---
July 10, 2020: Annual PSN Media Predictions 
"What we've learned from Covid in America up to this point is: somebody's always lax; somebody's always being irresponsible. I think it likely that some players test positive. I think it likely that some games get forfeited. I think it more than 50-50 that a team just can't string together eight healthy games. What would a season even mean if results on the field are mostly determined by the vagaries of contact tracing and infectious disease outbreaks?" writes Mark Goodman. 
"It all boggles the mind. I can't even believe I had to write most of that stuff I just said, it's so bizarre."
"It's likely that mistakes and lack of cohesion could also lead to a lot of goals. Injuries may be a more significant factor and training staffs for each club are already under a lot of pressure due to COVID-19, will also have to be treating players for nicks and knocks. Still, teams like Pittsburgh, Louisville and Indy have plenty of veteran leadership, and I expect the intensity of those games to be pretty high. They know that there's little room for error in a short season. Add that some of these games will be played on national TV, I am sure we'll get plenty of exciting soccer," John Krysinsky.
"But even if they do thrive, I think there's a good chance fans will ultimately look at this season with a jaundiced eye. It's one thing to play elite football at a sustainable level against an entire conference, over an entire 30-week regular season, as they did last year. It's quite another to be successful by dominating a smaller group of teams within a smaller sample size. For their part, I fully expect the Riverhounds to do just that," writes Matt Popchock.
"I can see the Hounds getting back to the Eastern Conference semifinal this season, but until you see how the back line plays in the game, the strength in net, I can't pick them to win the conference.  It is also really hard not to pick Louisville City FC because they are just like a giant pest and find ways to make runs in the playoffs even when you don't think they will.  But, my preseason pick is going to be the Tampa Bay Rowdies, they started the 2019 season on a blistering pace with a strong offense and a pretty solid defense," Matt Harkins predicts.
Pittsburgh soccer media revised 2020 USL Championship predictions
(Krysinsky, Matt Harkins, Matt Popchock & Goodman all correctly predicted the Hounds would get out of its group and earn a playoff berth but incorrectly predicted them to win the group.  Krysinsky was the only one to pick Hartford to also make the playoffs. Kudos to Harkins, who correctly nailed the Tampa Bay Rowdies Eastern Conference champions pick) 
---
July 10, 2020: Excitement Builds Toward Opener — A Rematch of Playoff Loss vs Louisville (Bob Lilley's first Zoom call of 2020 with the media) 
Lilley focused on getting Hounds to grow rapidly in shorter season
"Every year, each team I've coached has to establish its identity. Once you start playing games you learn more about where you are as a team," Bob Lilley said. "That's positive about playing Louisville right away. We'll know where we are."
"It's a great way to open up for us. The guys here excited," Kenardo Forbes said. "We're looking forward to going there. Going for some revenge. We can't wait."
"It's a demanding schedule out of the gate.  How we get out of gate with those seven tough games is going to matter a lot in terms of putting ourselves in a good position.," Lilley explained. "We can't afford to be in bad form. Slumps are going to have to be avoided. That's one of the challenges. Learn as much as we can early on, and continue to grow rapidly."
"They have a good team. Everyone back. Plus they added Ockford. they got (Former USL scoring leader) Cam Lancaster back. They've added Corben Bone. They played bunch of MLS teams in preseason. They had good win in (North) Carolina before the (season) postponement," Lilley said. "They have a little more mileage. I"ve watched the North Carolina game. Both teams looked really good.  North Carolina's a good passing team. That looked like two teams in midseason form."
"It's good. It's necessary. We have difficult travel challenges. There are a few more mid-week games. The speed we're returning to game action is going to be intense. We're going to have to have some squad rotation. When you have three subs, you probably keep one in your back pocket for most games, and save a last sub," Lilley shared his thoughts on the updated five-substitution rule. "Now, you can be pretty aggressive. You can make two or three subs at halftime. It can help change a game, protect a player or if someone goes down, you have more options. It will be nice to have two or three at end of game. Ultimately could have three subs around 70th minute."
"They talked about going to three a year earlier.  I was against it," Lilley admitted. "We have reserve teams. but I also wanted to develop my whole roster. I had teams with young players — guys out chances.  For our league, it's good for the game.  I am fine with five subs with three times changes.  I think it might be here to stay.  Even for fans. They might want to see other players. The game's open now. You know how game can drag, especially late. This would keep the energy of the game positive.  Prolong it with five,  I prefer five. We've won games if I have three or five. I am not complaining either way."
"It's a unique time. A crazy time. I hope we — and other teams can be as safe as possible. Us playing is a positive for our fans. We are trying to manage it as productively as possible. There's going to be challenges. We'll see." Lilley added.
"Things are changing every day."
---
July 11, 2020: More on Hounds season opener and COVID-19 concerns 
"Lilley was specifically referring to the importance of starting strong in the Hounds first match of the 2020 season. He was referring to how tough it will be to play a match against defending USL Eastern Conference champions Louisville City on Sunday. He was referring to the critical nature of every game in this shortened 16-game USL season. I'm not sure he meant to call attention to the fact that the game will be the first match played with fans in attendance in the United States since the Covid-19 pandemic shut down American sports back in March," Mark Goodman wrote the day after Lilley's Zoom call. "But its a **very** big game for that reason as well."
Goodman also added: "In Jeff Rueter's piece in The Athletic ** included the wisdom of Dr. Preeti Malani, an expert and spokesperson for the Infectious Diseases Society of America. In response to the question 'Is there a way to keep a baseline level of safety when there are 5,000 people around a concourse?', Dr. Malani responded "There's not."
"The issue is that you can't control the behavior of that many people, particularly around mask-wearing. They're outdoor; if you think about some of the protests that brought 5,000 people, there wasn't a lot of spread from the protests — it was the (indoor) afterparties that caused the spread," Dr. Malani added.  "A lot of families come to these games; let's say everyone's masked and are sitting in their family units away from everyone else. In theory, you could do it, but it's difficult. I think the appearance of it is concerning to me because you don't know that it couldn't be a super trigger event. Although we say we're going to distance, what if people don't want to? What if they are screaming? What if people say they're not wearing a mask?"
"It is a big game for the Hounds. It is a big game for USL. It is a big game for sports in America," Goodman concluded in his July 9th piece. "Whether it will ultimately be remembered as 'a good idea' and 'a positive step forward' or 'a public health calamity' will take some time to discern."
Pittsburgh soccer media revised 2020 USL Championship predictions
---
July 13, 2020: Hounds crash Louisville's New Stadium Party with 3-1 win 
"Once the Hounds got to the locker room, there was no doubt Lilley seized the moment to tell his players that in this first game back from a long layoff, even a team as good as Louisville City is not going to be sharp playing the ball out of the back. He wanted them to press, and press hard especially at the outset of the second half when the Hounds had all the moment."
"Sure enough, (Ropapa) Mensah led the charge, had two takeaways that led to goals."
"Louisville never recovered.  The Hounds locked things down — as one of the commentators during the ESPN 2 broadcast said, Pittsburgh put on a clinic in defending with a lead," wrote John Krysinsky in his first Takeaways/Player Grades of the 2020 season.
Takeaways/Player Grades: High-pressing Hounds crash Louisville's new stadium party
"We have things to work on this week to get better, but it was a gutsy performance and a collective performance," Bob Lilley, Riverhounds Head Coach, said.
"I thought we did an effective job managing the game once we got the two-goal lead. We didn't give a ton of clear-cut chances and we made it hard for them. In the second half, I'm really proud of how they responded to get in front and bring home the three points," Lilley said.
---
July 15, 2020: Bob Lilley's weekly Zoom call with media 
"I said on the bus, 'Great win. We can play much better. Louisville will be much better if we get a chance to play them in the playoffs.' This is a one-off game," Lilley stated in his July 15 midweek press conference.
"The most important question I wanted to see answered (at Louisville) was, 'Are you ready to compete?' The first 30 minutes, that wasn't a resounding yes. They were able to get over some of those early jitters and let Louisville know they were in the game. That was important to see. Hopefully it's something we can build on," Lilley added.
"Everyone wore masks on the bus at all times. They wore masks off the bus at any stop. Everyone had their own hand sanitizer bottle," Lilley shared on his team's COVID-19 related protocols for its first match of the season on the road in Kentucky. "We're trying to do the best we can," Lilley said. "We didn't have all the test results when we left for Louisville. That was a bit tricky. You'd like to have all of the results before you travel. Therefore, you know who can play, and if a player tests positive, he can stay home. We finally got the results Saturday night, the night before we played. Fortunately, everything was negative. What can be difficult is how long the test results take to come back. "The tests are taking three, sometimes four days. There's a lot of challenges," Lilley stated. "Throughout the league there are a lot of policies."
"I'm hopeful we can keep the players safe. So far. so good. We're one game in."
---
July 16, 2020: High school programs return to optional workouts  
"It's almost been like breath of fresh air." Jordan Wiegand, boys head coach at Pine-Richland, said.
"That's the best way to describe it. Finally nice to get out there. They're (student-athletes) are back with family. It's great for morale. They're very happy. There's a lot of joy for them being back around the game."
"It's been challenging," Wiegand explained. "I never would go a week without seeing some of the guys.  At first, I was doing some things virtually.  It was different.  Now, that they're back, we're able to get into sessions where they can work on fitness and technical training."
"It's the first time we've been able to get together in a long time. We had to have waivers signed. Can only have limited groups, but the kids were excited to get together. It's been good for them to get on the field. It's almost like back-to-normal," Rafal Kolankowski, Plum boys head coach said. "They've been cooped up since March. We can be together now. We can play now. It was nice to see everyone, that's for sure."
"During the past four months, we haven't been able to do anything through the high school," Tyler Hamstra, Bentworth girls head coach, said. "When the girls finally had a chance to get together on the soccer field, they were so excited to see each other. I was dragging my feet a bit, and gave them extra time during water breaks, and even before practice started, because that was really important."
"They want to get up early — go 6 a.m.'s (training sessions)," exclaimed Hamstra.  "That's the way it used to be. That's a hard wake up for them, but that's way it was when things were operating normally. They're craving that!"
"No one has reservations. Thus far, we've had a great turnout. The girls are hungry to get back. They're ready to get back.," Hamstra, who is a funeral director in the area, sees no hesitation from a large majority of folks and he believe moving ahead with Fall high school sports as the right thing to do.
"We just always have to pretend that everything's dirty. Sanitize everything. Be Smart. Never think anything can be nothing.  Make sure kids and coaches acknowledge that they're always in contact with germs.  Protect our immune system. Limit touching everything. The club (soccer) programs have been doing it earlier during the pandemic," Hamstra said. "Everything I've seen — everyone is doing everything the right way. Checking temperatures. Asking questions. I feel good about everything."
"It's definitely going to be different," Kolankowski admitted when discussing what things will be like when games resume. "Everyone will wear mask that sits on bench. The coaches will be wearing masks. This is changing the way we do everything. Once kids get used to it. It should work out, but they're kids and it's going to tough to keep them social distancing and making sure they're following all the protocols."
"Unfortunately this is what's been handed to us," Wiegand said. "We'll have to keep safety first. We'll be proactive and do everything we can to protect ourselves."
"We can't live in a bubble. Everything else is not super scary," Hamstra proclaimed.
"As long as stay vigilant, we can get through this."
---
July 19, 2020 – Hounds pick apart overwhelmed Phila Union II, 6-0 
"While it didn't seem like they played with a great sense of urgency, but they were confident, organized and ready to force its opponent into making mistakes and make them pay most times. Even as Axel Picazo and Zach Zandi found a few opportunities to deliver shot attempts in the early going, one that had to be turned away by Tomas Gomez, it was clear Pittsburgh would dictate terms of the match."
"It wasn't even close," John Krysinsky summed up the match in his post-game analysis.
"We have to feel it," Union II head coach Sven Gartung said on a Zoom call with media afterwards. "Zero six looks ugly and I wish we could have avoided it, but it is what it is. We have to use the young players."
---
July 22, 2020 – Empty Highmark Stadium, Hounds get prime time audience, but it's Tyler Pasher who shines brightest on night most players kneel for social justice 
"It was wonderful to look across the field when the players were warming up, and see the Paul Child Stand decorated with the Steel Army's TIFO which spelled out PHYSICALLY ABSENT, EMOTIONALLY PRESENT," Pittsburgh Soccer Now.
"We've always felt Highmark was a fortress. I think our turf plays a little bit unique. Our opponents have a difficult time playing there. I don't know if it's a good thing or bad thing that our fans weren't there. At least they didn't have to witness it. It's almost less pressure now that the (team's regular season home winning) streak is broken, but at the same time you always want to win," Jordan Dover said. "It was the first thing I saw when I come out. The main thing that I got from that is I just miss the fans. I miss the energy, I miss the Steel Army. It really makes you value how important your fans are. It helped, but bittersweet."
"What's that saying? We can't stop him, we can only hope to contain him," Bob Lilley shared this sports cliche when talking about Indy Eleven's and former Hound, Tyler Pasher a few days before the match, which would be played on ESPN 2.
"This clash-of-titans turned out to be a hard-fought, physical affair that appeared to be headed to the record book as a scoreless stalemate. That was the case until a stunning strike in the final, dying moments by the league's top scoring threat, Tyler Pasher, lifted Indy Eleven past his former team, the Riverhounds SC, 1-0," penned John Krysinsky in his post-game analysis.
"I think Bob's done a great job at making all of us flexible. All of our personnel is comfortable with making in-game adjustments and game-to-game adjustments," Dover said of Lilley's tactics to man-mark Pasher most of the match with Dani Rovira. "It took a couple days in training to work through some of the kinks. Danny did a great job on Pasher. We have to make sure we're recovering and in some good areas. Bob does a great job in making sure we're ready to follow unique game plans."
"I think he got it wrong all night," Hounds captain, Kenardo Forbes said of the lopsided number of foul calls that went against the Hounds in a physical match and one where a potential Pittsburgh goal on a Forbes corner was redirected off the crossbar, then down on the goal line but bounced out.
"The way it bounces back out leads me to believe it was in," Matt Gajtka said on Pittsburgh Sports Live following the match.
"I don't think either side played the most elegant soccer. … We didn't quite get where we wanted to be offensively, but we weren't far off," LIlley assessed after the match. "I'm not sure we played well enough in the second half to cement the three points."
players and officials take a knee
before kickoff #PITvIND pic.twitter.com/1Naj6LVCby

— John Krysinsky (@JohnKrysinsky) July 22, 2020
"We're comfortable with that as an organization, that if players feel a certain way, and they want to stand or kneel, that's up to them," Lilley, who wore BLM armband, said after the game about most players taking a knee before the national anthem. "We have a close group. For me, I respect all of our guys to — and they've had the talks. We've let them have their talks and they're comfortable."
"Some coaches kneel; I stand. You know, my dad's military," Lilley added. "I still believe in Black Lives Matter, so to me, it's just everybody doing what you feel comfortable with. … I think you need to be able to think in these times, and still respect everyone's values and opinions and everything else."
"There's plenty of people that are probably kneeling right now that probably haven't really taken full stock of everything that's going on in our world."
"I think it's beautiful to see. We have a platform, and the platform is useless if we're not using it for the right reasons," Dover shared. "We had a meeting as a team and I let everybody know that, we've been playing soccer our whole lives, and it should be important, but at the end of the day it's not the most important thing. This is bigger than us and I think any chance we can speak our minds on social justice or systemic racism. Anything that we could do to help those less privileged than us is something we should do. We've had meetings as a team and some have elected to stand, some have elected to kneel, but we all understand what's going on. The most important thing is that you stand up for what you believe in. I think we just need to continue to fight,"
---
July 28, 2020: Hounds lose second straight to NY Red Bulls II, 2-1  
"They were defeated for the first time in two years at home in the regular season on Pasher's stoppage time heroics, then they allowed another late goal in the 95th minute that bookmarked a sluggish performance four days later in New Jersey," John Krysinsky points out in his post-match analysis of the Hounds 2-1 loss against NY Red Bulls II.
"It's disappointing tonight how we gave up both goals. These shouldn't be goals that we give up. The first one we had our back line back, we had a gap," Lilley said.
"On the penalty kick at the end of the game, we stopped them on the sideline and they played a square ball to the middle of the field and we didn't have our midfielders recovering into good areas."
---
August 1 2020: Bob Lilley Zoom media press conference 
"It's probably fair on the whole, but it's disappointing when you're 2-0 and you have chances to win the next two games. But good teams find a way to win, if you hope to have success in the latter stages of the season," Bob Lilley on whether a 2-2 record is a fair approximation of how the team has played..
"The protocols have been helpful," Lilley shared when responding to a question about how the team has handled the pandemic to that point in the season. "The players are isolated. Even when we played New York, we had to go by their locker room to get to our locker room, but they had barriers to funnel it off. I think every team has tried to separate the (team) areas so there's no cross-contamination. Obviously when we're on the field, they're in close proximity, but we're not coming in close contact with fans anywhere. When we leave, we go straight to the bus. With the testing, we're hoping we can keep our players safe, knock on wood. With five weeks of testing, we haven't had any positive tests yet. Guys have their masks on when they're in the common areas of the hotel and heading to the bus."
---
August 3 2020: Hounds bounce back with 4-0 win vs Phila Union II; Kenardo Forbes surpasses USL Championship's all-time assists record
"I think we can be better. I know the level we can play at defensively and I don't think we played at that level tonight. It needs to be tighter. I'm happy we won, but this is not the night that defines us," The Hounds' veteran coach Bob Lilley made it pretty clear he'll have plenty to nit-pick when he arrives at the Hounds first training session after this win.
"To be honest, I didn't even know about this record until about a week-and-a-half ago. I got an email about the record a week or two ago. I didn't come into the season trying to break the record necessarily," Kenardo Forbes the humble and often soft-spoken team captain who was delivered the game ball admitted when he arrived for his postgame interview.
"It felt good. After losing two in a row, it was great to get a win tonight, but we're looking forward to working harder, getting better and getting ready for next week against New York."
"He's been working very hard, and it shows," Steevan Dos Santos said of his longtime teammate in Rochester and now Pittsburgh. "He reads the game very well, he knows where to be, where to pass the ball. Like he said, we have a connection. He knows where we are going to be and to set us up."
---
August 5, 2020: Hounds re-sign Ray Lee / Lilley Zoom media conference call 
"I just think he's a steady guy. He's a good pro. He can play as a left back, wing back or even a center back in a three-back system. Gives us a little bit of flexibility," Bob Lilley on picking up veteran Ray Lee. "It even allows us to look at Ryan James in some different spots. If Jordan Dover were to go down, James could go to right back and Lee could play left back. It gives us cover and he's a good fit for our system, with how thin we've been. It'll take him a little bit of time to get to his top level. Ray's a good athlete who keeps himself fit, so I know he'll help us sooner rather than later."
---
August 8, 2020: Hounds earn six-point swing win vs NY Red Bulls II, 4-1 
"It was a good win," Bob Lilley beamed to the assembled and dutifully mask-wearing reporters. "We let them off the hook a little in New York (with last week's 2-1 defeat). But I'm really happy with what we did tonight. We knew it wouldn't be easy."
"They knew what was coming. They were prepared. The frenetic and crazy pace still hit the Riverhounds like a ton of bricks, though."  Mark Goodman wrote in his post-game report describing what it's like for the Hounds every time they face NY Red Bulls II.
"When you play Red Bulls II, you kind of know what you're getting right off the bat. But already five minutes into the game, I was already blowing; thinking 'This is intense," Robbie Mertz explained. "There was no 'feeling out' period."
"They're hard to play against, because they create chaos," Lilley added.
---
August 11, 2020: Lilley Week 6 Zoom Conference Call
"We told them today, after this three-game week, we'll be at nine games. We'll likely have to have a little more rotation and rely on the group collectively," Bob Lilley explained. "We're not going to have a lot of prep time between games. We travel to Indy, then Loudoun and then we come home (for Saint Louis on the 22nd). It's a big week for us, because there's only seven games left after that. Our ability to grind out whatever results we can and put our best foot forward is going to be pretty critical."
:Indy plays differently at home. They'll possess more. It's a bigger field at home," Lilley assessed in advance of rematch vs Indy Eleven. "That game against us they wanted to be direct and pick up second balls and get in behind us. You're going to still be dealing with their pace, so we'll have to have an answer for that. Sometimes when there's a threat over the top, it stretches you. Obviously staying compact is important, or we'll be doing a lot of chasing."
---
August 15, 2020: Despite playing up a man, Hounds can't score in 1-0 loss to Indy
"We're down to ten men, we're under pressure," Indy's coach, Martin Rennie, said after the match. "I thought the team did a fantastic job of limiting the chances, stayed organized and made sure that we did the job."
"It's funny how a missed penalty kick can swing confidence and momentum back to the team that was on its heels. The penalty kick stop allowed Indy to recollect themselves, dig down and continue to deny Pittsburgh from stealing any points on the road.  It's quite possible that a 1-1 match, things could have played out differently, and the Hounds could have carried forward with a boost," John Krysinsky wrote in his post-game analysis.
"Sometimes you're not going to convert, but we had 40 minutes a man up. I don't think we put enough pressure on Indy," Hounds Head Coach Bob Lilley said. "I liked the response at the beginning of the second half, but once we got the man up we needed to be more creative. I think we had a chance to turn the game in the second half and we weren't able to take advantage of it."
---
August 17, 2020: Bob Lilley Zoom Conference Call
"Listen, it's disappointing," Bob Lilley on the Hounds latest loss at Indy. "We have three losses at this point. I think all three games we were really, really close. It's finding ways to win those type of games. I'm optimistic with this group because I think all three were not just tie-able, they were winnable. I don't think we've played our best soccer yet."
"We're getting some players back, which is a good sign. Patrick Bunk-Anderson will be training soon. He arrived (Sunday). Albert Dikwa is getting his passport Thursday. We're hoping to have him here this weekend. These guys will need a couple of weeks. They'll have to pass some (COVID-19) tests and get some training."
---
August 19, 2020: Hounds win midweek clash at Loudoun, 2-0 
"Will the real 2020 Riverhounds please stand up?" Mark Goodman asks in his match preview. "Just as I start to formulate a narrative that the high-octane Hounds have found their offensive mojo and shaken off the dull label of being a 'classic Lilleyball' defensively-minded team, they come up empty against 10-man Indy. Who are these guys, anyhow? They score 10 goals in 2 matches against Philadelphia. But they also score 0 goals in two matches against Indianapolis. At times, the midfield of Kenardo Forbes, Robbie Mertz, and Danny Griffin look positively electric. At others, they look clueless and aimless."
"At some point during the second half of the Riverhounds SC victory at Loudoun United, I'll admit, I could have used a little jolt —  a little wake-up call — a little more inspiration," John Krysinsky posted in his game analysis. "Once again, Pittsburgh found itself playing with a man advantage for the second time in as many games. This time, however, you can probably forgive them, as they had a two-goal lead while playing in the middle of a three game in eight day stretch, as they took their foot off the gas and simply found a way to grind out a road win with some pretty decent defense while getting some more players valuable game experience."
"I think Loudoun showed they have the ability to be a dangerous team," head coach Bob Lilley said. "We did better as the game went on. We got two pretty good goals early and that certainly helped. It wasn't an artistic game, but we were able to rest some guys and rotate the squad. It's a good road win. I think we did a good job of coming into a difficult game and coming out with our three points."
"The short turnaround into the Saint Louis game this Saturday will be a challenge. Saint Louis doesn't play tonight. They have a whole week to prepare for our game and we're going to have short rest. It's another important game. There's no question the Saint Louis game on Saturday will be a difficult game for us."
---
August 20, 2020: Pitt men's soccer prepare for a season with high expectations 
---
August 24, 2020: Hounds blow 2-0 lead, settle for draw vs St. Louis FC in weather-delayed match 
I believe I've attended more @RiverhoundsSC games at @highmarkstadium than anyone. I will rank this storm top 3, but I remember at least one that was worse.

— Chris DeVivo (@cdevivo) August 23, 2020
"I told the guys, they have good forwards and many talented guys," Lillley said after the match.
"I told them they were going to come out tough in the second half, and they did."
August 28, 2020:  Hounds share more about life on the road in a pandemic
"The Riverhounds are something akin to soccer-playing monks: they go to training, they come home, they eat, they sleep. Rinse. Repeat. They get tested two to three times a week – a nasal swab they administer themselves, which Thomas describes as "uncomfortable" but also "not that bad." — writes Mark Goodman in his feature: On the road in pandemic USL | Pittsburgh Soccer Now. "The testing is a key component to the health and safety of the team, but their individual and collective behavior is probably more important. Limiting their potential exposure to the virus is critical to the success of the season – but it is also a directive handed down on high from the league."
"Tommy is my roommate, so we usually drive together to training, too." The team's policy is to have apartment roommates serve as hotel roommates too. I joke that Skylar must be sick of all this time with Tommy. Skylar Thomas chuckles and replies, "Nah, I like it." in references to spending a lot of time with roommate, defender Thomas Vancaeyezeele.
"I live at home here in Pittsburgh, so I do not have a roommate on the road," As it was a different story for Robbie Mertz, who lived at home during the 2020 season. Mertz passed time by calling his girlfriend, watching Premier League games, and reading. "I'm spending like 10 hours before the game by myself. It's not the most exciting thing."
"I'm a huge fan of hotel beds. The room's made up so nicely, and the temperature's perfect," Thomas added.
"Those trips are where your team bonds. I have some great memories from last year. But that's not really the case this year." Mertz added that comfy beds aside, the limitations of Covid away-game travel were mostly a drag for the players.
"All the protocols in place, that's all well and good, but the important thing is what people are doing off the field, away from the team. If someone brings something in – we could be doing everything the league wants us to be doing at the stadium to a T and it might not matter because of what happened off the field. I think we all recognize that. We players are a low risk. But at the same time we have a duty to some of the people around us to be disciplined," Mertz explains.
"USL quarantine rules definitely looks different from the average population. We can go to the supermarket. I can go get a haircut. If I need to ship something, I can go to the post office. But that's it," Thomas shared.
"In any other season people have things going on in their lives. But when it comes to playing soccer, a lot of things take over that's automatic. Once the whistle blows – I don't think people look outside the lines," Mertz explained. "I'm not standing there on a corner kick thinking 'Oh, does this guy have Covid?' At the end of the day I would try to score a goal anyway."
"A lot of times when we're on the road, the time to see the place is after the game. We'll go out, get something to eat, see the town a little bit. That's gone now," Mertz added that sampling local culture and taking in the sights was nice, but it's the after-game hang time with his fellow Hounds that Mertz missed the most.
"That's the biggest thing that I'm missing – using those times to bond with my teammates a little more."
(In Part 2, we'll have more from the tension and build-up to the Fall high school season in Western PA and how Pitt men's soccer began its ascension to the top of the national rankings during the pandemic, plus we follow the roller coaster ride of highs and lows for the Riverhounds in September and October)  
Riverhounds MF Danny Griffin
Subscribe to PGH Soccer Now