USL Championship Atlantic Division
FINAL: Tampa Bay Rowdies 3, Pittsburgh Riverhounds SC 0
Summary
It was a rough start to the season for the Riverhounds, falling to the Tampa Bay Rowdies, 3-0, at Al Lang Stadium on Saturday night as an old friend and former Hound, Steeven Dos Santos was instrumental in taking down his former team with the game's first goal and he also set up the second tally by drawing a foul in the box.
The Hounds (0-1-0), struggled for much of the night to generate chances (out shot 13-6 and out possessed 63%/37%) against the reigning Eastern Division Champions.
"It was a good measuring stick for us. You're not going to learn a lot more from a game than we did today," Riverhounds SC Head Coach, Bob Lilley said.  
HOW DID IT HAPPEN
Both teams exchanged possession and physical play in the first half hour,
Tampa Bay's Laurence Wyke putting the first shot on target with a long-range effort in the eighth minute. Pittsburgh came close to breaking the deadlock seven minutes later, however, as newcomer Thomas Williamson's free kick from 25 yards was just tipped over the crossbar by the Rowdies' Evan Louro.
It was Tampa Bay who capitalized first, with former Hounds forward Steevan Dos Santo finishing a terrific cross into the box with a deadly header into the near post side to beat Danny Vitiello. After the Rowdies worked the ball from right to left 30 yards from goal, Leo Fernandes delivered a cross the Cape Verde forward headed home for his first goal in Tampa Bay's colors.
Pittsburgh didn't offer much after Williamson's free kick in the first half, but the San Jose Earthquakes loanee also threatened early in the second half as he redirected a cross from the right by Jordan Dover just off target.
"We needed to connect more passes. We were caught on the dribble too much, and they were quicker in the match. I don't think we played particularly well, and we had a lot of turnovers on the ball. We didn't do good in transition moments, either, getting to the second ball,: Lilley said. "But Tampa was sharp, and we knew they would be coming off a 3-0 win last week against Charlotte. They forced us into a lot of longer-type balls."
Dos Santos continued to haunt his former team, in the 74th minute, by drawing a foul when attempting to play a ball in the box, as Vitiello clipped the veteran from Cape Verde.
To add salt to the Hounds' wound late in the match, the Rowdies added a third goal when there was a miscommunication between Vitiello and center back Mekiel Williams which allowed Jordan Adebayo-Smith to tap into an open net.
For the Hounds, it's back to the drawing board, with 31 games left in the season, they'll draw what positive they can, and move on to the next game.
"I thought our reserves came on and gave us good energy when they came on. We had a couple of good chances in the second half. Tommy (Williamson) made a good run into a very dangerous space, and (Jordan) Dover hit a good cross from the right. Alex Dixon got in behind once for us. For me, being level at halftime or getting level early in the second half, maybe we could get something out of this match. But Tampa was definitely better on the day."
Tampa Bay (2-0-0, 6 points are now sitting atop the Atlantic Division standings, along with Hartford Athletic, who the Hounds will meet next Saturday.
Look for more detailed recap and post match reaction here later in the evening.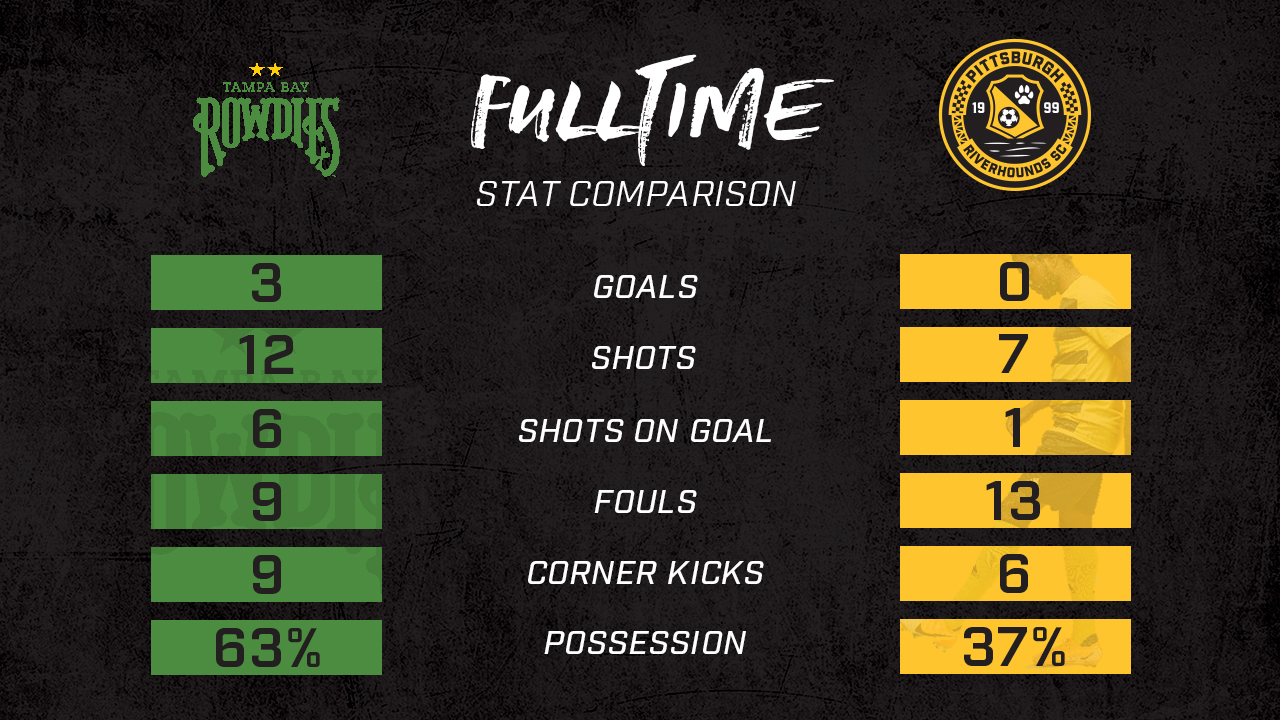 Riverhounds SC lineup (5-2-1-2) — Danny Vitiello; Dani Rovira (Todd Wharton 61'), Preston Kilwien, Shane Wiedt, Mekeil Williams, Jordan Dover; Kenardo Forbes, Danny Griffin; Alex Dixon (Josh Gatt 69'); Tommy Williamson (Louis Pérez 61'), Russell Cicerone (Anthony Velarde 61')
Tampa Bay Rowdies lineup (3-4-3) — Evan Louro; Aaron Guillén, Forrest Lasso, Jordan Scarlett; Lewis Hilton, Conner Antley (Sebastian Dalgaard 70'), Leo Fernandes (Dayonn Harris 83'), Laurence Wyke; Zach Steinberger, Sebastián Guenzatti, Steevan Dos Santos (Jordan Adebayo-Smith 79')
Scoring summary
TBR – Steevan Dos Santos 31' (Leo Fernandes)
TBR – Sebastián Guenzatti 75' (pen.)
TBR – Jordan Adebayo-Smith 84'
Discipline Summary
PIT – Danny Griffin 11' (unsporting behavior)
PIT – Josh Gatt 76' (unsporting behavior)
Gameday Updates
FINAL: Rowdies 3, Riverhounds 0
89′ — Adebayo-Smith almost scores again getting behind everyone but VItiello with a great save to deny the chip opportunity.
83' Another goal against. 3-0 Rowdies.

I'm currently reading the Wikipedia entry for Cape Verde.

Did you know a leading industry is fish processing?#TBRvPIT #RiverhoundsSC

— Soccer Rabbi (@soccer_rabbi) May 9, 2021
85′ — GOAL — ROWDIES Adebayo-Smith!
Go on young man! Adebayo-Smith with his first goal as a Rowdie. 3-0 pic.twitter.com/3AguyJHMYe

— Tampa Bay Rowdies (@TampaBayRowdies) May 9, 2021
Miscommunication between Vitiello and Williams allows Adebayo-Smith to tap into an open net.
80′ – Hounds whip a corner kick into the box, but Williams is called for handling in the traffic in the six.
75′ — Yellow card – Hounds' Josh Gatt
Told ya 😎 https://t.co/DMxmU63Fqp

— Tampa Bay Rowdies (@TampaBayRowdies) May 9, 2021
75′ — GOAL – Guenzatti buries the PK!!   ROWDIES LEAD 2-0
74′ — PENALTY — GK Vitello takes out Steevan Dos Santos.
69′ — HOUNDS SUB: IN Josh Gatt OUT Alex Dixon.
68′ — Dixon splits the center backs and tries to touch it around the keeper, but Scarlett recovers in time for Tampa to slide and win it away.
62′ – HOUNDS SUBS:  IN – Todd Wharton, Anthony Velarde, Louis Perez OUT – Tommy Williamson, Dani Rovira, Russell Cicerone
47′ – Oh so close! Dover crosses from the right to Williamson, and his effort loops just over the bar!
HALFTIME
We'll leave the halftime comments to Mark..
Well that was … a half.

Really? These are the Riverhounds? Barely any possession and a defense like melted cheese.

Blargh.#TBRvPIT

— Soccer Rabbi (@soccer_rabbi) May 9, 2021
41′ – Dixon has the ball fall to him after a half-cleared corner, but his volley attempt from the 18 sails over the bar.
31′ – GOAL -TAMPA BAY – STEEVAN DOS SANTOS !!
It had to be. The former Hounds forward scores his first goal in @TampaBayRowdies colors in front of the supporters section. #TBRvPIT #TogetherRowdies https://t.co/qFnxa5ZA75

— Nicholas Murray (@NJEMurray) May 9, 2021
Biggest surprise from Hounds starting XI is that Tommy Williamson, first round draft selection of San Jose Earthquakes, will get the start at the top of the attack.
Look for starting lineups to be posted here at approximately 7:15 p.m. EST along with gameday updates.
Here's the Riverhounds first starting XI of the year…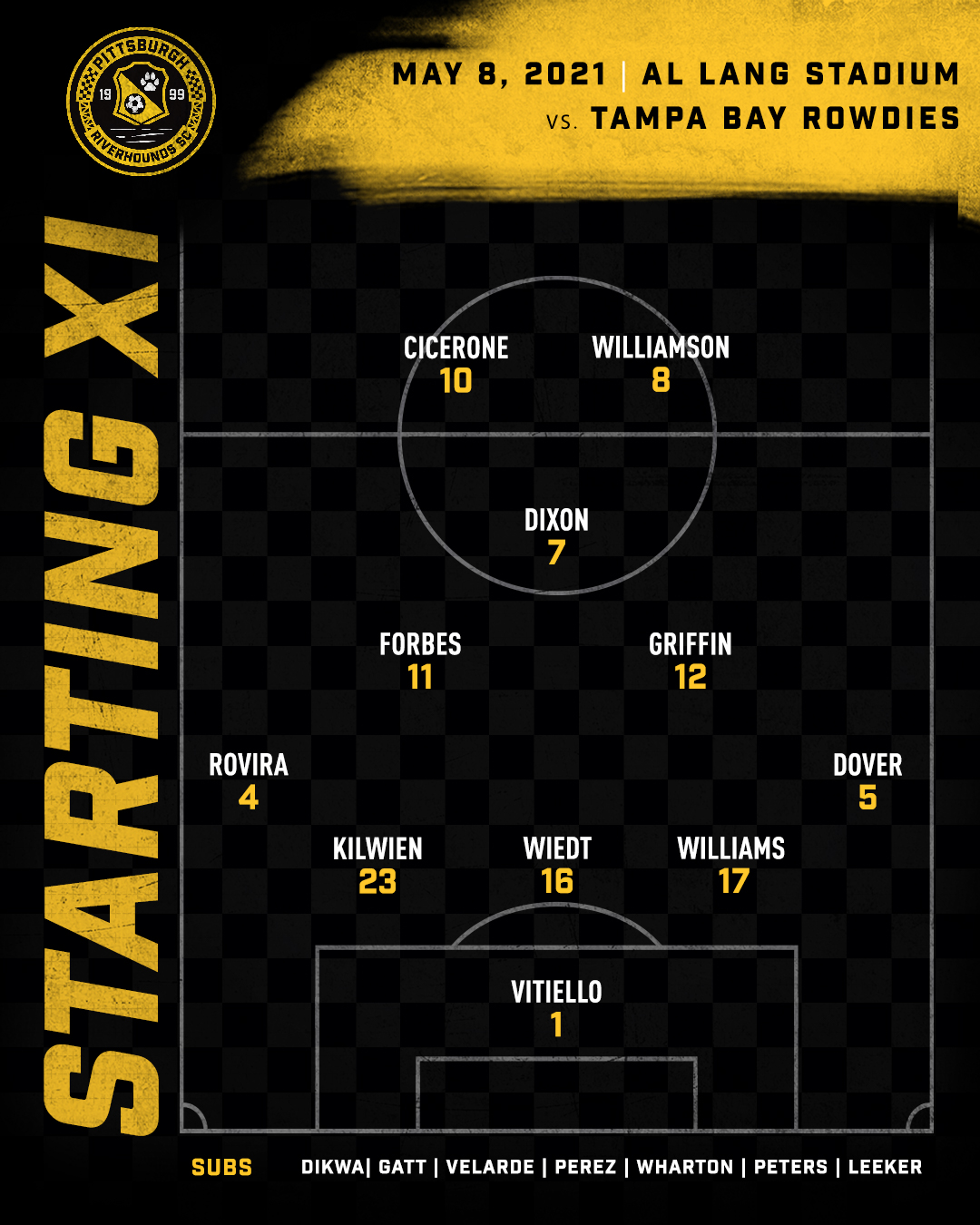 Preview / Top Storylines 
FiveThirtyEight.com Match Predictor: Tampa Bay Rowdies 49%, Pittsburgh Riverhounds SC 24%, Draw 27%
The new season begins (finally!) for the Riverhounds SC on Saturday night at Al Lang Stadium.
It's hard to believe that the Hounds are entering their fourth season under the leadership of Head Coach Bob Lilley.
The Rowdies took a little time to get going in their season opener, but two goals and one assist by Sebastian Guenzatti in the second half eventually smoothed the way for a 3-0 win against the Charlotte Independence last Saturday night.
The victory was the fifth consecutive home opener the Rowdies have claimed since joining the USL Championship in 2017, while it moved Guenzatti to 28 regular season goals since the start of the 2019 campaign for the club. Tampa Bay has never suffered defeat at home to the Hounds – one of its home-opener victories came against Pittsburgh in 2019 – and the hosts will be looking to maintain that record with former Hound Steevan Dos Santos having performed well in his Tampa Bay debut last week.
The Hounds will bring a mix of familiar and new faces to Tampa Bay as it begins the new season, with stalwarts such as 2020 Championship All-League selection Kenardo Forbes and Jordan Dover being joined by a new collection of players after offseason departures from Lilley's squad.
Among the newcomers to Pittsburgh are midfielder Todd Wharton and forward Russell Cicerone, who both played a notable role in helping Saint Louis FC earn a place in the postseason a year ago, while Anthony Velarde also returns after scoring five goals from midfield a season ago. After earning a notable road victory at Louisville City FC to kick off its 2020 campaign, the Hounds will be hoping for another strong debut this time around.
To add to the intrigue, the Hounds will face former topman, Steevan Dos Santos, as both coaches exchanged their thoughts on the veteran forward this week.
This will be the first of four meetings between the two clubs this season, as all division clubs will face each other four times.
Projected Riverhounds Starting XI 
Oh boy this should be interesting.  Probably the most difficult one of the year to predict.
PSN Riverhounds SC Coverage 
Rowdies thankful to have Hounds 'other most talented player' Steevan Dos Santos on their side
Hounds Notebook: Three cornerstones of Lilleyball put to the test with start of new season
USL Championship Atlantic Division Preview: Familiarity breeds contempt
Riverhounds, USL Championship Atlantic Division media predictions (2021)
Riverhounds SC Game Notes 
Pittsburgh Riverhounds SC opens its regular season on the road at Tampa Bay for the second time in the past three seasons. The Hounds lost their 2019 opener at Al Lang Stadium, 2-0.

This is the fourth consecutive season the Hounds have opened on the road, have played at Nashville, Tampa Bay and Louisville to open the past three seasons.

Playing on the road to open the year isn't a new thing for the Hounds, who have opened up on the road in 15 of their previous 21 seasons.

The Hounds are 6-7-8 all-time in season openers, including a 3-6-6 road mark. Things have been better over the past decade, with a 3-2-4 record in openers since 2012.

The Hounds allowed just 10 goals in 16 regular-season matches during 2020, making it the team's best-ever defensive season by both total goals and goals per game. The club's per-

game average was 0.63, which bested the 0.76 goals allowed per game in 2018, which was head coach Bob Lilley's first season in Pittsburgh. The total number of 10 is better than the 20 goals allowed in both 2007 and 2010, both of which were 20-game seasons.

Riverhounds SC also led the USL Championship with eight clean sheets a season ago. Goalkeeper Danny Vitiello recorded five of those en route to winning the USL Championship's Golden Glove award for the lowest goals- against average in the league (0.50).

In 93 all-competition matches under Bob Lilley, the Hounds have allowed just 0.83 goals per game.

The Hounds' all-time series with Tampa Bay pre-dates the joining USL. The clubs' first meeting was a third-round match in the 2015 U.S. Open Cup at Highmark Stadium, which the Hounds won, 1-0, on a 90th-minute Rob Vincent goal.

Recent history in the series has not been as kind to the Hounds, who are 0-2-3 in their last five meetings with the Rowdies.

The Hounds are 0-1-2 all-time at Al Lang Stadium.

Midfielder Anthony Velarde is the Hounds' top returning scorer from a season ago with five goals, while newcomer Alex Dixon scored six for Hartford Athletic, the best 2020 total in

USL for any current Hounds player.

Midfielder Kenardo Forbes, the USL Championship's all-time assists leader, led the Hounds in that category a year ago with eight.
Sounding Off on Soccer: Riverhounds Road Woes
Subscribe to PGH Soccer Now