On Saturday, the Riverhounds SC started off its season on the wrong foot, losing 3-0 to the Tampa Bay Rowdies on Saturday night.
For the second time in three seasons, Pittsburgh began its season with an erratic performance in the Sunshine City.
To rub a bit of salt into the wound, the Hounds had to contend against a strong performance from a former player who they opted not to re-sign in the off season, Steeven Dos Santos, as Head Coach Bob Lilley was looking to reshape their attacking personnel.
For the Hounds, it's one of 31 games, as they'll turn the page as they look to get back on track.
After returning from Florida, the Hounds got right back to work on Monday with back-to-back intense training sessions, prior to getting the day off Wednesday, as they now prepare to face another team in the Atlantic Division who has looked good early in the season: Hartford Athletic.
On Tuesday, after their training session, Bob Lilley held his weekly Zoom media call.
Here are some of the highlights.
Highlights from Bob Lilley's Weekly Media Zoom Call 
What he learned about his team in the match against Tampa Bay… 
"I thought Tampa played well, and we weren't very sharp. We were hoping to play through the lines, but they did a good job of defending, and we settled for too many long balls.  We need to tighten up the lines.  That goes for both ways, both in the attack and defensively.  We gave away a lot of possession.  We have to be able to pass the ball around. We spent way too much time chasing."
"The defense was pretty good in the first half.  The chance they had was on Steevan (Dos Santos)'s goal.  That was tough.  Instead of going to half 0-0, we were down 1-0.  Our response early in the second half was good.  Our subs came on and made a positive difference.  We had some good looks.  But we ran out of gas at the end.  A big part of that was we didn't have enough of the ball. When you're out-possessed by 65/35 margin, it's going to show at some point."
"We have to get the outside backs involved more, release them more.  I know we had Jordan Cicerone, Alex Dixon and Tommy Williamson higher up, but we weren't moving through the lines well enough.  We've addressed this already in practice this week. I feel like we had a good preseason.  It was a tough task. We played, we were right in it for 75 minutes. Still, have to acknowledge that we were outplayed.  It's clear, we have a lot of work to do."
"The guys have gotten back to work. They're engaged. That's a positive thing. The players have come back with resolve in training the past couple of days."
"We now have another chance to get things right.  We'll be facing Hartford. They're also 2-0. They've had a good start.  This will be a big game.  We've love to grab a little bit of momentum as we head toward our home opener (on May 22).  That'll give us a chance to move up in the standings."
Thoughts on facing Hartford… 
"They've had a lot of changes. A new coach. They've made some good acquisitions.  They grew a lot as a club last year. Now, how they're playing this year is different than last year.  They're really trying to play on the front foot.  This is his first pro job.  Doing the right things."
Approach and addressing the team after losses…
"We always talk about it. We've had some good teams here, but there are always going to be ups and downs in every season. Generally, the top teams avoid losing streaks.  Once you lose, there has to be a response. If you begin losing, it could affect team culture. It could be a negative things.  Look there's always pressure. Some games, things aren't going to go your way. There are bad bounces, injuries. Some ones are more difficult than others."
"it's important to talk to the group. Sometimes you have to dig deeper, work harder.  And there are times you have to get on the guys more."
"The guys are disappointed. They want to get right back. Want to be in contention in the Atlantic, what is it, Atlantic Conference?  Atlantic Division! They know Hartford is 2-0.  They don't want to fall too far behind. There's a little bit added stakes. '
On his process of making gameday selections… 
"We're pretty healthy, so I don't anticipate a lot of changes.  (Albert) Dikwa would definitely be in the mix, but he took a knock in Indy, and didn't play a lot of minutes (in the final preseason game) vs Phily (Union II). It's been a challenge. He practiced some last week but was in and out of training, dealing with back spasms. If he's fully healthy, I expect him to be in there."
"We didn't perform well (at Tampa).  Sometimes you're forced to make changes due to injuries or you want to freshen things up. Then you could make some changes.  I could see tactics changing a bit, but I think we've had a full preseason to evaluate and prepare a lineup we like.  I think a rotation will happen at some point, especially when we have fixture congestion.  We don't have any fixture congestion yet."
"I want to see how we respond, with this group. Sometimes, I can be a tinker, but sometimes you're better off being patient.  I've talked early in the week, with (Assistant Coach Dan) Visser and our staff, don't change too much for the sake of change.  We just have to put out a better performance in Hartford."
What stood out about San Jose Earthquakes' loanee Tommy Williamson that he was called upon to start in the opener… 
"He's always active. He has good movement. Scored a great goal against Philly.  He's still getting comfortable with the guys.  He's been dangerous on free kicks I am very happy to have the choices we have up front."
"Albert (Dikwa)'s health was a factor, but we really like what Tommy brings.  He's here and very much part of our group and can help us."
Cliff Notes from Saturday's loss 
There wasn't enough time to do a stand-alone tactical and post-match analysis for Saturday's match on PSN this week, but once Pitt's remarkable run in the NCAA tournament is behind us, I'll be getting back into it.
For now, we'll use this space to take a look though at how the Hounds lined up on Saturday and provide some of the most glaring takeaways.  As mentioned on our gameday blog, the biggest surprise in the lineup was seeing that Tommy Williamson would get the start as the Hounds central forward.
Lilley stayed true to going with a three center back alignment, with Shane Wiedt as the man in the middle.
When Lilley said the Hounds didn't have enough of the ball, boy, he wasn't kidding. Tampa nearly doubled the number of passes in the match (570-324).  Beyond the possession numbers, none of the other team stats stood out in the match, except one other indicator that the Hounds were outplayed, and that's in duels.  Tampa held a 56%-44% edge in duels success (58/42 in the air).
Bob Lilley coached teams don't usually lose the duels battles so that's an area to look for marked improvement, as the Hounds were a step behind a very, very sharp Tampa team on Saturday.
In contrast to a year ago, when Thomas Vancaeyezeele handled most of the touches playing the ball out of the back, the three center backs shared the load evenly (each had 46 passes — go figure!?) and opted to play it short most of the time, though to echo Lilley's concerns, they did combine to send 31 long balls.
Another concerning number was none of the Hounds midfielders or defenders passing accuracy were over 80%.  If you go back and look at when they've played their best in recent years, Jordan Dover, Kenardo Forbes, Robbie Mertz, Danny Griffin were usually over the 80% mark and sometimes in 90% range.
The midfield and the wingers simply didn't have enough of the ball and they didn't connect enough passes with each other and the back line. Kenardo Forbes only had 32 passes, a very low number for him, along with Danny Griffin (30) and Anthony Velarde (7), were just not involved enough and were spending too much time chasing.
Same goes for the wingers, Jordan Dover (29 total passes) and Dani Rovira (7).   Dover and Forbes were the most involved with attempted crosses (Forbes with 5, Dover with 3).
The sharpest midfielder in terms of work rate and accurate passing was sub Todd Wharton, who connected on all five of his passes, won all three of his duels and won a foul.  Former St. Louis FC and Portland Timbers 2 midfielder was solid on the ball and gave the Hounds a little bit of a lift in the middle of the field when he entered the match.
For all the excitement about the Hounds forwards, they were just not involved enough. Russell CIccerone had just two passes in 62 minutes. The best chances the Hounds generated came from Williamson's free kick in the first half (forced a save) and Dover's cross to Williamson that nearly connected. Alex Dixon got behind the Rowdies back line on one burst in the second half, but Tampa's defenders recovered well to deny a shot opportunity.
As Lilley said Tuesday, they'll get to face each team in the Atlantic Division four times, and they're looking forward to getting another shot at the Rowdies.  In the meantime, the Hounds will turn the page, head to Hartford looking to be on the ball a lot more and get their play makers, Kenardo Forbes, Danny Griffin and Jordan Dover a bit more involved.
Don't expect wholesale changes to the lineup, as Lilley is going to stay the course with the core of this group and believes in what they're trying to do. It just might take some time for them to gel.  As he mentioned, if Dikwa is fully healthy, we'll probably expect to see him in the starting spot at the top of the attack.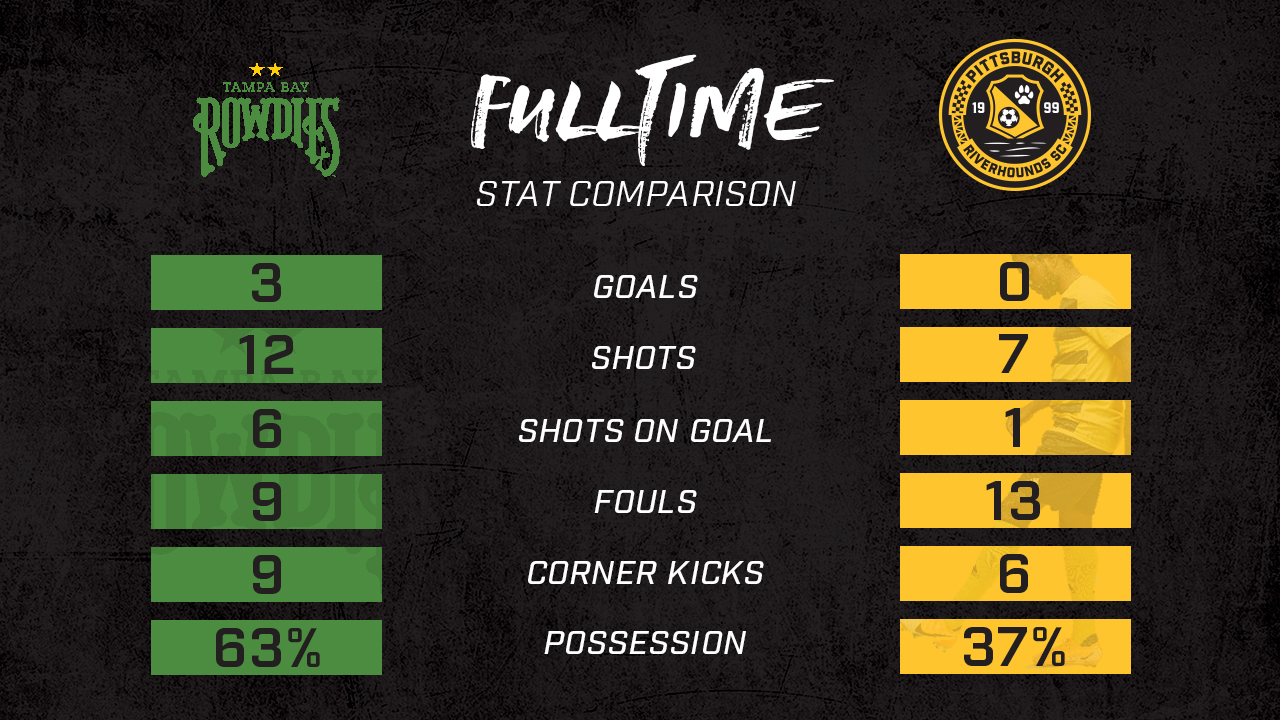 Montour Junction site update? 
Back in 2019, the Riverhounds organization and Allegheny Health Network came together to make an announcement that they would be building a soccer complex and Sports Medicine facility, which would include 10 fields, an indoor field and training complex for the pro team.
In the initial announcement, the club and AHN targeted 2021 for the completion date on the project.  A few times this Winter, when driving by the site of the project, there were no signs of any additional groundbreaking or work being done.
For those wondering what was going to be happening with the Montour Complex, the Hounds' new president, Vic Gregovits, mentioned in USL Championship.com article, that the plan is moving forward, although it's a bit behind schedule.
Gregovits talked about the chance to come back to his native Pittsburgh to be part of the continued growth of the Riverhounds organization.
"I viewed it as a great opportunity to continue to elevate and grow," said Gregovits.
"There's multiple parts to that, obviously. Bob on the field has done a great job in the four years that he's been here with a playoff team and attendance is on the rise at Highmark Stadium, the academy is going very well, and we're also in the process of building the Montour complex, which will have 10 fields, it will be a sports medicine facility for our healthcare partner, Allegheny Health Network."
PSN is looking forward to connecting with Gregovits in the coming weeks to dig a bit deeper into some of these key topics.
Riverhounds MF Danny Griffin
Subscribe to PGH Soccer Now