USL Championship 
FINAL: Austin Bold FC 1, Riverhounds SC 0
Match Summary 
In yet another home match with the Riverhounds SC holding huge advantages in possession, they couldn't break through in the final third to create enough quality chances, losing to the Austin Bold FC, 1-0 on a warm Sunday evening at Highmark Stadium.
With the loss, Pittsburgh drops to 2-3-1 overall record for the season.
"You learn a lot in losses," Lilley said. "We're a bit in the woods right now. We're going to have to dig down deeper.  Everyone's going to have to be better."
Despite surrendering an early goal, just 53 seconds into the match, Pittsburgh owned 74 percent of possession, but came up short in being dynamic in the final third (only one shot on goal — coming late in the second half).
"I don't think we had enough fight. We didn't play with enough urgency," Lilley said. "We have to be more tenacious as a group. We're not winning loose balls. We can't be playing extra cautious. Until that changes, it will be difficult to get results."
HOW IT HAPPENED 
The Bold didn't waste any time taking advantage of space conceded by the Hounds in the very first minute of the match, as Collin Fernandez had plenty of room to shoot from the top of the box, stunning the home side with a strike that found its way into the right side of goal.
Austin's @cfer97 wastes no time 🔥#PITvATX | @AustinBoldFC pic.twitter.com/xdGFGWuye6

— USL Championship (@USLChampionship) June 6, 2021
Following the early goal, the Hounds held a huge possession edge (77%) but couldn't break through for a goal in the first half with only three shots, five crosses and one corner kick.
Austin's flying start arrived after a ball forward came to Ates Diouf, who lifted a short pass to Sean Okoli before the former Championship Golden Boot-winner flicked a pass centrally for Collin Fernandez to rifle home a first-time finish into the bottom left corner of the net after 53 seconds. The goal was the fastest in Bold FC's history and settled the visitors in well as they limited the hosts from any clear chances in the early going.
Pittsburgh's first half-chance came midway through the first half as Jordan Dover got into the right side of the penalty area to deliver a looping cross that Albert Dikwa was unable to put on target at the back post, while Austin tried to catch out the hosts in the 27th minute as Omar Gordon tried an ambitious effort from distance on a counterattack that was comfortably dealt with by Hounds goalkeeper Danny Vitiello.
Bold FC carried its lead into the second half, where neither side was able to create much in the way of clear chances. It wasn't until 10 minutes to go that the Hounds threatened an equalizer as Thomas Williamson sent a curling shot from 20 yards on target that was saved by Austin goalkeeper Elliot Pannico. The effort appeared to spark something for the hosts as moments later Dover delivered a cross from the right for Russell Cicerone that the halftime substitute couldn't put on target.
Cicerone went close again with two minutes to go as he was first to a free kick by Kenardo Forbes from the right delivered to the near post, only for his header to go wide of the left post. That proved the final chance to level for the hosts, however, as Austin claimed its first road win of the season.
In the second half, Pittsburgh continued to have trouble solving Austin's well-fortified effort to put everyone in the box.  Pittsburgh brought more crosses, set up more corners but could only muster one quality shot attempt on frame when Tommy WIlliamson broke to the edge of the box, sending a bending shot which was saved by Austin's Eliott Panicco.
The match ended with Pittsburgh holding a decisive edge in possession (74/26) and crosses (23-7), as well in shots (10-4, but Austin had three on target to Hounds' one) and corners (5-2).
Pittsburgh Riverhounds SC lineup (3-4-3) — Danny Vitiello; Preston Kilwien (Todd Wharton 65'), Shane Wiedt, Mekeil Williams; Dani Rovira (Anthony Velarde 65'), Kenardo Forbes, Danny Griffin, Jordan Dover; Louis Perez (Russell Cicerone 45'), Albert Dikwa (Tommy Williamson 65'), Alex Dixon
Austin Bold FC lineup (4-4-2) — Elliot Panicco; Nick Hinds, Gustavo Rissi, Fabien Garcia, Amobi Okugo (Jermaine Taylor 86′); Omar Gordon (JJ Johnson 77'), Collin Fernandez (Omar Ciss 77'), Xavi Baez, Emilio Ycaza, Ates Diouf (Stefano Pinho 67'); Sean Okoli (Aldo Quintanilla 77')
Gameday Updates 
After the match, Hounds Head Coach Bob Lilley kept his players on the field for more than 20 minutes.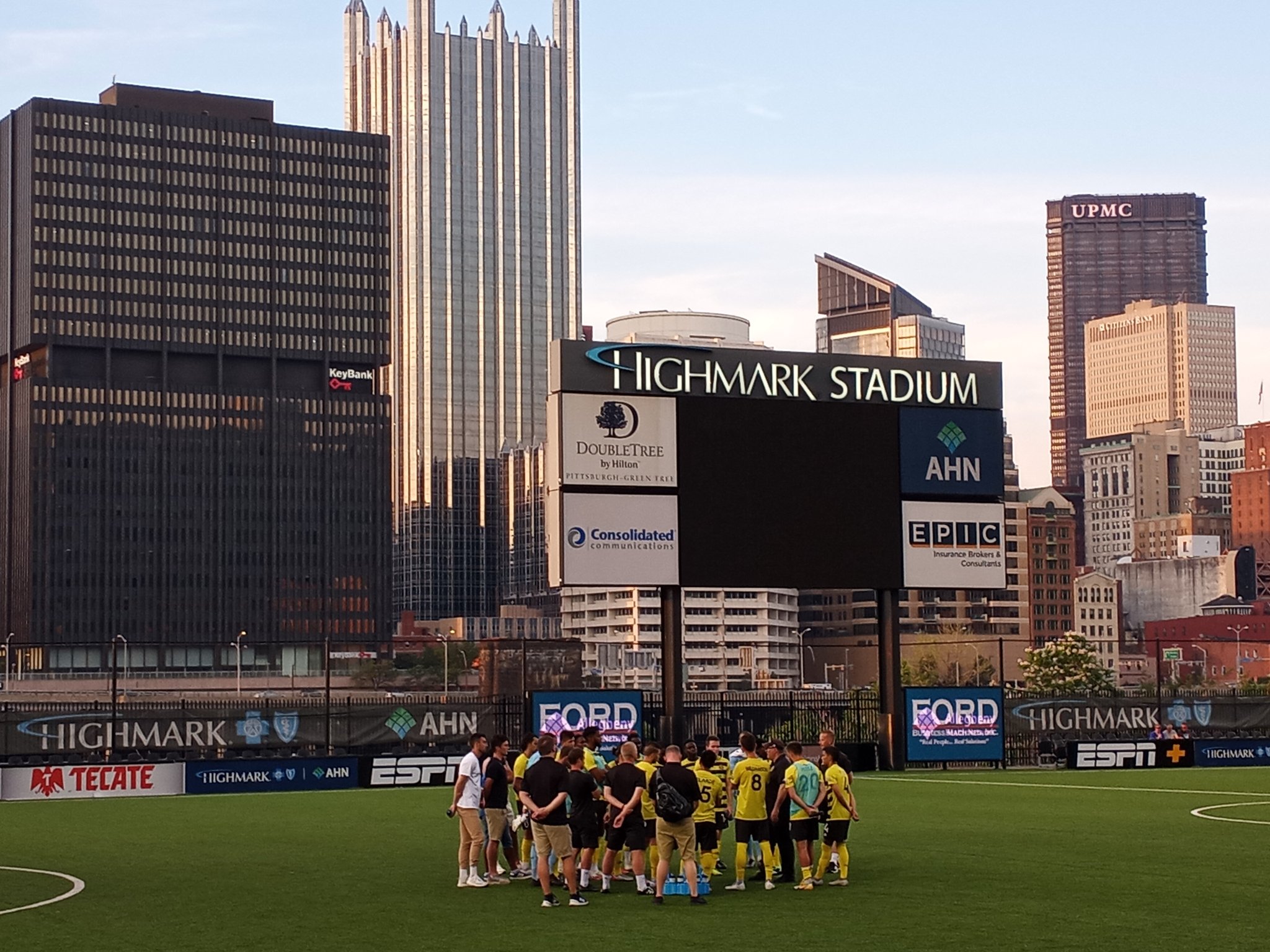 Final – Riverhounds don't get anything going in the final 5 minutes until the last second, Forbes plays a beauty of a ball into Velarde who collides with the keeper. Unfortunately, for the Riverhounds, the luck wasn't on their side and Velarde couldn't get it in. But, he shows a sign of sportsmanship, picking up the keeper Panicco, who punts it away and the whistle blows.
90′ – Minimum 5 minutes of stoppage time added.
87′ – JJ Johnson receives a yellow card for a rough tackle. Vital chance here for the Riverhounds with a free kick just outside the box. Only so many of these left.
86′ – Veteran defender, Jermaine Taylor comes in for Amobi Okugo. Might be the last sub of the game for both teams.
83′ – Another player injured on the away team. This has been about the fourth time the trainers have come on the field. Players cramping in the hot weather.
80′ – Williamson makes a good run down the line, takes a touch to cut in and curls one on net. Soon after, Cicerone heads one over the bar. This is what the team needs, keep the pressure on.
78′ – 2,500 fans in attendance here starting to get loud. With stoppage time, Pittsburgh has about 15 minutes to at least earn a point. This is their first game against a western conference opponent since 2015.
73′ – Yellow card given to ATX #15 Amobi Okugo. Aldo Quintanilla, Omar Ciss, JJ Johnson, and Stefano Pinho enter the match as subs.
71′ – Free kick chance for ATX about 40 out. Great grab from Vitiello. He gets interfered with and the fans aren't happy about it.
66′ – Both teams make some substitutions. Williamson, Velarde and Wharton go in for Dikwa, Rovira and Kilwien. On the other side, Stefano Pinho goes in for Ates Diouf.
Wiedt now at the RCB and Williamson in the center, with Wharton at LCB. Velarde at left wing, and Williamson now the striker.
63′ – ATX has spent more time this half in the Hounds side more than last half.
58′ – Routine save for Elliot Panicco. Not too many high dangerous chances for the Hounds, even with over 75% possession.
55′ – Ferenandez the lone goal scorer takes the opposing teams corner kick. He puts it in back post but no one there.
53′ – Rovira turns the ball over inside the box, in what would've been a prime opportunity for Pittsburgh.
51′ – Forbes takes two corner kicks but both lead to nothing. Game continues…
48′ – Mekeil Williams gets a yellow card with a hard tackle at the corner of the 18. Free kick for ATX is crossed in on target but cleared out well by Shane Wiedt.
45′ – Second half about to begin. Russell Cicerone enters the match for the Hounds, in for Louis Perez. Cicerone has 3 goals on the year so far. The offensive boost the team just might needs.
Halftime, and we're down by the early goal. 45 more minutes await.#UNLEASH #PITvATX pic.twitter.com/BoPdcEpspT

— Pittsburgh Riverhounds SC (@RiverhoundsSC) June 6, 2021
Halftime – Score remains PIT 0 – ATX 1. With Austin Bold just sitting back in a 4-5-1, it is basically impossible for the Riverhounds to get some sort of odd man rush going. ATX only pushing Owayne Gordon offensively. Bob Lilley will need to regroup and come out with a plan for the second half. 2 goals at least needed to win this game.
45+2′ – Dixon heads one up to Perez who heads it directly to the keepers hands, but its offsides anyways.
45′ – 3 minutes of stoppage time added.
39′ – Forbes and Dover have a miscommunication as Forbes wanted him to make a run but he didn't. The captain taking on some leadership and explaining to Dover what he wants to get this game tied up.
35′ – First corner kick of the game goes to the Riverhounds. Perez crosses it in back post but no one can convert.
30′ – Free kick opportunity for the away team but the Riverhounds clear. Hydration break here now at Highmark stadium. 85 degrees out and sunny.
27′ – Owayne Gordon with a volley attempt, but a save. Going the other way is Danny Griffin called offside from a through ball pass from Dikwa.
25′ – Jordan Dover called offside. Austin Bold is clearly just packing it in. They got their goal and will stay back and play it safe. Maybe Forbes and Griffin can start pushing up and create something. They have stayed in front of the backline all game.
22′ – Forbes has an opportunity to take a shot with his left foot, but not being his strong foot he was patient and gets taken down outside the 18. Danny Griffin continued play and the ball goes out for a goal kick. If Forbes is a lefty then he probably takes the shot there.
20′ – The captain of Austin Bold, Xavi Baez takes a shot from around 30 out but not much power on it. Easy save on target for Vitiello.
15′ – Riverhounds dominating in possession, over 70%. They're passing the ball around well but need to get dynamic. Time for a forward to try and dribble by a guy and take a chance.
11′ – Nick Hinds on Austin Bold goes down on the field. Looks to be cramping or having some sort of leg issue. Trainer is on the field. He's their Left Back (LB).
10′ – ATX makes a bad giveaway and the Hounds almost take advantage as Dikwa almost got by the defense.
7′ – Riverhounds gaining some possession here now after giving up the early goal. Team is pushing Perez, Dixon and Dover out wide.
Austin's @cfer97 wastes no time 🔥#PITvATX | @AustinBoldFC pic.twitter.com/xdGFGWuye6

— USL Championship (@USLChampionship) June 6, 2021
2′ – Early goal for the away team. The Riverhounds backline fails to clear the ball and Collin Fernandez puts in a shot just outside the 18 into the bottom right corner past Vitiello. PIT 0 – ATX 1
1′ – Kickoff! Beautiful day for a game on a Sunday. Good amount of supportive fans here at Highmark.
Your first Sunday Starting XI since 2016!#UNLEASH #PITvATX pic.twitter.com/vpbXHPzfY8

— Pittsburgh Riverhounds SC (@RiverhoundsSC) June 6, 2021
𝙏𝙊𝙉𝙄𝙂𝙃𝙏'𝙎 𝙎𝙏𝘼𝙍𝙏𝙄𝙉𝙂 𝙓𝙄 𝙁𝙊𝙍 𝙔𝙊𝙐𝙍 𝙉𝙀𝙄𝙂𝙃𝘽𝙊𝙍𝙃𝙊𝙊𝘿 𝙎𝙊𝘾𝘾𝙀𝙍 𝘾𝙇𝙐𝘽@_aldoqm and @AtesDiouf are amongst the changes from last Thursday#PITvATX #DaleBold #KeepAustinBold

— Austin Bold FC (@AustinBoldFC) June 6, 2021
Look for line-ups to be posted here along with in-game updates and post-game reaction. 
PSN Coverage / Preview 
Last time out, the Hounds (2-2-1) downed Loudoun United FC, 3-2, despite allowing two second-half goals. Meanwhile, Austin (1-2-1) only logged three shots against El Paso Locomotive FC and ultimately lost 1-0.
Both clubs are coming off short rest, as Austin played Thursday and the Hounds played Wednesday. The Hounds will face several situations like this in the month of June, as the club plays eight matches in the next 32 days.
Sunday's match will be the first meeting between the two clubs, and Pittsburgh's first of two matchups against Western Conference opponents this season.
The last time the Hounds faced off against a current Western Conference team in the USL Championship was against Arizona United (now Phoenix Rising FC) in 2014. Earlier the same year was the last time the Hounds faced a team from Texas, when they hosted the FC Dallas Reserves at Highmark.
A win could put the Hounds as high as second in the Atlantic Division. Although the Hounds haven't been great in home openers, including this year's 1-0 loss to Charlotte, they have been good at bouncing back from those losses. The Hounds haven't lost each of their first two home games to start a season since 2016, when they opened the home schedule with losses to Bob Lilley's Rochester Rhinos and Orlando City B.
Riverhounds Game Notes (Click Here) 
Analysis & Player Grades: Hounds find scoring groove on the road
Hounds Notebook: Quick turnaround brings improved and dangerous Loudoun United
Riverhounds MF Danny Griffin
Subscribe to PGH Soccer Now