ACC Women's Soccer
FINAL: Clemson 2, Pitt 0
Summary
Clemson stayed on the front foot and made the most of its chances to beat No. 19 Pitt, 2-0, in the ACC opener for both teams.
The Tigers scored in the 18th minute when Hal Hershfelt and Makenna Morris connected on some nice one-touch passing to break down Pitt's defenders in the box for the 1-0 lead.
What a combo is RIGHT‼️

MAKENNA MORRIS TO HAL HERSHFELT FOR THE GOAL 😤😤

Tigers lead 1-0 in the first pic.twitter.com/BSH2jLQ5ua

— Clemson Women's Soccer (@clemsonwsoccer) September 17, 2021
Pitt created a few chances, but couldn't convert.
Later in the second half, in the 79th minute, another deep advance by Clemson resulted in a penalty in the box.
Clemson's Megan Bornkamp converted the penalty to give the Tigers a commanding 2-0 lead.
MEGAN BORNKAMP CONVERTS ON THE PK 👊👊

Tigers increase their lead by two here with 10 minutes left in the second half!! pic.twitter.com/fWz58usQMi

— Clemson Women's Soccer (@clemsonwsoccer) September 17, 2021
Clemson ended the match with a 12-6 edge on shots (4-3 in shots on target, but Pitt were effective in working the width at times, setting up four corner kicks, but they were denied each time.
Keeper Hensley Hancuff is COMMANDING the field right now 😤 pic.twitter.com/hAbrEKygFS

— Clemson Women's Soccer (@clemsonwsoccer) September 17, 2021
Next up, Pitt will continue with ACC play as they'll face No. 1 Florida State next Thursday in Talahassee, FL.
Look for a more detailed recap to come later in the evening.
Gameday Updates 
FINAL SCORE: CLEMSON 2, PITT 0
79′ — GOAL – Clemson doubles the lead on Megan Bornkamp penalty kick
78′ — PENALTY on Pitt
HALF — CLEMSON 1, PITT 0
Here's the stats at the break…
| TEAM | Shots | SOG | Saves | Fouls | Corners | OffSides |
| --- | --- | --- | --- | --- | --- | --- |
| PITT | 3 | 1 | 1 | 1 | 0 | 0 |
| CLEMSON | 5 | 2 | 1 | 6 | 1 | 1 |
18′ — Clemson strikes first…
Here's Pitt's starting XI for tonight's match..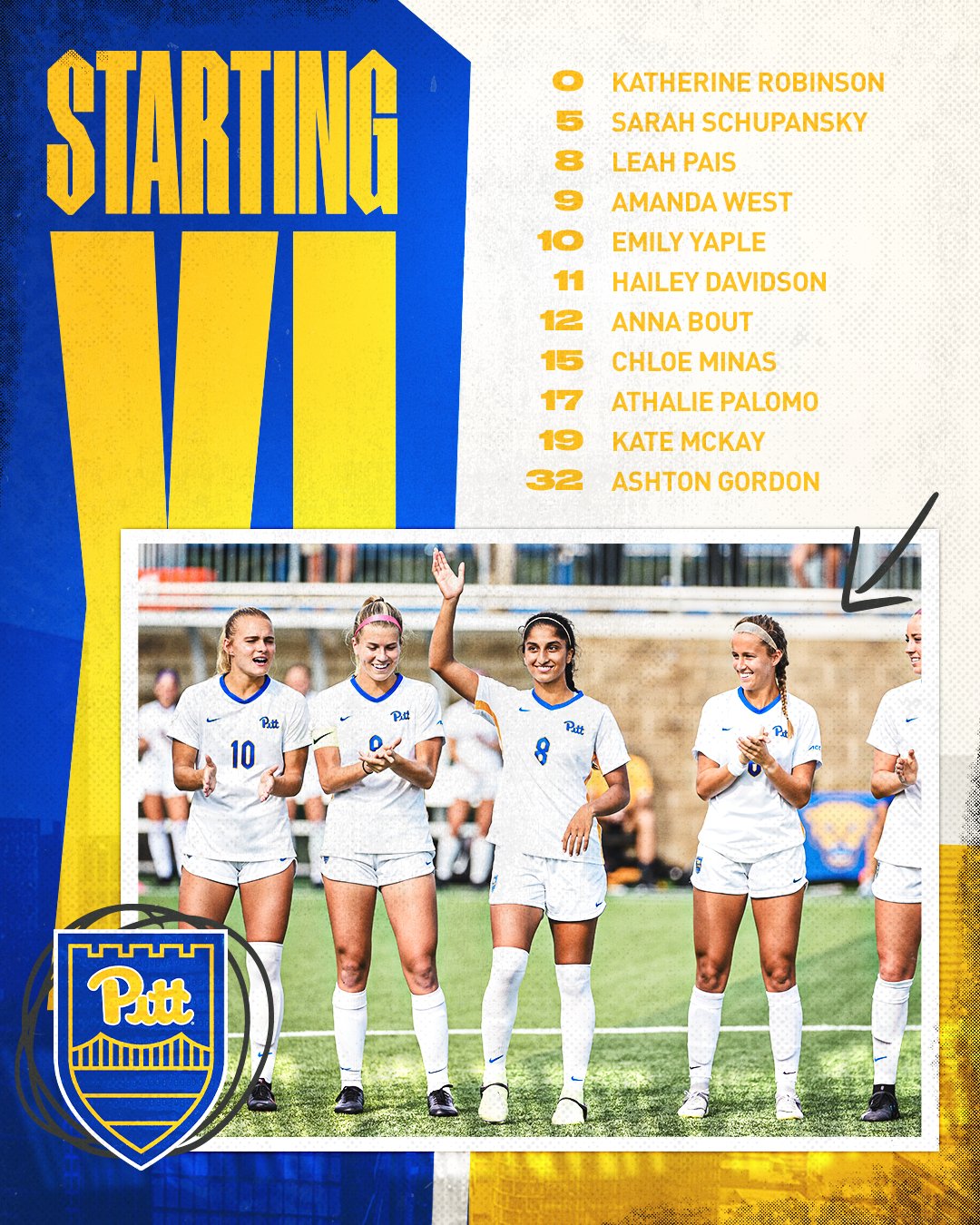 Recent PSN Pitt women's soccer coverage 
Pitt Game Notes 
SCOUTING CLEMSON
The Tigers have won their last three games (College of Charleston 8-0, then-No. 12 South Carolina 2-1 and Gardner-Webb 4-0).
Clemson features one of the nation's most explosive offenses with a pair of 8-0 and 4-0 wins each and ranks nationally second in assists per game (5.14), third in points per game (13.14) and fourth in scoring offense (4.00 goals per game).
Sophomore midfielder Megan Bornkamp ranks second in the ACC and 12th in the nation in points per game (2.43) with a team-high six goals and five assists.
Nobody in the nation has more assists (nine) than senior defender Renee Guion, and freshman forward Renee Lyles (five goals and two assists) and sophomore defender Makenna Morris (four goals and three assists) also have double-digit points.
As of late, senior Hensley Hancuff (4-1-0, 0.97 goals against average and seven saves) and sophomore Halle Mackiewcz (1-1-0, 1.13 goals against average and four saves) have split time in goal.
THE SERIES
Clemson has won all six matchups, each as an ACC contest.
Each game has been decided by one or two goals, with the last two heading into overtime in Clemson.
IN THE POLLS
Pitt is No. 19 in the United Soccer Coaches' Poll with 214 points, which was announced Tuesday.
The Panthers have been ranked in the poll for three-straight weeks (No. 20 the previous two weeks) for their longest stretch in the rankings in program history.
Making their debut in the rankings in the 2021 season last week, the Panthers received the most points (53) outside of the top-25 after the first week of the season.
Pitt is one of five ACC teams in the poll: No. 1 Florida State, No. 2 UNC, No. 4 Duke and No. 7 Virginia with Clemson (62), Notre Dame (10) and Virginia Tech (10) also receiving votes.
Pitt is also tabbed No. 20 in the TopDrawerSoccer Poll, which is the fourth-straight week of being in its rankings (22, 21 and 23 the previous weeks) and No. 21 in the College Soccer News Poll.
The Panthers are ranked for the first time in the College Soccer News Poll at No. 21 after receiving votes outside the top-30 the last two weeks.
Last year, Pitt earned its first ranking in the United Soccer Coaches' Poll in program history, debuting at No. 12 in the first poll of the season on Sept. 22 and then No. 14 in the next week's poll.
The only other time in program history Pitt was ranked was in 2009, selected No. 25 by Soccer America after starting 4-0.
Head coach Randy Waldrum has led five teams to be nationally ranked: Tulsa men's and women's soccer, Baylor and Notre Dame in addition to Pitt.
BOUNCING BACK
After suffering its first loss of the season 1-0 to No. 6 TCU last Sunday at home, Pitt has responded with two-straight home shutouts of 2-0 against Towson and 7-0 over Saint Francis, its biggest home margin of victory in program history with a 7-0 shutout of Saint Francis.
Sarah Schupansky recorded her second collegiate brace against the Tigers, with both coming in the second half.
Schupansky's second goal was a conversion of her first collegiate penalty kick, which she drew after getting tripped in the left side of the box from a pass by Athalie Palomo.
Against the Red Flash, the margin of victory, total points (23), assists (nine), shots (41) were the second-biggest marks for a single-game in program history.

11-1 at Wagner, Sept. 11, 1998: 33 points and 11 assists.
46 shots against Saint Francis, Aug. 21, 2015

The Panthers tied for the second-most goals from a 7-1 win at App State last year on Sept. 13.
The 19 shots on goal were tied for the fourth-most (Robert Morris, Oct. 26, 2001).
The 11 corner kicks tied for the seventh-most (done nine other times).
The four goals in the first half were the most in any half this season.
Emily Harrigan scored the game's first two goals for her first collegiate brace and first goal as a Panther.
Mackenzie Evers scored her first collegiate goal in the 42nd minute, heading in a rebound off a free kick from Krystyna Rytel that hit the crossbar.
HISTORIC OFFENSE
The Panthers have displayed a high-powered offense to start the season with 3+ goals scored in all but two games.
In the nation, Pitt ranks third in assists per game (4.38), sixth in points per game (11.38), 11th in scoring offense (3.50 goals per game), ninth in shots per game (22.12) and 13th in shots on goal per game (10.38).
Almost halfway through the regular season, the team already ranks among the best ever in program history for single-season stats:

First in total assists (35).
Third in points (91).
Tied for fourth in goals (28).
STOUT DEFENSE
While getting attention for its offense, Pitt has featured an impressive defense.
The Panthers have allowed just three goals in eight games this season with an average of 9.5 shots and 3.4 shots on goal per game.
Pitt ranks in the nation sixth in shutout percentage (.750), 11th in goals against average (0.375) and 19th in save percentage (.889).
The team is on pace to set the program record for single-season goals against average (0.57 in 2009).
The squad is tied for the third-most shutouts (six) in a single-season.
HOMETOWN HEROES DEBUT
Freshmen and Pittsburgh locals Ellie Coffield and Sarah Schupansky have made instant impacts to start their careers.
Schupansky became the second Panther to reach double-digit points and now leads the team in goals (six) and points (12).
She is also second in assists (four).
Coffield is third in points (eight) with two goals and four assists.
In the first game of the season, Coffield scored the game-winning goal over Tulsa on her first career shot in the 17th minute with Schupansky getting her first point with the primary assist.
Coffield finished with another assist on the final goal against the Golden Hurricane.
Schupansky has two braces already (Cleveland State and Towson).
Coffield scored her first goal at Ambrose Urbanic Field against NJIT.
Schupansky scored the golden goal at Oklahoma State for her first collegiate goal, notching the game-winner 30 seconds into overtime, and also assisted on the tying goal in the second half to send the game into overtime.
She was named to the TopDrawerSoccer Team of the Week, and is just the third Panther to earn the award (Amanda West and Leah Pais).
Schupansky recorded her first brace against Cleveland State in just 31 minutes played.
THE PROGRAM'S GOAT, AMANDA WEST
In just a little over two years, Amanda West has proven to be the best player in the program's history.
This preseason West became the first Panther to be selected the All-ACC Preseason Team.
To start the season, she earned the first ACC Offensive Player of the Week award.
She scored a goal to break the school record in goals along with an assist in the win over Tulsa and then notched the tying goal in the 3-2 overtime win of then-No. 16 Oklahoma State.
She has been selected for the weekly award in each of three seasons.
She has scored in each of the first four games in all three years and in the first five games the last two seasons.
In season-openers, she has averaged four points per game (seven against Loyola Marymount in 2019, two at App State and three against Tulsa).
With only 38 career games played, she already ranks among the top all-time scorers in program history.

First in points (74), 18 ahead of Roosa Arvas (2012-14).
First in career goals (28), five ahead of Ashley Cuba (2009-12).
Tied for second in assists (18) with Katelyn Ruhe (2008-11) and two behind Arvas.
First in career game-winning goals (10), one ahead of Ashley Habbel (2006-09).
First in career three-points plus games (11), four ahead of Cande Ruiz (1998-01).
First in points per game (1.90) and goals per game (.72).
Sounding Off on Soccer: Riverhounds Road Woes
Subscribe to PGH Soccer Now