ACC Women's Soccer
FINAL: Florida State 5, Pitt 0 
Game Summary
Top ranked and undefeated Florida State scored early in the match, then rolled to a dominant 5-0 victory against Pitt on Thursday night in Tallahassee.
Maria Alagola's goal just three minutes into the match got the Seminoles going.   Clara Robbins and Gianna Mitchell added goals in the 19th and 40th minutes to carry a 3-0 lead into the half.
Pitt's goalkeeper Katherine Robinson made three first half saves, while the Seminoles held an 11-1 edge in shots and 8-0 advantage on corner kick attempts.
The Noles scored immediately at the start of the second half when Kristina Lynch was assisted by Jenna Nighswonger.   Mitchell capped the scoring with her second goal of the night in the 88th minute.
With the win, FSU now improves to 9-0 overall, and 2-0 in the ACC.
Pitt drops to 7-3 overall, and 0-2 in the ACC.
The Panthers will remain in the Sunshine State as they'll return to action with their third straight road match in ACC play when they face MIami (3-5, 0-2 in ACC) in Coral Gables.  Miami also lost on Thursday by a 5-0 score, to Notre Dame.
Gameday Updates 
Look for the starting lineups to be posted here along with in-game updates and highlights.
FINAL: FLA ST 5, PITT 0
2nd half:
Gianna goes airborne!!!

📺: ACC Network#OneTribe pic.twitter.com/zPD5L4MGgo

— FSU Soccer (@FSUSoccer) September 24, 2021
46′ — FSU scores again!  FSU 4, PITT 0
HALFTIME – FSU 3, PITT 0
Completely dominant effort from Florida State in the first 45 minutes — taking a 3-0
Stats don't lie:   FSU with the edge in shots (11-1) and corners (8-0).  Pitt's Katherine Robinson with three saves.
That was quick! Kristina Lynch makes it 4-0!

📺: ACC Network#OneTribe pic.twitter.com/9Grrx4WGPv

— FSU Soccer (@FSUSoccer) September 24, 2021
Just 4️⃣ minutes in and Maria gives the Noles a 1-0 lead!

📺: ACC Network#OneTribe pic.twitter.com/SUfAFhtgBs

— FSU Soccer (@FSUSoccer) September 24, 2021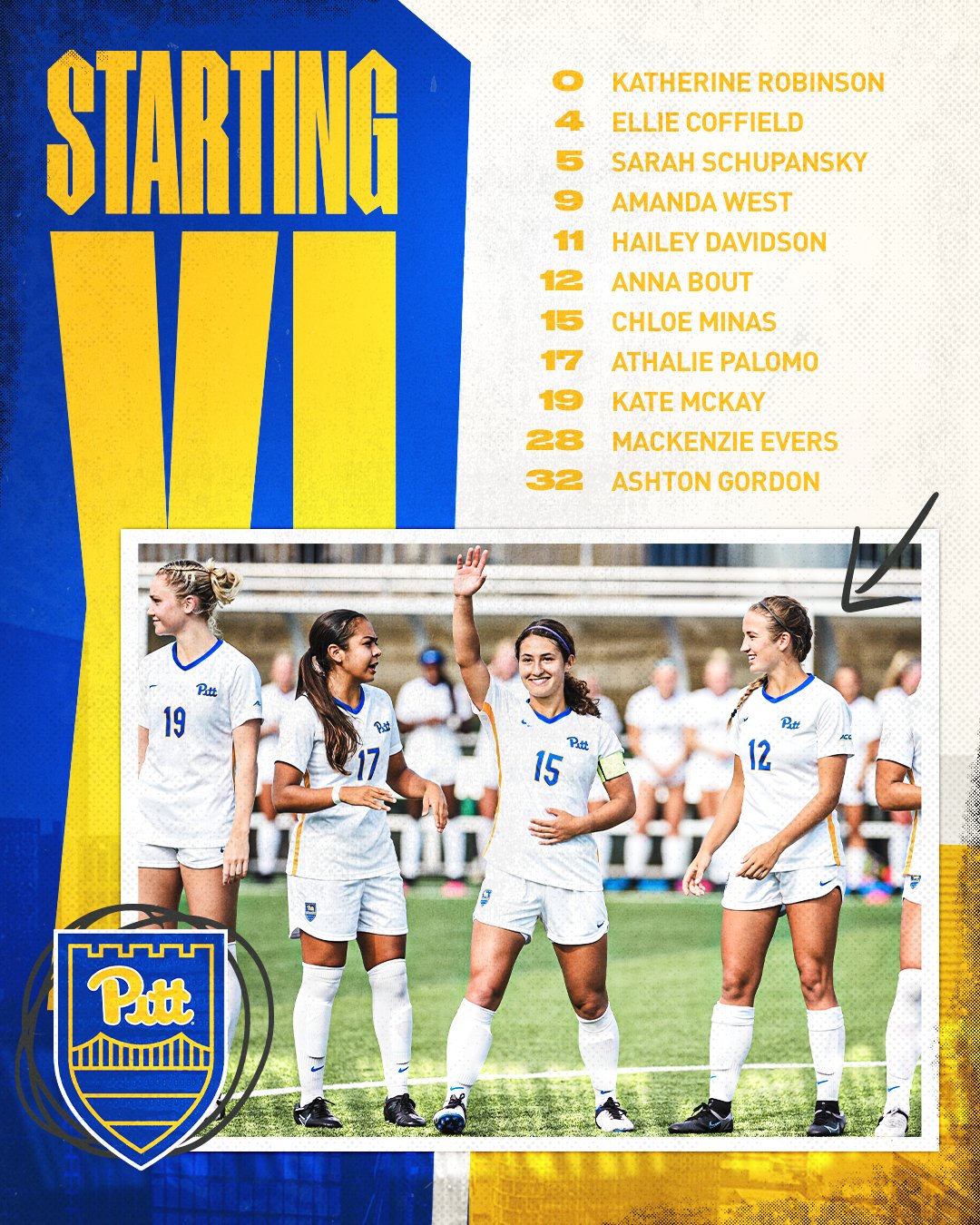 PSN Pitt women's soccer coverage 
Pitt women's soccer ranked 20th in latest United Soccer Coaches poll
Pitt Game Notes
SCOUTING NO. 1 FLORIDA STATE
Returning all but one starter from last year's squad that lost just one game in the College Cup Final in a penalty-kick shootout, FSU has been ranked No. 1 in the nation all season.
The team has outscored opponents 26-5 that includes three road wins and two victories over top-10 teams.
Three United Soccer Coaches All-Americans from last season lead the squad – MAC Hermann Award winner senior midfielder Jaelin Howell (First Team), redshirt-senior midfielder/defender Emily Madril (Second Team) and senior midfielder Yujie Zhao (Third Team).
Sophomore Cristina Roque (0.75 goals against average, two saves and two shutouts) and freshman Mia Justus (0.50 goals against average, three saves and two shutouts) have flip-flopped starts for the full 90 minutes in goal, with Roque picking up the win in FSU's previous game against Boston College (4-1).
THE SERIES
Florida State has won all eight matchups, as the two schools have faced each other every regular season since Pitt joined the ACC for the 2013 season.
FSU has been ranked for all but one game, including three times as No. 2 and another as No. 3.
Last year's matchup featured a 1-1 tie at halftime at Ambrose Urbanic Field, and FSU ran away with three second-half goals.
IN THE POLLS
Pitt is receiving votes in the United Soccer Coaches' Poll, which was announced Tuesday.
The Panthers had been ranked in the poll for the three previous weeks (No. 19 last Tuesday and 20 the previous two weeks) for their longest stretch in the rankings in program history.
Making their debut in the rankings in the 2021 season after the first week of the season, the Panthers received the most points (53) outside of the top-25.
Five ACC teams are in the poll: No. 1 Florida State, No. 2 Duke No. 24 North Carolina, No. 7 Virginia and No. 22 Clemson with Virginia Tech (29) and Notre Dame (13) also receiving votes.
Unranked this week in the TopDrawerSoccer Poll, Pitt was No. 20 in the last edition, which was the fourth-straight week of being in its rankings (22, 21 and 23 the previous weeks).
The Panthers are ranked No. 22 in the College Soccer News Poll.
Last week Pitt was ranked in the poll for the first time at No. 21 after receiving votes outside the top-30 the last two weeks.
Last year, Pitt earned its first ranking in the United Soccer Coaches' Poll in program history, debuting at No. 12 in the first poll of the season on Sept. 22 and then No. 14 in the next week's poll.
The only other time in program history Pitt was ranked was in 2009, selected No. 25 by Soccer America after starting 4-0.
Head coach Randy Waldrum has led five teams to be nationally ranked: Tulsa men's and women's soccer, Baylor and Notre Dame in addition to Pitt.
THE PROGRAM'S GOAT, AMANDA WEST
In just a little over two years, Amanda West has proven to be the best player in the program's history.
This preseason West became the first Panther to be selected the All-ACC Preseason Team.
To start the season, she earned the first ACC Offensive Player of the Week award.
She scored a goal to break the school record in goals along with an assist in the win over Tulsa and then notched the tying goal in the 3-2 overtime win of then-No. 16 Oklahoma State.
She has been selected for the weekly award in each of three seasons.
She has scored in each of the first four games in all three years and in the first five games the last two seasons.
In season-openers, she has averaged four points per game (seven against Loyola Marymount in 2019, two at App State and three against Tulsa).
With only 40 career games played, she already ranks among the top all-time scorers in program history.
First in points (74), 18 ahead of Roosa Arvas (2012-14).
First in career goals (28), five ahead of Ashley Cuba (2009-12).
Tied for second in assists (18) with Katelyn Ruhe (2008-11) and two behind Arvas.
First in career game-winning goals (10), one ahead of Ashley Habbel (2006-09).
First in career three-points plus games (11), four ahead of Cande Ruiz (1998-01).
First in points per game (1.85) and goals per game (.70).
RPI RANKINGS
The first RPI rankings of the season were released Monday, and the Panthers debuted at No. 71 (0.580 value).
The Panthers lone two losses have come to No. 7 TCU and No. 44 Clemson and own a top-100 win at No. 63 Oklahoma State.
With nine ACC contests left, the Panthers have plenty of top-ranked opponents to bump up its RPI ranking with top-25 matchups against No. 1 Duke, No. 2 Florida State, No. 5 North Carolina, No. 23 Virginia Tech, No. 24 Boston College, a top-50 game against No. 39 NC State and a top-100 contest versus Wake Forest.
HISTORIC OFFENSE
The Panthers have displayed a high-powered offense to start the season with 3+ goals scored in all but three games.
In the nation, Pitt ranks third in assists per game (3.89), eighth in points per game (10.11), 16th in scoring offense (3.11 goals per game), 18th in shots per game (20.33), 19th in shots on goal per game (9.56) and 31st in corner kicks per game (7.00).
Almost halfway through the regular season, the team already ranks among the best ever in program history for single-season stats:
o   First in total assists (35).
o   Third in points (91).
o   Tied for fourth in goals (28).
STOUT DEFENSE
While getting attention for its offense, Pitt has featured an impressive defense.
The Panthers have allowed just five goals in nine games this season with an average of 9.8 shots and 3.4 shots on goal allowed per game.
Pitt ranks in the nation 11th in shutout percentage (.667) and 31st in goals against average (0.555).
The team is on pace to set the program record for single-season goals against average (0.57 in 2009).
The squad is tied for the third-most shutouts (six) in a single-season.
HOMETOWN HEROES DEBUT
Freshmen and Pittsburgh locals Ellie Coffield and Sarah Schupansky have made instant impacts to start their careers.
Schupansky became the second Panther to reach double-digit points and now leads the team in goals (six) and points (12).
She is also second in assists (four).
Coffield is third in points (eight) with two goals and four assists.
In the first game of the season, Coffield scored the game-winning goal over Tulsa on her first career shot in the 17th minute with Schupansky getting her first point with the primary assist.
Coffield finished with another assist on the final goal against the Golden Hurricane.
Schupansky has two braces already (Cleveland State and Towson).
Coffield scored her first goal at Ambrose Urbanic Field against NJIT.
Schupansky scored the golden goal at Oklahoma State for her first collegiate goal, notching the game-winner 30 seconds into overtime, and also assisted on the tying goal in the second half to send the game into overtime.
She was named to the TopDrawerSoccer Team of the Week, and is just the third Panther to earn the award (Amanda West and Leah Pais).
Schupansky recorded her first brace against Cleveland State in just 31 minutes played.
LEADER OF THE SUPER FALCONS
After missing the ACC-opener at Clemson last Thursday, head coach Randy Waldrum returns to the sidelines to guide the Panthers.
Waldrum missed the game due to obligations from coaching Nigeria's Senior National Team in the Aisha Buhari Cup (Sept. 15-21).
The Super Falcons split two games in the tournament, shutting out Mali 2-0 and falling 4-2 to South Africa.
Associate head coach Ben Waldrum assumed head coaching duties for the game.
Ben has served as interim head coach for his father for Trinidad & Tobago in the first stage of World Cup Qualifying games in August of 2014.
Aisha Buhari Invitational Tournament was an association football tournament organized by the Nigerian Football Federation for the female national team. The competition comprises six nations: Ghana, South Africa, Cameroun, Mali, Morocco and the hosts Nigeria. First Lady, Aisha Buhari, endorsed the championship, which is one of the programs aimed at uplifting females in the continent.
On Oct. 5, 2020, Waldrum was appointed the head coach of the Nigeria Women's Senior National Team, known as the "Super Falcons" on the international stage.
Prior to this season, Waldrum led Nigeria in two international tournament/friendlies and additional training camps, playing the USA and Portugal in the 2021 WNT Summer Series in June and winning all three games in the Turkish Cup against Equatorial Guinea (9-0), Uzbekistan (1-0) and CSKA Moscow (1-0) in February.
Regarded as the top women's soccer program in its continent, the Super Falcons have won nine of 11 Africa Cup of Nations Titles and been to every World Cup since 1991.
Waldrum has years of experience at the international soccer level, serving as the head coach of the Trinidad and Tobago national team between 2014 and 2016
He was the head coach of the United States U-23 National Team that won the Four Nations Cup in 2012 and 2013 as well as the Three Nations Cup in 2012.
Sounding Off on Soccer: Riverhounds Road Woes
Subscribe to PGH Soccer Now