The Pittsburgh Riverhounds SC have finally reached the last stretch of its 32-game schedule with some work to do.
The Hounds currently sit in second place of the USL Championship's Atlantic Division, but they'll be facing hard-charging, third-place Miami FC on Saturday in South Florida.
"Our job right now is the focus on that top two position, win games and put pressure on (first-place) Tampa (Bay Rowdies)," Riverhounds SC Head Coach Bob Lilley said.
Here's the current Atlantic Division standings.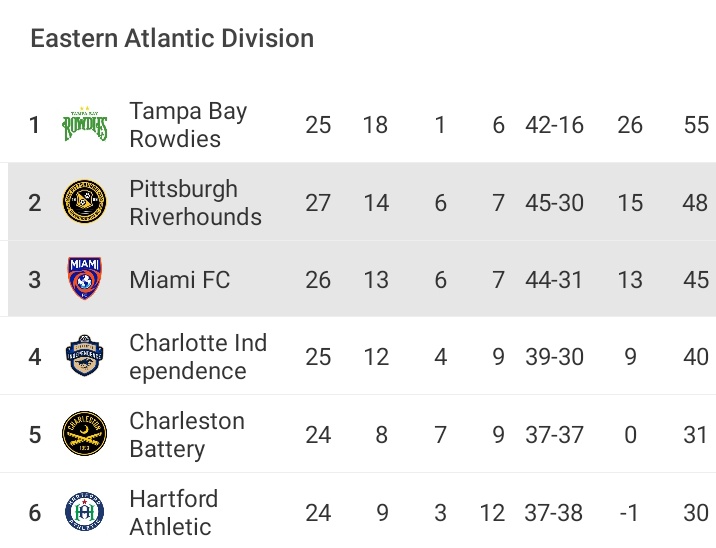 "First, we need to win the game in front of us," Lilley added. "Second is getting home field for the playoffs and third is create momentum as we build to the playoffs."
The immediate task at hand for Pittsburgh will be to get the upper hand against a team that had their number in the last match, a 3-2 Miami come-from-behind win.
The Hounds face Miami at Riccardo Silva Stadium at Florida International University on Saturday at 7:30 p.m.
It's the one match that Lilley's referred to during the Hounds' entire busy stretch of August that he'd love to have back.
The Hounds were leading the match 2-0 and seeminingly in complete control, before unraveling in the second half, as former Robert Morris University standout Devon "Speedy" Williams and former Hound Christiano François had a huge hand in the stunning victory in Pittsburgh.
"That's the one that got away," Lilley said on Wednesday after practice. "It was an especially difficult stretch. We had some injuries, and with our rotation, a lot of guys played. We have a lot of work now in front of us."
Prior to that, on June 12, also in Pittsburgh, the Hounds also couldn't hold on to a 1-0 lead, as another François tally leveled the match, resulting in a 1-1 draw.
Now, the Hounds will have to face Miami twice on the road in the next two-plus weeks, with a showdown at Highmark Stadium vs front-running Tampa Bay sandwiched in there too.
The Hounds enter the match looking to get its first win in three games, as they fell 1-0 at Charlotte on September 18, then played a wild, 3-3 draw against Charleston at Highmark Stadium last Saturday evening.
As PSN's Mark Goodman pointed out, it was the ninth Hounds game of 2021 with four or more goals in it. So perhaps the idea that Bob Lilley plays it safe should be permanently retired.
Despite some concerns about seeing his team lose another lead, namely by surrending two set piece goals, Lilley was happy with his team's ability to fight back to get a late equalizer.
"I love the response from our guys at the end of the game. That's the positive, for sure," Lilley remarked.
Focusing on MIami FC 
After an up-and-down early part of the season, Miami really got into the race and have been right there there, nipping at the tails of the Hounds in the standings after a smoking, red-hot August.
Head Coach Paul Daglish was voted USL Championship's Coach of the Month as they were unbeaten, winning four times in six games in August.
"Every game now is one-and-done playoff mentality," said Dalglish after earning that honor. "We are not too concerned about the ten games as a whole, rather taking every game as a new challenge. If we look too far ahead, we might not take care of the games in the short term. If we have that attitude now, we don't need to change our mentality when the playoffs come around."
The biggest news for the club has come off the field in recent days.
Jahshaun Anglin, a 20-year old midfielder, from Jamaica, was arrested for allegedly sexually assaulting a woman inside of a classroom on the campus of Florida International University on Tuesday.
Anglin was taken into custody later in the evening and charged with one count of sexual battery.
The team's official response came via Twitter.
We are aware of the situation involving a member of The Miami FC and we are cooperating with local law enforcement officials on this matter.

The club has no further comments as it's an ongoing investigation. pic.twitter.com/DNdxkffVt9

— The Miami FC (@TheMiamiFC) September 29, 2021
On the field, Anglin has appeared in 15 matches this season, accumulating 475 total minutes with four starts.
Daglish has kept this team cohesive through the season, but now faces his biggest test.
Still, with veteran leadership that included one of the USL Championship's best defenders in the past decade, Paco Craig, along with Williams and forward Ariel Martinez, there appear to be enough steadying forces on this talented club to steer them forward despite the negative headlines this week.
Craig made a potential game-saving clearance in early September against Charleston that may have single-handedly kept Miami's previous unbeaten streak alive.
Along with the rest of the backline and goalkeeper Connor Sparrow, the Hounds face a seasoned group that won't budge, especially on set pieces.
Miami enters the match having lost at Charlotte recently (2-0 loss on Sept. 22), but they bounced back in a big way against Loudoun United, racing to a 6-1 victory.
The open-ended nature of the way many Hounds games have played out this year could prove to be its kryptonite against Miami, who have scored five times in two matches against Pittsburgh.
Having Martinez back after missing a handful of games with an injury, bolstered the Miami FC attack in recent games. If, for some reason, Martinez is unable to go, Miami will likely go with Billy Forbes and/or Lamar Walker at the top of the attack.
The Hounds opted to defend Martinez in the last match by having utilityman Dani Rovira shadow/man-mark him.  This tactic was working for a good part of the first two meetings, until early second half, when the Hounds unraveled.
What to expect on Saturday evening
With a big game on the road, all signs likely to point toward Pittsburgh looking to tighten things up with a strong defensive approach and focus on its shape in its tactical allignment.
It's likely that they'll look to start the match looking to make things very difficult for Miami to generate quality scoring chances, then will likely look to exploit Miami on the counter.
Having Mekiel Williams back (from Paternity leave) as a center back option will provide added depth and experience.
One of the strengths of this Hounds team this season has been its tactical flexibility and ability to move players around depending on its opponent.
Add in the fact that they've been pretty good on the road this season, and they should be a tough out.  All three of the Hounds' road losses have been low-scoring, one-goal decisions (two 1-0 losses at Charlotte and a 2-1 loss at Loudoun, while mostly an inexcusable hiccip, both goals surrendered came from shots from outside or the edge of the box).
It's always intruging to watch where Alex Dixon lines up. How Lilley uses one of his most versatile and dependable players often will help us understand their approach at the start of a match. Dixon's come through many times for this club, including Saturday's game-tying wonder goal against Charleston.
The off-the-field news shouldn't effect Miami, and with a week between its last games, both teams should be putting its best 11 out there for what appears to be a crucial showdown.
As we get closer to the end of the season and the playoffs, this one should have that kind of tense feel to it.
Should be a good one.
Follow along with Pittsburgh Soccer Now's coverage, as Jordan Smith will be on the live gameday blog and providing his takeways on Twitter on Saturday night.  
Riverhounds MF Danny Griffin
Subscribe to PGH Soccer Now