USL Championship Atlantic Division
FINAL: Miami FC 3,
Riverhounds SC 2
Game Stats:  USL Match Center
Game Summary
The Riverhounds SC's four-game win streak came to a crashing halt as Miami FC stormed back with three goals in the second half to stun the home side, 3-2, at Highmark Stadium on Wednesday evening.
"It was frustrating," Riverhounds Head Coach Bob Lilley said after the match. "We were playing well enough to win. We shot ourselves in the foot. Had mental miscues that cost us,"
After Miami brought some early pressure, the Hounds settled in and would control the tempo of the match in the first half.  Pittsburgh would finally capitalize on a free kick opportunity in the 41st minute, when Tommy Williamson converted a bending shot into the left side of the goal.
Pittsburgh upped its lead early in the second half, when captain Kenardo Forbes scored his first goal of the season and first tally since 2019 in the 51st minute.
The two-goal edge wouldn't be enough against Miami's relentless attack.
In a span of a few minutes, the tide of the match turned when Miami's stormed back with two goals in less than two minutes when former Riverhounds SC forward Christiano Francoss and former Robert Morris standout Devon 'Speedy' Williams converted on their chances to level the match.
Later in the second half, it was Francois who made his former team pay again, by drawing a foul in the box, as Riverhounds defender Preston Kilwien clipped the forward from Haiti to create a penalty kick opportunity.
Williams delivered the game-winner, blasting his penalty attempt past Hounds keeper Jake Keeper for the 3-2 lead that would hold up.
With the loss, the Riverhounds drop to 10-5-3 overall, as they remain in first place in the Atlantic Division, however, Tampa Bay now has two games at hand on Pittsburgh.  The two sides will meet next Wednesday at Highmark Stadium.
Riverhounds SC captain, Kenardo Forbes, postmatch:

"I just heard, Christiano (Francois) say, 'just kick it down, kick it down, and I'll chase.' They kept doing it all game until they created a penalty. it's on us to defend better." #PITvMIA https://t.co/6yyMKRXmsp

— Pittsburgh Soccer Now (@pghsoccernow) August 12, 2021
After Forbes' goal in the 51st minute, Pittsburgh would not create another shot on frame for the remainder of the match.
The Hounds' last quality opportunity came in the 88th minute, when Casey Bartlett-Scott sent a header high but off the mark from a corner kick.
What's next?
The Hounds won't have long to dwell on this loss, as they travel to Legion Memorial Stadium for their third matchup of the season against Charlotte Independence on Saturday. The clubs split their first two meetings, both of which finished 1-0 at Highmark Stadium, and they will be meeting for the first time ever at the Independence's new home.
Postgame Reaction 
John Krysinsky and Jordan Smith also share their postgame breakdown on Pittsburgh Sports Live on Wednesday after the match.
How It Happened 
First Half 
The Hounds created the game's first scoring chance when Kenardo Forbes worked his way into the left side of the box, but his shot attempt was stopped by Miami's goalkeeper Connor Sparrow.
For much of the first 45 minutes, Pittsburgh did its best to try to slow the tempo of the match to keep Miami's dangerous attackers in check.
In fact, the Hounds lined up with four defenders across the back line, but Dani Rovira was also used as a hybrid, marking back keeping close and shadowing Miami's Ariel Martinez throughout.
ts best opportunity came in the 20th minute, when Lamar Walker used a nice fake to create space inside the penalty box. Hounds goalie Jake Leeker easily caught the ensuing shot for one of two saves in his fourth start of the season.
In the 23rd minute, Forbes put on some moves of his own, and eventually put a shot on target that was saved out for a corner kick. Following the corner, Anthony Velarde's shot missed just left.
While the Hounds didn't create a lot of scoring chances, they continued to make the most of their chances after extended possessions but creating four first half shots, with three of those on frame.
Pittsburgh finally capitalized when Rovira moved forward toward the 18, but was tripped up by Junior Palacios 22 yards from goal on the left side.
This set up a free kick opportunity for Tommy Williamson, who scored the Hounds' only goal from a set piece this season.
Once again, Williams delivered a perfectly place ball just inside the left post, right by the extended arms of Sparrow.
Pittsburgh ended the first half with a 54%-46% edge in possession, limiting Miami's attack to three shots (two on frame).
Second Half 
Early in the second half is when things got a bit chaotic.
The Hounds appeared to take control of the match when they capitalized on another patient approach into the final third.  In the 51st minute, Alex Dixon received a pass outside the right side of the box, then proceeded to loft a ball toward the back half of the 18, where he found an unmarked Hounds captain Kenardo Forbes.
Forbes ended his goal-scoring drought, which has stretched through the 2020 and 2021 seasons with a terrific one-time shot that smashed into the back of the net to give Pittsburgh a 2-0 lead.
Miami immediately responded, as former Hounds Christiano Francios got behind Pittsburgh's back line to beat goalkeeper Jake Leeker one minute later to cut the lead to 2-1.
Before you could blink, Miami scored again, less than a minute later, when former Robert Morris University standout Devon 'Speedy' Williams blasted a shot off the bounc from 17 yards to level the match in the 53rd minute.
Gameday Updates
FINAL MIAMI 3, RIVERHOUNDS 2
90+' — Anglin on for Francois in the final minute for Miami.
90′ — 4 minutes of stoppage time added. Riverhounds win streak might be coming to an end.
88′ — Corner kick chance for Hounds is wasted. Barlett-Scott tries a header from 15 yards out with no pace. Should've been another cross into the box.
84′ — Wyatt Borso and Barlett-Scott come on for Velarde and Rovira. This is Borso and Scott's first appearance for the Riverhounds. First professional minutes for Borso out there. He's only 17. Let's see if they have some magic to tie this game.
82'-GOOOOOAAAAAALLLLLLLLL!!!!!!@Speedy_ccc80 buries his second of the game off the PK! Miami FC up 3-2. pic.twitter.com/8S5ZilbCUK

— The Miami FC (@TheMiamiFC) August 11, 2021
81′ — OH NO!! Kilwien trips Francois in the box and Miami scores on the penalty kick. Speedy Williams hits it right down the middle for his second goal of the game. 3-2 Miami.
76′ — Danny Griffin takes a bad foul just outside the box. Free kick opportunity for Miami is blocked by Rovira in the wall. Still a 2-2 game.
72′ — Velarde shares his water bottle during an injury time with an opposing player. Good show of sportsmanship.
69′ — Forbes and Reid also on for Othello and Martinez on Miami. Reid has made an impact already so far.
66′ — An absolute bullet of a shot from Junior Palacios. He rung the crossbar from just outside the 18. Hounds really need to wake up. It looks like it's just a matter of time before Miami takes the lead.
63′ — Riverhounds make 3 subs. Perez, Wharton and Cicerone on for Dixon, Williamson and Robinson. They have 2 more subs to make if they want.
58′ — Miami made some subs as well. Loebe and McFarlane on for Walker and Antonelli. Antonelli had a yellow card.
JUST LIKE THAT MIAMI HAVE IT LEVEL. 🤯#PITvMIA | @RiverhoundsSC pic.twitter.com/cFUsUZEVuL

— USL Championship (@USLChampionship) August 11, 2021
52′ — THE LEAD IS GONE!! Wow, are you kidding me?? Within 2 minutes Miami scores two goals. Francois scores his fourth of the year and Williams scores his second. A complete collapse from the Hounds defense. Bob Lilley is furious. 2-2 game.
Loving how the captain, @KenardoF, took his time to strike this one with aplomb.

(And there's your SAT word for the day.)#UNLEASH #PITvMIA pic.twitter.com/AZrl0qNTpR

— Pittsburgh Riverhounds SC (@RiverhoundsSC) August 11, 2021
51′ — KING KENNY SCORES!! His first goal in over 2 years! Dixon crosses a ball in the air and Forbes while falling back rockets a shot into the top left corner. What a goal!! That'll be on USL highlights all season. 2-0 Riverhounds.
45′ — 2nd half begins here at Highmark. Williamson with his third goal of the season gives the Hounds the first half lead. Looks like no subs at half time.
45′ — Half ends. No stoppage timed. Miami had 54% possession which honestly felt like more but the Hounds started to build momentum towards the end. Hounds up 1-0 through 45 minutes and will certainly be dealing with a determined Miami side in the second half.
A set piece strike!!@RiverhoundsSC
Tommy Williamson gives the Hounds a 1-0 lead.
41'#PITvMIA pic.twitter.com/xWFSrYrISj

— John Krysinsky (@JohnKrysinsky) August 11, 2021
40′ — TOMMY WILLIAMSON SCORES ON THE FREE KICK!! From about 25 yards out he blasts a shot around the wall into the bottom left corner past the keeper! Riverhounds take the lead 1-0!
35′ — Hand ball on Miami but it's not called. Fans not happy.
31′ — Rovira plays a brilliant through ball in to Dixon but it's called offside. He probably was but boy that was close…
26′ — Ezra makes a good run down the left side, his cross goes to Dixon and he loses it in the box. If Dixon leaves that for Velarde, he's wide open for a shot. Velarde was calling for it so I'm sure he was telling Dixon to leave it.
23′ — Forbes with a nice cut around a player earns a corner kick. Opportunity turns into an offsides somehow at the goal line.
18′ — Ezra Armstrong really taking the initiative tonight out at LB. His speed has been a great factor against former player Francois.
15′ — Forbes free kick to far post is cleared.
14′ — Yellow card issued to Miami's Luca Antonelli for taking down Alex Dixon who got forward into space on a counter effort.
3′ — Watching how the Riverhounds SC  are lining up, it appears that Dani Rovira is playing defensive marking specialist role tonight. He's been shadowing Miami's Ariel Martinez. 
2′ — Shot attempt from Kenardo Forbes after nice build-up
Here's the Hounds starting XI for the Hounds tonight.
Few notes…
Jake Leeker making his fourth start as goalkeeper.
First start for Ezra Armstrong as heavy squad rotation factoring in tonight.  (JK)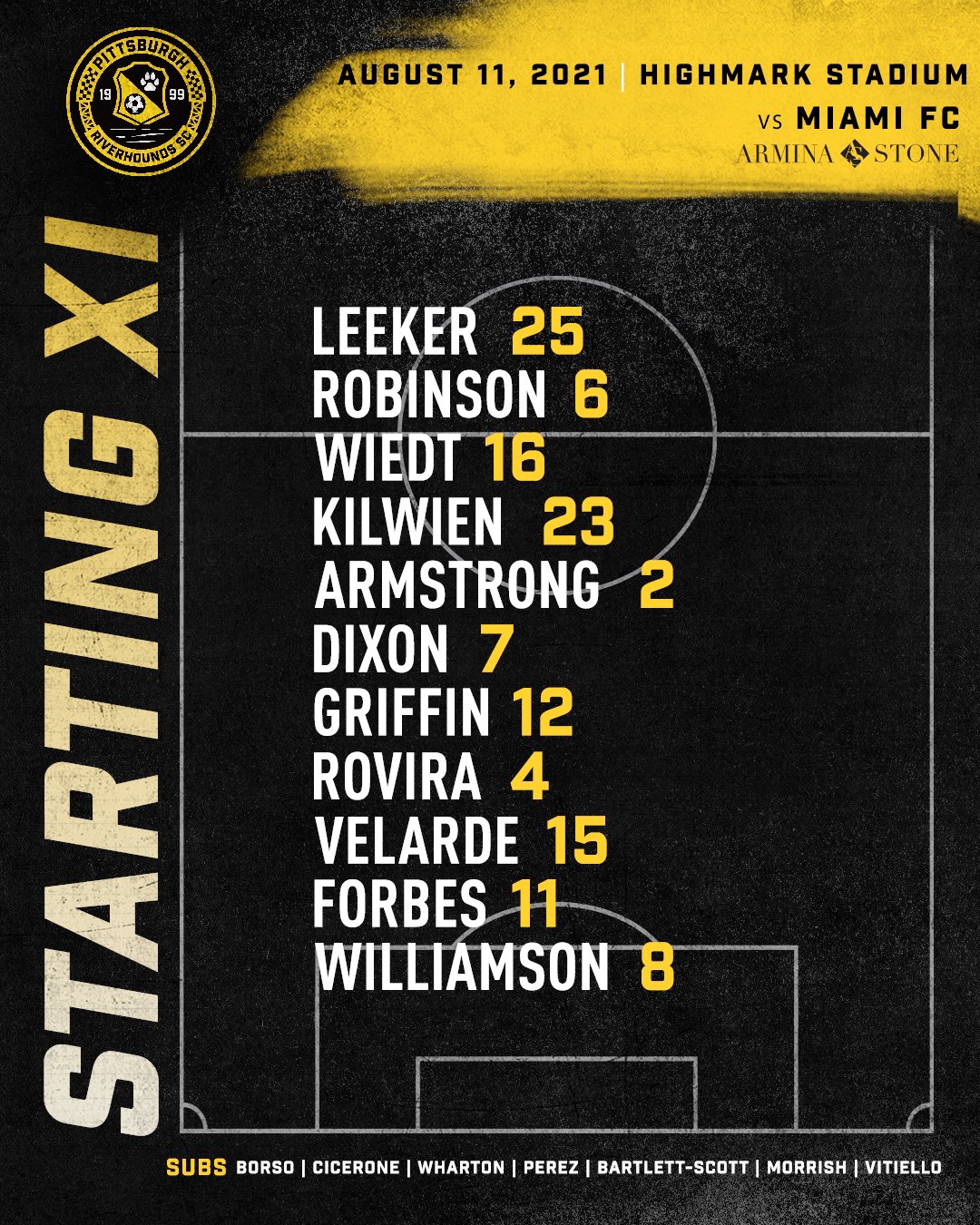 Look for lineups to be posted here about 5:30 p.m. along with gameday updates.
In the meantime, be sure to check out Mark Goodman's preview of The Miami FC from earlier this season.
Weather at kickoff (courtesy Weather.com):
GAMEDAY!

The beloved look to make it five on the bounce when they host The Miami this evening.

🚨 KICKOFF IS 6PM 🚨

Sneak out of work early and get down to Highmark so you can pregame in a manner that will let you have your A-game during the match. It is your duty.#UNLEASH

— Steel Army (@SteelArmy) August 11, 2021
Preview 
The Hounds are meeting Miami for the second time in history as they enter the match with four straight wins. The Hounds have recorded five-game winning streaks in each of the past two seasons under Bob Lilley, and with a win would make it three seasons with such impressive streaks.
The first matchup between the two sides was a 1-1 draw on June 12 at Highmark that saw an early Russell Cicerone goal get canceled out by a strike from former Hounds winger Christiano François just before halftime.
Miami should be tough match-up for Pittsburgh, as they've shaken off a slow start to move into a solid third position.
The Hounds are bit riddled by injuries, as the report now includes a handful of players.  Out for the match are:  Jordan Dover (lower leg); Josh Gatt (knee) and Tom Judge (head); and listed as questionable are:  Albert Dikwa (groin) Mekeil Williams (lower body).
Alex Dixon earned Team of the Week honors for what appears to be an unprecedented three weeks in a row.  Dixon's been on a scoring tear with two goals in back-to-back games and five goals in his last three outings. The veteran's second goal in the last match, a 3-2 win over Charleston, put Dixon over 100 points in the USL Championship (41 goals, 19 assists).
Despite the Hounds impressive goal scoring output at Charleston, Head Coach Bob Lilley wasn't impressed with his team's performance on Saturday night in the Low Country.
"I don't think we completed passes well enough, and we missed (Albert) Dikwa. We didn't hold on to the ball like we should up top, and that was part of it. Look, this was one game, and we have four more in short order. This game isn't something to read too much into, but it's points in the bank," said Lilley, who will be at the helm of his 111th competitive match with the club on Wednesday.
The veteran coach is also concerned about Miami's explosiveness.
"Now, we have to get ready for Miami, because some of the explosiveness Charleston has up front, Miami has it in spades."
When the Hounds face Charlotte on Saturday, as a busy stretch of games continue, Lilley will tie Justin Evans (112 games) as the franchise's all-time leader in games coached.
Game Notes
Forward Russell Cicerone leads the team with eight goals, already his career best for a single season. He has three goals and two assists in the past four games, and his penalty kick against Charleston was his 20th professional goal.
Goalkeeper Danny Vitiello has three shutouts this season and eight clean sheets since joining the Hounds at the start of 2020, which already ranks him sixth all-time in club history.
Midfielder Kenardo Forbes, the USL Championship's all-time assists leader with 43, took sole possession of the Hounds' club record in that category with 29 after setting up the first two goals in the Hounds' 3-1 win at New York on July 23.
In addition to his assisting prowess, Forbes became just the 11th player to appear in 100 matches (all competitions) with the Riverhounds on July 17 in the 1-0 win over Loudoun. He has played 103 games with the Hounds, which ranks ninth in team history.
Midfielder Danny Griffin is the only player who has started every match this season for the Hounds, and he has played all but 13 minutes thus far in 2021.
Defender Jordan Dover played his 100th USL regular-season match June 12 against Miami. He joined teammates Kenardo Forbes, Alex Dixon and Todd Wharton as the only current Hounds to surpass the century mark for their career, but injury has limited Dover to one appearance since that match.
Defender Tom Judge made his professional debut in the last match, Aug. 6 at Charleston. The rookie out of James Madison — on loan from Nashville SC — had his big night cut short, unfortunately, as he had to leave the game in the 17th minute after being injured in a clash of heads.
In 110 all-competition matches under Bob Lilley, the Hounds have allowed just 95 goals, an average of 0.86 goals per game.
PSN's Recent Riverhounds SC Coverage 
Analysis & Player Grades: Cicerone, Dixon stay hot as Hounds add more points in the bank
Riverhounds MF Danny Griffin
Subscribe to PGH Soccer Now