The NCAA men's soccer tournament seedings have been released.
For a look at the complete 48-team field, click this link.
The Pitt men's soccer team has been seeded 5th overall by the selection committee, earning a spot in the same bracket as this season's ACC nemesis, Notre Dame, the conference's tournament champions, who are the overall No. 4 seed and top ranked team in their portion of the bracket.
It marks the second-straight season in which the Panthers earn a first round bye. Pitt was named the No. 2 overall seed in last year's College Cup run.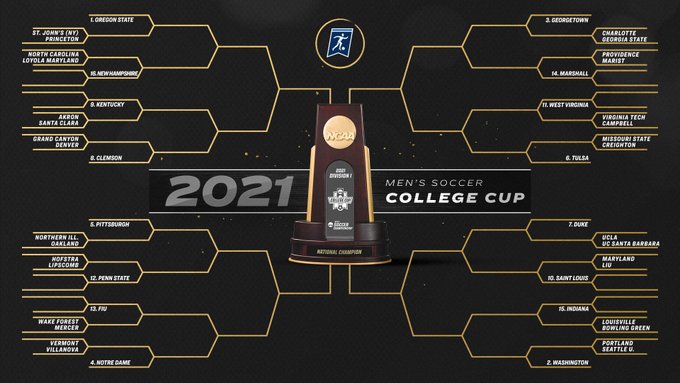 The Panthers will begin their quest to return to the College Cup by hosting the winner of Oakland and Northern Illinois on Sunday, November 21 at Ambrose Urbanic Field.
In addition to Pitt, a couple of regional teams of note West Virginia and Penn State, also have earned high seeds in the tournament.
Penn State, the No. 12 overall seed, willl also be in Pitt's bracket, setting up the potential for a juicy, Pitt-vs-Penn State 3rd Round meeting on Thanksgiving weekend.
The top four overall seeds are Oregon State, Washington, Georgetown and Notre Dame.
NCAA Men's Soccer Tournament: A pretty wide-open field expected again as Pitt awaits bracket release Monday
The Panthers enter the NCAA Tournament ranked first in the country in assists per game (3.00), tied for first in total assists (51), fourth in total points (135) and sixth in scoring offense (2.47). Pitt is 19-1-0 at home since Oct. 7, 2019 and 1-0 in NCAA Tournament games at Ambrose Urbanic Field (vs. Lehigh Nov. 21, 2019).
Pitt has earned multiple conference accolades, including ACC Defensive Player of the Year in Jasper Löeffelsend and ACC Coach of the Year in Jay Vidovich. Löeffelsend became the first back-to-back ACC DPOTY since the 2008-09 season, while Vidovich was named Coach of the Year for the second consecutive season and seventh time in his career.
The Panthers earned a total of nine players on the ACC All-Conference teams, including one first team, a program record six second team, one third team and one freshman team. Pitt also saw junior Valentin Noel and senior Arturo Ordoñez named to the ACC All-Tournament Team.
2021 men's soccer tournament: Schedule, dates for the College Cup
| EVENT | DATE | SCHEDULE |
| --- | --- | --- |
| Selection Show | Monday, Nov. 15 | 1 p.m. ET |
| First round | Thursday, Nov. 18 | TBD |
| Second round | Sunday, Nov. 21 | TBD |
| Third round | Saturday, Nov. 27 and Sunday, Nov. 28 | TBD |
| Quarterfinals | Friday, Dec. 3 and Saturday, Dec. 4 | TBD |
| College Cup: Semifinal 1 | 6 p.m. Friday, Dec. 10 | WakeMed Soccer Park (Cary) |
| College Cup: Semifinal 2 | 8:30 p.m. Friday, Dec. 10 | WakeMed Soccer Park (Cary) |
| College Cup: Championship | 2 p.m. Sunday, Dec. 12 | WakeMed Soccer Park (Cary) |
How does the selection process work?
The men's College Cup is comprised of the two semifinal games and championship game of the Division I men's soccer championship tournament.
There are 206 men's soccer teams in Division I.
Of those 206, 48 will make the championship's tournament field and will compete in a single elimination tournament. Twenty-four conference champions automatically qualify; the rest of the field is selected at-large by the NCAA Division I Men's Soccer Committee. The teams will be seeded so that 16 of the 48 teams will receive a First Round bye and automatically advance to the Second Round.
Riverhounds MF Danny Griffin
Subscribe to PGH Soccer Now