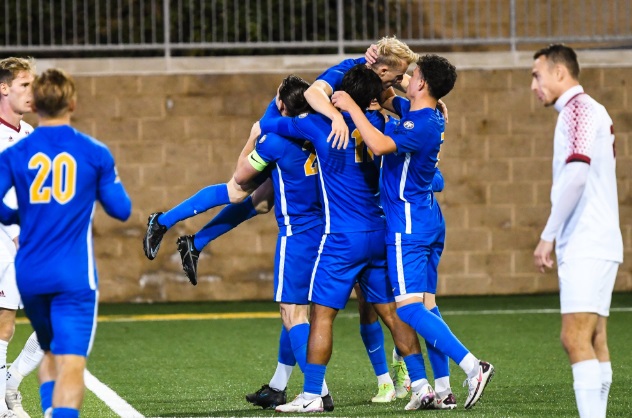 In 2020, when Pitt men's soccer team earned the top-ranking in the United Soccer Coaches Poll for the first time in school history, Head Coach Jay Vidovich, who's been at the helm of ACC men's soccer programs at Pitt and Wake Forest for more than 25 years, was more concerned about where his team was in the league's standings.
"What matters to me is we're No. 1 in the north region of the ACC," Vidovich said. "That's a bigger thing for me right now."
When it comes to Division I men's college soccer, the Atlantic Coast Conference has been a dominant conference through the years, especially in the last quarter century as they've boasted a National Champion 17 times, the most of any conference.
Being a top level ACC soccer program brings plenty of prestige, and with that, many of the best players, coaches and soccer facilities.
As the 2021 NCAA Men's Soccer Championship kicks off Thursday evening with first-round play, once again, the ACC leads the way with the most teams in the field.
The first round will feature four Atlantic Coast Conference teams hosting matches, while four others, including Pitt, have earned first round byes and will enter the 48-team field in the second round.
Louisville, North Carolina, Virginia Tech and Wake Forest play host to first-round matches on Thursday evening. All eight ACC teams will start the tournament on their home fields.
The ACC not only picked up the most berths of any conference, but also claimed four of the top eight national seeds, with ACC champion Notre Dame (4), Pitt (5), Duke (7) and Clemson (8). The seeded teams earned first-round byes and will host second-round matches on Sunday.
This marks the ninth straight season in which the ACC placed the most teams in the tournament. It also is the 21st consecutive season that at least five league teams earned a bid.
And yet the ACC hasn't had one of its own crowned champion since 2014, when Virginia defeated UCLA.
Still, with the exeception of 2018, the conference has placed at least one team in the College Cup during this span, and three times two schools represented the conference in the Final Four between 2015-2020.
Last season, Pitt and North Carolina made it to the NCAA's College Cup, but both came up short in the National Semifinals, as Marshall would defeat Indiana in the National Championship Game.
If you look at the overall records and the United Soccer Coaches Poll (maybe with a grain of salt like we do sometimes), the ACC has once again been extremely competitive but there hasn't been a dominant team to stand out on the National Stage.
In a season when there's been a lot of parity another wide-open NCAA tournament expected. After all, who would have expected that Marshall would win its first-ever National Championship in 2020-21 extended season?
Is the intense competition in the ACC hurting its chances come NCAA tournament time?
Last week's ACC final featured the best defensive team, Notre Dame, and the team with the best scorer, Duke's Thor Ulfarsson, who led the conference with 14 goals. Pitt and Clemson have the more balanced attacking units, both in the top 10 in the NCAA in scoring.
Last season, a team in the middle of the ACC standings made a deep run to the College Cup.  That team was North Carolina.
Can the Heels do it again?  Or will it be Wake Forest, Louisville or Virginia Tech?
Each ACC team is more than capable of going far, they are clearly battle-tested and all have earned wins against United Soccer Coaches Poll ranked teams multiple times this season, but after a rigorous in-conference schedule, do they have enough left in the tank to keep it going all the way to the NCAA Championship game?
Notre Dame, which beat Pitt twice this season, finished in third place in the Coastal Division with a 4-2-2 record, won the ACC Tournament by locking down and shutting everyone out, including Louisville, Pitt and Duke.  They've found timely goals too as they've worn down each opponent.
The NCAA seeding committeed had its hands full in trying to figure out how the seed the ACC teams, as Duke (13-4-1) had the least number of overall losses, but Pitt, Notre Dame and Clemson each had five losses during the regular season.
When looking how the ACC did against non-conference competition, they finished with a 66-22-6 record (.734) in non-conference play in the regular season, the second-best mark of any league nationally this season.
Pitt's rugged non-conference schedule certainly contributed to its high RPI and ranking through the season, even though they lost some tough out of conference match-ups on the road to West Virginia (who earned an 11-seed) and Akron (also a tournament team again this year).  Pitt's other losses came to Wake Forest and the two to Notre Dame.
The Panthers did pick up a road win at Penn State, who won the Big 10 Tournament last week and are now a 12-seed.  There's a good chance that the two schools could meet in the NCAA tournament's third round if they take care of business.
Pitt will have the advantage of playing its first two matches at home if they advance in the second round. The Panthers saw an impressive 19-game win streak end at the hands of Notre Dame in the ACC semifinal.
The road to the National Championship is never easy for any team.
The ACC teams have to navigate and survive their own gauntlet, but once again will have a multitude of teams in the mix.
The question is, will one of them finally break through to win a National Title?
Pitt came awfully close a season ago.
"I thought our guys fought through. They executed. The goals didn't come," Vidovich said after Pitt's 1-0 loss to Indiana in the College Cup semifinal.
"Some of the credit goes to Indiana. But, that's the nature of our game. Sure felt like we dominated game. Sometimes team that dominates doesn't always win," Vidovich said.
"That's a lesson for our guys."
---
2021 NCAA Men's Soccer Championship
Thursday, Nov. 18 – First Round
Loyola (Md.) at North Carolina | 6 p.m. | ACCNX
Campbell at Virginia Tech | 6 p.m. | ACCNX
Mercer at Wake Forest | 6 p.m. | ACCNX
Bowling Green at Louisville | 6:30 p.m. | ACCNX
Sunday, Nov. 21 – Second Round
BGSU/Louisville at #15 Indiana | Noon
UC Santa Barbara/UCLA at #7 Duke | 1 p.m.
Campbell/Virginia Tech at #11 West Virginia | 1 p.m.
Loyola/North Carolina at #16 New Hampshire | 2 p.m.
Northern Illinois/Oakland at #5 Pitt | 4 p.m.
Vermont/Villanova at #4 Notre Dame | 5 p.m.
Mercer/Wake Forest at #13 FIU | 6 p.m.
Grand Canyon/Denver at #8 Clemson | 7 p.m.
Sunday, Nov. 28 – Third Round
Campus Sites
Friday/Saturday, Dec. 3-4 – Quarterfinals
Campus Sites
Friday, Dec. 10 & Sunday, Dec. 12 – NCAA College Cup
WakeMed Soccer Park, Cary, N.C.
Noting ACC Men's Soccer
• An ACC team has won the men's national soccer championship 17 times, most of any conference.
• At least one ACC squad has reached the NCAA College Cup in 19 of the last 20 seasons, with 11 different league programs reaching the sport's highest stage.
• Fifty-nine ACC teams have reached the NCAA College Cup all-time.
• The ACC had six teams among the top 25 in the NCAA's final RPI, twice as many as any other conference. Duke, Notre Dame, PItt and Clemson are Nos. 4, 5, 7 and 9, respectively. North Carolina is No. 20, while Virginia Tech is No. 24.
• Notre Dame won the 2021 ACC Championship on Sunday with a 2-0 victory over Duke. It marked the Fighting Irish's first ACC crown in men's soccer.
• Notre Dame is the fifth different school to win the ACC Championship in the last five years (2017-20: Wake Forest, Louisville, Virginia, Clemson).
• Five ACC teams are ranked in the latest United Soccer Coaches poll (Nov. 9), the most of any league.
• Pitt leads all ACC teams at No. 5 in the poll and is followed by Clemson (9), Duke (11), Notre Dame (20) and North Carolina (23).
• Five ACC teams rank among the top 20 nationally in scoring: Pitt (sixth, 2.47/game), Clemson (eighth, 2.44), Louisville (11th, 2.35), Notre Dame (16th, 2.25), Duke and Wake Forest (22nd, 2.11).
• ACC teams finished with a 66-22-6 record (.734) in non-conference play in the regular season, the second-best mark of any league nationally this season.
Riverhounds MF Danny Griffin
Subscribe to PGH Soccer Now