2022 Lamar Hunt U.S. Open Cup – Second Round 
Pittsburgh Riverhounds SC 2, 
Maryland Bobcats FC 0
Match Summary
Riverhounds SC returned to the Lamar Hunt U.S. Open Cup competition after a two-year hiatus, defeating the Maryland Bobcats, 2-0, on a soggy Tuesday evening at Highmark Stadium.
Pittsburgh advances the Open Cup's third round for the third consecutive tournament.
First-year pro Toby Sims came through with a pair of goals while Jahmali Waite recorded his first clean sheet as a Riverhounds SC keeper in his first start with the club.
The Hounds controlled the tempo of the match, even as MBFC did own strong bouts of possession through the early phases of the match.
Pittsburgh created the only shots on frame in the first half, eventually cashing in their chips in the 37th minute when left back Jesse Williams, fresh off international duty with the Trinidad & Tobago national team, delivered a perfectly placed ball behind the last MBFC defender on the right side.  This allowed midfielder Luis Argudo to chase down the ball before it reached the end line.
Argudo delivered a quick cross into the goal box, serving up his pass for Sims, who quickly redirected the ball past Bobcats FC keeper Christian Caulker for the 1-0 lead.
The Hounds closed out the first half in control of the match.
Early in the second half, Pittsburgh found another opening to exploit when 18-year old Wyatt Borso sent a diagonal ball to Sims breaking into the edge of the box on the left side.
Sims secured his brace by bending a shot toward the right side of goal that evaded Caulker's arms to give Pittsburgh a 2-0 advantage.
With the win, the Hounds will now have to wait until Friday to find out who they'll face in the third round of the USOC when US Soccer hosts a draw.
Look for more post match coverage here on this blog and on Pittsburgh Sports Live. 
Post Match Interviews 
Toby Sims, who scored twice, admits he's never played attacking midfield before…  
Head Coach Bob Lilley's post game comments…  
Match Day Updates
Look for starting lineups, in-game updates and post game reaction to follow here on our live gameday blog.
---
FINAL: RIVERHOUNDS 2, MBFC 0
90′ – Mohamed Sesay with a chance in the box, but Peters blocks the shot and makes it easy for Waite to corral. Three minutes of stoppage time posted.
86′ — Michael Akinkoye with a pretty decent go but Hounds keeper Jahmali Waite is there to collect the hard shot that bounces off the turf. 87′
76′ — Jesse Williams comes off after what looks like cramping up. Jelani Peters replaces him.
William Eyang is also done for the night as
Russell Cicerone replaces him. 
60′ — Nice chance for Maryland as dangerous ball through the goal box forces Waite to get a hand on it as Amo misses on the shot attempt.
56′ — GOAL — RIVERHOUNDS 2, MBFC 0
Steel Army
unleashes the smoke!
Wyatt Borso with the clever diagonal switch.
Sims had plenty of space to get inside edge of box, then bend a right footed shot into right side of goal.
49′ — Free kick for Hounds — Eyang takes the left footed attempt from outside the right corner of the 18.  Misses shot over left corner of goal.
Meanwhile, Noah Wright & Elijah Amo replace Christian Schneider & Samuel Solomon at halftime for MBFC.
Hounds formation tonight…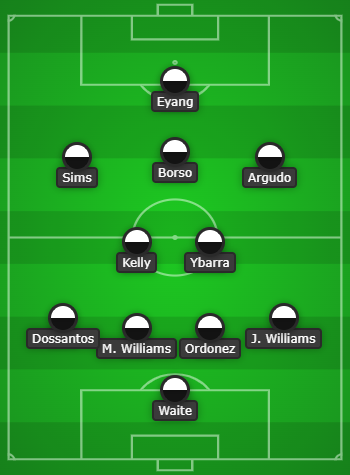 HALF — RIVERHOUNDS SC 1, MBFC 0
Hounds have gradually dicated terms of the match especially as the half came to a close. Maryland have been decent in possession, but Hounds back four and CMFs haven't been giving much room in final third.
41′ — Dossantos slips by the defender on his side, with keeper out of position, but somehow he misses a low shot to the left.
37′ — GOAL — RIVERHOUNDS
Toby Sims
What a great ball from Jesse Williams that started the sequence to the right side behind Maryland's last defender. Argudo chases it down, then delivers cross to Sims who slots it home. 37′ 1-0 Hounds lead Maryland Bobcats
34′ —  Kelly is fouled about 40 yards from goal.  Free kick from Ybarra to far post side, headed to right of goal by Arturo Ordonez.
31′ — Some build-up leads to Eyang getting pass with back to goal. He tries to turn around and take a shot but he was off balance, as the shot went well over the bar.
25′ —
Mekeil Williams on receiving end of corner attempt for Hounds — at back post. He tries to redirect his header toward the fray in middle of goal box instead of hitting it on frame. It's cleared and Jesse Williams redirects a shot from 30 yards that is saved.
0-0
25' #USOC2022

— John Krysinsky (@JohnKrysinsky) April 5, 2022
19′ — Borso gets close to the 18, then slides a pass to his left for Eyang, who drives a shot inside left post, but its saved again by Caulker.
16′ — Caulker with save from Marc Ybarra shot.  Nice little back pass from I believe Sims.
13′ — Hounds are in 4-2-3-1 going with Eyang as the target central forward, with Sims and Argudo as wide attacking mids with Borso in the middle. Ybarra and A. Kelly sitting deeper in MF in front of back four.
5′ — both sides with corner kicks that don't amount to much.  Maryland with most of the possession.
7:03 p.m. — we've kicked off here at Highmark!
Maryland Roster (Numerical)
2. Moses Makinde
3. Samuel Solomon
4.  Noah Wright
5. Mohamed Sesay
8.  Josselin Possian
9. Joseph Boone
11. Bernardo Majano
12. Felix Annan
15.  Richard Forka
16. Davey Mason
17. Elijah Amo
20. Drew Wivell
21. Christian Schneider
23. Darwin Espinal
24. Andy Alvarado
30. Christian Caulker (GK)
32. Manuel Caulker
33.  Michael Akinkoye
Here are the Hounds' starters…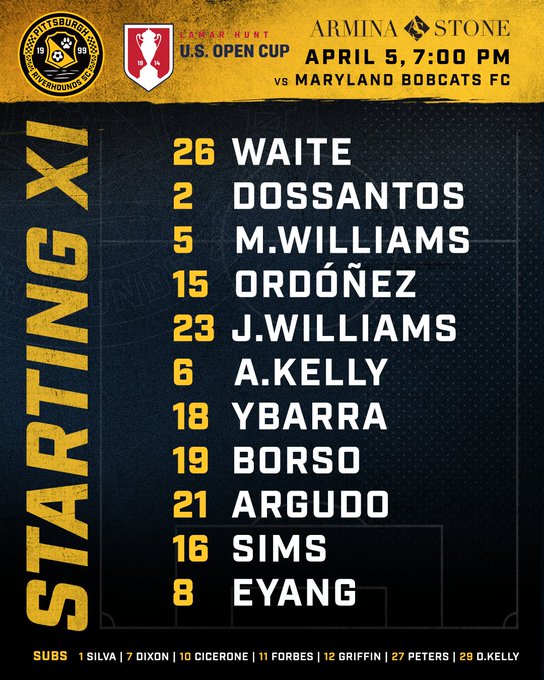 Preview 
Pittsburgh Riverhounds SC return to the Open Cup for the first time since 2019 when they play host to Maryland Bobcats FC in the first meeting between the clubs, with the Hounds having made an undefeated start to the Championship season to sit in second place in the Eastern Conference with three wins from four.
New arrival Dane Kelly has quickly found his place with the side, scoring three goals and two assists after notching a brace in the club's 2-0 win against Loudoun United FC, while Albert Dikwa, Russell Cicerone and Kenardo Forbes have also been among the goals.
The Bobcats are also coming off a win this past weekend, having defeated Flower City Union 6-1 on Saturday as Elijah Amo and Sam Solomon each scored twice while midfielder Darwin Espinal brings some Championship-level experience having spent two seasons previously with Reno 1868 FC.
This is the first-ever appearance in the Open Cup for Maryland, while it will be the 30th all-time appearance in the U.S. Open Cup for the Pittsburgh Riverhounds SC.
Fun Hounds' Open Cup Factoids
In the Highmark Stadium era (since 2013), the Hounds have posted an 8-7 overall record in the Open Cup.
All-time, the Hounds are 13-16 overall in the Open Cup.
The club the Hounds have faced the most in Open Cup?  None other than former Old Guard Shield rival Rochester (all losses in 2000, 2008, 2009, 2010)
Other clubs the Hounds have faced more than once in the Open Cup

Chicago Fire (2001 & 2014)
DC United (2003 & 2015)
Michigan Bucks (2006 & 2012)
RWB Adria (2013 & 2014)

In six matches vs MLS opponents, the Hounds have posted a 1-5 record

The Hounds' lone win vs MLS foe came vs Colorado Rapids (2-0) on June 27, 2001, at Bethel Park Stadium
Two of their losses came in matches that went to Extra Time (3-2 loss vs Chicago in 2001, and 3-1 loss vs DC United in 2015)

Against lower division teams, the Hounds have mixed success with an overall record of 7-7

After losing to Fourth Division Chicago FC United in 2017 and amatuers Landsdowne Bhoys in 2016, the Hounds have rebounded in the Bob Lilley era with wins against the Erie Commodores (2019) and Dayton Dutch Lions (2019).
In the Bob LIlley era, the Hounds are 3-2 in the Open Cup, with losses coming to FC Cincinnati (in 3rd Round in 2018) and Columbus Crew (in 4th Round in 2019)
PSN Riverhounds SC and Open Cup Coverage 
Sounding Off on Soccer: US Open Cup Heroes Nick Noble and Rob Vincent
Riverhounds MF Danny Griffin
Subscribe to PGH Soccer Now