USL Championship
Rio Grande Valley FC Toros 1, Riverhounds SC 0
Match Summary
The Riverhounds SC's struggles continue, as lost for the second consecutive week and for the third time in four weeks on the road at Rio Grande Valley FC Toros, 1-0, on Saturday night.
The match's lone goal came when RGVFC's Ricky Ruiz split between a pair of Hounds defenders to get to a long diagonal ball played into the edge of the box by Aldofo Hernandez. 
@riiickyruiz giving us the lead at halftime 💪

#RGVvPIT | #JoinThePack⁰ | 1-0 pic.twitter.com/rI1FvbAUdx

— Rio Grande Valley FC (@RGVFC) June 19, 2022
Ruiz beat Hounds' keeper Kevin Silva with a well-placed one-time shot to the left side of goal.  
Pittsburgh held 62 percent of possession through the match, but could not convert on its chances as they outshot RGVFC 11-5 (3-2 on target).
With the loss, the Hounds (7-5-3, 24 points) drop to the middle of the pack in the USL Championship's Eastern Conference standings as they near the halfway point in the season.  Pittsburgh has not won a match since May 14, losing three and earning just two points in a tough five-game stretch of games that included just one home match.
The setback drops the Hounds' road record to 2-5-2, but three of the next four are at home, where the Hounds remain undefeated.
---
First half
As one would expect with first-time opponents, the game got off to a cagey start, and neither team recorded a shot in the first 10 minutes.
RGV had the first close chance in the 27th minute, when Isidro Martinez struck the left post after the Toros forced a turnover and moved in transition.
Shortly after, the Toros took the lead when Luka Malesevic launched a high cross from the right side of the field toward the back post. Ruiz got between defenders, though with not much space, he opted to hit the shot on his first touch and found the right corner of the net in the 34th minute.
Second half
The Hounds began the half bringing Alex Dixon off the bench. It was the 200th career USL Championship appearance for Dixon, who missed last week's match for the birth of his first child.
Traffic flowed the Hounds' direction for much of the half, as they had 64 percent of the ball and held RGV to one shot. Despite that, the team took until the final 15 minutes to really test goalkeeper Javier Garcia.
Albert Dikwa forced a save at close range after Dane Kelly slipped a pass through to him, and the Toros were able to scramble the ball away with Kelly and Dixon looming on the second chance.
Dikwa momentarily thought he had a stoppage-time equalizer after being played in behind the defense, but the offside flag was correctly raised as the Hounds' striker put the ball in the net. A last-minute shot by Dixon was saved by Garcia, who made three stops in the shutout.
FULL TIME: Ricky Ruiz scored the only goal as Rio Grande Valley FC took a 1-0 victory against Pittsburgh Riverhounds SC at H-E-B Park on Saturday night, sending the Toros back above the playoff line in the Western Conference.#RGVvPIT | https://t.co/N1cSSfoQQ5 pic.twitter.com/bnUOB4VDl4

— USL Championship (@USLChampionship) June 19, 2022
Match Day Updates
The Riverhounds are in Texas, this time to face RGVFC for the first time ever. Look for match updates/highlights/recap to follow here.
---
94′ — Attempt saved.Dixon left footed shot from the left side of the box is saved in the top centre of the goal. Assisted by Dane Kelly.
92′ — Dikwa puts it in goal, but was offside
4 minutes of stoppage time added
86′ — long balls to Dikwa not working
As we resume, let's acknowledge a milestone for our man @alexdixon19, now the 15th player with 200 @USLChampionship appearances!

(But his first since becoming a proud papa!)#RGVvPIT #HOUNDTAHN pic.twitter.com/h0hm7z63nH

— Pittsburgh Riverhounds SC (@RiverhoundsSC) June 19, 2022
75′ – hydration break.
67′ — Couple more subs to bring fresh legs and spark a late push for Hounds:
IN: Dane Kelly, Dani Rovira
OUT: Russell Cicerone, Jelani Peters
59′ — Free kick from Forbes on right side (about 35 yds from goal) ends up bouncing out for Peters to take a run at one, but it goes over the bar.
55′ — Miscommunication between Silva and Dossantos almost proves disastrous on ball in from left side. Dossantos gets low to chest it (maybe should have been Silva's ball), but Silva collects under pressure from Adolfo Hernandez's poke.
51′ – Angelo Kelly wins a free kick that Forbes chips to the near post, but RGV GK Garcia is off his line and beats Cicerone to it.
46′ — As second half begins, Hounds going to bench. As anticipated, Alex Dixon comes on for Marc Ybarra. Looks like Dix moves up to the front line of attacking MF's, while Kenardo Forbes drops deeper.
HALF — RGVFC 1, HOUNDS 0
Hounds with 60% possession, generating few more corners, using width better — but only two shots (both not counted on frame though Forbes' chance was saved by defender) Another poor defensive lapse on the RGV goal.
Hernandez got between Wiedt and Williams for the goal. Real sloppy defending. They have to close that space quicker.
Here's a look at the goal…
36′ — GOAL — RIO GRANDE VALLEY FC TOROS 1, RIVERHOUNDS 0
A long, looping diagonal ball from far right sideline, ends up with Adolfo Hernández  getting a one-time chance between a pair of Hounds defenders just inside the edge of box.
Another diagonal ball leads to a goal Hounds have surrendered.
Interesting tonight… Hounds using both Kenardo Forbes and Danny Griffin in the attacking MF line, with Marc Ybarra and Angelo Kelly-Rosales sitting deeper as holding mids in 4-2-3-1. #RGVvPIT pic.twitter.com/EosiUbvRkV

— John Krysinsky (@JohnKrysinsky) June 19, 2022
27′ — Another bullet dodged by the Hounds! Isidro Martinez hits the left post on a nice shot through traffic.
14′ — Hounds get forward. Cicerone with nice layoff for Forbes, but his shot heading into open goal is saved by RGVFC defender!
It was defender Erik Pimentel who saves it off the line for RGV! Great move by Cicerone to draw the defense and set up Forbes for the shot.
11′ –My goodness, Hounds give the ball away, but were fortunate to escape after getting picked apart with a few nice passes as RGV's Adolfo Hernández completely misses his shot, sending it over the bar. 11′
8′ — Good energy from the jump from the Hounds tonight in the early going. Bringing high press too, which seems to be rattling RGV a bit.
8:25 p.m. — some new wrinkles in the Hounds starting XI…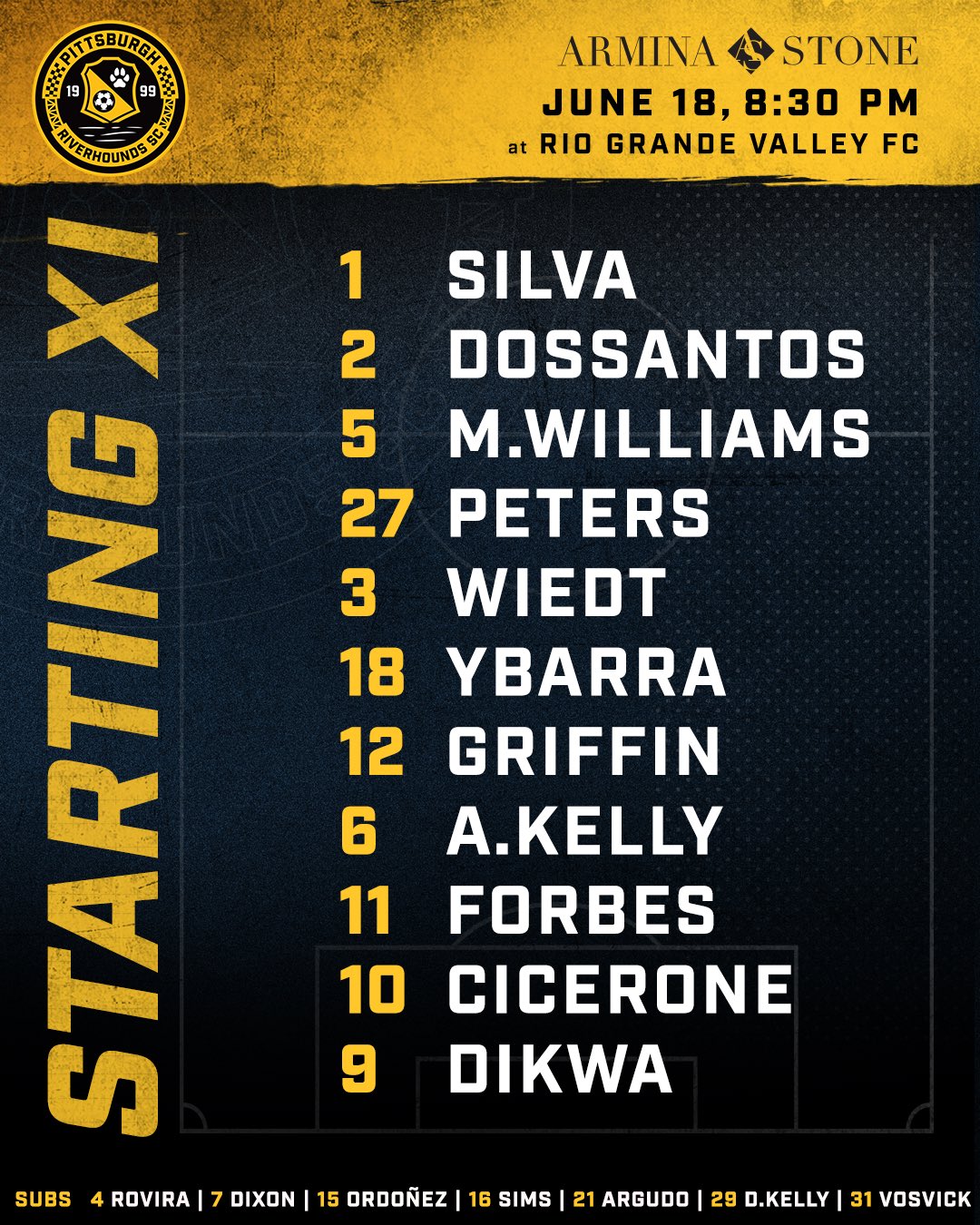 Riverhounds SC Coverage on PSN
Hounds Notebook: What 'other solutions' will come at RGV, plus a look back at short-lived Houston Dynamo affiliation
Lilley determined to 'keep after it' despite Riverhounds' current rough patch
Takeaways & Player Grades: Lacking intensity, focus and movement, Hounds doomed from the start at Charleston
Riverhounds MF Danny Griffin
Subscribe to PGH Soccer Now