FINAL: Riverhounds SC 2, Atlanta UTD2 1
Live statistics: USL Championship Match Center
Match Summary 
The Riverhounds made sure they didn't let another evaporated lead haunt them, pulling out a 2-1 victory against Atlanta United 2, at Kennasaw State University in Georgia on Saturday night.
The Hounds were led by Albert Dikwa's second brace of the season, which gave the striker his eighth and ninth goals on the season.
After Dikwa's first goal, assisted by Robbie Mertz playing against his former team, gave the Hounds the lead late in the first half.
Atlanta responded with a Jackson Conway header that equalized the match in the 68th minute.
Pittsburgh didn't waste any time grabbing the lead back when Dani Rovira delivered a pinpoint cross to the far post area for Dikwa, who blasted the ball into the back of the net with a stinging header.
With the victory, the Hounds (14-7-5, 47 points, are now tied with Birmingham for fourth place (Birmingham hosts NYRBII on Sunday).
First half
Atlanta came out controlling more of possession — the hosts had a 65 percent possession number through 15 minutes — but it was the Hounds who created the bulk of the chances, including a 20th-minute downward header by Dikwa that bounced over the crossbar from just 5 yards out.
Robbie Mertz, playing his first game back against his former team, nearly put the Hounds ahead at the half-hour mark, but his shot from inside the box was cleared off the line by Atlanta's Bryce Washington, a former collegiate player for Pitt.
Dikwa finally put the Hounds' noses in front in the 44th minute, as Mertz set him up on his right foot with a one-touch pass to link play on the initial pass forward by Kenardo Forbes. It was Mertz's eighth assist of the year and second since rejoining Pittsburgh.
Second half
The Hounds sought a second goal early in the half, and Forbes was denied twice by good saves from Atlanta goalkeeper Vicente Reyes.
But in the 66th minute, the home team go on the board when Ajani Fortune made a good overlapping run down the right side. Fortune lofted a cross to the back post, and Conway rose to head in his team-leading eighth goal for Atlanta.
The Hounds responded quickly with a header of their own, as Dani Rovira worked the left sideline for room to swing in a ball to the opposite post, where Dikwa met the pass with a strong, headed finish. The ninth goal of the season adds to Dikwa's career-best total, and Rovira also adds to a career-high with five assists this season.
The Hounds used all five of their substitutions after Dikwa's second goal, and they were able to hold off Atlanta despite six minutes of stoppage time being added.
Kevin Silva made three saves in net for the Hounds, who outshot Atlanta, 13-7, and had a slight edge with 52.7 percent of possession for the game.
Riverhounds SC lineup (5-2-1-2) — Kevin Silva; Dani Rovira (Jesse Williams 85'), Mekeil Williams, Arturo Ordóñez, Shane Wiedt, Alex Dixon (Marc Ybarra 72'); Robbie Mertz (Angelo Kelly 72'), Danny Griffin; Kenardo Forbes (Luis Argudo 72'); Edward Kizza (Jelani Peters 85'), Albert Dikwa
Atlanta United 2 lineup (4-3-2-1) — Vicente Reyes; Michael Ambrose (Nelson Orji 78'), Noah Cobb (Efraín Morales 60'), Bryce Washington, Raimar; Luke Brennan (Erik Centeno 57'), Nick Firmino, Toni Tiente (Darwin Matheus 78'); Ajani Fortune, Jackson Conway; Tristan Trager
Scoring summary
PIT — Albert Dikwa 44' (Robbie Mertz)
ATL — Jackson Conway 66' (Ajani Fortune)
PIT — Albert Dikwa 71' (Dani Rovira)
Discipline summary
ATL — Ajani Fortune 9' (caution – unsporting behavior)
ATL — Bryce Washington 35' (caution – unsporting behavior)
PIT — Danny Griffin 62' (caution – unsporting behavior)
PIT — Mekeil Williams 89' (caution – dissent)
ATL — Raimar 90+3' (caution – unsporting behavior)
PIT — Jesse Williams 90+6' (caution – delaying restart)
---
Match Day Updates 
Look for line-ups, game updates and recap to follow on Pittsburgh Soccer Now.
---
It's a 7:30 p.m. kickoff!
FINAL – RIVERHOUNDS 2, ATLUTD2 1
The Hounds using a full allotment of subs, close out the win on the road.  Considering how the past two matches at home fared,
73′ — GOAL – RIVERHOUNDS SC 2, ATL UTD2 1
Make that TWO for @DikwaAlbert ✌️#ATLvPIT | @RiverhoundsSC pic.twitter.com/w67PBikhvH

— USL Championship (@USLChampionship) August 28, 2022
Albert Dikwa with the brace.  He's there on the end of Dani Rovria cross and the Hounds regain the lead.
69′ — GOAL – ATLANTA UNITED2 1, RIVERHOUNDS SC 1
Poor defending, lacking support in box leads to header goal from Conway.
Towering header 🔥#ATLvPIT | @atlutd2 pic.twitter.com/WYAcZKub6g

— USL Championship (@USLChampionship) August 28, 2022
HALF – PITTSBURGH 1, ATL UTD2 0
.@DikwaAlbert gives @RiverhoundsSC the lead in Atlanta 🫡#ATLvPIT pic.twitter.com/mhjbD6keww

— USL Championship (@USLChampionship) August 28, 2022
44′ — GOAL – RIVERHOUNDS SC 1, ATL UTD2 0
It's Albert Dikwa, who put in a lot of work leading up to that point, but no quality scoring chances.  His hard work paid off with a well struck low shot that has enough even after keeper tip to make its way into goal.
Hounds Starting XI: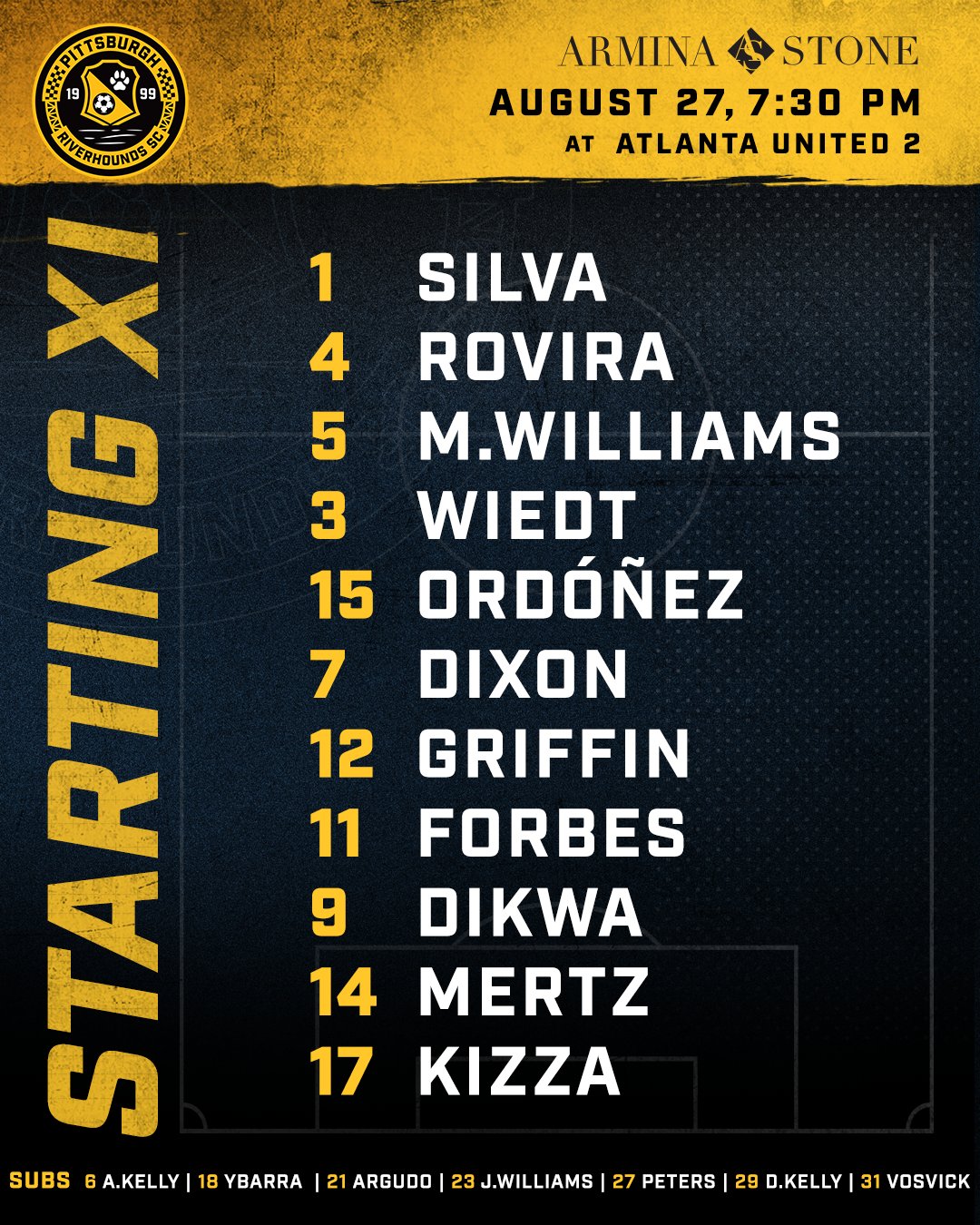 You, too, can stay up to date on upcoming notable player landmarks in the @USLChampionship in our weekly News & Notes feature.

Another of the league's legends could make his 250th regular season appearance this weekend.

One guess, @SteelArmy: https://t.co/Ps38OD8DPp https://t.co/xLKiLOeUMZ

— Nicholas Murray (@NJEMurray) August 26, 2022
Recent PSN Hounds Coverage  
Match Preview 
Hounds aim to regroup from a disappointing two-match homestand when they go back on the road to face Atlanta United 2 tonight in Kennesaw, Ga.
It is the second straight match — and the middle of a stretch of three matches in four — against an MLS reserve side, which historically bodes well for the Hounds. Even after letting a two-goal lead slip away last week in a 2-2 draw with New York Red Bulls II, the Hounds have an impressive 18-1-1 record in their past 20 games against MLS "2" sides. The Hounds are also 4-0-2 all-time against Atlanta, with the last two matches being 4-0 wins, both in Pittsburgh.
This will be the first game against his old side for Robbie Mertz, who rejoined his hometown Hounds by way of a transfer last month after a season and a half with Atlanta. Mertz was Atlanta's leader in assists during his tenure with the team, and he has been feeling his way out in the Pittsburgh lineup, recording an assist on his return debut in Hartford and scoring his first goal back with the Hounds last week against New York.
The game also begins a stretch of three matches in eight days for the Hounds, which will be the final time this season the team has to contend with a three-match "week." Expect to see some fresh legs in the lineup both at Atlanta and again Wednesday vs. Charleston, particularly up front. Dane Kelly got the starting nod against New York, which means a fresh Albert Dikwa or possibly a first start for on-loan Edward Kizza could be in the cards as Bob Lilley tries to prime his team for the playoffs.
Speaking of the postseason, the Hounds' "magic number" to clinch is 12 points either gained by the Hounds or dropped by eighth-place Tulsa, but of greater importance to Lilley is the three-point game to fourth-place Birmingham. The Hounds have a game in hand and still face the Legion next month, but shrinking the gap between now and Sept. 14 would go a long way toward bringing playoff soccer back to Highmark Stadium.
Atlanta, on the other hand, is already out of the playoff hunt, but has shown they still can pose danger to other teams. Though they are last in the USL Championship with 71 goals conceded, they nearer to the middle of the pack with 30 goals for, with 20-year-old Leeds, England native Jackson Conwayleading the way with seven.
Game Notes 
For the second week in a row, the Hounds will match up with an MLS-owned team for the final time, as Atlanta United 2 is slated to drop into third-division MLS Next Pro in 2023.
• The Hounds have not lost in six previous meetings with Atlanta, including 4-0 home wins in each of the past twocontests. The team is 1-0-1 in their only two road meetings with Atlanta United 2, which came in 2018 and '19.
• This will be the first game returning to Atlanta for midfielder Robbie Mertz, who rejoined the Hounds via transfer last month. Mertz scored his first goal back with his hometown team last Saturday in the Hounds' 2-2 draw against New York.
• Defender Mekeil Williams scored his first goal with the Hounds and first in the league since 2019 with a headed finish from a corner kick against New York. The Trinidadian international also played his 100th USL Championship match the week before against Memphis.
• Hounds captain Kenardo Forbes continues to hit playmaking milestones. The midfield veteran recorded his 40th assist with the Hounds — pushing his USL Championship record total to 54 — with his service on Williams' goal last week. With nine assists on the season, he is second in the league and on the verge of his first double-digit assist season.
• For the second year in a row, forward Russell Cicerone has hit his stride in the summer months. In 16 games since May 14, Cicerone has nine goals and four assists. He leads the Hounds with 11 goals on the season — good for 10th in the league entering the week — and he is just the third player in team history with consecutive double-digit goal seasons.
• Hounds forward Albert Dikwa continued to build on a career season with the only goal of the team's win over FC Tulsa on July 30. It was Dikwa's seventh goal of the season.
• Midfielder Danny Griffin has played all but 17 minutes since the beginning of the 2021 regular season, starting every league match during that time. He has not missed a league game since turning pro with the Hounds in 2020, appearing in 74 consecutive USL Championship contests.
• The Aug. 6 game against Indy was the 150th game for head coach Bob Lilley in all competitions with the Riverhounds. The club's all-time wins leader is 80-33-39 overall as he continues his fifth season in charge.
• In 152 matches under Lilley in all competitions, the Hounds have allowed just 143 goals, an average of 0.94 goals per game.
Riverhounds MF Danny Griffin
Subscribe to PGH Soccer Now