USL Championship – Eastern Conference Semifinal
FINAL: Louisville City FC 2, PIttsburgh Riverhounds SC 2 (LouCity wins PK shootout, 5-3)
Match statistics: USL Championship Match Center
Match Summary
Once again the Pittsburgh Riverhounds SC endured a penalty kick shootout, but this time, they came out on the losing end, falling to Louisville City FC, 2-2 (5-3 in the shootout), in a heartbreaking end to the 2022 campaign.
LouCity will play host to the Eastern Conference Final against either the No. 2 seed Memphis 901 FC or No. 3 seed Tampa Bay Rowdies on Saturday, Nov. 5 at 7:30 p.m. ET, with the appearance Louisville's eighth consecutive Conference Final berth in club history.
For more than 80 minutes, the Riverhounds SC managed and scapped their way to holding a 2-0 lead in hostile territory, but a quick surge from Louisville City FC in the late stages turned the tables of the match, with two goals.
The teams would play through the end of regulation and extra time testing each other in spurts, but ultimately having to settle the contest in a penalty kick shootout.
Russell Cicerone scored both of the Hounds' goals in regulation, while Manny Perez and Cam Lancaster added Louisville City's goals.  Danny Faundez came up with the only save in the shootout, stopping Hounds' Danny Griffin's attempt that started the proceedings.  Louisville converted on all of its chances, as last week's hero, Hounds goalkeeper Jahmali Waite was unsuccessful this time around.
In the 15th minute, Cicerone was well-positioned in the far side of the box for a Robbie Mertz cross that gave the Hounds the early lead.  Despite conceding more than 60 percent of the ball, the Hounds remained steadfast in defending through the first half, only allowing four Louisville City shots, none that went on frame.
Early in the second half, Pittsburgh stunned the home side and its crowd of more than 8,000 fans, when Cicerone was on the receiving end of a terrific string of one-touch passes by the Hounds through the middle of the field that ended with a Kenardo Forbes thru ball.
Louisville had a chance to pull a goal back five minutes later as a corner kick from the left caused a scramble in the penalty area, resulting in a chance for Corben Bone that flew over the crossbar, but in the main the hosts continued to have difficulty breaking down Pittsburgh's defense as it tried to find a way back. At the other end, meanwhile, the Hounds found more attacking threats to extend their lead. On the hour-mark, Forbes played Albert Dikwa in for a chance that was well saved by Faundez, and the shot-stopper came up with another save eight minutes later to keep out Alex Dixon.
Then, came a two-and-half minute sequence that would doom the Hounds.
In the 81st minute, the home team finally capitalized on a set piece, when Waite made a terrific save Josh Wynder's redirect shot attempt, but Perez pounced on the rebound with a shot from the right side that cut the lead in half in the 82nd minute.
Less than two minutes later, with the crowd still in a frenzy, Louisville's pressure created a shoulder-to-shoulder collision in the box, with Pittsburgh's Shane Wiedt getting called for the foul in the box on a shoulder-to-shoulder play, that knocked Louisville attacker off his feet.
Veteran forward Cameron Lancaster delivered the equalizer on the Louisville spot kick opportunity in the 84th minute.
The match would go to extra time, where both sides had solid opportunities as play opened up at times.
Louisville City held huge advantages with a 49-14 dominance in the number of crosses and 14-7 difference in corner kicks, while the home side owned 66 percent of the match possession.
Riverhounds SC lineup (5-2-3) — Jahmali Waite; Dani Rovira (Angelo Kelly 58′), Mekeil Williams (Jelani Peters 58′), Arturo Ordóñez, Shane Wiedt (Edward Kizza 91′), Alex Dixon (Toby Sims 82′); Kenardo Forbes, Danny Griffin; Russell Cicerone (Marc Ybarra 82′), Robbie Mertz (William Eyang 91′), Albert Dikwa
Louisville City FC lineup (3-4-3) — Danny Faundez; Josh Wynder, Wes Charpie (Corben Bone 46′), Sean Totsch; Amadou Dia, Paolo DelPiccolo (Eli Wynder 69′), Tyler Gibson (Carlos Moguel Jr. 69′), Manny Perez; Enoch Mushagalusa, Wilson Harris (Cameron Lancaster 69′, Oscar Jimenez 91′), Ray Serrano (Napo Matoso 69′)
Scoring summary
PIT — Russell Cicerone 14′ (Robbie Mertz)
PIT — Russell Cicerone 47′ (Kenardo Forbes)
LOU — Manny Perez 83′
LOU — Cameron Lancaster 85′ (penalty)
Discipline summary
PIT — Dani Rovira 45+2′ (caution – persistent infringement)
PIT — Mekeil Williams 54′ (caution – unsporting behavior)
LOU — Josh Wynder 62′ (caution – unsporting behavior)
PIT — Shane Wiedt 84′ (caution – unsporting behavior)
LOU — Manny Perez 88′ (caution – unsporting behavior)
PIT — Albert Dikwa 90+4′ (caution – unsporting behavior)
PIT — Russell Cicerone 103′ (caution – dissent)
LOU — Amadou Dia 115′ (caution – unsporting behavior)
Kicks from the Penalty Mark summary
LOU (Goalkeeper: Faundez) — Totsch, J.Wynder, Jimenez, Matsoso, Moguel Jr.
PIT (Goalkeeper: Waite) — Griffin (miss), Forbes, Sims, Dikwa
Look for a more detailed recap to follow here, plus more post-match reaction to come. 
Match Updates
Look for starting lineups, key in game highlights and updates to be posted here, plus, we've already begun to track some of the pregame blotter…
---
FINAL – LOUISVILLE CITY FC 2, PITTSBURGH RIVERHOUNDS 2 (LOUISVILLE WINS IN PKs)
LOU – Mogel Jr. – Rd 5, shot 9 – SCORES

The 19 yr old does it!

And @loucityfc wins the PK shootout — and defeats the @RiverhoundsSC, 2-2 (5-3) to advance to the @USLChampionship Eastern Conference Finals for the 8th time (and 8th straight year). #LOUvPIT

— John Krysinsky (@JohnKrysinsky) October 30, 2022
END OF SECOND PERIOD OF EXTRA TIME — PITTSBURGH 2, LOUISVILLE 2
We're going to PK's!!  Second straight week for the Hounds.  Can they do it again?
END OF FIRST PERIOD OF EXTRA TIME – PITTSBURGH 2, LOUISVILLE 2
105′ ++ — Attempt missed. Manny Perez (Louisville City) right footed shot from the centre of the box is high and wide to the left. Assisted by Joshua Wynder with a cross following a corner.
98′ — Kizza scores but it's waved off.
If Kizza was offside it was by the narrowest of margins.#LOUvPIT

— ben goshorn (@TheSoccerGoose) October 30, 2022
97′ — Corben Bone with sissor attempt that is robbed by Waite!!
93′ – Kizza heads Dikwa in down the right, but Faundez makes a kick save out for a corner!
91′ — START OF 1ET — LOU SUBS Oscar Jimenez replaces Cameron Lancaster, who appears to be minutes limited on his comeback from an injury.
HOUNDS SUBS – Mertz and Wiedt are out — in comes Edward Kizza and William Eyang.
END OF REGULATION – RIVERHOUNDS 2, LOUISVILLE 2
90′ +++++ – Sims fouled by Mushagalusa with the high boot, and the Hounds players looking for a card akin the the Dikwa call. None forthcoming.
90′ +++ – Hounds shot from Toby Sims on right side.  Nice feed from Forbes.
90′ — FOUR minutes of stoppage time.
89′ – Card issued to Perez for Louisville for a dangerously late slide into Griffin.
HERE's THE LOU CITY EQUALIZER
Who else but @CameronPL to equalize for @LouCityFC? Can they complete the comeback?#LOUvPIT | #USLPlayoffs pic.twitter.com/dNxag0LUHm

— USL Championship (@USLChampionship) October 30, 2022
84′ — GOAL – LOUISVILLE 2, PITTSBURGH 2
PK — Cam Lancaster levels it with a turf burner to the left that beats Jahmali Waite.
83′ — PENALTY
We're headed for a photo finish in Louisville 👀 @mannyP113 with the first of the night for @loucityfc #LOUvPIT | #USLPlayoffs pic.twitter.com/VkilKQmr1g

— USL Championship (@USLChampionship) October 30, 2022
82′ — GOAL – PITTSBURGH 2, LOUISVILLE 1
Manny Perez with the rebound after Waite makes an amazing save on initial redirect from a free kick.
Buckle up folks!!
72′ – The Hounds have not won a corner, have only four crosses, but their shape and defending in final third has been solid despite LouCity's 13 crosses, 5 corners & 63/37 possession edge.
69′ – Here comes the big gun off the bench for Louisville in a wholesale change. IN: Cameron Lancaster, Elijah Wynder, Napo Matsoso OUT: Wilson Harris, Paolo DelPiccolo, Ray Serrano
68′ – Dixon down the right gets a good shot on goal to force a save. Could have been a breakaway, but his first touch was a bit behind him.
62′ – Josh Wynder gets the first Louisville card for chopping down Dikwa down the right flank.
57′ — SUBS Hounds  — with mindset to keep the clean sheet and get guys off who are sitting on cards… IN: Angelo Kelly, Jelani Peters OUT: Dani Rovira, Mekeil Williams 57′ 2-0 Pittsburgh leads Louisville City
54′ — Mekeil Williams booked for a foul out wide. He's the second Hounds player cautioned tonight.
HERE'S THE SECOND GOAL…
We've got @RussellCicerone running rampant in Louisville for @RiverhoundsSC 😤#LOUvPIT | #USLPlayoffs pic.twitter.com/3GJ3TYZwOp

— USL Championship (@USLChampionship) October 30, 2022
47′ — GOAL — PITTSBURGH 2, LOUISVILLE 0
Russell Cicerone again with the brace!
What a terrific one-touch passing by Hounds that led to great thru ball for Russ who gets behind his man. Hounds have stunned LouCity w/ early 2nd half 2-0 lead!  Forbes had the last pass to get the assist.
HALFTIME — PITTSBURGH 1, LOUISVILLE 0
The Hounds have made the most of their primary chance, as Russell Cicerone converted on his big chance in the box, thanks to well placed Robbie Mertz cross.
Louisville being contained to the perimeter and can't get much going in the box.
44′ — Lot of gamesmanship from Hounds tonight. They're doing all the little things to frustrate Louisville. Rovira with a little extra there to get the yellow card. Free kick for home side bounces back out and redirected to left of goal & easy pickup for Waite.
42′ — Not a lot of shots from either side, but Hounds looked dangerous again after patience and some solid buildup around the box. Capped by Danny Griffin (!!) well-struck ball that barely sails over right corner.
28′ — Louisville carrying plenty possession and using flanks. Hounds Dani Rovira blocks another cross attempt. Third corner for LouCity is well-defended by Pittsburgh.
LouCity with edge in corners (3-0) and crosses (5-2) thus far
24′ — Ordonez holding his own thus far in 1v1 situations with the dangerous Dia. Denys any attempt for the speedy wide man to get into the box, and blocks cross attempt.
HERE's THE RUSSELL CICERONE GOAL…
The East's top seed behind early 👀@RussellCicerone gets @RiverhoundsSC on the board first this evening!#LOUvPIT | #USLPlayoffs pic.twitter.com/TizKZewUZc

— USL Championship (@USLChampionship) October 29, 2022
15′ — GOAL — RIVERHOUNDS 1, LOUCITY FC 0
Russell Cicerone
Ball in box comes in from Robbie Mertz on right side, sails over near post effort for Dikwa, but on back post is Cicerone, who's there to send it home.
10′ — It's posted on USL Match Center as a 4-2-3-1, but the Hounds are looking more like a 5-4-1 tonight (From what I can see) with the MF line of Mertz, Forbes, Griffin, Cicerone. Dixon and Rovira are playing deeper along the back line.
7:37 p.m. – 1′  KICKOFF
6:45 p.m.  — ZERO lineup changes for the Hounds from last week…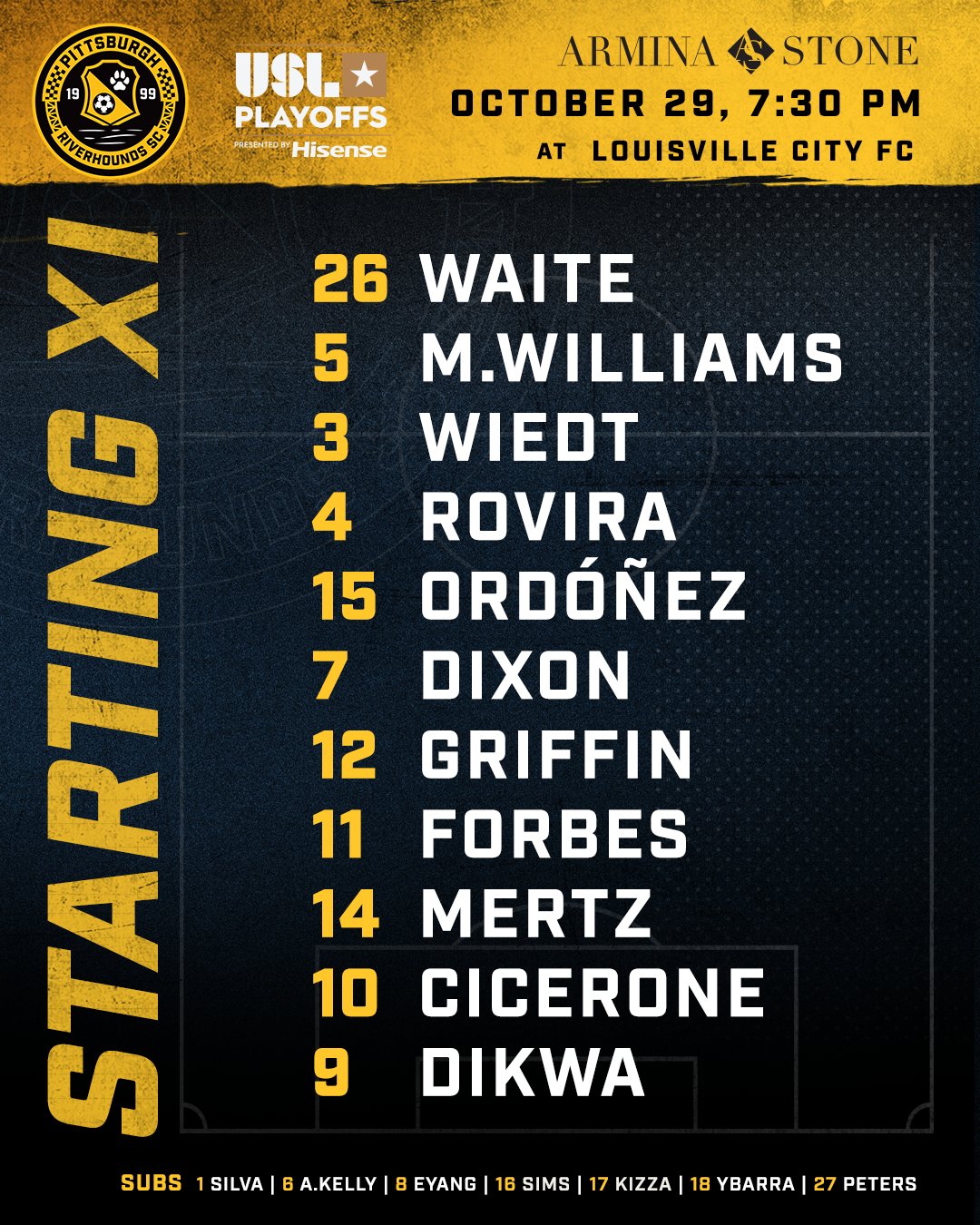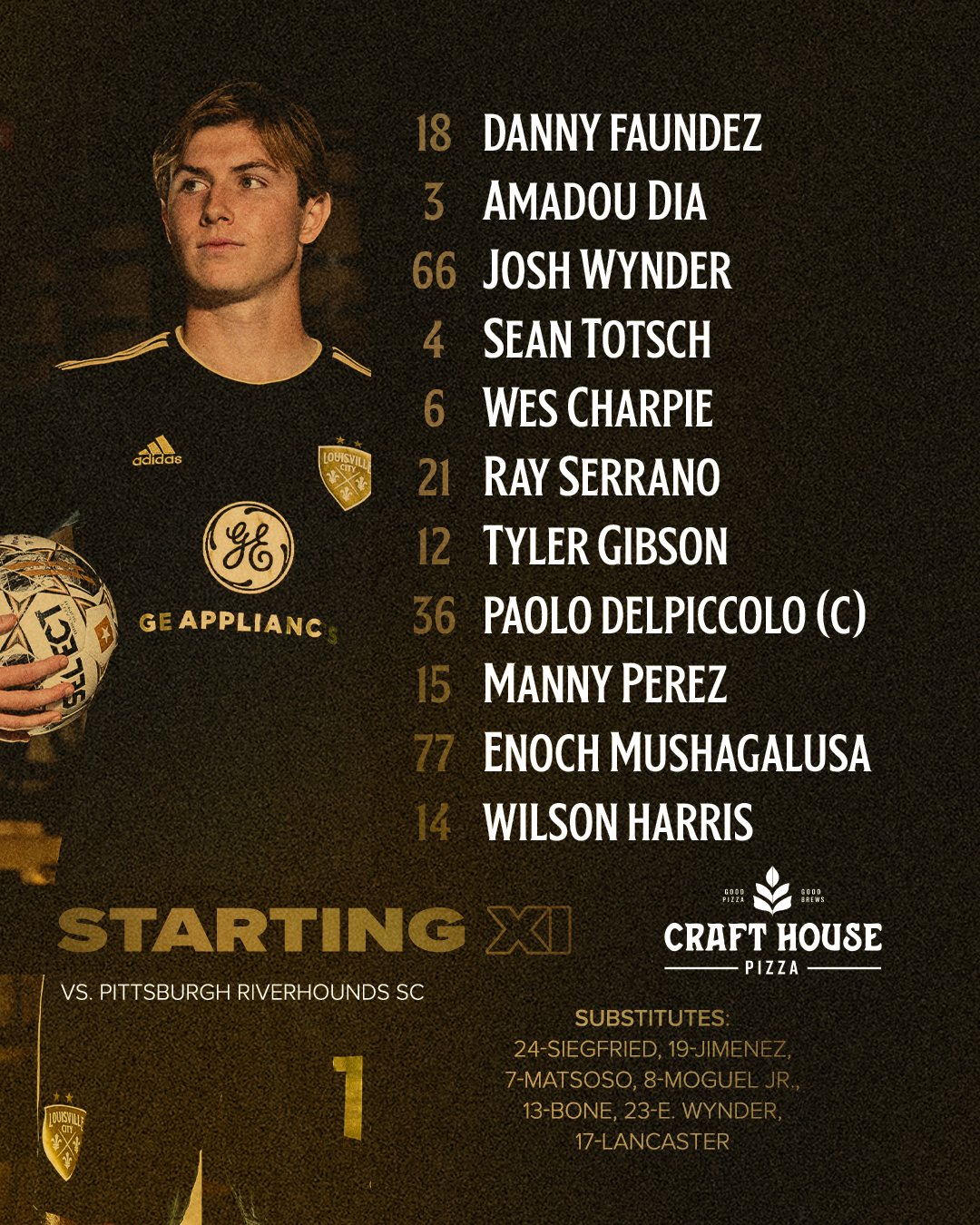 Ahead of tonight's @RiverhoundsSC – @LouCityFC here are injury/inactive reports:

PIT
Nate Dossantos (knee) OUT

LOUCITY
OUT
Jorge Gonzalez
Niall McCabe
Ian Soler

QUESTIONABLE
Cameron Lancaster
Kyle Morton
Brian Ownby#LOUvPIT

— John Krysinsky (@JohnKrysinsky) October 29, 2022
📍Louisville, KY #HOUNDTAHN #HuntAsOne pic.twitter.com/pc1MF9WfA2

— Pittsburgh Riverhounds SC (@RiverhoundsSC) October 28, 2022
Arreguin's only previous Hounds match was last year at San Antonio (1:1 draw) and he has worked 1 Louisville match this season, a 0:1 win at El Paso.

In 16 league matches this year, he's given 8 penalties and shown 5 reds.

He was the ref in last weekend's Memphis/Detroit match. pic.twitter.com/8CRBVGcdnv

— Steel Army (@SteelArmy) October 27, 2022
Ownby, Morton, and Lancaster are all still questionable two days out from #LOUvPIT #LouCity

— Benton – VamosMorados.com😈 (@PurpleSDF) October 27, 2022
PLAYOFF SOCCER: BIG GAME tomorrow night at Lynn Family Stadium. Louisville City FC take on the Pittsburgh Riverhounds at 7:30 PM in their first playoff game this season. The weather looks cool and dry. Come out and root for Lou City! #wlkyweather @loucityfc @wlky pic.twitter.com/HvKh0rvFGb

— Daniel Johnson WLKY (@DanielJohnsonWx) October 28, 2022
Preview / PSN Recent Riverhounds SC Coverage
The Riverhounds SC and LouCity meet for the third time in the last four years in the USL Championship playoffs, and for the second time in the Semifinal Round on Saturday night at Lynn Family Stadium.
The Hounds are coming off an epic quarterfinal round win at Birmingham, and had just three days of training in Pittsburgh, plus a travel day and light training in the Derby City to get ready for this one, while the hosts will be well rested, as the top seed had a bye in the first week of the playoffs.
These teams met twice this season, with Louisville winning the first match at Lynn Family Stadium in late April, 2-0, but in the rematch, the Hounds buckled down to play the Conference leaders to a nil-nil draw at Highmark Stadium.
On Friday, in Hounds Notebook, we dove deeper into the match-up and looked at the Hounds role as the underdog, as Louisville looks to reach its eighth straight appearance in the USL Championship's Eastern Conference Finals.
Game Notes
Pittsburgh and Louisville — the two teams with the longest streak of consecutive seasons reaching the USL Championship Playoffs — meet for the third time in the postseason.
While Louisville won the previous two playoff meetings in 2019 and 2020, the Hounds under Bob Lilley (since 2018) are 3-1-3 in their seven regular-season meetings with Louisville, and all three victories came in Kentucky.
Edward Kizza, who had one regular-season goal since joining the Hounds on loan July 13 from the New England Revolution, came off the bench to score both goals in Sunday's conference quarterfinal at Birmingham. It was the fourth multi-goal playoff game in Hounds history, joining Said Ali (2004), Willie Hunt (2015) and Neco Brett (2019).
Goalkeeper Jahmali Waite made a career-best seven saves Sunday against Birmingham, a total that does not include three additional stops made by the first-year pro during the shootout.
William Eyang recorded his first assist in the USL Championship at the ideal time, setting up Kizza's tying goal in the 116th minute after entering the game as a substitute against Birmingham.
Hounds captain Kenardo Forbes is up to 41 assists as a member of the Hounds, pushing his USL Championship record total to 55. This was his first career 10-assist regular season, and he finished one behind Detroit's Antoine Hoppenot for the assists title this year.
Danny Griffin set a new club record this season with 3,055 minutes played — five short of playing the entire regular
season. The third-year pro has played all but 17 minutes since the beginning of the 2021, and today's match will be his 85th consecutive appearance in the USL Championship (regular season and postseason). He has not missed a league match since turning pro in 2020.
For the second year in a row, Russell Cicerone led the Hounds in goals, scoring 13 this season after posting 16 in 2021. He is just the third player in team history with consecutive doubledigit goal seasons.
Albert Dikwa (11 goals) and Cicerone are the fifth set of Hounds teammates to have at least 10 goals in the same
season, and the first since 2019 when Brett and Steevan Dos Santos accomplished the feat.
In 162 matches under Lilley in all competitions, the Hounds are 83-35-44 and have allowed just 153 goals, an average of 0.94 goals per game
Riverhounds MF Danny Griffin
Subscribe to PGH Soccer Now