FINAL: Riverhounds 0, FC Tulsa 0
Match Statistics: USL Championship Match Center
Match Summary
The Pittsburgh Riverhounds SC and FC Tulsa competed in what turned out to be a midweek slugfest, with neither side able to get an elusive goal in a scoreless draw played at ONEOK Field on Tuesday night.
The Hounds appeared to have the first half go-ahead goal in the 16th minute when forward Albert Dikwa made a run into the box, getting behind the last defender on a long direct ball, then heading a ball into goal just as he collided with Tulsa keeper Michael Nelson.
Let's take a look back at the Dikwa play. Thought we had our first on this one…#TULvPIT #HOUNDTAHN pic.twitter.com/fUvlkkYLSQ

— Pittsburgh Riverhounds SC (@RiverhoundsSC) March 29, 2023
However, the match official saw it the other way around, putting Dikwa into the books for a foul, as Nelson was injured on the play. Nelson would be replaced by Austin Wormell.
Pittsburgh came out for the fourth straight match in a 4-2-3-1 formation, but instead of trying to dictate the match by possession, they chose instead to press and harass Tulsa's back line and midfielders throughout the night, then looked for quick counter opportunities.
Playing on three days rest, the Hounds used plenty of squad rotation, seeing five new starters in the lineup for the first time this season.
Pittsburgh held the advantage in shots (18-7, 3-1 on frame) and crosses (21-8), but Tulsa held the possession edge (70/30).
There were moments for each side to break through, as Tulsa had a Moses Dyer goal waved off in the 62nd minute.
Late in the match, the Hounds continued to look dangerous — despite having just 31 percent of possession in the game, they had more than double the touches of the ball in the opponent's penalty area, 33-13.
Junior Etou forced the best save of the day from Wormell with a rising shot in the 61st minute that the Tulsa keeper could only tip over the bar.
Stoppage time in the second half — a whopping 13 minutes because of multiple injuries — ended with a frantic scramble in the Tulsa box, but the hosts kept too many bodies behind the ball, and neither Robbie Mertz, Marc Ybarra or Joe Farrell could turn it on goal in the traffic. In the end, Tulsa was held without a shot for the final 30 minutes, but the Hounds were unable to pounce for a winning goal.
In the very late stages of the match, Hounds midfielder Junior Etou went down with an unknown injury. Etou had to be carted off on a stretcher. There has been no word on his condition.
Look for more on this match, including PSN's Post Match Reaction Show with John Krysinsky and Jordan Smith, along with Takeaways and Player Grades to come on Wednesday.
What's next?
With the Hounds advancing through the second round of the U.S. Open Cup via forfeit, the team misses out on a home game next week but also gets an unplanned 11-day gap until their next match. That will be a road trip to face the Colorado Springs Switchbacks (1-1-1) for the first time ever in a 8 p.m. match on Saturday, April 8.
---
Riverhounds SC lineup (4-2-3-1) — Jahmali Waite; Nate Dossantos, Joe Farrell, Arturo Ordóñez, Luke Biasi; Junior Etou (Trevor Zwetsloot 90+13'), Kenardo Forbes (Marc Ybarra 67'); Tola Showunmi (DZ Harmon 67'), Tony Lopez (Edward Kizza 76'), Burke Fahling (Robbie Mertz 46'); Albert Dikwa
FC Tulsa lineup (4-2-3-1) — Michael Nelson (Austin Wormell 21'); Brett Levis, Jorge Corrales, Bradley Bourgeois, Justin Malou (Rashid Tetteh 46'); Blaine Ferri, Christopher Pearson (Collin Fernandez 62'); Marcus Epps, Rodrigo da Costa, Milo Yosef (Moses Dyer 62'); Dario Suarez (Siad Haji 87')
Scoring summary
None
Discipline summary
PIT — Albert Dikwa 18' (caution – reckless foul)
PIT — Marc Ybarra 81' (caution – tactical foul)
TUL — Jorge Corrales 84' (caution – reckless foul)
PIT — Junior Etou 89' (caution – reckless foul)
TUL — Brett Levis 90+2' (caution – tactical foul)
---
Match Day Updates
https://twitter.com/USLChampionship/status/1640900639772254209?s=20
Final – No one scores. No execution in the final third from either team. FC Tulsa had quite the edge in possession with 70% but the Hounds offered more shots, 13-7. Just a choppy game that didn't get anywhere.
Pittsburgh now 1-0-3. Still undefeated
🤷‍♂️
90+' – Brett Levis gets a yellow card.
90′ – 4 minutes of stoppage time added in this one!
89′ – Etou given a yellow. 3 yellow's for the Riverhounds tonight.
87′ – FC Tulsa make their final sub. Haji runs on up top for Dario Suarez.
84′ – Currales on Tulsa is given a yellow card for jumping up in a challenge with Dikwa. He now has four yellow cards this season and leads the @USLChampionship in cautions.
81′ – Ybarra stops a promising attack with a foul on da Costa. Gets a yellow card. Makes sense to me.
76′ – As I was thinking this would happen, Kizza coming on for Tony Lopez. Hounds still have one more sub to use if they want. Same with Tulsa.
72′ – Didn't see who it was on the goal line but someone saved the day for the Hounds. I think it was either Farrell or Ordonez clearing it off the line. Score still 0-0.
66′ – Dyer scores for Tulsa but it's called offsides. Bad turnover by the Hounds so good thing that one doesn't count.
Pittsburgh now subs in Ybarra and Harmon in for Showunmi and the captain Forbes.
62′ – FC Tulsa makes two subs in the midfield. Fernandez and Dyer on for Yosef and Pearson.
60′ – Mertz with a chance inside the box but his shot is blocked.
48′ – Second half underway here. Mertz in for Fahling at outside mid. Tulsa subs their RB Malou and replaces him with Tetteh.
A bit of a contrast from our last trip to Oklahoma. No score through the first 45 in Tulsa.#TULvPIT #HOUNDTAHN pic.twitter.com/Y96SSgIEqh

— Pittsburgh Riverhounds SC (@RiverhoundsSC) March 29, 2023
Halftime – Ball bounces to da Costa and yet another shot goes high. Good chance for FC Tulsa right before the first half ends.
Tulsa with much more possession in the first half. Game opened up after about 35 minutes of play. Might just need one goal to win this game.
https://twitter.com/RiverhoundsSC/status/1640882214366859270?s=20
45+' – Waite has to make his first save of the game. Great diving effort.
45′ – 7 minutes of stoppage time added for the first half.
44′ – Hounds with a 2on1 with Dikwa and Lopez but defended well. Tulsa goes the other way. Good chance for Ferri but his shot goes high.
41′ – Now this time a header going high from Ordonez off a ball swung in by Forbes. Good buildup from him and Dossantos.
39′ – Tony Lopez with the first shot on goal. His header off a cross from Fahling goes directly into the goalkeepers hands.
29′ – A nice nutmeg by Rodrigo da Costa. He's a player to look out for on Tulsa. Ranks fourth in the @USLChampionship in crosses with 18 so far this season. 1 goal and 1 assist so far in this campaign.
22′ – Forbes takes a free kick but hits it high making the field goal. Score remains 0-0.
20′ – Nelson not healthy enough to return so Wormell replaces him in net.
Let's take a look back at the Dikwa play. Thought we had our first on this one…#TULvPIT #HOUNDTAHN pic.twitter.com/fUvlkkYLSQ

— Pittsburgh Riverhounds SC (@RiverhoundsSC) March 29, 2023
16′ – Dikwa scores but clashes into Tulsa's keeper. Nelson banged up on the play and unfortunately for Hounds fans, Dikwa is given a yellow card. No goal on the play.
1′ – Game begins on the turf baseball field in Tulsa, Oklahoma.
Look for the starting lineups to be posted here, along with in-game updates and the match recap shortly after the final whistle.
---
𝐅𝐢𝐫𝐬𝐭 𝐨𝐧 𝐭𝐡𝐞 𝐟𝐢𝐞𝐥𝐝. ☝️#ForTulsa | #GassedUp⛽️ pic.twitter.com/Fcp3POBE5o

— FC Tulsa (@FCTulsa) March 28, 2023
7:46 p.m. — RIVERHOUNDS SC Starting XI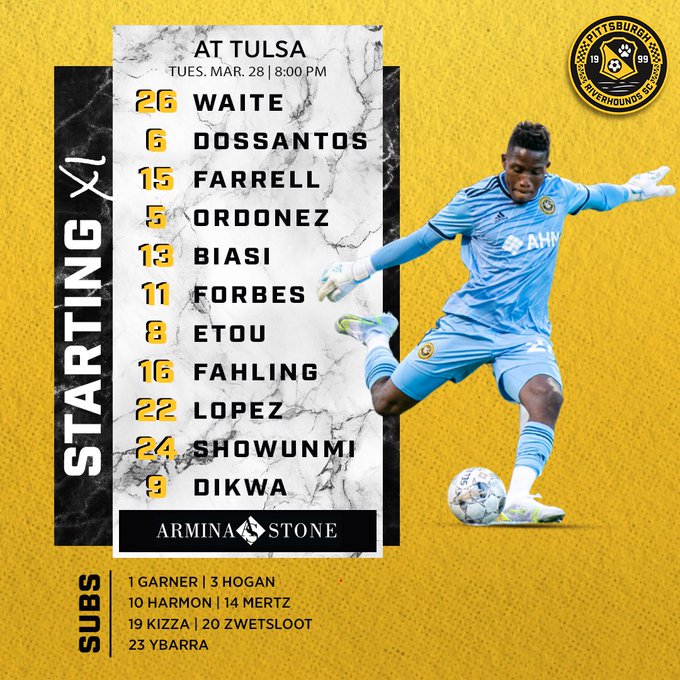 This will be Rivas' 2nd ever Hounds game (9/25/21 vs Charleston 3:3) and 4th Tulsa match.

He averages just under 4 cautions per USL-C match but has never shown a second caution. He throws a straight red once every 12 games and points to the spot once every 6 games.#UNLEASH pic.twitter.com/3IvFDdxZzh

— Steel Army (@SteelArmy) March 28, 2023
GAMEDAY!

The beloved with a quick turnaround from last Friday's home opener. Tulsa played on Saturday and will then play again on Friday.

8pm kickoff means you have plenty of time to enjoy dinner, do the dishes, and then get pumpt to watch soccer on a baseball field.#UNLEASH pic.twitter.com/I60zYRjtp2

— Steel Army (@SteelArmy) March 28, 2023
PSN Riverhounds SC Coverage
https://pittsburghsoccernow.com/2023/03/28/preview-scouting-report-hounds-gear-up-for-midweek-tussle-in-tulsa/
Hounds keeper Jahmali Waite starts in Jamaica's 2-2 draw vs Mexico in CONCACAF Nations League

Riverhounds MF Kenardo Forbes
Subscribe to PGH Soccer Now