FINAL: Riverhounds SC vs. Columbus Crew SC
Match Summary
The Pittsburgh Riverhounds SC continued its run through the Lamar Hunt U.S. Open Cup pulling off yet another 1-0 victory against a Major League Soccer side, this time eliminating the Columbus Crew from the National Tournament before a record crowd of 6,107 fans at Highmark Stadium on Wednesday night.
"I'm just proud of them, because these games are never going to be easy," Riverhounds Head Coach Bob Lilley said after the match.
"There's a certain amount of hope, that 6,000 fans are here — and you don't want to let them down"
With the win, the Riverhounds SC now advance to the Quarterfinal Round, where they'll have to venture to take on Ohio's other MLS club, FC Cincinnati, on either June 6 or June 7.
Albert Dikwa's goal in the 22nd minute held up, as the Riverhounds held on for the victory on a night when they were badly outpossessed (25/75), but generated enough dangerous opportunities, holding a slight edge in shots (9-7, 2-3 on target). Goalkeeper Jahmali Waite made three saves to record his fourth shutout of the year in all competitions, and the Hounds have yet to concede a goal in the Open Cup, including the past two matches against MLS opponents.
Dikwa's goal came when Hounds defender Arturo Ordonez cut off a pass intended for Thomas Roberts.
Riverhounds midfielder Robbie Mertz spotted Dikwa — and threaded a terrific ball through the space between Columbus' backline, giving the USL Championship's leading scorer an opportunity to take on and beat goalkeeper Evan Bush.
Dikwa slotted a clinical right-footed shot just inside the right post to put the Riverhounds up 1-0 — sending off an electric celebration as Dikwa and his teammates ran into the Steel Army Supporters Section in the Paul Child Stand.
Hounds History 💥 | @RiverhoundsSC #USOC2023 | @opencup pic.twitter.com/1Z2VSogDbx

— U.S. Open Cup (@opencup) May 24, 2023
"We were trying to catch up every time, every time, every time," Crew coach Wilfried Nancy said.
"That's why we conceded the goal like this. Could have done better on the goal, and after that, we were trying to attack but it was too slow because they were compact. When we, in the second half, started to speed up the play a little bit more, it was not enough to score."
Nancy brought on defender Mo Farsi and midfielder Aidan Morris. two dangerous attacking options late to get the equalizer.
But even throwing more numbers forward with an additional midfielder and attack-minded wingback on the field, the Crew still couldn't find any clear-cut quality chances.
Waite made one last stop on a long shot before the final whistle blew and the crowd went into a frenzy.
Unfortunately for Pittsburgh, Dikwa left the game due to an injury after chasing down a ball. After spending several minutes laying on the pitch he exited to the sidelines and was subbed off for Kenardo Forbes.
Lilley said that it was a hip flexor injury for Dikwa and he won't know more until the swelling goes down, but he's hopeful it will not be a long-term injury.
In addition, in the latter stages of the match, when he was battling to keep the ball in while fighting off a Crew defender, Edward Kizza was issued a red card in stoppage time for retaliation.
"They won the battle of the intensity and we were not able to match that," Nancy added.
Wilfried Nancy on what Riverhounds did well…#USOC2023 pic.twitter.com/glzAA9M5LP

— John Krysinsky (@JohnKrysinsky) May 25, 2023
"I don't think we had a great performance. But a great result for the club. We reminded our guys, they were going to have to work hard defensively. They'll have to compete. Look to play positive," Lilley added.
Robbie Mertz post match#USOC2023 pic.twitter.com/8vqOa4UbKa

— Pittsburgh Soccer Now (@pghsoccernow) May 25, 2023
Look for more content to follow on Pittsburgh Soccer Now, including Mark Goodman's match report, post match reaction and Ed Thompson's photo gallery.
Match Updates
Look for pre-match hype, Tweets, starting lineups and match updates to be posted below as our coverage team of John Krysinsky, Mark Goodman and Ed Thompson have the match covered.
---
FINAL: RIVERHOUNDS 1, COLUMBUS 0
HOUNDS PULL OFF CUPSET AGAIN AT HIGHMARK
Another Bob Lilley masterclass — and Hounds grind out a win against another MLS side to advance to #USOC2023 Quarterfinals (vs FC Cincy)
Is this Heaven?

No, it's Pittsburgh. 😇#UNLEASH #HOUNDTAHN #CUPSET #USOC2023 🖤💛⚽️ pic.twitter.com/7InCX0y4WE

— Matt Popchock (@PopchockSays) May 25, 2023
The Pittsburgh Riverhounds upset the Columbus Crew in the Round of 16 in the US Open Cup. They'll take On Cincinnati in the Quarterfinals in two weeks time.

Pittsburgh is a soccer town. #USOpenCup @pghsoccernow pic.twitter.com/r9Iz5YbU0N

— Dominic Campbell (@DOMISMONEY) May 25, 2023
93′ — RED CARD — HOUNDS Edward Kizza. Some heavy push off in the corner and the ref wasn't having it. The Hounds will have to close it out down a man.
90′ — Columbus bringing the heat. Hounds denying the short combination passes near edge of box, then cross in is punched away by Jahmali Waite.
87′ — Last moves for Coach Bob. Working to preserve that one-goal lead! IN: Pat Hogan, Edward Kizza OUT: Mike DeShields, Tola Showunmi
86′ — Hounds pressing in past few minutes. Set up a couple corners, then Griffin with a brilliant effort to go across the box — and sends a shot to right side that forces Even Bush save!
RECORD CROWD ANNOUNCED: 6,107.
77′ — Two subs for Columbus and they're dangerous ones the Hounds need to watch: Aiden Morris and Mohamed Farsi
75′ — Showunmi gets in the box after a deflected clearance enters a very dangerous spot — but he completely misses his one-time chance!
72′ — Two more subs for Hounds as they hold on to the lead — and pressing for another. IN: Trevor Zwetsloot, Junior Etou OUT: Robbie Mertz, DZ Harmon
65′ — Crew send bouncing ball into box, and Waite keeps composure to get it in a crowd.
62′ — Crew corner — Waite comes off line to make a nice play to deny any scoring chance!
62′ — YELLOW CARD – Danny Griffin
57′ — HOUNDS SUB — Forbes in for Dikwa
56– Major concern now for Hounds, as Albert Dikwa is down, and not getting up. Training staff now attending to him. Grabbed back of his leg in pain. Coming off now with shirt over face.
52′ — Roberts sends a blistering shot from outside box that forces a Jahmali Waite save. Good chance there for the Crew.
8:10 — 46′ — Second half kicks off
First half summary:
Pittsburgh started the match pressing Columbus, and while the visitors began knocking the ball around, but were turning over the ball early.
The Hounds created a few moments early when Robbie Mertz found Albert Dikwa in space, in the 12th and 17th minutes, but the USL Championship's leading scorer could only muster a failed chip, then a cross attempt that was deflected for a corner.
Pittsburgh broke through in the 22nd minute, when Mertz won a Columbus giveaway at right side of the midfield line, then sent a ball into space between Crew's backline for Dikwa, who took a touch, then beat veteran keeper Evan Bush, who came off his line, by slotting his shot inside the right post.
Hounds History 💥 | @RiverhoundsSC #USOC2023 | @opencup pic.twitter.com/1Z2VSogDbx

— U.S. Open Cup (@opencup) May 24, 2023
HALF — RIVERHOUNDS 1, CREW 0
Albert Dikwa's goal in 22′ is the difference. Hounds have been conceding possession (26/74), but have more quality in final third (5-3, 1-1 shots edge)
42′ — Crew's Jimmy Medranda makes a nice move to get to edge of box, but then skies a shot all the way to the overflow Press Box (IC Light Suites) where he almost knocks the hat off of our Mark Goodman.
33′ — Nice build-up by Hounds, beating the Crew at their own game, as Danny Griffin showing some flair with step-over in open space, then sends a ball for Showunmi, that goes over end line.
30′ — Man, Robbie Mertz just completely undressed Gustavo Vallecila, to win ball, then gets fouled by the Crew defender. Sets up free kick on right side of box, which is cleared by Columbus.
22′ — GOAL — RIVERHOUNDS SC 1, CREW 0
Hounds History 💥 | @RiverhoundsSC #USOC2023 | @opencup pic.twitter.com/1Z2VSogDbx

— U.S. Open Cup (@opencup) May 24, 2023
Albert Dikwa slots it right after a Columbus giveaway — Robbie Mertz with the assist ( I believe!) Bob Lilley wanted to DISTRUPT the Crew and they did there! Hounds lead @COlumbusCrew 1-0
17′ — Mertz with another nice ball wide to space on right side of box for Dikwa, who has his cross deflected out for corner. Corner in from Mertz — lot of headers and eventually cleared.
Every. Seat. Filled. #Houndtahn #USOC2023 #PITvCLB pic.twitter.com/2NuHWEhVCt

— Soccer Rabbi (@soccer_rabbi) May 24, 2023
12′ — Crowd coming alive at DZ Harmon goes down after a hard shoulder-to-shoulder with Jimmy Medranda — then moments later Mertz finds Albert Dikwa in space about 35 yards out. Dikwa chip over keeper attempt fails miserably.
7:08 p.m. – 3′ — We've kicked off here at Highmark. Of note after a few minutes… Pgh's three CBs, Nate Dossantos is in the middle, while it looks like Arturo Orodnez is shadowing every move of Christian Ramirez
7:00 p.m. – The Hounds putting out a pretty strong lineup, including some players who didn't even play or start on Saturday, but had success in last #USOC2023 match at New England: Tola Showunmi, Mike DeShields, Marc Ybarra and DZ Harmon Kenardo Forbes and Edward Kizza on bench to start – JK
6:35 p.m. — Hounds Starting XI:
lineup notes:
• Dikwa, Dossantos and Biasi start — other 8 the same from the last "cup lineup" at New England
• Griffin's 91st match with the Hounds comes vs. the team that drafted him in 2020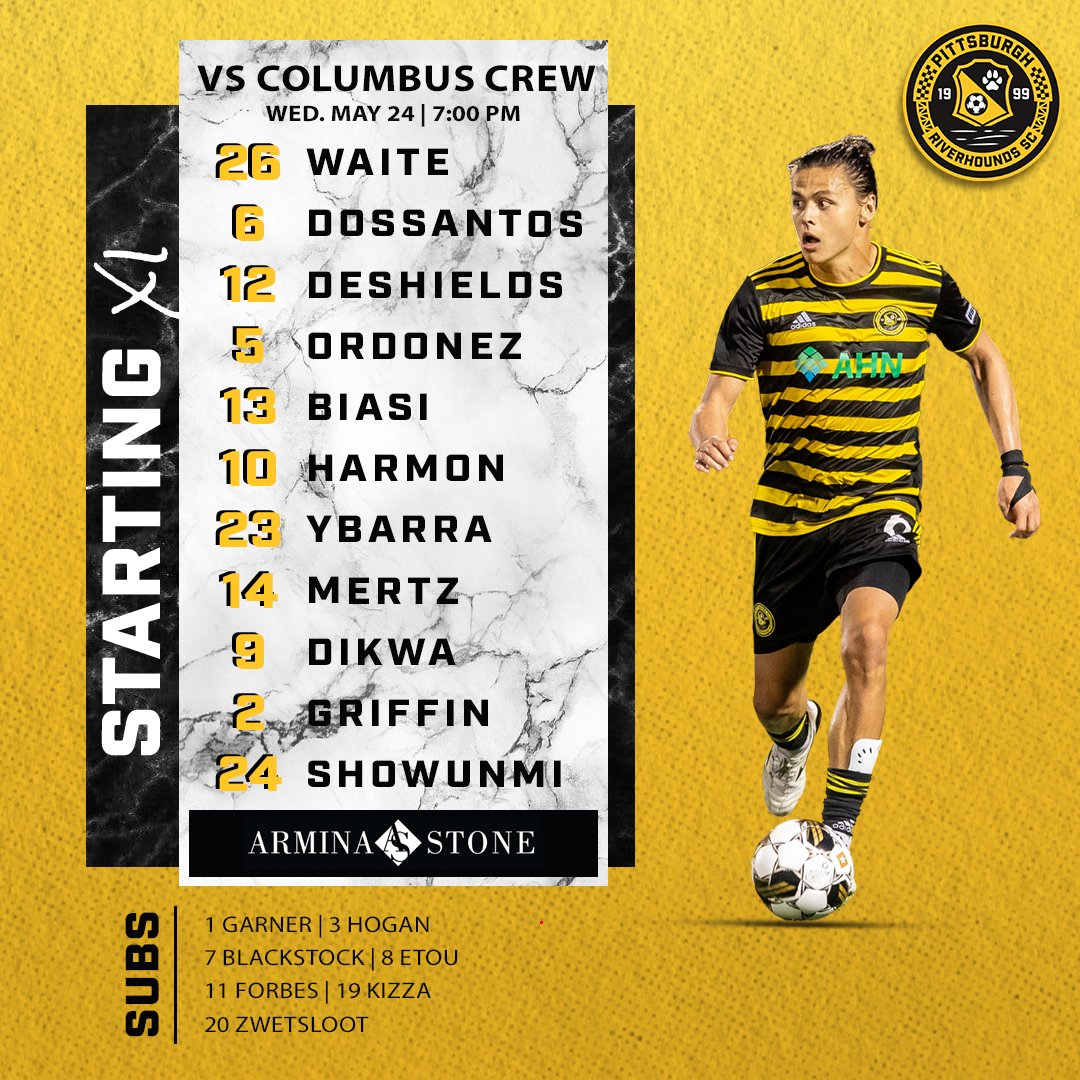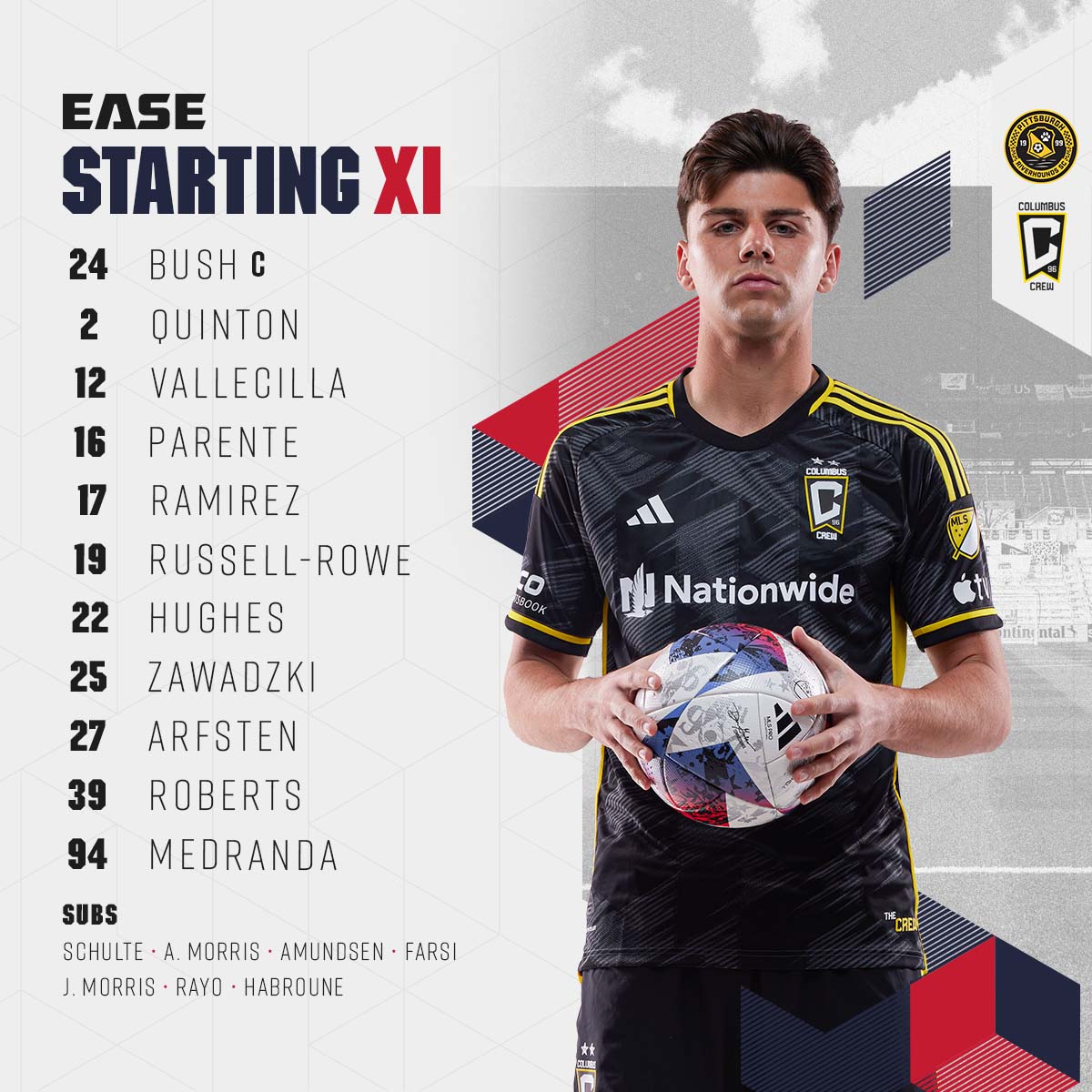 Huge @opencup matchup tonight here in Pittsburgh at the SOLD OUT @highmarkstadium as the @RiverhoundsSC take on @MLS's @ColumbusCrew for the right to move on in #TheCup.

The @SteelArmy is here. As is the @CrewAcademy96. Both are ready to carry their teams on their backs so to… pic.twitter.com/LF3SR7L4Iv

— Ed Thompson (@ThompsonFoto12) May 24, 2023
I love the Riverhounds and all of their fans!! This team, the Steel Army, the fans are all such Pittsburgh treasures!! https://t.co/Gj1Ta9Npdd

— Patty, Just Patty (@padavies3) May 24, 2023
OPEN CUP GAMEDAY!

A quarterfinal trip to Cincy is up for grabs as the beloved look to do the damn thing.

Get your ass down to Station Square as early as you can, avoid the last-minute insanity, and have pregame go the right way.#UNLEASH pic.twitter.com/WK83xNFw2O

— Steel Army (@SteelArmy) May 24, 2023
Match Previews & PSN Coverage
https://pittsburghsoccernow.com/2023/05/24/preview-and-scouting-report-in-bid-for-another-cupset-riverhounds-look-to-disrupt-mls-possession-leading-columbus-crew/
It's #Crew96 U.S. Open Cup match day. After what Wilfried Nancy termed a "painful" loss to FC Cincinnati on Saturday, tonight's game gives the Crew a chance to rebound.
Here's what you need to know before tonight's matchup with the Pittsburgh Riverhounds:https://t.co/9HB8MsSkLh

— Bailey Johnson (@BaileyAJohnson_) May 24, 2023

Riverhounds MF Kenardo Forbes
Subscribe to PGH Soccer Now