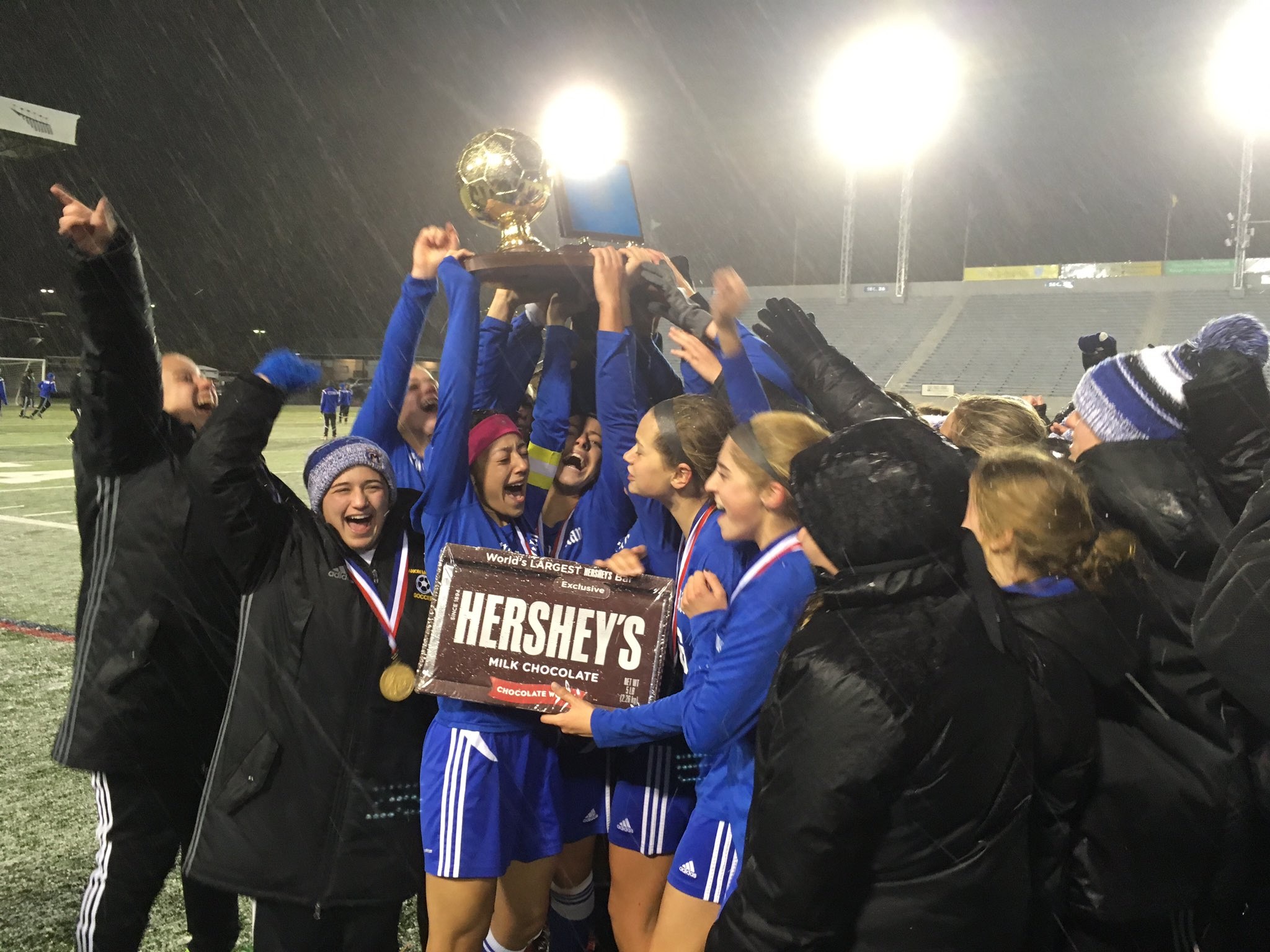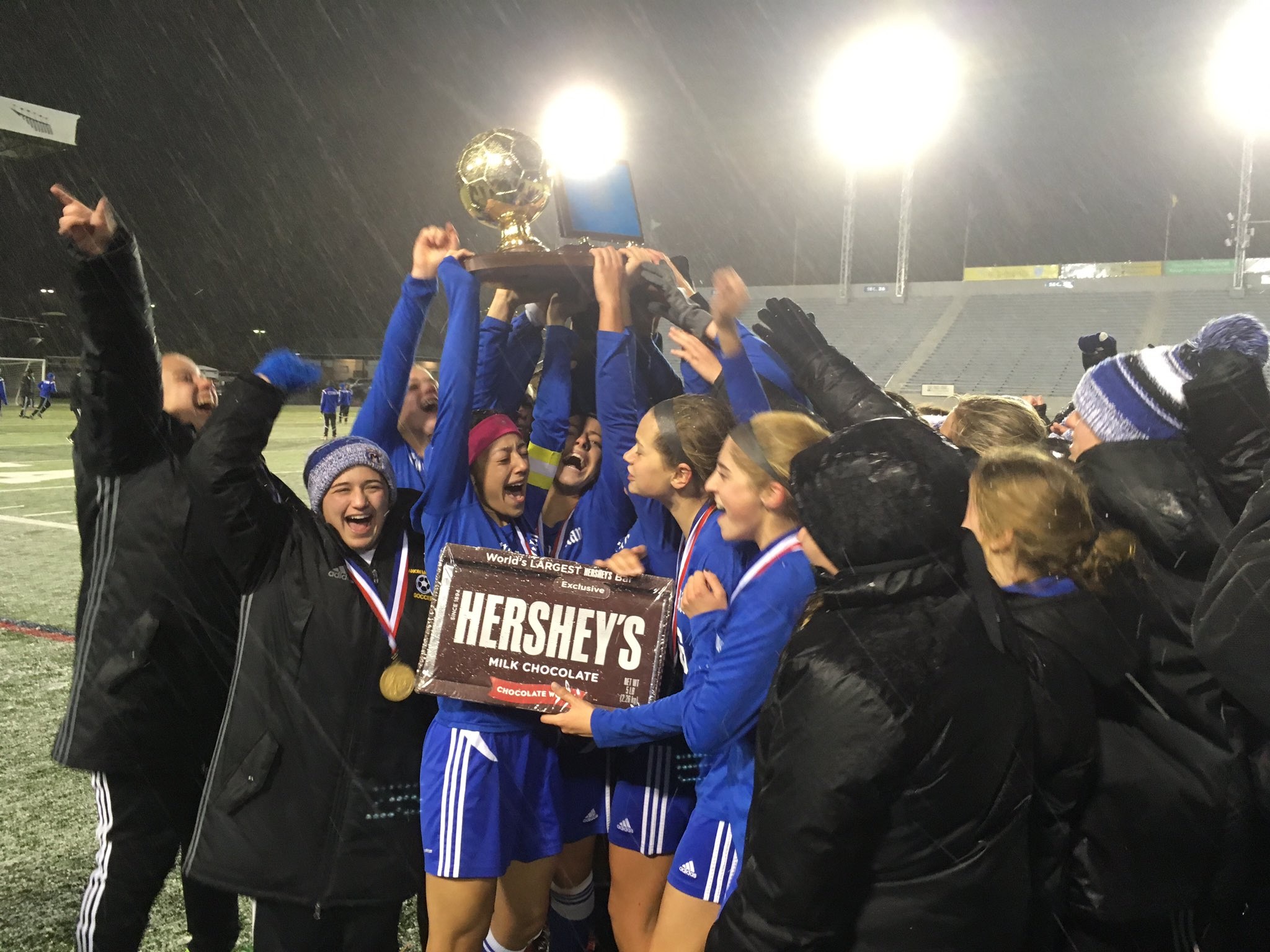 Three members of Canon-McMillan's PIAA winning team will be signing National Letter of Intent's next week.  
On Wednesday, February 1, many local high school senior soccer players will be signing National Letters of Intent and formally announcing their College's of choice.
This is a ritual that has become commonplace, and more widely covered by sports media outlets in other sports, particularly football and basketball.
Last year, the Pittsburgh Riverhounds' Development Academy (RDA), which was founded in 2007 and began fielding competitive teams in 2010, announced its first-ever formal Signing Day event as for the first time it had its first full group of high school seniors.
This year they'll be doing it again –announcing that (as of today) 20 of their current group of high school seniors are set to sign NLI's.  This current list from the RDA is entirely female.  Among these include three members of Canon-McMillan's Class 4A PIAA Champions (Sabrina Bryan, Aideen O'Donoghue and Meghan Virgin), who are all bound for NCAA Division I programs.  Two of these players will be heading to University of Pittsburgh (O'Donoghue and Alexis Bengel), and one will be going to NCAA National Semifinalist West Virginia (Marissa Dezorzi), while the WPIAL's All-time leading scorer Bailey Cartwright is headed to Notre Dame.
Here's the RDA players, along with their High School, that will be signing letters of intent for the following schools:
Alexis Bengel (Highlands) – University of Pittsburgh
Sabrina Bryan (Canon-McMillan) – Hofstra University
Bailey Cartwright (Greensburg Central Catholic) – University of Notre Dame
Chrissy Ciarrocca (Pine-Richland) – Miami University (OH)
Eliza Cochran (Shady Side Academy) – Georgetown University
Marissa Dezorzi (Yough) – West Virginia University
Jayna Fittipaldo (South Fayette) – University of Illinois
Jamie Frank (Kiski Area) – Rutgers University
Kenzie Grenell (Connellsville) – Mercyhurst University
Marisa Johnson (Bethel Park) – Ohio State University
Tori Kopchak (Mars) – Duquesne University
Danielle McNally (North Hills)– Clarion University
Ibrokhim Mirzaknohov – Point Park University
Aideen O'Donoghue (Canon-McMillan) – University of Pittsburgh
Brittany Palla (Kiski Area) – Indiana State University
Shannon Salley (Greensburg Central) – Air Force Academy
Abigail Skatell (Greensburg Central) – Seton Hill University
Ciara Terabasso (Yough) – Rutgers University
Meghan Virgin (Canon-McMillan) – LIU Brooklyn
Of course, NLI Day is not limited to RDA's female players, as a number of other top soccer players who've opted to play for other area clubs will be announcing their intentions, and I'll be looking forward to sharing this next week.
In addition, I plan to be at Highmark Stadium for some of the Hounds Academy Signing Day festivities on Wednesday, and will have an opportunity to meet with and speak to some of the college bound students-athletes.
If you know of any local players that will be announcing college soccer commitments, feel free to contact Pittsburgh Soccer Report (pghsoccerreport@gmail.com).
MORE ABOUT NLI
The NLI is a voluntary program with regard to both institutions and student-athletes. No prospective student-athlete or parent is required to sign the NLI and no institution is required to join the program.
The NLI is a binding agreement between a prospective student-athlete and an NLI member institution.
A prospective student-athlete agrees to attend the institution full-time for one academic year (two semesters or three quarters).
The institution agrees to provide athletics financial aid for one academic year (two semesters or three quarters).
The penalty for not fulfilling the NLI agreement: A student-athlete has to serve one year in residence (full-time, two semesters or three quarters) at the next NLI member institution and lose one season of competition in all sports.
An important provision of the NLI program is a recruiting prohibition applied after a prospective student-athlete signs the NLI. This prohibition requires member institutions to cease recruitment of a prospective student-athlete once an NLI is signed with another institution.
The NCAA manages the daily operations of the NLI program while the Collegiate Commissioners Association (CCA) provides governance oversight of the program. Started in 1964 with seven conferences and eight independent institutions, the program now includes 650 Division I and Division II participating institutions.

Riverhounds MF Danny Griffin
Subscribe to PGH Soccer Now