FINAL:  Pittsburgh Riverhounds SC 2, Toronto FC II 1
The Riverhounds SC picked up their first road win, extended its unbeaten streak and best start in franchise history by beating Toronto FC II, 2-1, on the strength of two first half goals by Neco Brett and Kevin Kerr.
Despite a dominant performance in the first half, the Hounds allowed TFCII to hang around, as the Young Reds had numerous counter opportunities in the second half, finally converting on a goal in the 90th minute.
The Hounds owned the possession battle — holding a 68 percent advantage with especially strong performances by it's pair of veteran midfielders Kenardo Forbes and Kerr.
In his sixth season with Pittsburgh, Kerr moved up in the team's record books as he was involved in both goals in the first half, coming up with the assist on the opening goal, then converting on the second.
In the 12th minute, Kerr did a nice job to keep the ball in play, then cut it back from the end line into a box crowded with TFCII defenders. Still, Brett took aim and made his shot count to give the Hounds the early lead.
It was Brett's team leading fifth goal of the season.
The Hounds continued to knock the ball around effectively from the middle of the field.  Kerr missed a golden chance on a build-up of one-touch passes that left him with room to shoot from 12 yards — but he hit it off the bar in the 19th minute.
Despite continuing to press forward into the final third numerous times, TFCII began to find counter chances — starting with
Rochester native Hounds goalkeeper Dan Lynd came up with this save on the Young Reds best early chance in the 20th minute.
Kerr would make up for hitting the bar, as the Hounds would again string together a number of one-time passes, as Kerr started it, then found Ben Zemanski, who played it back to Kerr.
Then Kerr played a give-and-go with Brett — and converted on his second shot opportunity.
Oh my…????

Unstoppable work from @KevinKerr89 and Co. and the Hounds are up two. #TORvPGH pic.twitter.com/I9Bf5iKsk5

— Pittsburgh Riverhounds SC (@RiverhoundsSC) May 5, 2018
The Hounds were up 2-0, and seemingly in command.
Even with the second half playing out similarly, the Hounds couldn't convert on numerous deep runs into the final third.
This started to allow for TFCII to counter — and the Hounds were susceptible in getting back into a strong defensive shape.
Toronto FC II would keep coming close. Missing on three shots from the edge of the box in the middle stages of the second half — having each shot miss the inside of the left post by only a foot or two each time.
Finally, in the 90th minute, TFCII's Mariano Miño played a through ball that made its way through the Hounds back line and found Shaan Hundal making a run to the back post area — getting behind Tobi Adewole who came in as a late substitution.
It was a triumphant return to Rochester for Hounds coach Bob Lilley, and seven players who were part of the Rochester Rhinos 2017 team. With the win, the Hounds have inched even further up the USL's Eastern Conference standings and are the only team remaining without a loss. With 15 points, they now trail Louisville City FC (who lost to Indy Eleven on Saturday afternoon) by two points, and FC Cincinnati (who beat ATL2, 4-2) by three points.
2nd Half
47′ – Hounds with decent corner chance — but Francois (and other Hounds) are offside.  The Haitian winger was alone by the far post but way too hard of shot bounces off right post. Wouldn't have mattered anyway.
55′ – TFCII with some counter opportunities, but consecutive shots from the edge of box have gone just left of goal and forcing Dan Lynd to dive to his right.
58′ – Hounds bringing Thomas Vancaeyezeele back a bit more now — sandwiched between center backs — and helping with navigating ball out of the final third.
59' – Another Chance for TFCII. Daniels jumps on a loose ball but he drags his shot a touch wide
64′ – TFCII sub
In: Dada-Luke, Out: Spencer
67′ – TFCII sub
Srbely IN Uccello OUT
71′ – Dover shot deflected and Brett tries to back heel it through with defender and keeper converging on him, but mis-connects
72′ – Joe Holland is first sub for the Hounds. In for Ben Zemanski.
80′ – Hounds keeper Dan Lynd goes down and in pain. Looked like he was nicked in the groin on ball played in air into the box. He's able to get up and will play on.
84′ – nice hook up between Forbes and Holland there — nice save by TFCII keeper Patterson-Sewell. Forbes has been terrific today on his old stomping grounds
86′ – Another game, another time Kerr is subbed out — this time for Tobi Adewole.
Solid work tonight for Hounds longest tenured player.
89′ – Dover finds his way all the way into the box — and shot on frame is a finger tip save by Patterson-Sewell.
90′ + 1 – GOAL – TFCII –
Halftime stats of note …
Possession (PGH 70%)
Corners (TFCII 5-3)
Shots (PGH 6-5, on target 2-2)
Crosses (TFCII 7-6)
Passing Accuracy (Pgh 87%/TFCII 68%)
1st Half 
1′ – Hounds come out in 4-2-3-1 — looking for lots of possession.
12′ – GOAL for HOUNDS — Pittsburgh leads 1-0.
Kevin Kerr nice job to cut it back from the end line. And it's Neco Brett again. What a terrific finish in a crowded box for Brett.
All he does is score goals. No. 5️⃣ on the season for @necobrettj. #TORvPGH pic.twitter.com/KFI7a7WUJS

— Pittsburgh Riverhounds SC (@RiverhoundsSC) May 5, 2018
That was second assist for Kerr this season (22nd all time) and fifth goal for Brett now this season.
Hounds have scored all nine goals this season inside the box. Brett responsible for more than half of his team's tallies
18′ – Hounds with some nice build up to get it into the box — all one touch passing – and Kerr has a golden chance but pings it off the bar. Hounds captain would like that one back.
21′ – Hounds caught napping on TFCII counter but nice save by hometown boy Dan Lynd
29′ – Toronto has had a few moments getting into final third — creating corner kick opportunities. Hounds back line's been a little sloppy in navigating the ball out.
32′ – Hounds not winning 50-50 balls at midfield past few minutes, and TFCII earns its fourth corner of half. Still, Pittsburgh clears it away.
36′ – no worries Hounds fans — GOAL –PITTSBURGH leads 2-0.
This time Kerr makes sure he finishes after a nice build-up of one-touch passes that end with the veteran midfielder scoring his 23rd goal in USL play.
Give the assist to Brett, his second of the season.
Oh my…????

Unstoppable work from @KevinKerr89 and Co. and the Hounds are up two. #TORvPGH pic.twitter.com/I9Bf5iKsk5

— Pittsburgh Riverhounds SC (@RiverhoundsSC) May 5, 2018
38′ – And like after Hounds first goal, TFCII with another dangerous chance. This time a redirected header from a corner kick looked like it could have beaten keeper Lynd, but Thomas Vancaeyezeele clears it away to keep the clean sheet.
It's been fun watching Kerr and Forbes starting up many possessions in the center of the field in this game. They're working well together. Two pros.
THE SET-UP
Riverhounds SC (3-0-3, 12 points) vs Toronto FC II (0-4-2, 2 points)
Saturday, May 5 – 6 p.m.
Marina Auto Stadium – Rochester, NY
BROADCAST:  Pittsburgh's CW | ESPN+
FOLLOW:  Twitter: #TORvPGH  USL Match Center

WEATHER:  Mostly Sunny 71°
HOUNDS STARTING XI 
After conceding possession the past two games, the Hounds are going with what looks like line-up that will want to keep the ball more and wear down TFCII.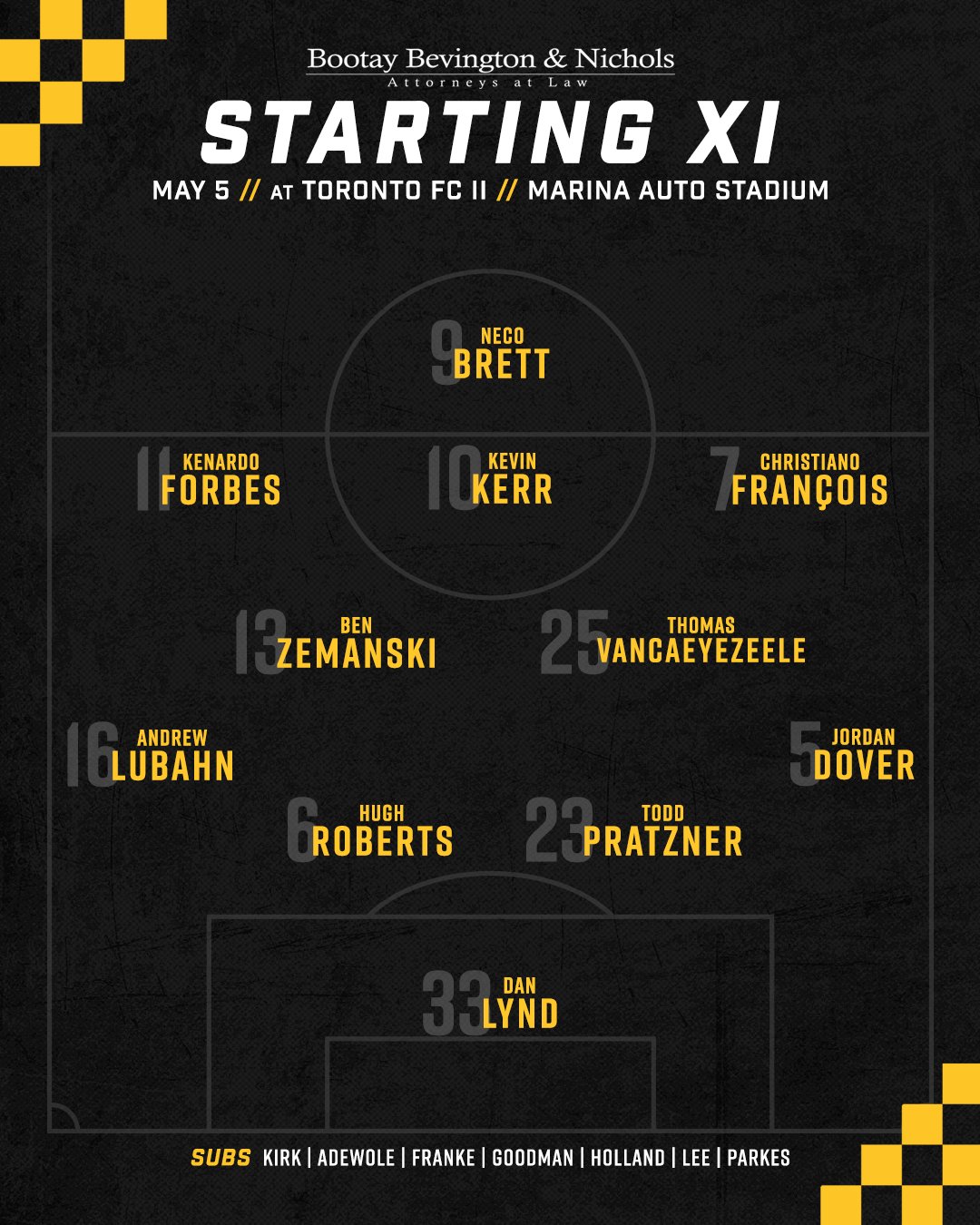 Here's TFCII's line-up…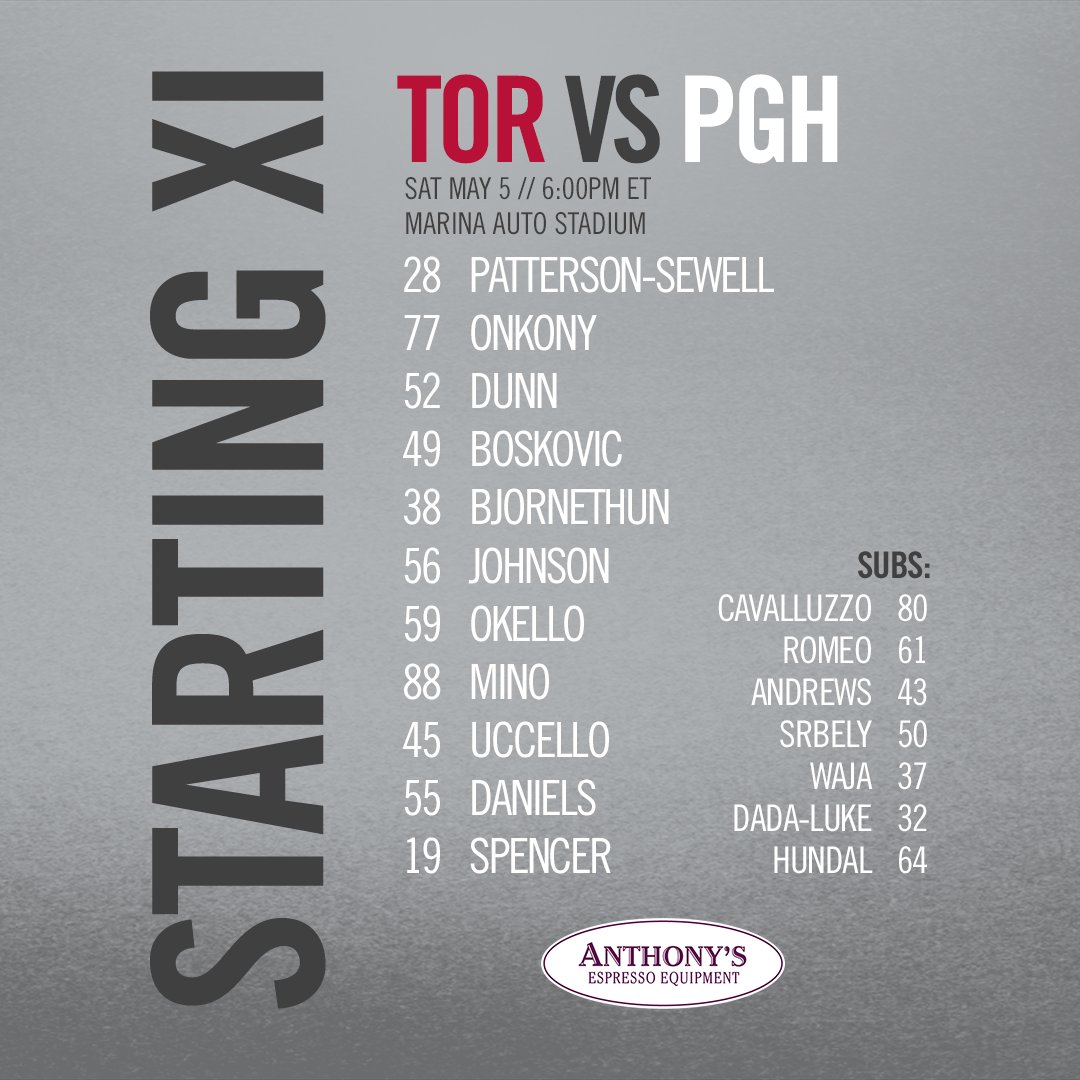 Key Storylines:
• This will be the second of three meetings between the two sides that are on opposite ends of the USL's Eastern Conference standings. After spending much of the past two years battling to stay out of the bottom of the table along with TFCII, the Hounds are currently unbeaten and off to the best start in franchise history (3-0-3). The Young Reds however remain without a win (0-4-2) after six tries in the early season, although they're coming off a rather positive result, playing NY Red Bulls II to a nil-nil draw last week.
• In the first meeting between the two teams, Pittsburgh exploded for four second half goals en route to a 4-0 win at Highmark Stadium in a match that was moved only two days before after conditions at Toronto's BMO Field were unplayable after a CONCACAF Champions League match. Neco Brett earned USL Player of the Week honors for his performance which included a hat trick and an assist on Christiano François' goal in the late stages.
• Saturday's match will serve as a homecoming of sorts for several Hounds players and staff at the home venue of the Hounds long-time 'Old Guard' rivals Rochester Rhinos, who are currently on hiatus this season due to financial woes. Head coach Bob Lilley and assistant coach Mark Pulisic, as well as Jordan Dover, Kenardo Forbes, François, Ray Lee, Dan Lynd, Kyle Morton and Todd Pratzner, all spent the 2017 season in upstate New York.
• The Hounds will look to continue its dominance against TFCII in eight all time matches dating back to 2015 — as they hold an 6-0-2 record against the Young Reds.
A Little Bit of History…
The Riverhounds franchise has been playing games in Rochester on a regular basis since 1999, and in more than 20 matches in Western New York, they've only won one time. That one win came on June 7, 2014, when they entered the contest having gone nine matches without a win (0-4-5).  Taking on a stingy Rochester side that had given up the fewest goals in USL PRO to that point in the season, the Hounds would take advantage of two set pieces, a corner kick and a free kick, delivered by former Rochester player Danny Earls along with a penalty kick goal by Jose Angulo that sealed a 3-2 victory, its first of that season, and first and only ever win in Upstate New York. The win would set the tone for a late season playoff push when Pittsburgh won eight of its final 11 games, but fell two points short of a playoff spot under interim coach Niko Katic.
Injuries:
Kay Banjo – Out (Hamstring)
Mouhamed Dabo – Questionable (Lower-body)
Ben Fitzpatrick – Out (Lower body)
Joe Greenspan – Out (Calf)
More on TFCII
Since the Hounds have already faced off against TFCII, Riverhounds Rabbi Mark Goodman posted his scouting report on the Young Reds prior to Pittsburgh's 4-0 win, and yes — his headline is still applicable –as they're still winless this season.
Coming off a scoreless draw, it appears they're playing better defensively.
Toronto has shown in games it has lost, to be worn down against strong possession opponents during the course of the 90 minutes not only in the 4-0 loss here in Pittsburgh in collapsing in two games against NYRBII and North Carolina FC.
Against NYRBII the second time around, they showed better match fitness as a group and held on for 90 full minutes.
What they're saying about #TORvPGH / #Riverhounds / #RochesterRhinos
"It was like a dream come true, to be able to play in my hometown with the Rhinos the past few years," Dan Lynd said. The Hounds keeper and former Pitt standout from Penfield, NY made ten appearances with the Rochester Rhinos in 2017.
USL returns to Rochester tomorrow. Important match for fans of @RochesterRhinos to show they want a team there. Given @TorontoFCII's terrible attendance, the rumor of TFC doing a hybrid team with the Rhinos next year makes more and more sense

— Chris Kivlehan (@kivlehan) May 4, 2018
"It's going to be a little bit more interesting than a typical road game," Bob Lilley, Hounds coach, on his return to Rochester, where he won a USL title in 2015 and coached from 2009-12, 2014-17.
"Every time you tie a game — you drop points," Lilley added about the importance of playing with urgency on the road. "If you want to stay, and keep up with the top teams in our division, we'll have to go on the road and get three points when ever we can."
????: https://t.co/gjxnF6kLiq pic.twitter.com/tuOjAVqhvE

— Toronto FC II (@TorontoFCII) May 4, 2018
"Taking care of the ball when we are in possession," stressed TFCII's Rocco Romeo. "Defensively we have been doing very well as a group, also individually. Winning our individual battles is the main thing for us, if we win [those] the game will be easy."
"We have to be more aggressive as a whole," added Romeo. "Being a younger team, going up against guys who are much older than us, we have to bring out that competitive spirit: challenge more in the air; on the ground. And contest them."
USL returns to Rochester tomorrow. Important match for fans of @RochesterRhinos to show they want a team there. Given @TorontoFCII's terrible attendance, the rumor of TFC doing a hybrid team with the Rhinos next year makes more and more sense

— Chris Kivlehan (@kivlehan) May 4, 2018
GUESS WHO'S BACK… BACK AGAIN… THE HOUNDS ARE BACK… TELL A FRIEND… #TORvPGH Want to see the former Rhinos face off against TFCII? Come to the May 5th match to see @torontofc face the @RiverhoundsSC pic.twitter.com/W8iGahCHe3

— Rochester Rhinos (@RochesterRhinos) May 4, 2018
Earlier this week, I took an in-depth look at how the Hounds stack up as a legit USL/Eastern Conference title contender.
Riverhounds MF Danny Griffin
Subscribe to PGH Soccer Now