Pittsburgh Riverhounds SC 2, North Carolina FC 0
Box Score: USL Match Center
2nd Half updates
After a shortened 10 minute intermission for halftime, the lights suddenly went out at Highmark Stadium, causing yet another delay.
what the????
The lights just went out at Highmark Stadium just as the second half is about to start. Will be 10 min wait for them to come back on#PGHvNC pic.twitter.com/CS8junBSRr

— John Krysinsky (@PghSoccerScribe) July 5, 2018
At 11:18 p.m. — the teams finally resumed play in the second half.
With the lead, Hounds back into a 4-2-3-1 — and now it's Parkes who's playing high while Brett has dropped over into the left side of the attacking MF line.
North Carolina were able to get forward a few times, forcing Lynd off his line and to make a save — then set up two corner kicks in the 55th and 56th minutes.
Francois gets another chance after Parkes wins a ball in the 58th minute at midfield. This shot drew a bit more defensive presence from NCFC back line.
The Hounds bring in first sub Mouhamed Dabo in 60th minute for Parkes who was covering plenty of ground.
GOAL – Kevin Kerr. 2-0 Riverhounds SC.
What a service from Kenardo Forbes, who pulled the ball back when taking a touch out side box on left side after François saved the ball from going out past the end line. Forbes spotted Kerr on other side, sent a perfect delivery to Kerr who remarkably out jumped the NCFC defender to the ball.
From the pass to the shot. Pinpoint 🎯 all-around! @KevinKerr89 has us up two! #PGHvNC pic.twitter.com/3DmirTLnwC

— Pittsburgh Riverhounds SC (@RiverhoundsSC) July 5, 2018
The Hounds added both Hugh Roberts and Andy Lubahn into the match as substitutes
Mercifully, the match ended after four minutes of stoppage time at 12:09 a.m.
1st Half updates
For @pghsoccernow tonight at the @RiverhoundsSC game before the weather delay. Lots of @SteelArmy here tonight going crazy!! pic.twitter.com/Ls2fepCyXH

— Ed Thompson ™️ (@ThompsonFoto12) July 5, 2018
The Hounds had back to back advances deep into final third between 4th and 5th minutes. First chance came when François moved deep into the box, then poked a ball over to Kerr, who couldn't redirect it past NCFC keeper Alex Tamakis. 
Only 18 minutes into the first half, at approximately 7:25 p.m. — play was suspended due to a dangerous lightning in the area.
Who needs fireworks when you have Prince, and Mother Nature doing her thing…#FourthofJuly2018#PGHvNC pic.twitter.com/LvBogKQNXa

— John Krysinsky (@PghSoccerScribe) July 5, 2018
while delay continues, Pittsburgh's Fireworks show begins with @NorthCarolinaFC players checking it out alongside fans. #PGHvNC pic.twitter.com/RS5XTdESUL

— John Krysinsky (@PghSoccerScribe) July 5, 2018
After a near three hour delay, the game will be set to resume at 10:20 p.m.
GAME ON! pic.twitter.com/gxnZmui36t

— Steel Army (@SteelArmy) July 5, 2018
Early action after play has resumed found Jordan Dover with room to shoot near top of the box, but his shot went way over the bar and the Steel Army.
Both teams were a bit rusty in playing the ball out of the box, and each were pressing back lines with more ambition.
After starting the game in a 4-2-3-1, the Hounds shifted tactics a bit after the delay, going with a 4-4-2.
North Carolina countered in the 25th minute, forcing Hounds keeper Dan Lynd into making this save, robbing DJ Taylor of a goal.
Romeo Parkes with golden chance in box for the Hounds in the 34th minute. The Jamaican had lots of time to shoot, but failed to pull his trigger quick enough. After finally getting off his first shot which was blocked, he couldn't manager to get off a second shot as ball came back to his feet, and ball was cleared by NCFC.
In the 42nd minute, the Hounds countered after François won a ball near midfield after clearance following a NCFC corner. The Haitian accelerated into space, laid off a pass to Parkes. another weak shot from left side was easy for NC keeper Alex Tambakis to handle.
GOAL – Christiano François
What a Blast! François navigated his way into the box after receiving a pass from Kenardo Forbes at midfield, then let loose a laser, net cutting shot — blowing it past Tambakis from 15 yards in the 45th minute.
LASER ALERT! @Cheetahcf7 had zero interest going into the half scoreless. #PGHvNC pic.twitter.com/I8EWd3rHlC

— Pittsburgh Riverhounds SC (@RiverhoundsSC) July 5, 2018
STARTING LINEUPS
Riverhounds SC 
GK – Dan Lynd
D – Joe Greenspan, Tobi Adewole, Ray Lee, Jordan Dover, Thomas Vancaeyezeele, 
MF –  Kenardo Forbes, Christiano François, Kevin Kerr, Romeo Parkes
F – Neco Brett 
Available subs
Mike Kirk (G), Hugh Roberts, Mouhamed Dabo,Todd Pratzner, Dennis Chin, Joe Holland, Kevin Kerr, Andy Lubahn  
North Carolina FC
GK – Alex Tambakis
D- DJ Taylor, Conor Tobin, Michael Harrington, Aaron Guillen
MF – Marcel Kanziora, Steve Miller, Dre Fortune, Austin Dazuz, Ty Shipalane
F – Donovan Ewolo 
Pittsburgh Riverhounds SC (7-1-7, 28 points) vs North Carolina FC (5-7-3, 18 points)
July 4, 2018 – 7 p.m. – Highmark Stadium
FOLLOW: 
Twitter:  @pghsoccernow | #PGHvNC
PSN coverage:
John Krysinsky @pghsoccerscribe | Ed Thompson  @EdwardKThompson (photography)
Starting line-ups posted here at approximately 6:10 p.m.
KEY STORYLINES
• The Riverhounds SC are sitting in a place we've rarely if ever have seen in recent years — alone in second place in the USL's Eastern Conference standings as they're riding a four-game unbeaten streak. The Hounds kick off July hosting North Carolina FC (5-7-3) for its annual Independence Day match at Highmark Stadium. This will be the first-ever meeting as league foes between the two sides.
• This could have all the makings a let down for the Hounds — right? After all they're riding a four-game unbeaten streak  (3-0-1). Since a 1-0 loss at home to Nashville on May 30, they haven't surrendered a goal in the past 307-minutes. However, with a full week between matches, while North Carolina played this weekend at Richmond, the Hounds will have fresher legs as they'll also look to continue their success against USL newcomers this season in first-ever meetings. Previously against Atlanta, Indy and Nashville, Pittsburgh is 1-0-2, having yet to allow a goal.
• This should be a classic clash between a strong possession-orientated team — North Carolina FC — that includes a pair of players among league leaders in goal and assists against a Riverhounds SC  which boast a stifling defense and is a tactically flexible unit with most of its success scoring this season when striking quickly and on the counter attack.
• The Hounds will be looking to extend another impressive shutout streak on Wednesday as they lead the league with 10 clean sheets. Seven of those clean sheets have come at Highmark Stadium. Pittsburgh has
• This will be the sixth straight season the Hounds will be hosting a game at Highmark on the Fourth of July, as they've had varying success in the first five games (2-2-1). Ironically, one of its wins came in 2014 against current Coach Bob Lilley when he was coaching Rochester Rhinos on July 4, 2014. Earlier this week I shared this story about the Hounds Fourth of July games at Highmark.
• Goalkeeper Dan Lynd picked up his seventh clean sheet after the Hounds won at Louisville on the road last Wednesday, passing Trey Mitchell for fourth all-time inclub history. Lynd needs only three more shutouts to crack the top-three by season's end (Chris Robinson – 10). While Lynd has been solid, knowing that Lilley would like to have two sharp keepers in the fold, look for Dan Kirk to potentially get a start and see some action in one of the next two games. Last season as back-up in Rochester, Lynd started ten games. The Hounds are currently only carrying two healthy keepers as Kyle Morton was pretty much ruled out for the season with a leg injury.
• Midfielder Kevin Kerr moved into sole possession for second all-time in club games played with 146, breaking a tie of 145 with Gary DePalma. Kerr also sits one assist behind David Flavius' all-time club-best mark of 25.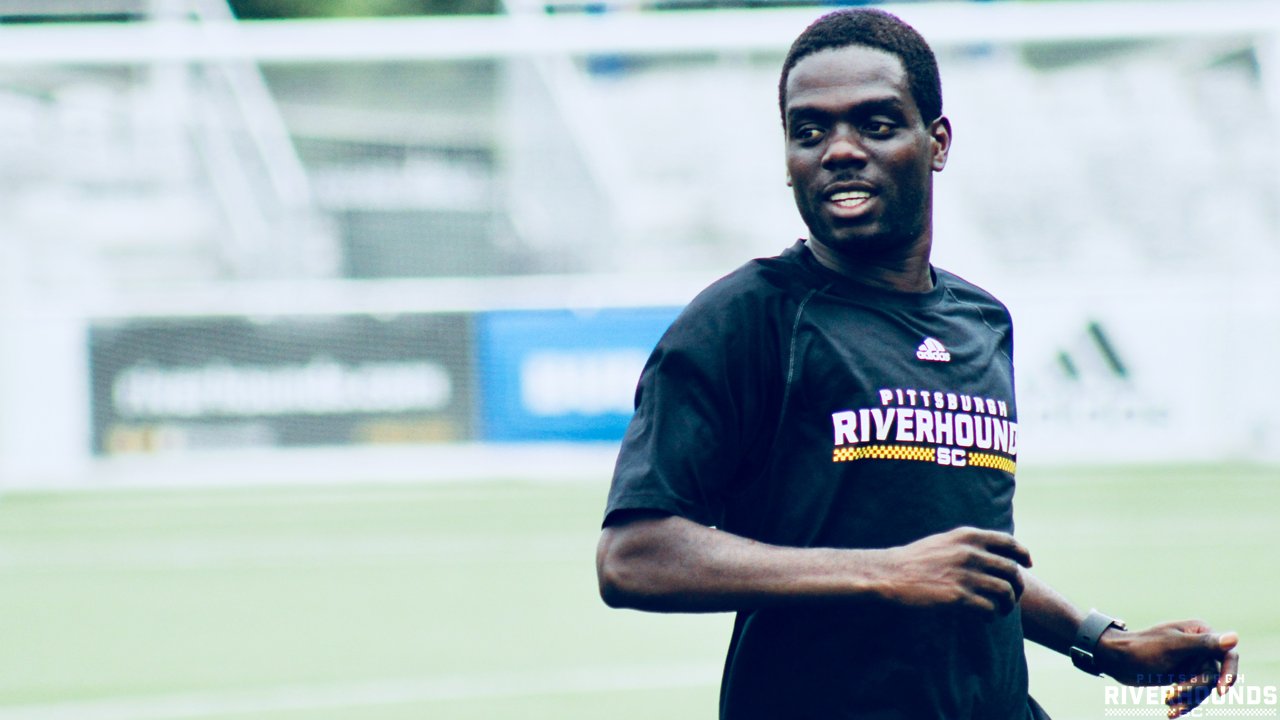 • Midfielder Kenardo Forbes, who has become a play-making catalyst in the Hounds midfield, earned a place on the USL Team of the Week after scoring the game-winner against Louisville.
More on North Carolina FC
North Carolina, which joined the USL this off season after competing in the NASL, previously as the Carolina Railhawks, have been led by the same coach for the past six years — Irishman Colin Clarke. The veteran coach also had a pretty impressive playing career, representing Northern Ireland in the 1986 World Cup and experiencing a twelve-year playing career in England.
Thus far it's been an up and down first go in its new league for North Carolina. They're currently sitting 12th in the Eastern Conference and most recently picking up its first road win since April 14 last weekend against Richmond.
Playing to its strength — they like to possess the ball, and have a strong attack led by Daniel Ríos, tied for conference lead in goals scored (along with the Hounds' Neco Brett) with eight, and Kyle Bekkers, second in the East with seven assists. Rios, a 23-year old Mexican, is on loan from C.D. Guadalajara of the Liga MX.
Michael Harrington is a savvy veteran who has played more than 10 seasons in MLS making more than 230 appearances with Sporting KC, Colorado Rapids, Portland Timbers and Chicago Fire. This year the Greenville, NC native has returned home as the anchor for this team. Featuring at center back, Harrington has played in all 15 league matches and tops on the team with 1,314 minutes.
Austin da Luz is a key play maker for the North Carolina attack which often likes to come out in a 4-4-2.. On Saturday, in 3-1 win at Richmond, da Luz scored a goal and played a key part in another. The midfielder has two goals and one assist on the season, while also being second on the team with 21 chances created thus far. He was also named to the USL Team of the Week for his performance.
Even against defending champion Louisville City FC in a match that ended in 2-2 draw as Rios had two goals including a late equalizer on June 23, North Carolina held a 57% possession advantage, with 11 shots from in the box — with five on target.
This hasn't been a strong defensive team — posting near bottom of the league in shutouts (4) — and allowing 1.4 goals per game, so the Hounds will look to capitalize on scoring chances.
Hounds Injury Report
Ben Zemanski – Out (Lower-body)
Kyle Morton – Out (Lower-body
What they're saying about #PGHvNC | #Riverhounds
Always looking to improve, even with the current run of form, Hounds assistant coach Mark Pulisic spoke earlier this week about the need to be more clinical in and around the box.
🎥: Assistant coach Pulisic caught up with @haleytimple to share his thoughts on #PGHvNC ahead of tomorrow night's match. #UNLEASH pic.twitter.com/PRLVWSeRgX

— Pittsburgh Riverhounds SC (@RiverhoundsSC) July 3, 2018
Just got 2 Pittsburgh.Excited for the opportunity to go for another 3 points n quick succession #tableclimbing @OCSRaleigh @NorthCarolinaFC

— Michael Harrington (@mikeymomoney2) July 3, 2018
On This Day
Subscribe to PGH Soccer Now