Here's our first submission from long-time Pittsburgh Spirit fan and Pittsburgh soccer video archivist Patrick McCarthy as part of the Pittsburgh Soccer History series. As part of this series, when Patrick adds a new video to his YouTube Channel, we will share it first here on Pittsburgh Soccer Now.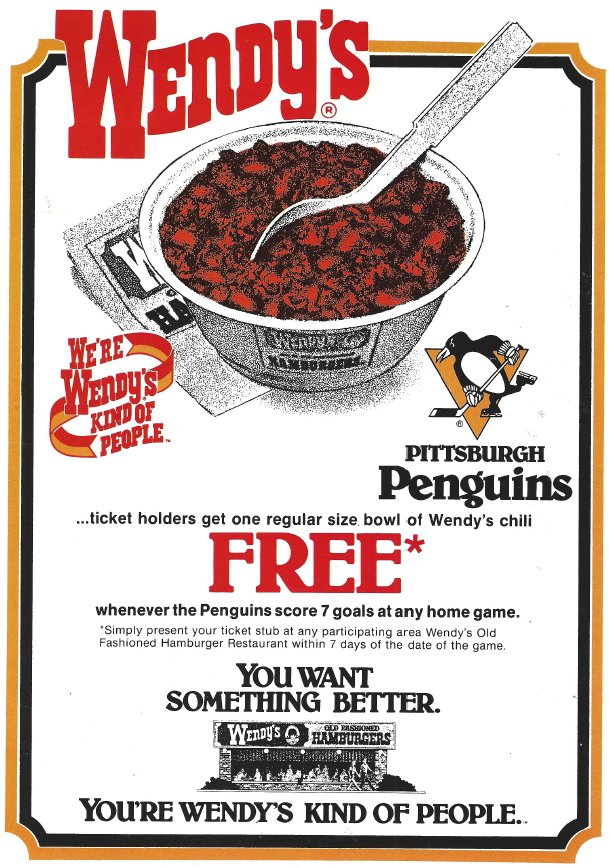 I was trying to think of a fitting way to start my Pittsburgh Soccer Now endeavor and what other way than to revisit the CHILI GOAL!
Back in the 1980's Wendy's partnered up with the Pittsburgh Spirit/Penguins came up with what may have been the most legendary home game promotion in the history of Pittsburgh sports.
Quite simply, when either the Spirit or the Penguins scored seven goals, fans would receive a complimentary bowl of chili by presenting their ticket stub at a Wendy's restaurant.
While it was a pretty rare feat in hockey, the high-scoring, high-powered Spirit led by the likes of Stan Terlecki and Paul Child scored seven or more goals plenty of times.
Rest assured, Pittsburgh's soccer fans had plenty of free chili during those memorable seasons. In the 1983-84 season the Spirit scored seven or more goal at home — you guessed it — seven times!
Here's a great representation.
This video is from February 3, 1984 when Pittsburgh Spirit played the Tacoma Stars.
Neither team could hold a lead. It was a back and forth affair.  Finally, after some build-up in front of goal, and a the ball pinged around a bit, Spirit defender Kevin Maher put one behind Tacoma Star goalie John Baretta and 10,007 fans at the Civic Arena rejoiced in jubilation not only because it was the game winner in a 7-6 shootout — but because they could redeem their ticket at Wendy's after the game for a free bowl of Chili!
By the way, I have no hard evidence to prove this but I'm willing to say that the Pittsburgh Spirit put a bigger hurt on Wendy's than the Penguins did!
Just saying.
Click here to see our newly created Pittsburgh Soccer History page where we will include Patrick's posts, and a summation of the world's most popular sport in the the Pittsburgh area over the course of the past 125 years. 
Sounding Off on Soccer: Riverhounds Road Woes
Subscribe to PGH Soccer Now