Pittsburgh Riverhounds SC (12-3-10, 46 points)
at FC Cincinnati (17-3-6, 57 points) 
9:15 – GOAL – FC Cincinnati – Dekel Keinean
Free kick to far post — great finish and this place erupts!
9:11 – first sub for Hounds — Ben Zemanski in for Parkes.
9:08 – The two subs hook up for FCC — McLaughlin plays nice ball to far post area — and Adi's header hits side netting. 76′
9:01 – Jimmy McLaughlin in for FCC.
Fanendo Adi is now also in for Konig.
8:51 – GOAL – Romeo Parkes!
Great feed from left side — and this time he didn't whiff on it. Ball in from what appeared to be Kenardo Forbes.
8:46 – Banjo MISSES the PK!
8:45 – PENALTY! Banjo with some nifty moves and is fouled in box!
8:42 – Hounds start off second half getting it into box — nice build up from Forbes to Vancaeyezeele that gets to Parkes in the box, but the Jamaican completly whiffed on his shot attempt.
8:30 – some more halftime stats really tell the tale…
Shots (Pgh 7-3, 3-1 on target)
Corners (Pgh 4-2)
Total passes (Cin 323, Pgh 152)
Passing % (Cin 86, Pgh 70)
Possession (Cin 67, Pgh 33)
8:22 – HALFTIME
8:15 – Yellow card! Goes to FCC's Forest Lasso Really takes out Francois. 38′
8:11 – Great save by Richey — robs Banjo after Francois sets him up nicely in the center of the box.
34
8:06 – Wow. Two Hounds go down in box, no call from official.
Ball trickles out to Dover — who fires one that Spencer Richey makes a nice save. Third corner coming for Pgh.  29′
8:05 – FCC finally gets one over the top — and to Ledesma with a great chance, Kirk comes out and can't get it, but Greenspan with a great effort to clear it off the line!
27′
8:01 – Cincy's been trying to play everything direct, and over the top, mostly balls over to Konig. So far, Hounds defending that pretty well. Parkes is playing pretty deep and outside backs are doing nice job keeping FCC from doing anything from width. 23′
7:56 – Hounds get another corner. Forbes plays it forward for Francois who goes in box for shot, but it's blocked.  Corner to Vancaeyezeele but his weak header doesn't do too much, goes over bar.
7:51 – Romeo Parkes is lurking… takes a shot from distance and juuuust goes over bar. That was close. Hounds on front foot past few mins. 16′
Forbes takes the corner — connects with Roberts but header goes over bar into The Bailey
7:48 – Banjo finds Forbes on counter — and Forbes' shot saved and goes out past end line. First corner coming for Hounds 13′
7:47 – interesting watching FCC, Albadawi trying to work to find the gaps in the Hounds back line when his MF's have the ball. He's working hard. He's basically their first target.
7:46 – both teams trading possessions. Nothing substantial either way so far.
7:37 p.m. – we've kicked off. Hounds in white tops with black shorts. FCC in home blue and orange trim.
Hounds in essentially a 5-2-3 going with three center backs (Greenspan, Adewole, Roberts) with Dover and Vancaeyezeele as hybrid outside mids/backs. Three attackers are Francois and Parkes underneath Banjo.
6:44 p.m.
Riverhounds SC
GK – Mike Kirk
D – Joe Greenspan, Hugh Roberts, Tobi Adewole, Jordan Dover
MF – Mouhamed Dabo, Thomas Vancaeyezeele, Christiano Francois, Romeo Parkes, Kenardo Forbes
F – Kay Banjo
Available subs:
Ben Fitzpatrick, Ben Zemanski, Andy Lubahn, Nathan Ingham (G), Neco Brett, Dennis Chin, Todd Pratzner
Here's FC Cincy's line-up selections: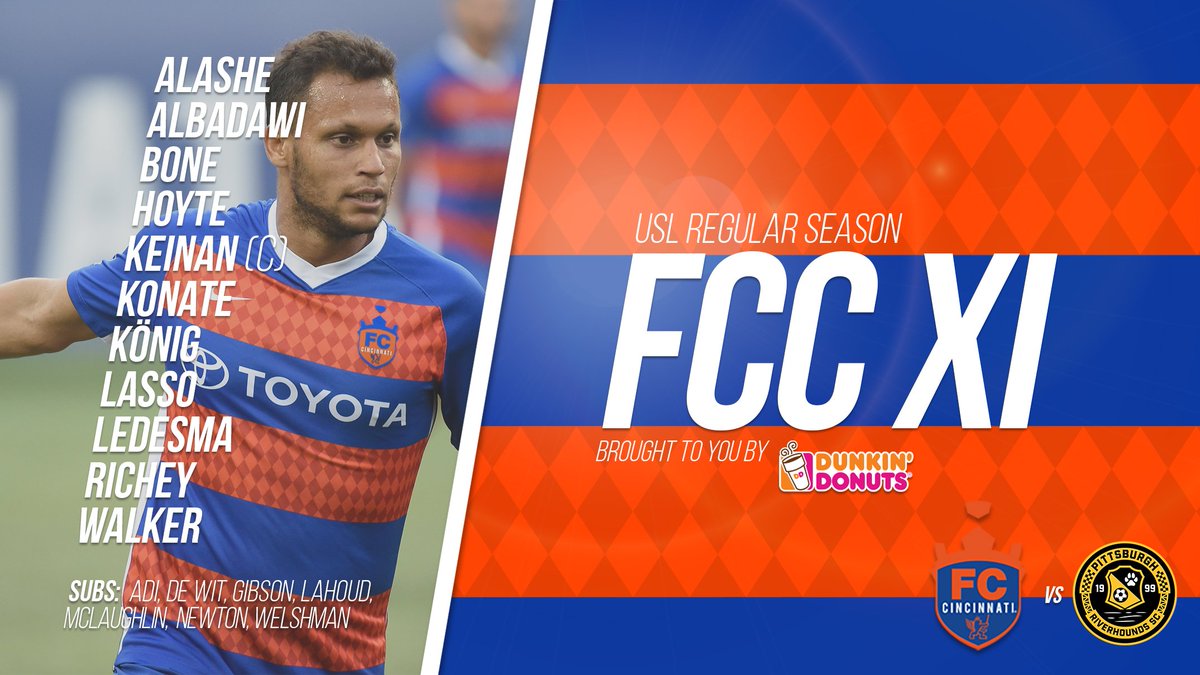 PREVIEW
Saturday, September 1, 2018 | 7:30 p.m.
Nippert Stadium | Cincinnati, Ohio
Stream: ESPN+
PSN Coverage: John Krysinsky (from Cincinnati) | J.J. Krysinsky (photography)
Starting line-up posted here at approximately 6:30 p.m. EST
Follow: Twitter #CINvPGH | @pghsoccernow | @pghsoccerscribe
Game Notes: FC Cincy | Riverhounds SC
KEY STORYLINES
• The Hounds will be looking to breakthrough for a win against the league's top dog as they are on a streak of three straight draws, but remain unbeaten in its last six games. After Friday's draw between Charleston and Louisville, the Hounds currently sit in a tie for third place with Charleston at 46 points, trail Louisville by one point, and trail FC Cincinnati (57 points) by 11 points going into this match. If Pittsburgh wants to have any chance to finish in the top spot in the USL's Eastern Conference, they'll need to go for the full three points on Saturday.
• This will be the second of three meetings between the two sides during the regular season. The clubs last played in league play to a 2-2 draw in the Queen City on April 21 and also met in the Third Round of the Lamar Hunt U.S. Open Cup on May 23.
• Pittsburgh has allowed goals in back-to-back games for only the third time this season – the previous two instances saw the Black and Gold respond in the ensuing match with a shutout.  There will be some questions about what goalkeeper Hounds coach goes with on Saturday after Mike Kirk allowed a pair of goals on balls that he misjudged and wasn't able to secure. With injuries to Dan Lynd and Kyle Morton, Kirk has played the last three matches. The Hounds signed Nathan Ingham in late July, but he hasn't played yet this season. It's possible that he gets the call against FCC.
• Cincinnati has been shutout only twice this season overall and is running a 15-game unbeaten streak (11-0-4) into Saturday's contest. The Orange and Blue hold a 9-2-3 record at Nippert Stadium. During the run, FCC is 7-0-2 at home and 4-0-2 on the road.
• For the second straight match, the Hounds will be without the services of one of their top defenders with Ray Lee expected to miss the match after registering a red card this past Wednesday at Indy Eleven. Thomas Vancaeyezeele, meanwhile, will return from his one-game suspension for yellow card accumulation.
• In three years of playing against each other, Pittsburgh has yet to defeat Cincinnati in six tries all-time in league play (0-3-3).
MORE ON FC CINCINNATI
If it weren't for the juggernaut that is the NY Red Bulls II, Cincinnati would have the most goals in USL (53), while Pittsburgh has conceded the fewest goals in USL (14), creating a classic match of a team with all kinds of explosive attacking firepower, against the league's stingiest unit.
Last time out, FC Cincinnati claimed its fourth consecutive win — most consecutive league wins in club history — when the Orange and Blue defeated the Tampa Bay Rowdies, 2-1, on August 25.
The Blue and Orange will be without center back Paddy Barrett and left back Blake Smith when they play Pittsburgh Riverhounds SC on Sept. 1. Barrett will serve a one-game suspension for yellow-card accumulation after picking up his fifth caution of the season at Tampa Bay on August 25. Smith will serve a one-game suspension for receiving a red card at Tampa Bay on August 25.
The explosive scoring has mostly come so far in 2018 from Danni König, Emmanuel Ledesma and Nazmi Albadawi, combining for 30 of FC Cincinnati's 53 goals … that is more than 10 USL clubs have scored this season. Should Nazmi Albadawi find the net one more time, it will mark the first time three FC Cincinnati goal scorers have reached double digits in a same single season.
Our Mark Goodman, aka the Riverhounds Rabbi, will also post his Scouting Report on Saturday. Be sure to check that out as Mark will get into the tactical match-up between the two sides.
WHAT THEY'RE SAYING
#CINvPGH
After Wednesday's wild draw with Indianapolis, Hounds coach Bob Lilley had this to say…
"Glad we have Cincy right away," Lilley said. "Our focus is looking forward."
In addition, here's another nugget from Lilley.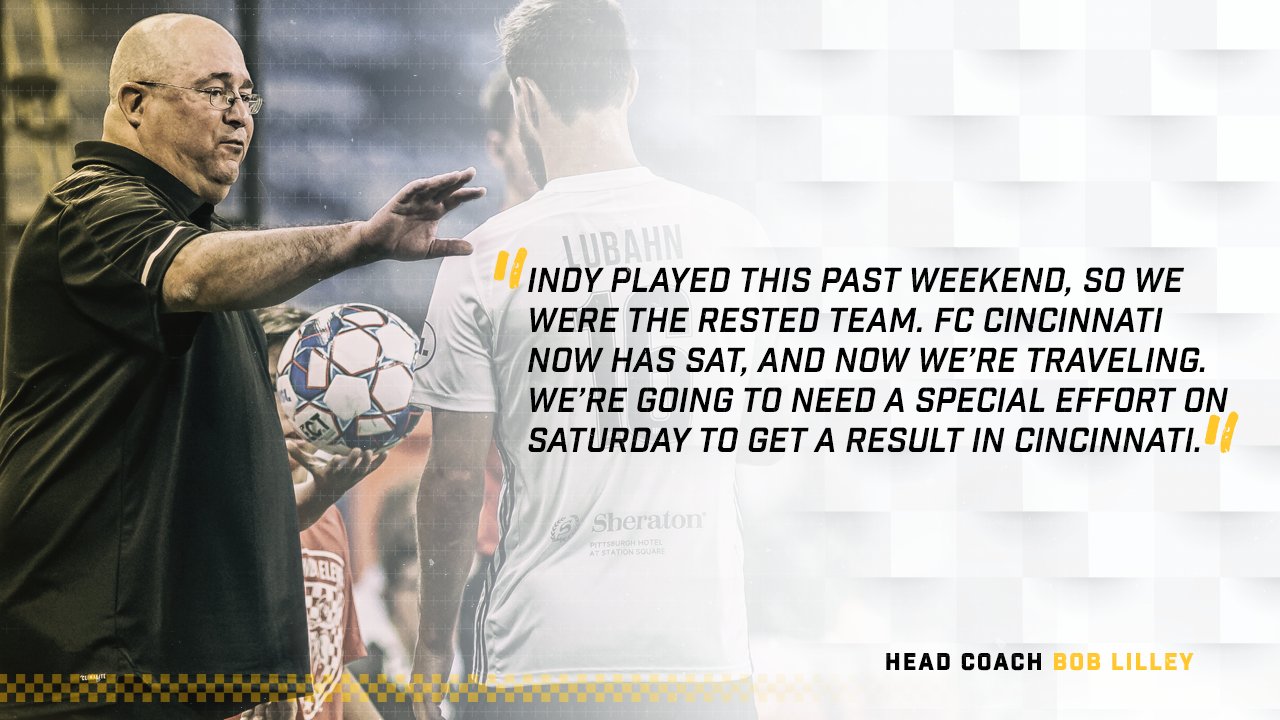 FC Cincinnati Head Coach Alan Koch provided plenty of quotes in advance of Saturday's match:
On Pittsburgh…
"Pittsburgh, obviously, has had a very good season. Bob [Lilley]'s a great coach and he's done a great job with the group in terms of pushing his club on, but we're doing the exact same thing here."
On how the team has changed since the first matchup with Pittsburgh…
"We've evolved so much, we've gone through three different systems in terms of formations, how we want to play. The philosophy of how we want to play hasn't changed at all, that's been the same since day one. Our lineups in terms of players that have actually played and how we've put them out on the chessboard has been very, very different and I'm sure Saturday will probably be a game like that too. Bob will have his plan, we'll have our plan, and we'll start in that manner, but I wouldn't be surprised if we have to adjust during the course of the game, because games like this are huge games. They're very exciting for the players, very exciting for the coaches, too. We know it's going to be a challenge and if we have to adjust during the course of the game, we'll gladly adjust."
On having the opportunity to clinch a playoff berth…
"We were happy last year when we got into the playoffs, and we'll be happy this year when we get into the playoffs, because getting into the playoffs is an achievement. It doesn't really matter how you do it, if you do it hopefully early like we're trying to achieve, or if you do it the last day of the season, you've got into the postseason. I think in North American sports, it's about getting into the postseason, it doesn't matter when you get there, but we're trying to achieve more than just getting into the playoffs. We want to try to win the regular season. It shows the body of work that we've put in, and it's what motivates our staff, it's what motivates the club, it's what motivates the players every single day."
Also, here's some of what FC Cincinnati Midfielder Jimmy McLaughlin had to say…
On Pittsburgh…
"I think we both have grown a lot. They've put together an incredible season and a put together a team that is really tough to play against, and extremely tough to break down, so it's going to be a great challenge for us and it's going to be a fun opportunity towards the end of the year to play one of the top teams in the league, so it's a massive game for us. We've grown so much as a club as well, and as a team, so it should be a top match between two top teams in the league."
On if it's hard to stay motivated after getting a lead at the top of the table…
"No, because we're always pushing for the Supporters' Shield in general, [Real] Monarchs are right on our tail as well. Any lead in this sport can easily be erased. We want to put as much distance between us and second place as we can, and give ourselves the best chance to finish at the top of the table at the end of the season."
On if it's nice to have an opportunity to clinch a playoff berth this weekend…
"Yeah, this is definitely the better way to do it. Whenever you can lock in a spot is a big achievement. It took us til the last match last season, or something along those lines, the second-to-last one. I think it's an awesome achievement by the club, but we have higher goals than that. We want to win the regular season outright and that's what we're looking to do right now and get a home game in the playoff. Big achievement, but at the same time, we have loftier goals than that."
Pittsburgh vs Cincinnati: A little history…
Our history contributor Patrick McCarthy posted this treat on Friday. Riverhounds first goal ever in 1999 was scored against the Cincinnati Riverhawks…
Riverhounds MF Danny Griffin
Subscribe to PGH Soccer Now